Who hasn't used digital technology to make life easier over the past few years?
More Canadians are relying on technology for day-to-day interactions. They're sending a money transfer to a friend or a business — or to employees or contractors. They are using digital payments to make purchases and other transactions, online and in-app. And they're using digital verification in their interactions with governments and business.
How can the digital economy keep delivering more benefits for Canadians? With players across the ecosystem working together to make sure we build services they can trust.
In this series, Everyday Trust, I speak with leading thinkers about the role of trust in a rapidly evolving technology landscape. In this episode, I'm speaking with Jim Balsillie, a transformative figure for the Canadian technology sector, about how we leverage homegrown innovation and harness the convenience and prosperity that it can bring, while also safeguarding our society against the inherent risks.
I think the answer revolves around creating systems that are fair, ubiquitous and predictable — products and services that Canadians will trust. Here, Jim and I share some of our thoughts.
The opportunity: Seizing the benefits of the digital economy — while avoiding the harms
Innovation leads to a more convenient life, as Canadians are experiencing every day. With innovation, services can be enhanced and interactions made easier for individuals, while efficiencies and a dynamic ecosystem can generate new business opportunities.
But on the other hand, the growth of the digital economy forces us to confront certain pitfalls. One is the erosion of trust within our society, in part because of the proliferation of disinformation and fraud. And on another level, if we don't build a homegrown innovation sector to drive the growth of Canadian intellectual property, we risk losing out on the economic growth that could shore up our future prosperity.
My guest probably doesn't need an introduction for most Canadians who work in innovation, but just in case: Jim Balsillie is the former chair and co-CEO of Research in Motion, better known as BlackBerry. He's the co-founder and chair of the Digital Governance Council, formerly the CIO Strategy Council. He's also founder and chair of the Centre for Digital Rights, the founder and chair of the Centre for International Governance Innovation, the chair of the Council of Canadian Innovators and the founder of the Balsillie School of International Affairs.
All of that is to say Jim is a tireless advocate for Canada's competitive capabilities, and he's committed to bolstering our presence on the global innovation stage. As he said in our conversation, "I believe in technology, I believe in innovation, I believe in entrepreneurship. And so, I'm quite excited about the future."
But to realize this bright future, we need to get a few things right in the present. Not only has Jim championed our nation's innovation potential, but he has also been a vocal proponent for the critical importance of trust in today's rapidly evolving digital society.
Why is trust so important?
Because, Jim says, "Trust means that you believe that the system is going to be fair with you." Trust gives people the sense of comfort that is essential to drive the adoption of new technologies, as I've long argued. And for the security and reliability that it brings, trust is going to be an essential element in making sure the digital future we're working to build brings all Canadians prosperity, convenience and security.
In short, there's a huge opportunity to grow the capabilities and engagement in our digital economy across Canada, for the benefit of all Canadians. There's also too much at stake for us to get it wrong.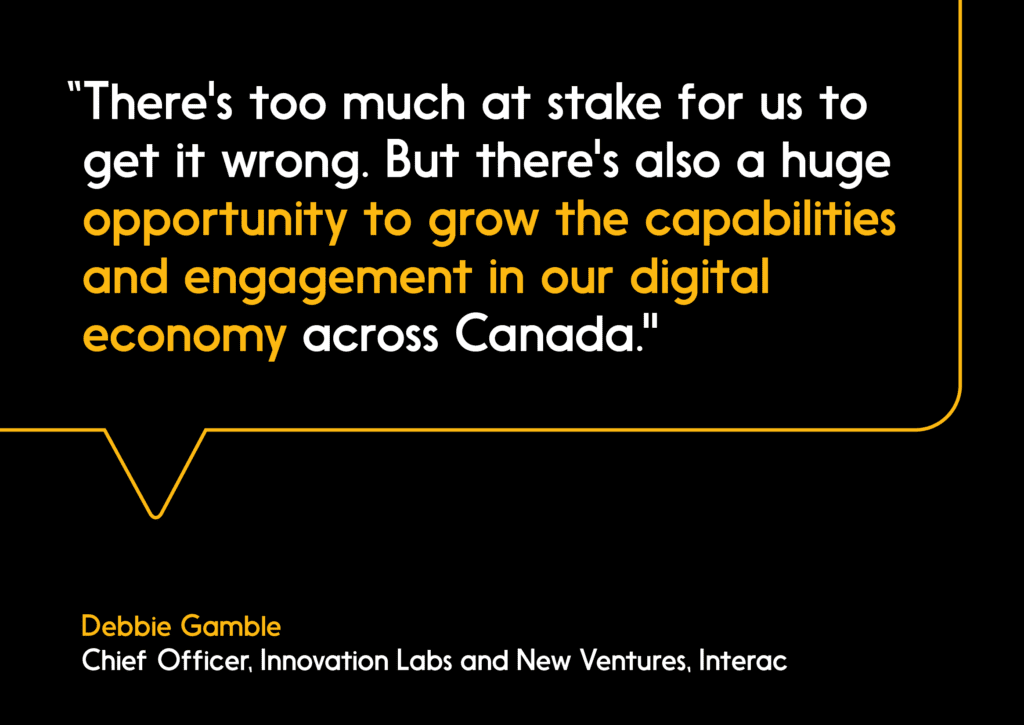 Trust and Canadian innovation: A few of the big questions
1. What are some benefits we'll see when we build technologies based around digital trust?
At the beginning of this article I mentioned various ways that people are using trusted services to make life more convenient, including digital verification when signing in to a service, and convenient payments and money transfers. But adoption brings economic benefits, not just convenience: As people absorb these trust-based services, it creates more opportunity for businesses to use digital tools to meet customers' needs as well. What this means is that digital trust not only brings convenience into people's lives, but it also grows an economy that's creating fresh opportunities for entrepreneurship.
The other way to look at the opportunity is how much hassle we can take out of people's lives. And there's plenty of room to make things better. Jim had a great example: Right now, moving from province to province typically means wasting time in multiple queues. "Let's suppose somebody moves from Alberta to Ontario," he says. "You have to line up multiple times over months to register for a new driver's licence, to get a licence for your car and then to get insurance. And that's all because the Ontario system does not recognize your identity from the Alberta system."
A lot of this is solvable through technology: Digital verification has the potential to solve a lot of the hassle involved in moving provinces, for example — and across sectors, to address other needs and streamline other interactions in people's lives.
2. Why are the stakes so high when it comes to building digital trust?
The simple fact is that we can only use digital products and services to increase our prosperity if Canadians actually take advantage of what we create. (In other words, we need innovation, but we also need adoption.) We have to ensure that we're bringing secure, reliable solutions to market that are going to make Canadians comfortable — and that means trusting the entity they're connecting with.
When public trust is eroded, on the other hand, the result can be the rise of mis- and disinformation and polarization. All of this diminishes our ability to address common challenges, which is why trust is — in Jim's view as well as mine — the most important public policy issue of our time.
"Trust," Jim says, "is one of those things that takes a long time to earn and a short period of time to lose … I don't think we'll have the same kind of future as we had in the past if we don't up our game and up our attention on addressing these [issues]."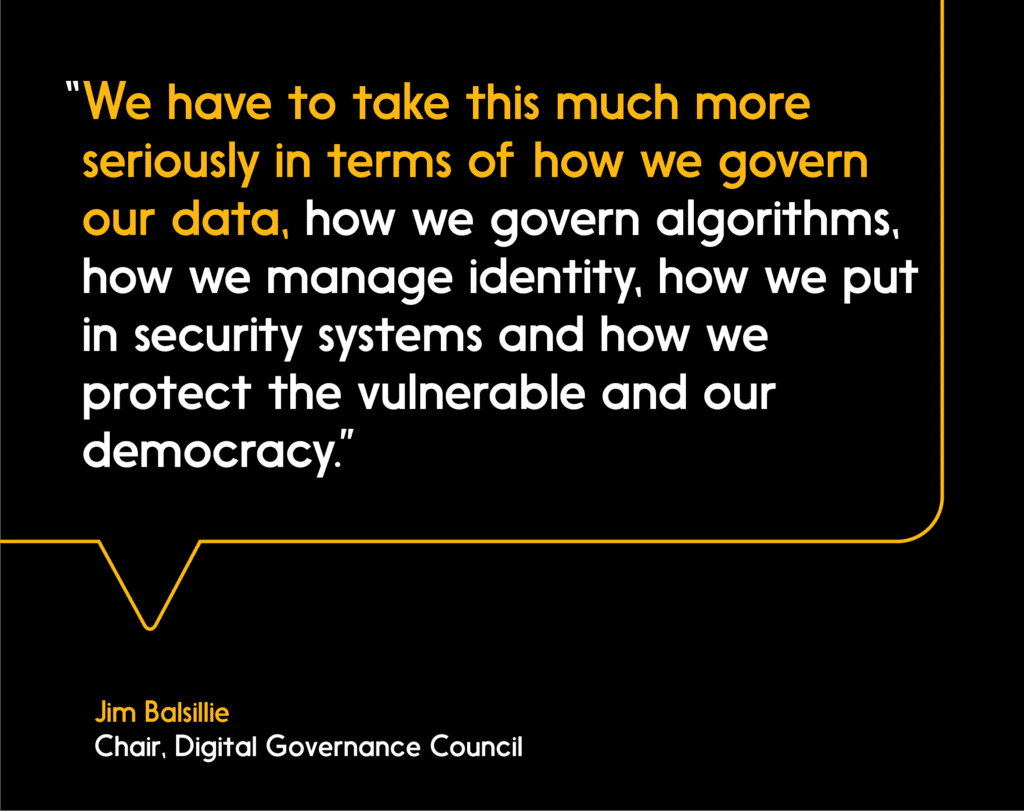 3. Why do we need to focus on growing Canadian IP?
As Jim explains, over the last 40 years, Canada's industrial and innovation policy has funded research but it hasn't focused on owning ideas. Homegrown Canadian IP has been escaping our borders and making other countries wealthier.
As of 1975, intangible (that is, intellectual) assets made up just 17 per cent of the assets on the balance sheets of Standard & Poor's 500 companies. Today intangibles are worth 91 per cent of the S&P 500 companies' value.
As a result of this transformation, IP "is where the money is," Jim says. A renewed focus on growing our domestic IP could lead to not just improvements in the lives of Canadians and obvious benefits for business, but also big wins for Canadian prosperity in general.
The unfortunate truth is that Canada is now in last place for productivity growth in the OECD and its real GDP per capita has been slipping relative to the rest of the G7 for decades. This is jeopardizing our ability to maintain and grow the prosperity we have, making it harder to underwrite the quality of life that Canadians take for granted.
The need to catch up and retake our former leading role is clear. As Jim says, "We have a beautiful country. We all love it, but it's expensive. We need prosperity to pay for it."
4. As we grow the digital economy, how can we strike a balance between private gain and public good?
Jim asked me this question in our discussion, and it's a good one: How do we ensure digital innovation is not just profitable, but also generates benefits that are broadly shared among the Canadian public?
I think we need to look at this question through two lenses. The first is sort of a technical answer, and it revolves around interoperability.
Interoperability is a tried and true way for us to ensure that we get ubiquity: Ensuring that our solutions consistently work in the way that they're intended to work, and that they work the same way every time (and that they work for everyone, in this diverse country).
And how do you achieve interoperability? Through standards. I agree with Jim that we need homegrown standards that will largely determine how we govern our data, how we govern algorithms, how we manage identity, how we put in security systems, and how we protect the vulnerable — not to mention children and our democracy. It's all part of creating digital innovation that Canadians can be comfortable with, and trust.
That brings us to the second lens: Ensuring participation across the ecosystem to be able to address the needs of Canadians.
As we bring more and more digital services into people's lives, we need to bring together important perspectives from the public and private sectors to weigh in on how to do it right. We need to keep providing forums to bring together important perspectives from the public — including different socioeconomic perspectives — as well as from the private sector. I agree when Jim says, "We live in an open, democratic society," where most people prefer building social licence over top-down decision-making. "If somebody is going to try and build a building in your neighborhood, you have community input, you have conversations on what works [and] you have negotiation."
Once again our task is to build trust in the digital products and services we're offering. For Jim, it's not about general statements. Building trust is about action.
5. Where are we on the journey to having the trust infrastructure we need?
Jim believes corporations have a role to play in fostering Canadians' trust in digital innovation — for example, by taking a lead in combating mis- and disinformation online.
And from a public policy point of view, it could be argued that as a country we haven't put in the proper intensity of resources or expertise to the question of how to build digital trust.
He and I share a belief that good rules can reinforce innovation. As Jim says, it's a false dichotomy that there is a choice between the two.
Thankfully, however, I do have some good news. We have put important building blocks in place. Jim and I have collaborated on the Digital Governance Council, which is starting to communicate to the innovation and tech policy community that while taking some guidance from international practices is fine, we need to actually develop our own standards and regulations.
Another reason to hope: I believe it's the consensus across the ecosystem in Canada that we need a digital innovation economy that produces an inclusive, prosperous society. I think most of us are eager to give future generations their own opportunities to create a society of abundance — and we want to make sure they're starting on a solid footing, based on trust.
For more questions and insights on trust, innovation and the digital economy: Watch the full conversation.
In the full video, Jim and I talk about other ways trust intersects with digital innovation and prosperity — from the role of consent in sharing data to the role of geopolitics in digital trust.