How do we help people become comfortable and confident with new technologies and experiences?
At Interac, that's a question that has driven our work for decades. And as we've evolved from a company that moves money to a company that moves value, that question has remained.
We're not motivated to develop technology for technology's sake. Instead, we're interested in developing technologies that help Canadians become more productive and allow them to transact digitally with confidence.
Anytime we advance a new technology — whether it's digital verification solutions, open banking, new advances in payment processing, or anything else that changes people's behaviours and the texture of their lives — the ultimate challenge is the same: establishing certainty and comfort among end users.
Certainty and comfort as a catalyst for innovation
Understanding how certain technologies go from novel to ubiquitous dictates if we're able to foster new experiences and behaviours. We have learned that innovation and technological change rely on both certainty and comfort. To begin a relationship with a new technology, the end user must experience it as seamless and simple, in a way that fosters psychological ease.
To give you an example of what I mean, let's look at Interac e-Transfer. When we launched Interac e-Transfer, peer-to-peer money transfer was a new and unfamiliar concept for Canadians. But now, people send and receive money using Interac e-Transfer millions of times each year. We earned their trust and confidence with reliable, secure service. Interac e-Transfer has become inseparable from daily life not only because the technology was impressive. It happened because people learned, over time, that it is safe and trustworthy.
Certainty is a science, developed over the hours spent making sure technology works the same way, every time. Comfort is a feeling. It's the trust users put into your technology, your experience, into you. We must help facilitate new behaviours that build comfort and trust. Only then can we scale.
Trust in the digital economy
The ability to keep the end-user front and centre — to make them confident and comfortable — is what builds trust and what drives the success of new technologies. Only when we trust the experience do our habits truly change.
Trust is essential to society. It unifies our families, our communities, and the way we are governed. Trust is also foundational to the success of any product and can be a competitive advantage for businesses and organizations.
But what does trust mean when it comes to innovation? It means transparency and clarity. Users should easily understand and agree to any implications associated with a new technology or experience. It means control, with users deciding how, when and what they share. And it means relevance and inclusion. Innovating not just to innovate, but to bring together diverse voices to solve the problems of diverse audiences.
Innovators today are facing what I call a "trust challenge". Only 27 per cent of Canadians believe technology is making their personal information safer and 71 per cent say too many online services have access to their personal or financial data. It's our responsibility to balance the drive to create new user experiences with the need to keep trust, security, and privacy at the forefront.
I'm invested in helping to solve this trust challenge and understanding how innovative minds can come together to solve some of society's greatest challenges. It's one of the reasons I accepted a place on Elevate's Founding Board.
Leading with trust through exponential change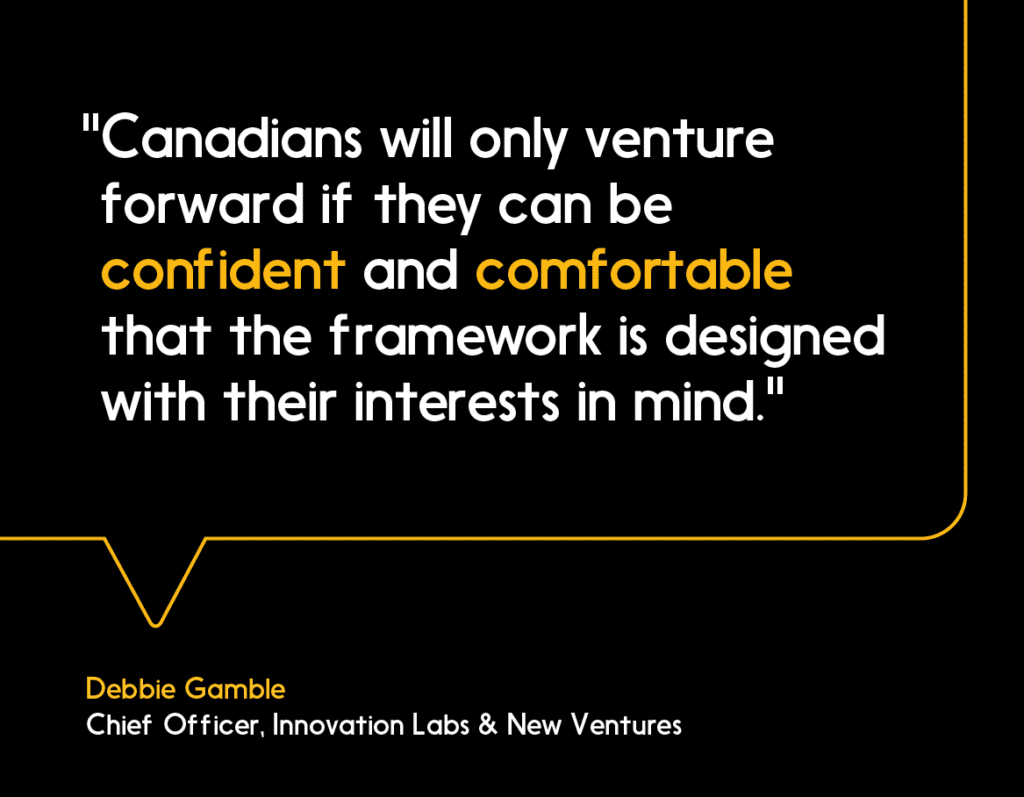 At Elevate, a tech, art and innovation festival hosted in Toronto, I spoke with Vivek Wadhwa, academic, entrepreneur, and best-selling author, about exponential change.  The pandemic raised the curtain on exponential growth and increased the pace of disruption in a way we've never seen in our lifetime.
COVID-19 accelerated digital transformation. Over the past two years, many technologies and experiences have emerged to bolster our economies, schools, places of business, governments, and healthcare systems.
The experiences of accessing health services virtually or working from home at a mass scale weren't on our radar 36-months ago. Yet now, 75 per cent of Canadians believe government services should be accessible online instead of in-person.
Today we're at an inflection point. Innovation and technical convergence are changing our work and home lives. At Interac, we're focused on ensuring Canadians can participate equally and safely in society and in this new digital economy.
Innovation is co-created alongside customers who need and will use new technologies. We know Canadians will only venture forward if they can be confident and comfortable that the framework is designed with their interests in mind.
At Interac, that means building trusted, user-centric verification solutions that give Canadians peace of mind when transacting online. It means giving users control over their personal information, who can access it, and when, and choice in how they participate in the digital economy.
This kind of customer-centric framework will result in improved control, facilitate faster growth — and, ultimately, empower Canadians to thrive in an increasingly digital world.