We are witnessing a period of accelerated digitization in Canada. With this comes new opportunities and increased efficiencies. It also highlights one of the most important questions innovators face today: How can we give Canadians the confidence they need to participate fully in our emerging digital economy?
My answer? Trust.
Trust is essential to a healthy, functioning society. It unifies our families and communities. And — as I'll be discussing with expert guests in this conversation series, Everyday Trust — trust is vital to innovation and enabling prosperity in Canada.
Canadians are increasingly exchanging sensitive data online, highlighting the need to create solutions built specifically for our new way of transacting, working and living. These solutions can reduce the friction of daily life by putting Canadians in control of their digital information and how it's used online, while safeguarding their privacy and security.
Of course, there are challenges to surmount as we navigate this opportunity, which brings me to my guest. Joining me to talk about verification in this episode of Everyday Trust is David G.W. Birch. He's an author, advisor and commentator on digital financial and verification services for outlets including Forbes and Financial World, and you can catch his thoughts on a regular basis at 15 Mb, recently named one of the top FinTech blogs worldwide by Feedspot.
I was especially keen to discuss David's thoughts on how verification and payments intersect, and how government and private-sector players can come together to activate the anti-money laundering, anti-fraud and Know Your Customer (KYC) capabilities that digital verification brings.
The opportunity: Identity Canadians can trust as they navigate a digital world
To get the most out of today's economy – whether as a business owner, a public sector employee, or citizen – Canadians need control over their personal information and data. In fact, our research shows nearly eight in 10 Canadians are worried about protecting their online privacy, and more than half believe organizations are primarily responsible for protecting their personal information online.
Privacy is a central concern for Canadians and a challenge those of us working in verification, identity and authentication need to address. At Interac, privacy is at the centre of our verification offerings as we work to give Canadians control over their personal information, including how to share it, when, and with whom. With access to secure, trusted solutions that put their privacy first, Canadians will be better equipped to participate safely in the digital economy.
Digital verification can also enable the online delivery of critical services while introducing efficiencies and reducing costs for businesses and government organizations. According to the Digital Identity and Authentication Council of Canada (DIACC), nearly $500 million worth of productivity is lost each year because of our reliance on physical identity documents and the manual processes that come with them — for example, when people are required to travel and present their ID in person.
When people can prove who they are digitally, businesses, Canadians and the economy as a whole will thrive. Between new use cases and the efficiencies it creates, DIACC estimates digital verification could unlock $15-billion worth of value for the Canadian economy.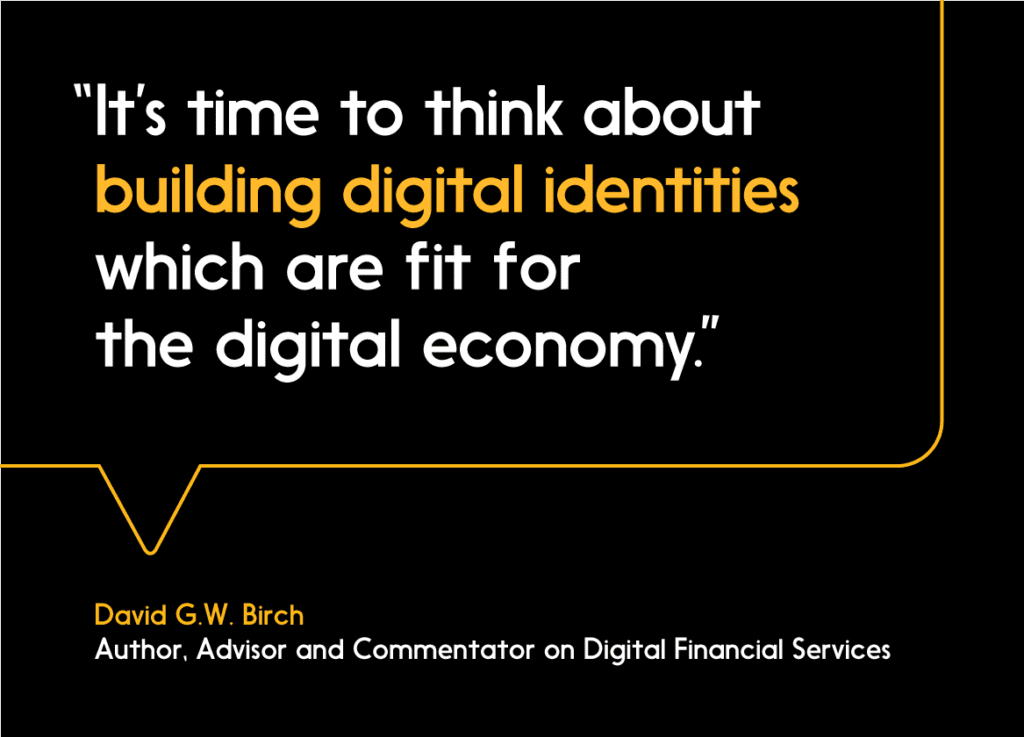 However, we know introducing the technology isn't enough: If Canadians are going to enjoy the benefits of digital verification services, they will first have to trust it as part of their everyday lives.
Below, David and I dig into some of the crucial questions that those of us working on digital verification are considering — and that anyone who wants to understand this technology should understand.
Digital verification: (Some of) the big questions
1: Why is the public's state of trust so important?
For digital verification to work, it must allow users to verify themselves — and it also must assure them the entity they're engaging with is authentic and trustworthy.
In other words, trust is a two-way street: While you often need to prove you're allowed to do something as a user or customer, you also have to trust the entity you're interacting with, as David notes. "When I go to the bank, I need to be able to see it's the bank. If I get a message that comes from retailers, I need to know it's really coming from them," and so on.
In an era when trust in institutions is eroding and (as I've pointed out before), establishing that trust level is no small task. Innovators are facing what I call a "trust challenge." I've spent a lot of time thinking and talking about how driving the adoption of new technologies has to go hand-in-hand with earning people's confidence and comfort.
"We have a trust issue from a society perspective," David agrees. And it's a challenge that requires a whole new infrastructure around verification: "It's about people being able to act with confidence in this online environment."
I'm proud to say we've had a lot of success with this at Interac — success that goes back decades, if you look at how we've been able to assure Canadians they can integrate safe, secure services like Interac Debit and Interac e-Transfer into their daily lives.
In fact, Canadians recently voted in favour of Interac as the country's most respected technology service provider for the second year in a row. This gives us confidence that we're on the right track for building the crucial foundation of trust that will unlock the potential of digital verification. As David says, in the new world, it's your reputation that's critical.
2: How do we design our identities for a digital world?
In a digital world, the whole concept of verification is radically different from what came before, and our thinking needs to reflect that.
David understands verification in three separate layers or considerations: (1) the ID itself (i.e., is it accurate, genuine and up to date?), (2) what David calls "the authentication nexus" (does the identification match the person who's actually standing here?), and (3) the authorization (is this person allowed to do what they're requesting?).
We can't simply digitize our current identity documents because they're not up to the task of separating these layers for the sake of privacy and security. Take the driver's licence, for example: As David points out in our conversation, whether a physical or digitized document, it's neither "smart" nor is it designed for privacy or digital security. It forces the person handing it over for ID purposes to reveal their exact date of birth, for example, as well as their address.
"We spent 25 years messing around trying to put driving licences online. That's clearly not the way to do it," David says. "It's time to think about building digital identities which are fit for the digital economy."
What does a smarter approach to identity verification services look like? First and foremost, we want customers to know they're in control of their data. And we want them to know there are safeguards in place for their privacy, to prevent them from revealing more about themselves than necessary for a transaction. At Interac we're delivering verification solutions for Canadians that are user-centric, meaning users are in control of their personal information, including who can access the information and when.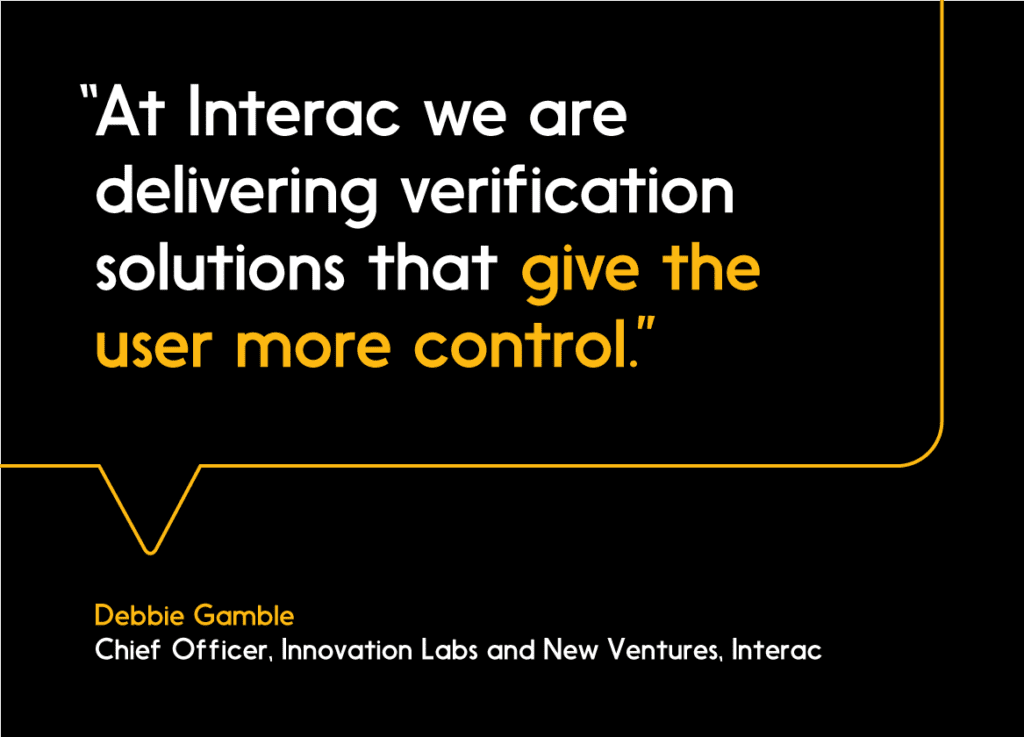 3: What is a 'trust ceremony'?
This brings us to the more human — you could even say anthropological — aspect of trust and adoption. "I keep bringing the anthropological word 'ceremony' into this because human behaviour is human behaviour, even when there's technology involved," David says.
If we want people to adopt new behaviours with new technologies, we need to help them feel the comfort that comes with predictability and certainty. When something works every time — and in the way it's intended to work — that's the foundation of comfort. That's when we actually start to embrace change.
Making a contactless payment is an example: Decades ago, no one had done it. Today, we not only trust that it will work, but we also don't think twice about it. As I've said before, Interac e-Transfer and Interac Debit caught on with Canadians and became indispensable — they're part of the "ceremony" of daily life, you could even say — because they work reliably and predictably wherever you are when you use them. You can trust them when you're at a retail store, or on your mobile device while sitting on your couch. (From Canada to Kazakhstan, as David says.)
In short, we learn new technologies are safe and trustworthy by using them until they feel ordinary and familiar.
Today, Canadians are missing a standardized suite of verification solutions they can trust. In a recent Interac survey we learned that while six in 10 Canadians still use their social media accounts to log in to other online services, only 1 in 10 actually trust these accounts to store their personal information.
The predictability of digital "ceremony" is important for fraud prevention and security, too, as David and I discuss. Right now there is variation in the way login and verification systems work — this one sends you a code via email, that one texts you, et cetera — and often, customers don't know what to expect. As we create ceremony around identity, we establish security for consumers, because, as David notes, "If they see something that's different, it'll raise an eyebrow."
4: What's the relationship between trust and payments?
Talking about payments in connection with identity makes sense, because payments and digital verification are intertwined concepts.
As David notes, a lot of the problems and challenges of the payments industry — from onboarding to fraud prevention — are also identity problems. "If you solve the identity problem, payments are easy," he says. "If you know who all the counterparties to a transaction are, payments are just a bit of [math on a] spreadsheet somewhere."
Earlier, I cited DIACC's estimate of a $15-billion dividend for the Canadian economy if digital verification is widely adopted. A significant portion of that value will be unlocked by making payments and other financial transactions more secure, as well as less dependent on manual processing and in-person document verification.
Take KYC requirements, for example: Digital verification will make compliance easier for both financial entities and customers, including doing away with the requirement for Canadians to visit a bank branch to open an account. When India introduced "e-KYC," the cost of KYC verification services dropped from $5 to 70 cents a customer.
Here in Canada, DIACC and the financial institutions have identified the potential for net savings of $100 million annually per institution through efficiencies (i.e., streamlining processes that are currently manual) and fraud reduction.
There's more I could say about the benefits of digital verification, but for now I'll finish by noting that it can make payments even more inclusive — for example, Canada's many remote communities, where residents can face logistical challenges and hassles because the world largely still relies on physical ID documents.
More questions and insights on trust and digital verification: Watch the full conversation
In the full video, you'll see me and David tackle more questions around building public confidence in digital verification, the role Interac can play as an anchor and a builder of trust, and more.