The holidays are a wonderful time of year, filled with festivities, friends and family, but they can be stressful, especially when it comes to finances. With Interac, you can trust you're in charge of your spending, which is even more important this season as Canadians are feeling the pinch.
When you use Interac Debit via card or smartphone at store checkouts—you'll be paying with real money directly from your bank account.
And that makes it easier to stick to a budget when buying gifts and decorations. Plus, you'll avoid losing track of your spending and steer clear of surprise bills in January. With your finances in control, you'll have more time to relax, kick back and enjoy the holidays.
Be in charge with contactless payments on the fly for faster checkout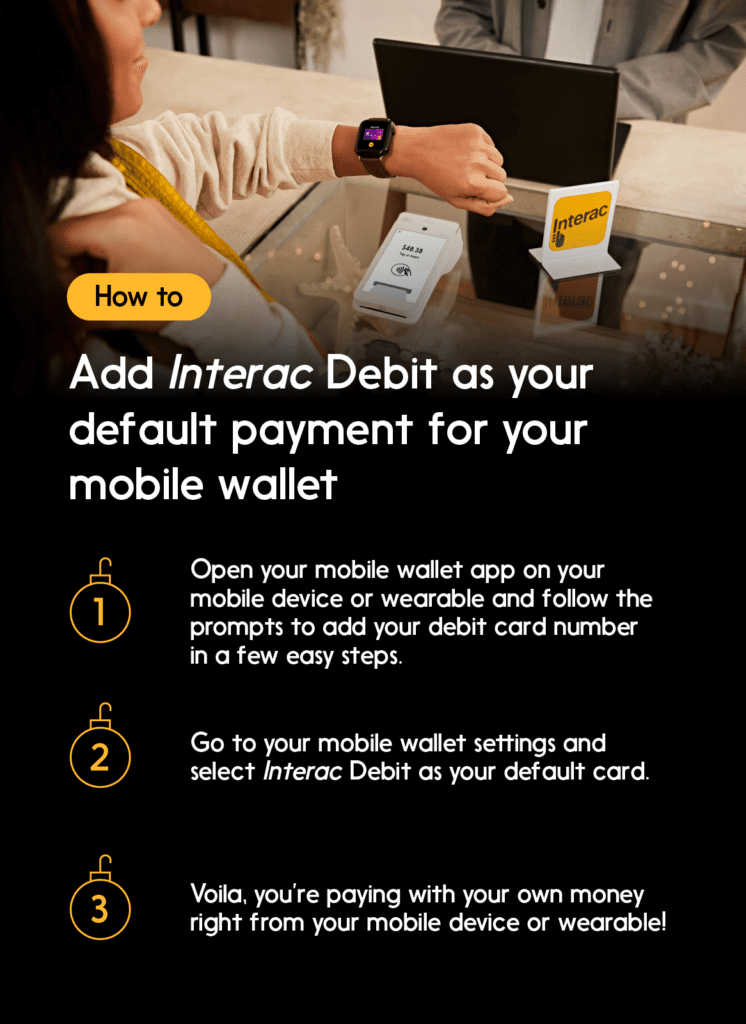 With prices rising everywhere you look, many Canadians are trimming back on their holiday gift lists. We at Interac understand, and that's why when you shop using your own money with Interac Debit Contactless Payments, you can confidently be in charge of your budget.
With a tap of your Interac Debit, with your card phone or smartwatch, you can move through long holiday checkout lines faster and more conveniently. Paying quickly on the go makes it easier to get through your list, beginning to end.
Whether you're buying gifts from a local artisan or a neighborhood small business, paying with your own money from your bank account with Interac Debit puts you in charge with fast, flexible and easy payment options.
Be in charge when sending or requesting money for group gifts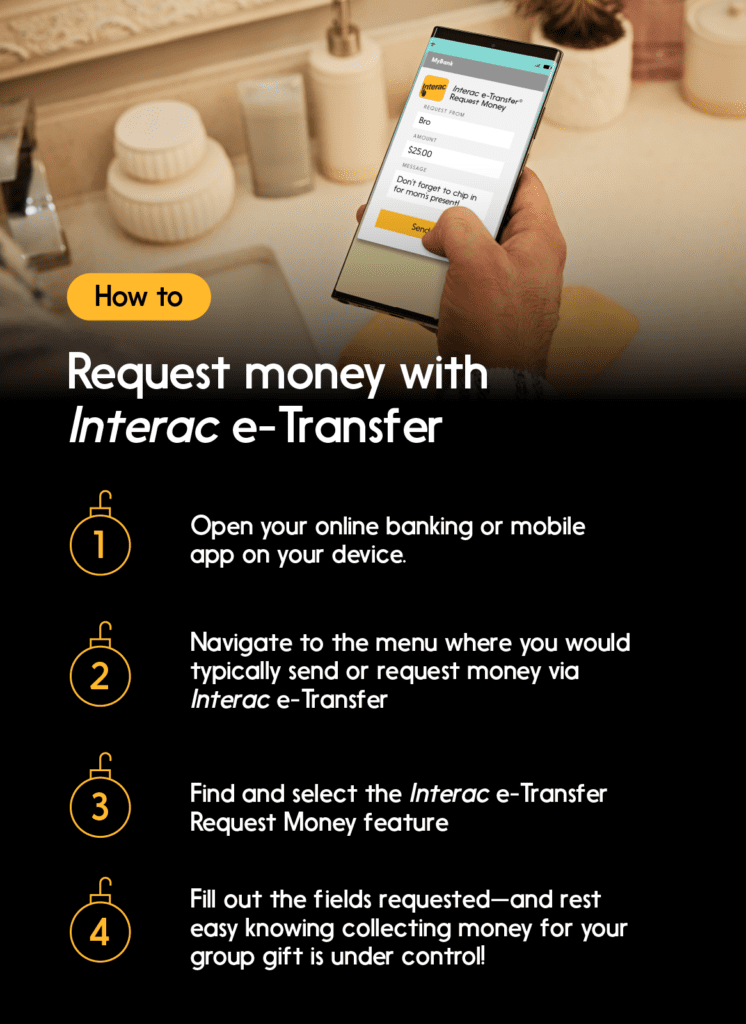 Feeling overwhelmed and stressed out because it's your turn to organize a holiday group gift? Take heart. When you request money with Interac e-Transfer, you'll feel better taking on the task knowing when your friends pay you back, the funds will go directly into your bank account—and not getting stuck with the entire cost of the present on your own. And, even more good news, the money from the group immediately lands in your account when you activate Interac e-Transfer Autodeposit. Plus, requesting group gift money with Interac e-Transfer Request Money eases the awkwardness of having to nudge people to contribute in person.
Your turn to get all the siblings to pitch in for Mom's holiday gift? No problem. You can request money anywhere, anytime from your siblings in seconds via text or email using Interac e-Transfer. You'll be in charge and make Mom proud. Got a close cousin across the country? Don't forget them when it comes to the family gift for Grandma. Invite them to chip in with everyone using the Interac e-Transfer Request Money feature.
Or, if you want to contribute to a group holiday gift someone else is organizing, say for the boss at the office, you can securely send your own money with Interac e-Transfer, too. And, when you're at a holiday dinner out with friends—and at the end of the night only one bill arrives—you can collect everyone's share of the bill directly and securely from your bank account with Interac e-Transfer. No cash, no cheques, no stress.
Be in charge when shopping online with Interac Debit this season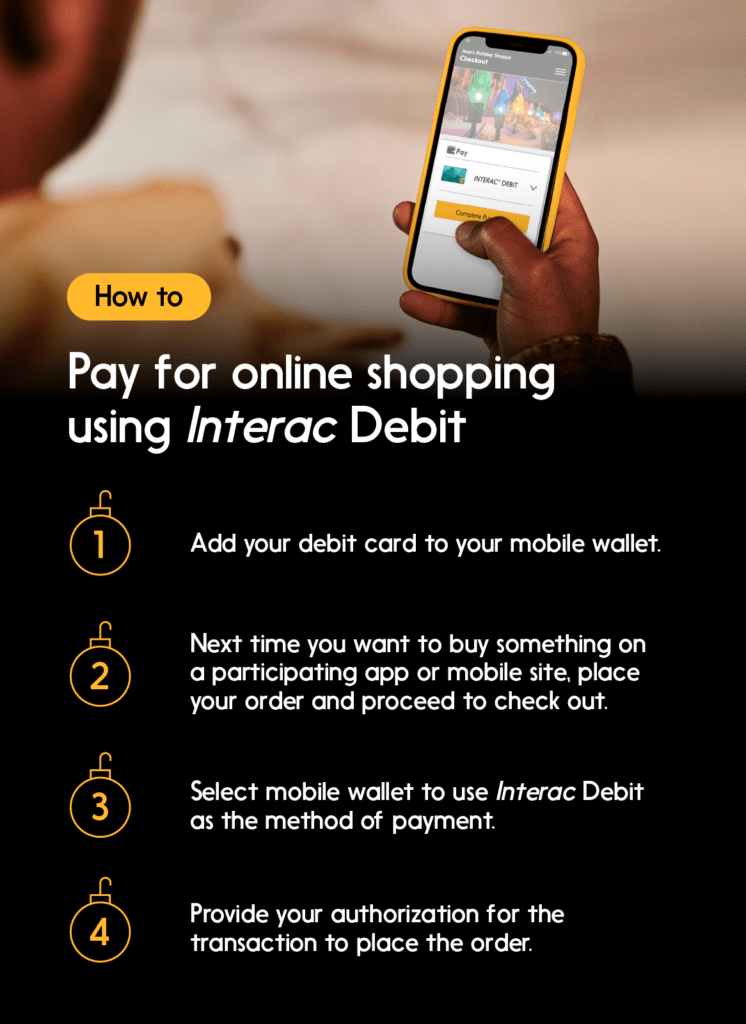 Are you in charge of decking the house out in bright, colorful lights and feeling the pressure to pull it off in a pinch? No worries. We've got you covered at crunch time. That's because it's fast, safe and easy to buy bulbs—or just about anything—directly from your smartphone, tablet or other mobile device using Interac Debit for e-Commerce.
You could even order decorations right from your phone while shoveling, if you're a next-level multi-tasker like that. You never know when festive inspiration will strike. Whatever you're shopping for, adding your debit card to your digital wallet is a safe, wise way to use your own money to pay for purchases—in apps and on websites. Shopping with your own funds doesn't just help put you in control of spending your money, it also makes it just as easy to shop on your mobile device or in browser as it is to shop at brick-and-mortar stores.
Wherever you shop online, paying with Interac Debit using your own funds can help you stay in control of how much you spend this season. When spending your own funds right from your bank account, you can feel good knowing you won't get a bill after the holidays.
Make more memories and magical moments at the holidays with Interac
We all know how challenging prepping for the holidays can be, especially during changing times. And we realize it's impossible to control every holiday moment. But you can at least rest easy knowing you're in control of your finances with help from Interac. So whether you're bundling up to shop or buying gifts in your PJs at home, get ready to own this holiday. #YoureInCharge when you spend what's yours this season with Interac—and get more out of life.