Asking people to pay you back doesn't have to be stressful. Make paying back friends easier—maybe your best friend has completely forgotten she owes you for brunch, or a few people on your social volleyball team haven't pitched in their share — and the first game is in a couple of days.
Whatever it is, Interac e-Transfer Request Money makes the process easy and hassle-free.
Here we break down three reasons why Interac e-Transfer Request Money is a feature you should be using right now, plus we'll briefly outline the practical steps behind setting it up so you can see just how easy it is.
1. The awkward factor: No one likes asking for money
We've all been there, wondering what's the best way to bring it up when someone owes you money. Some of us shoot straight with a phone call, others carefully craft a politely worded text that ends with a smiley face (the one showing teeth). Either way, it's easier if you can automate the process and quickly receive an automatic deposit. Everyone hates having those prolonged awkward "you owe me money" conversations.
2. Save yourself time: There's no faster way to get paid
Getting yourself paid isn't just easy, it's quick when you use Interac e-Transfer Request Money. In a matter of minutes and with just a few simple clicks, you'll have a request sent out to whoever owes you — and they'll be able to easily pay you from their debit account. Now that's one serious efficiency hack for faster payments.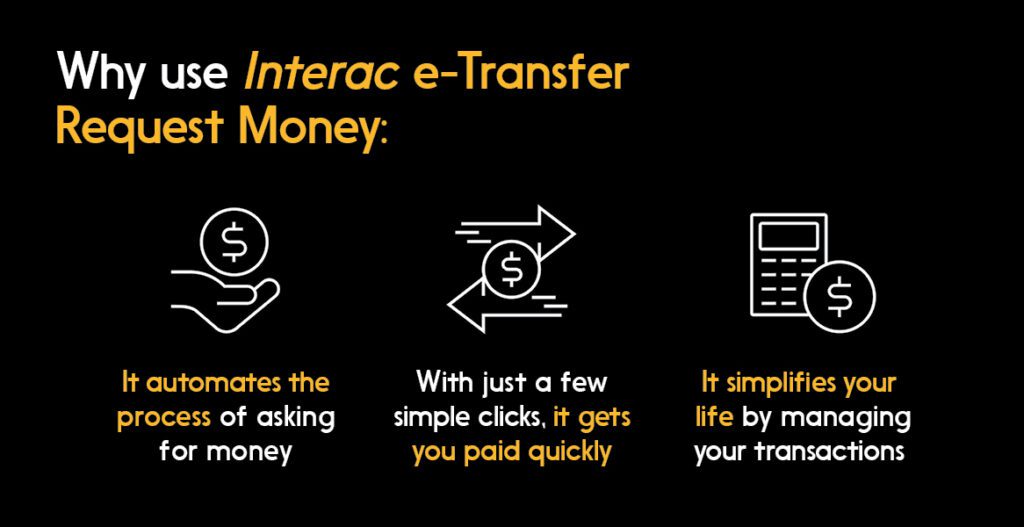 3. Easy to manage and process multiple payments
Whether you're a small business owner like Brockton Haunt Café in Toronto accepting contactless payments, or you're just trying to organize a group present, Interac e-Transfer Request Money will simplify your life. You'll be better able to manage your personal budget as it can help you remember who has paid you back and who hasn't. It also means no more keeping track of everyone's security questions and answers. Plus, the money transfer you receive is deposited automatically into your account.  
How to use Interac e-Transfer Request Money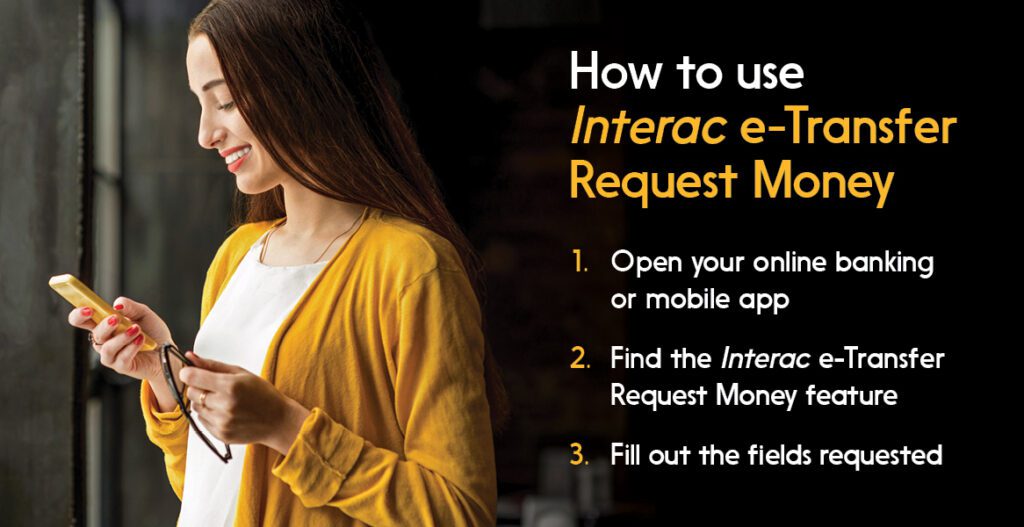 This feature was designed to be as fast and easy as possible. In just a couple of quick steps, your request will be sent off to whoever owes you money. It works almost the same as Interac e-Transfer, and Interac e-Transfer for Business but instead of adding the recipient, you input the sender information. Here's how it works:
Start by opening your online banking or mobile app.
Find the Request Money feature.
Fill out all the fields requested. And that's it.
For those with friends or family who might be extra forgetful, the feature automatically sends follow-up reminders if needed.
And for those who want to be ultra-efficient with all their transcations, be sure to set up another feature called Interac e-Transfer Autodeposit. That way any time you receive money (not just when using Interac e-Transfer Request Money) the money will go straight into your account — no security question required. Join the millions of Canadians who have contributed to over 1 billion transactions with Interac e-Transfer Whether you're sending or requesting money, Interac is here to make your life a little easier.
Interac services can help you stay in control.