Everyone tackles the many to-dos of the holiday season in their own way and at their own pace. Whether you're ramping up for a busy holiday filled with cookie-baking, parties and travel, or winding down to relax and reconnect with friends and family, it's wise to identify and understand your holiday shopping style…before you start your seasonal sprint.
When you do, you'll be better equipped to be in charge of your holiday spending and get more joy out of your holidays and life. You'll feel more confident and in control when checking out with your own money—and gain a sense of calm.  And you're not alone. In fact, 63 per cent of Canadians feel more optimistic when they're in control of their budget.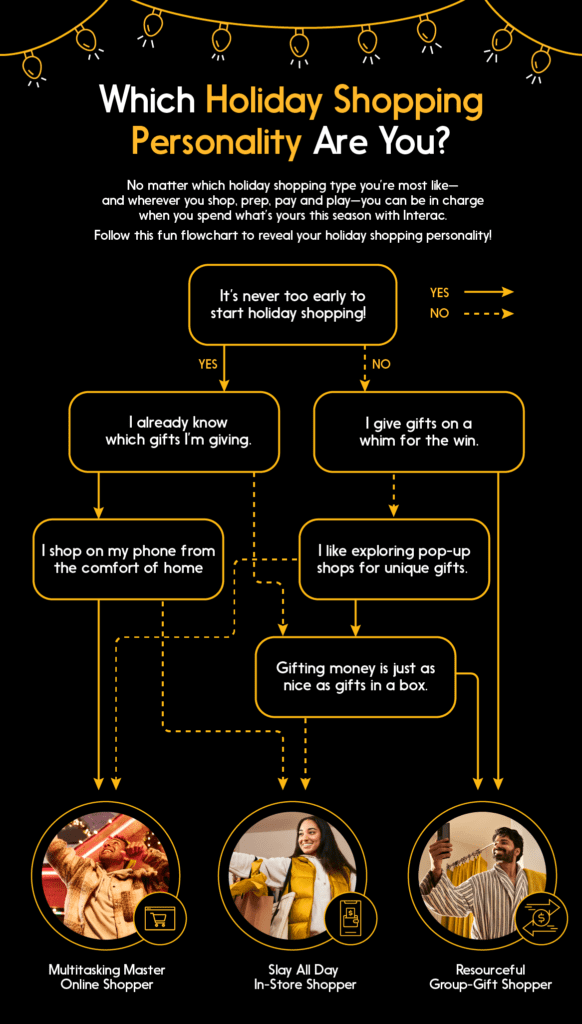 Ahead of stocking up on supplies and gifts at mom-and-pop and online shops—or heading over to Grandma's for turkey and all the trimmings—join us as we unwrap and explore three distinctly different holiday preparation personas. Find out how each makes the most of their own money—and memorable holiday moments—as they check off their holiday checklists with confidence and, oh, yes, some swagger too.
Slay all day in-store shopper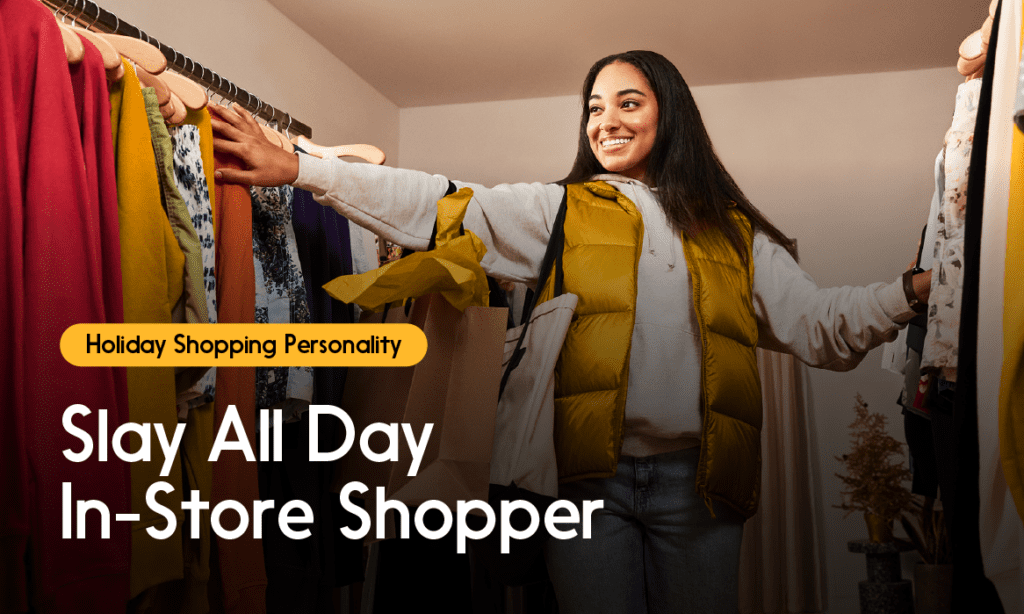 For the Slay All Day In-Store Shopper, it's never too early to shop for the holidays. Tech-savvy and cost-conscious, they find early bird sales and sail through local pop-up markets for one-of-a-kind cadeaux, packages, boxes and bags.
Tapping to pay as they go with their smartwatch or smartphone, the Slay All Day In-Store Shopper beats the crowds and whips through stores with ease. Why? They've researched the brands with the biggest in-store deals and planned ahead for the perfect gifts months in advance. Even with their hands full at the checkout, this shopper can rest easy knowing they're paying quickly, securely and easily on the go—with Interac Debit, whether it's through their mobile wallet, on their smartphone or with a smartwatch tap.
TIP: If this persona resonates with you, chances are you like to keep close and constant tabs on the funds in your account, especially money you've carefully set aside for seasonal spending. And that's exactly what you can do when you use Interac Debit—pay with real money in your account and track it down to the penny. It can help you stay on top of your finances as you knock out shopping sprints, easily keeping track of what you have left.
Resourceful group-gift shopper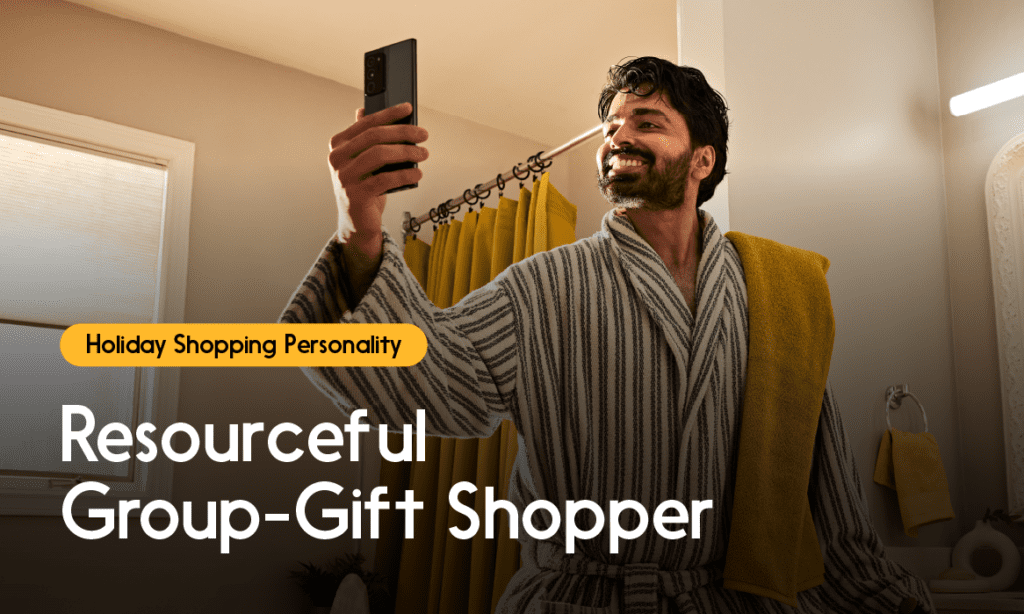 The Resourceful Group-Gift Shopper looks up the calendar and notices the holidays are just a few weeks away. So it's time to play catch-up while staying on budget. Giving to friends and local charities—and nudging friends and family to pitch in on group gifts—are no match for this take-charge-quick shopper. In an instant, using their banking app, they can send (and receive) gift contributions safely and efficiently on the fly via Interac e-Transfer.
With Interac e-Transfer conveniently in reach, the Resourceful Group-Gift Shopper is nimble and quick. It's no stress, no sweat: In a few quick taps of their phone, they nudge their siblings to chip in by transferring money for Mom's special gift. The best part? The Resourceful Group-Gift Shopper has the money at the ready to go out and buy the group gift with ease. It shows how much they care—and how well they stay in control of their money.

TIP: Sound somewhat like you? Group gift go-time? No worries—It can still be the most wonderful time of year, even when you're tasked with getting people to pitch in. You can be in charge this holiday when you send or request money directly and securely with Interac e-Transfer, no cash, no cheques required. With nearly all Canadian banks and credit unions offering Interac e-Transfer, you have the freedom to send your own money and receive others' group gift contributions anywhere, anytime—even during holiday crunch time.
Multitasking master online shopper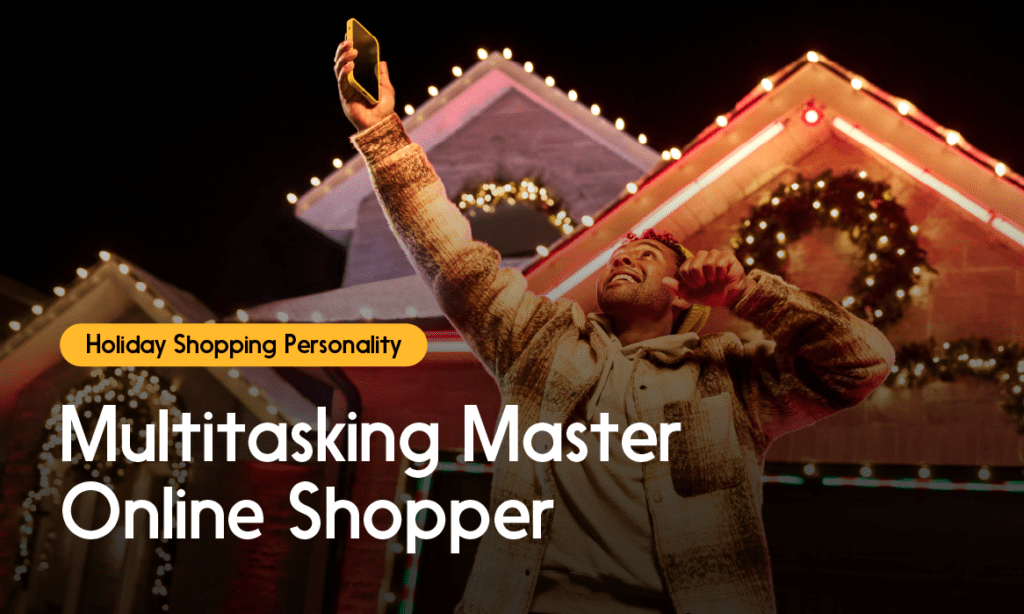 A resourceful e-commerce whiz, the Multitasking Master Online Shopper sticks to shopping online from the convenience of their laptop or mobile device—sometimes even while baking, crafting and decking the halls.
Deftly comparing holiday discounts from big-box and small business retailers online, this talented task juggler mindfully spends within budget online from the comfort of home. Paying with their own money when buying bright bulbs or inflatable snowmen to spruce up their abode, the Multitasking Master Online Shopper checks out easy-peasy online and in mobile apps. And they do it in a festive flash using Interac Debit for e-Commerce payments through their digital wallet.  
TIP: Feeling ever so seen? Then you revel in the quickness, ease and control of holiday shopping online amidst the holiday hubbub, and we totally get it. That's why it makes sense to shop online with Interac Debit e-Commerce payments this season. You'll know you're making the actual payment with your own money. With every click of the checkout button, you can feel confident that you're paying securely with your own funds.
Happy merry, mindful and staying-in-charge holidays!
Interac is all about helping you feel in control so you can get more out of life—at the holidays no doubt included. No matter which shopping persona you identify with the most, this season #YoureInCharge when you spend your own money with Interac.