Canada's journey toward an open banking system has already been a long one, and observers may be wondering when this country will get to realize the potential benefits for businesses and consumers, some of which other jurisdictions have enjoyed for years.
The federal Department of Finance's industry working group consultations on open banking concluded this spring, with government guidance to follow. Bringing together balanced representation and perspectives from across the ecosystem, four working groups were convened to help develop a "made-in-Canada" open banking regime by providing input on key topics of open banking: accreditation, liability, privacy and security. Interac contributed expertise and experience to these consultations through our participation in the privacy working group, as part of our work with stakeholders across the ecosystem toward realizing the benefits and economic opportunities of open banking for all Canadians and Canadian businesses.
The privacy working group meetings touched on a number of interesting insights. One that's worth highlighting is the central role that consent will play in any open banking system. This would require third-party financial service providers to obtain consent from a consumer to collect, use and share their financial information, which will allow them to offer more personalized recommendations and services tailored to that consumer.
Open banking only happens when consumers trust the system enough to grant consent for their data to be shared. And it's becoming clear that giving consumers direct, simple control over consent will be pivotal to driving acceptance and adoption of open banking. Why? Consider the following four points.
1. Canadian consumers see the upside of open banking, but want assurances
Surveys show that Canadian consumers see the potential benefits of open banking, but they harbour important concerns around security, privacy and informed control of their data.
For example, a study conducted by the Financial Consumer Agency of Canada (FCAC) in 2019 found that while Canadians see the potential benefits of open banking, such as greater convenience and choice, they were also concerned about the security and privacy of their personal and financial information. A 2021 survey conducted by Finance Canada found 59 per cent of Canadians polled believe open banking and consumer directed finance would make them more vulnerable to fraud, and at higher risk of having their identity stolen.
Interac research has shown comparable results: In 2020, Interac surveyed a nationally representative sample of 2,000 Canadians and conducted focus groups to assess consumers' attitudes around open banking. On the positive side, 75 per cent of the consumers Interac spoke to in these focus groups saw the value in having visibility and full control over their financial transactions via open banking. They believed it would enable better fraud protection (73 per cent), easier shopping around for better rates on financial products (72 per cent) and easier and faster approvals (65 per cent).
However, as in other surveys, participants voiced concerns. The top three raised in the survey were security, privacy and the desire to have a sense of informed control.
The financial and fintech sector has a responsibility to educate consumers so they feel assured and can realize the full benefits of open banking.
As we've seen, there's often a "trust challenge" with new technologies: Consumers want the benefits and convenience of a new product or service, but they're wary of any tradeoff in which they imagine they could lose control over personal information or data. Education can help consumers understand that open banking will not entail any loss of control or privacy. Establishing consumer comfort and trust can be a difficult task, but the experience of rolling out innovations over the past few decades has shown that it's essential for driving adoption for many new technologies. Open banking will be no exception.
2. Control over consent is key to consumer acceptance and adoption of open banking
How can stakeholders in the ecosystem provide consumers with assurances? Giving consumers direct control over how they manage consent for sharing their data would be a positive step forward.
Consumers say clear control over data sharing is something they want. In a second Interac survey from January 2023, for example, research found that 74 per cent of Canadians polled wished they had more control over their information online. This reaffirms the finding of the earlier 2020 Interac survey, which said 88 per cent of consumers surveyed want to be able to choose whether their financial data is shared with third parties.
What's also becoming clear from the survey data is specifically how consumers want to give consent for the sharing of their data — namely, in a single, easy-to-access place .
3. Consumers want an open banking user experience that creates a single integrated consent experience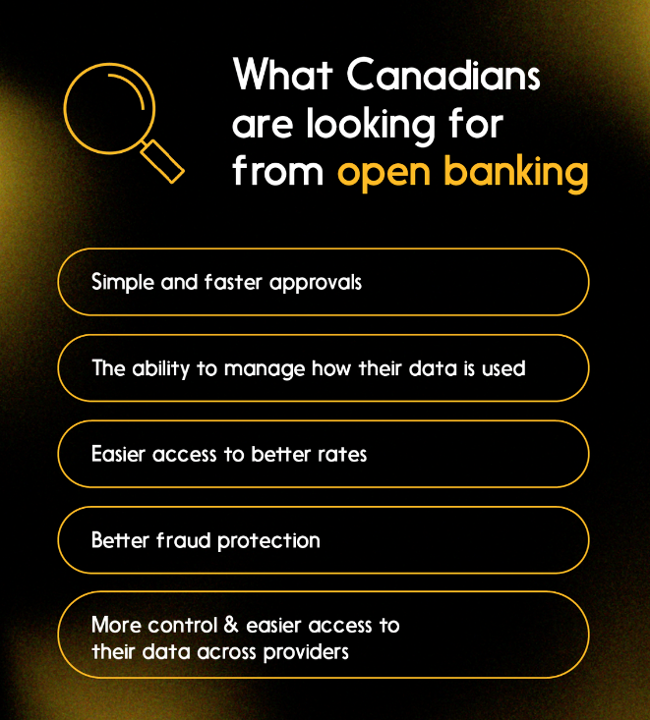 Interac research has shown a strong consumer preference for a simple experience for managing consent that will offer ease-of-use, convenience and clarity.
One way to view this finding is that consumers already intuitively understand the need for a superior experience for consent management, because maintaining control of their data will become impractical if it's fragmented across multiple systems and organizations. Remembering who the data is being shared with, for what purposes, and how long the consent is valid for becomes a more complex task as permissions proliferate.
By making it easier for consumers to keep track of this information, they will be more likely to continue to participate in open banking and use the new products that are launched because of open banking. As new products and services evolve and more competitors enter the industry, there is a resulting flywheel effect – a win-win for both the consumer and the financial ecosystem.
4. Partnerships across the ecosystem are already working toward made-in-Canada solutions
In the years since the open banking conversation started within the industry, many key players have come to agree that a collaborative approach is the most promising way to create a trusted and secure network that will facilitate greater confidence for all stakeholders.
For example, in 2021 and 2022, Interac collaborated with ecosystem partners to establish a minimum viable ecosystem (MVE), using a co-operative mindset approach to establish a testing ground for open banking concepts. As stakeholders in Canada's financial ecosystem continue to work toward establishing the policy framework for Canada's open banking regime, collaboration will be key in seizing the opportunity.
In the meantime, Interac has taken a step toward greater integration within the ecosystem by broadening access to the Interac e-Transfer service to more financial service providers. Organizations may now apply if they are both FINTRAC-regulated Money Service Businesses (MSBs) and investment dealers regulated by the Canadian Investment Regulatory Organization (CIRO). Under this new criteria, Wealthsimple, a digital investment management service, received provisional approval to become a participant.
The success of open banking will require continued collaboration between government, financial institutions, fintechs and other key stakeholders to innovate open banking approaches that put the needs and expectations of Canadians front and centre — culminating in a system that offers simplicity, choice and a consent experience that consumers can trust.
What are the success factors for open banking in Canada?