Change is the only constant. At Interac, we've long understood dynamic innovation focused on advancing knowledge, technology, and future-readiness as critical to driving Canada's economic growth and prosperity.
But what does innovation look like in a world that is changing, and changing quickly? With new technology constantly on the horizon, how can organizations prepare for a future that is established on continuous evolution?
Enter the Interac Lab.
Located at Communitech, the Kitchener-based tech hub, the Interac Lab has been enabling Interac and the Canadians it serves to become more future-ready since its inception in 2018.
An agile and nimble team, the Interac Lab explores concepts, technologies and problem areas in payments, verification solutions and innovation. They tackle diverse scenarios and use cases built around the company's core values of trust, privacy, and convenient access to financial data and services.
We sat down with Karam J. Yousif, Director of Emerging Solutions Delivery at Interac, to learn how the Interac Lab team is rethinking and reshaping digital experiences that add real value to Canadians — above and beyond our best-known payment and money movement products.
On a mission to accelerate fintech innovation in Canada
Led by Karam Yousif and Goran Vukancic, the Interac Lab is on a mission to inject a fresh outlook towards growing the Canadian digital economy — fueled by the ability to anticipate both disruption and opportunity.
The Interac Lab team may begin with a problem statement or by exploring and researching new concepts and ideas. From there, they build, test, and iterate through proofs-of-concepts and prototypes to rapidly inform new solutions.
According to Karam, this iterative process – backed by primary and secondary research – helps drive the rapid ideation and validation of ideas, ultimately accelerating the development of transformative new solutions for Canadians.
Connecting stakeholders to foster innovation
Communitech is home to a wealth of knowledge and public and private sector leaders in innovation, payments, and technology. Being part of the Communitech ecosystem allows the Interac Lab team to learn from other organizations and establish organic relationships. This can lead to future co-creation and collaboration opportunities with richer outputs and value for our stakeholders.
The Interac Lab team works with partners throughout the public and private sectors – industry associations, corporate teams, not for profit and government organizations or academics – to explore the potential of emerging technologies and produce mutually beneficial outcomes.
One of those value-rich outputs is the facilitation of a Minimum Viable Ecosystems (MVEs). An MVE brings together multitudes of different players — and gets them all on the same page — to discover and prove different concepts from end-to-end.
"This brings real value as we incubate and anticipate going to market and scaling up," Karam says.
Organizations are consistently working on concepts that are increasingly complex and interconnected. Understanding and launching those complex ecosystems independently comes with costs, time, resources, and risk. However, with a successful MVE, participants can validate ideas and learn about the new ecosystem in a low-risk, constructive environment.
A recent example is the teams' involvement in reimagining the possibilities of open banking. The Interac Lab established a sandbox environment that served as a reference for open banking implementation. This enabled Interac and its external partners to gain deep open banking insights through co-creation, without having to invest in the costs (and take on the risks) of building an ecosystem independently.
Through our work with the open banking MVE we were able to take a complex ecosystem and make it tangible.

– Karam J. Yousif, Director of Emerging Solutions Delivery.
Today, the Interac Lab continues to work with the Interac team and other leaders in financial services to understand and envision what a Canadian-made open banking framework could look like.
Karam adds that the Interac Lab works closely with the Innovation Partnerships team to identify and connect the right partners.
"We facilitate many different parties to ensure we're all aligned to our overarching agenda and priority objectives."
Challenging Interac to think differently
The Interac Lab prides itself on never creating in a vacuum. It's all about collaboration— researching, ideating, and validating with internal stakeholders and external partners.
"We offer our internal teams at Interac the ability to rapidly ideate and validate different scenarios and concepts. They come to us with business direction, and then we think through the challenges, constraints, and requirements to shape and deliver technical solutions for their strategic objectives," Karam explains.
This doesn't mean the Interac Lab moves forward with every idea brought forward. Part of thinking differently is understanding not every project is the right one.
"We work in an increasingly complex and dynamic world and there is no shortage of good ideas," Karam says. "Sometimes the hardest part of innovation is focusing on the right idea at the right time."
The Interac Lab plays a fundamental role in helping to test new concepts. They apply an Interac lens to an abstract idea to derive insights in a quick and lean manner.
"Saying no to an idea, and doing so quickly, means Interac can focus its efforts on ideas with winning value propositions."
Not only does the Interac Lab team lead internal business units to their project outcomes – whether by building tools and simulators, bringing together MVEs or pressure testing ideas – they also help establish a new way of thinking that lasts beyond the engagement.
"When we're working with our internal teams, we're not working in a silo. The teams are investing their time and resources into the design thinking framework," Karam says. "The business unit leaves with a better understanding of the innovation methodology they can apply themselves in the future."
And the learning is a two-way street, with the Interac Lab team delving deeper into the business with every project.
Taking a human-centric approach with design thinking
Tackling human-centered problems is at the heart of the Interac Lab's design thinking approach to innovation. Karam underscores that the Interac Lab is driven and inspired by its responsibility to Canadians.
"Our approach is anchored in understanding the needs of Interac consumers, product teams, and partners. We're always thinking about Canadians and the experiences that resonate most with them."
He points to the Interac Lab's collaboration with Ronald McDonald House Toronto as an example. When Ronald McDonald House Toronto was looking for a way to bring cashless giving back to its annual charity golf tournament, the Interac Lab team worked with the Interac product team to build a solution that facilitates contactless, digital and spontaneous donations through quick reference technology and Interac e-Transfer.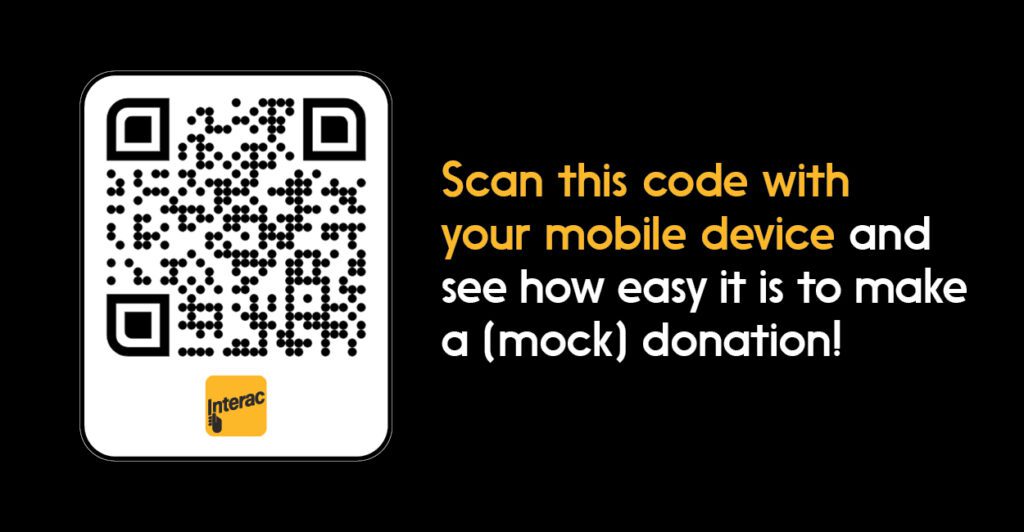 Karam shares another example. As conversations around the opportunities and challenges of NFTs (non-fungible tokens) continue, Interac Lab team worked with the Innovation & Ecosystem Engagement team at Interac to explore, test and validate the impact NFTs and NFT ecosystems could have on the future value exchange.
Through primary and secondary research, the team observed social, technical, and financial barriers of entry creators face in the NFT space.
The Interac Lab team developed a proof-of-concept that educates creators about the nuances of onboarding and participating within the NFT ecosystem.
"The insights we gained, combined with the real-world exploration of our proof-of-concept, could have important implications for not only our existing solutions, but on the inclusiveness of Canada's digital economy," Karam says.
Their learnings and insights will enable teams at Interac to engage new audiences more thoughtfully around NFTs, including through the NFT Art Gallery at Elevate. The Gallery enables visitors to learn more about NFTS and how this emerging technology can help create equitable access for underrepresented communities.
Nurturing Canada's next generation of tech talent
One of the most unique things about the Interac Lab is its dedication to nurturing the next generation of tech talent. Every quarter, the Interac Lab onboards a new cohort of interns from Canadian schools for four to eight-month long internships.
"No two projects are the same. A project early in the development cycle may require more business analysts and designers, whereas projects later in the cycle may require developers and testers," Karam says. "With this model, we are able to tailor-resource a team based on a specific project's needs and constraints."
For Karam, this internship-based model is also key to limiting biases as the team explores problem areas.
"We want fresh perspectives so we can truly innovate and look at problems with a new outlook. We empower interns to make decisions that aren't influenced by our existing business lines."
Whether developers with liberal arts backgrounds, designers with engineering experience, high school or postdoc students, Interac Lab interns have a diverse mix of skills. The most important requirement though? An innovation mindset.
"To be successful at the Interac Lab you need to be curious. You need to be collaborative. You need to be comfortable with ambiguity, empathetic, and ready to experiment." (Does this sound like you? Check out the student opportunities at Interac.)
Attracting and developing young talent is essential to building a team that's truly invested in the problems the Interac Lab is trying to solve.
Our team is motivated to building a brighter future for Canadians — for each other. That kind of energy is invaluable to the whole process.

– Karam J. Yousif, Director of Emerging Solutions Delivery.
"Our team is motivated to building a brighter future for Canadians — for each other. That kind of energy is invaluable to the whole process." – Karam J. Yousif, Director of Emerging Solutions Delivery.
What's next for the Interac Lab and Canadian innovation
Looking ahead, Karam is excited about several ongoing and upcoming initiatives the Interac Lab is exploring, including CBDCs, open banking, digital access, verification solutions, NFTs and unlocking the potential of digital value exchange — and what these all mean to Canadians and our future financial world.
Above all, Karam says that the Interac Lab is focused on ensuring that Canadians can continue to trust new digital experiences and technologies as safe, secure, and in their best interests.
A lot of great things are coming down the pipeline for Canadians. But if you ask Karam what's next for digital innovation, his answer will likely be different a few months from now. "Because the market, and world as we know it, is changing that quickly."