The move to a more cashless and more digital economy was already a concern to charities before 2020. Then the COVID-19 pandemic hit, dealing a sudden and unexpected blow to organizations that depend on spontaneous cash donations.
The realm of charity payment processing needs a digital update. So — what if a prospective donor could use their smartphone to scan a quick-reference code and give instantly via their bank account?
We're already working on it.
From cash to mobile payment processing
Through the pandemic, Interac has deepened its relationships with collaborators of all kinds to help them solve problems and weather the storm — for example by offering data insights, co-working initiatives, case study profiles, or by comparing innovation roadmaps to see where they line up. We recently worked with Ronald McDonald House Charities (RMHC) Toronto to bring cashless giving to their annual charity golf tournament, deploying quick reference technology and Interac e-Transfer to enable easy mobile, digital, and spontaneous donations.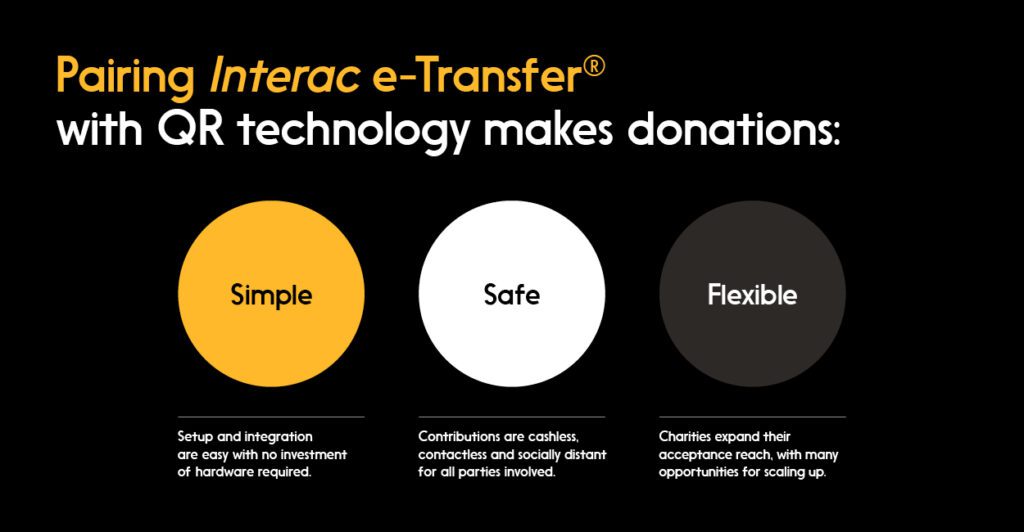 A successful rollout could demonstrate how charities can free themselves from the difficulties of dealing with cash (in a time in which fewer and fewer people are carrying it anyway).
And for donors, a digital solution to giving could mean never again having to dig into one's pockets for a cash donation — and the end of missing out on chances to give if those pockets happen to be empty.
On July 19, we gave the concept a dry run at the 19th Annual Ronald McDonald House Charities Toronto Golf Classic.
A hole in one for charity payments processing
For the golfers, here's how it worked at the tournament: Interac created a quick reference code which was displayed on posters next to the 2nd tee (but it could have been shared just as easily printed on a flyer or a permanent sign or shared online).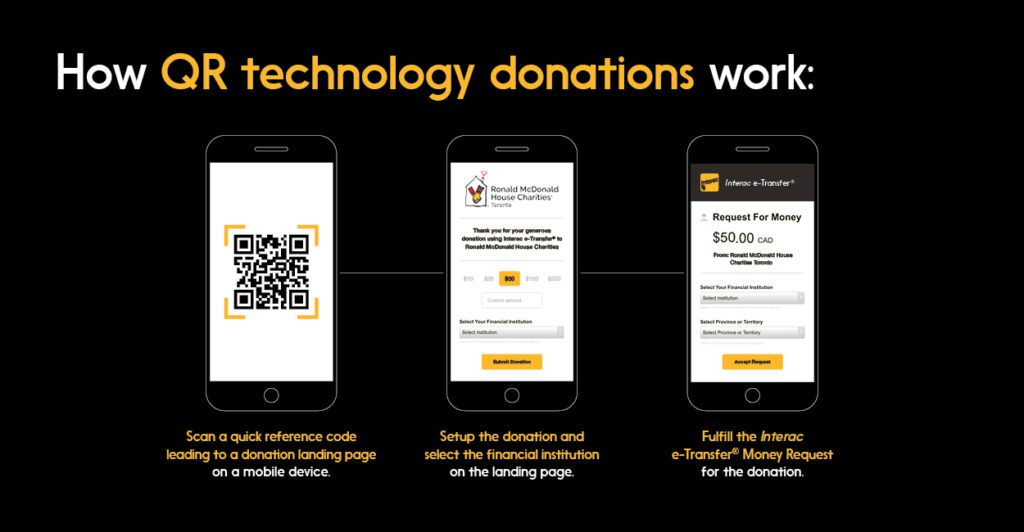 When someone flubbed their tee shot, it was no problem — just an opportunity to give. Golfers were invited to take a mulligan in exchange for a suggested $10 donation. A generous few even gave as much as $100. All they had to do was scan the code and follow a few quick and simple prompts to select their bank account and confirm the donation.
"You can appreciate how easy it is to just grab your phone, scan a code, donate, and take another shot," said Edwin Lam, Director, International Products at Interac Corp.
"And the familiarity of quick reference codes and Interac e-Transfer are big advantages, in terms of enticing people to try out the solution. We're leveraging a whole bunch of user experiences that consumers are generally comfortable with — like scanning a QR code. They're comfortable with choosing a dollar amount on a website. And they're comfortable with using their online banking or mobile banking app to fulfil an Interac e-Transfer Request Money transaction."
For charities, the setup is easy, and the solution doesn't require an investment of hardware — once again, the quick reference code can simply be printed on a banner, for example, and enable end user interface with qr code technology software — through the browsers that are already installed on their phones.
"We're basically providing a toolkit to the charities together with their financial institution to set this up," said Philip Murray-Smith, Senior Manager, Commercial Payments at Interac Corp.
The Interac e-Transfer donation solution can save charities time and money, considering the lowered overhead to reconcile accounts and implement the mobile payments solution.
Most importantly, it takes the friction out of donating, encouraging small value donations during situations when people may not have cash on hand. And more donations are simply good in their own right.
"Thanks to Interac, the activation at the 19th Annual RMHC Toronto Charity Golf Classic made it a seamless experience for the golfers to donate to support our families," said Catherine Bridgman, CEO of RMHC Toronto. "This activation was an innovative way for the event attendees to support families who need us the most."
Case in point was at the recent golf classic. On the day, there were 176 golfers and $1,518 was raised through digital donations. This was additional revenue that otherwise would not have been donated to RMHC Toronto.
"Funds like these raised with Interac have a direct impact on children and their families in some of their most difficult moments. The money raised through this activation will support one family to stay for eight nights at our House in downtown Toronto," said Bridgman.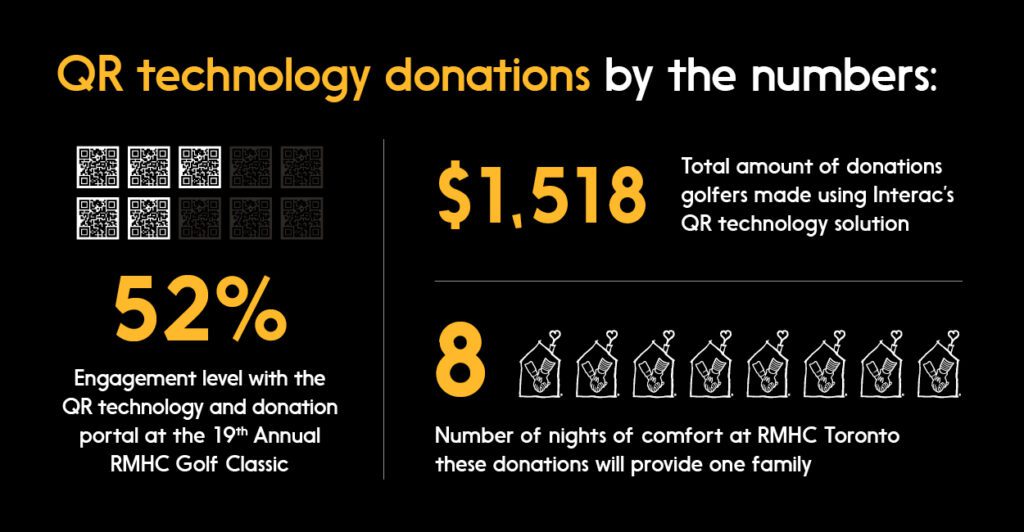 Quick Reference codes: a new frontier in mobile payments
It's easy to think of applications for scaling up, Lam says. Quick reference codes on digital and print ads that prompt the user to complete an Interac e-Transfer transaction could enable low-friction donations in an out-of-home context, for example.
Beyond charities, there could be all kinds of potential applications for quick reference code-based transactions, which are already common in China, India and other countries in Asia.
"I think you can imagine micro-merchants using this — say, a hot dog vendor downtown with a QR code at the front of the hot dog stand, and people are able to pay them with an Interac e-Transfer through that," Lam said. "It can also be helpful with small-business invoicing — a customer can scan a QR code on the invoice, generating a request for funds to easily pay the invoice balance."
Ultimately, Lam says, the market — including charities, but other sectors as well — will continue to need innovative ways to keep up with a changing and increasingly digital economy. "The pandemic has advanced the need for contact-free, mobile and self-serve payments," Lam said. "We're there to work with the industry to develop user-friendly solutions that solve practical challenges for customers, businesses and not-for-profits alike. At Interac, we're delivering frictionless customer experiences and enabling new channels of acceptance so Canadians can pay and be paid whenever and however they'd like."