As of 2022, consumers have largely left behind the personal cheque and other outmoded methods for payments and financial transactions. Retail businesses have accelerated the adoption of digital payments to provide their customers with improvements in speed and convenience.
Meanwhile, many Canadian businesses and other organizations remain dependent on paper for a significant proportion of commercial payments, notably millions of B2B transactions each year.
The persistence of COVID-19 has only exacerbated some of the inefficiencies of old payment methods — and highlighted the need for tools that will pave the way to economic recovery. Evolving past cheques and other traditional payment methods in favour of faster and more transparent digital payments can be a game-changer for an organization: improving cash flow, enabling a paperless office strategy, and generating transactional data analytics that simply aren't available with traditional transactions, among other benefits.
All things considered, many organizations are deciding that it's finally time for finance transformation. The question isn't whether or not to do it. The question is how.
Video: A decisive moment for finance transformation
In January, Financial Executives International (FEI) Canada invited representatives of Interac, Deloitte and Moneris to talk about how finance transformation can lead to operational and organizational transformation.
William Keliehor, Chief Commercial Officer, Interac, shared evidence that the time is right: results from a survey of Canadian organizations, which demonstrated a broad understanding and desire for commercial payments transformation.
"Eighty per cent of companies we surveyed said traditional payment options need to be retooled and reinvigorated," he said, indicating an appetite for "real-time, data-rich digital transactions."
If your organization hasn't yet started on the path to finance transformation, what do the expert panellists believe is the way forward? First, identify what the transformation can do for your organization. Clarify the vision. Next, look for tools that can help bring about the change. And last, acknowledge that operationalizing finance transformation requires a plan, persistence and leadership.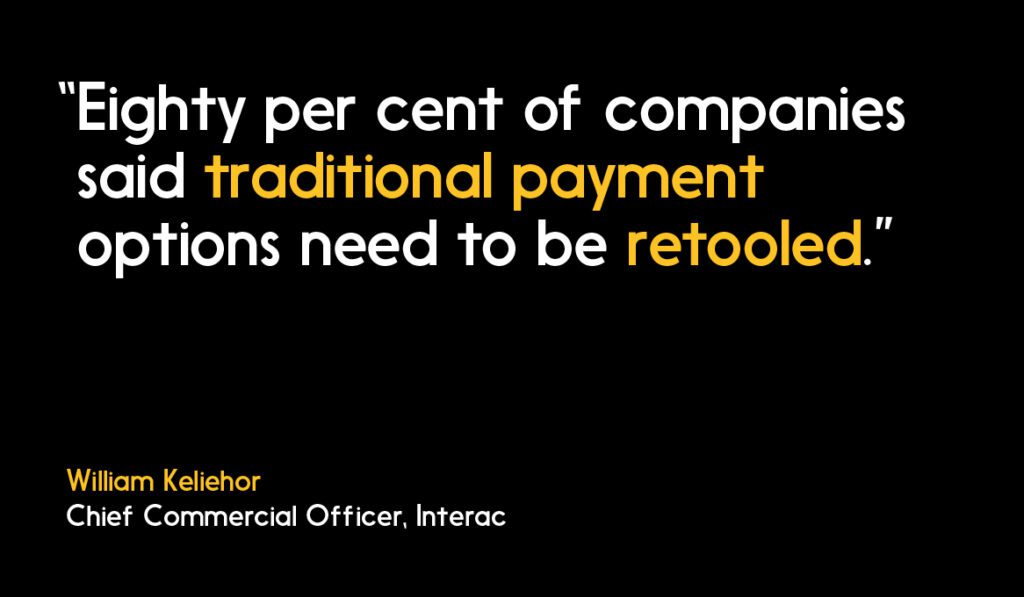 Reasons to adopt finance transformation at your organization, starting with commercial payments
From cash flow to fraud prevention, there's a myriad of motivations for modernizing and digitizing your organization's commercial payment processes. The examples below are based on reports from real-life firms operating in Canada — from neighbourhood hardware stores to multinationals with thousands of employees — that have been using Interac e-Transfer for Business.
Find cash flow efficiencies
"Finance transformation [at its core] is about enabling organizations to most effectively manage cash flow," said Todd Roberts, Canadian Payments Leader, Deloitte Canada. "Cash flow is the lifeblood of any successful organization."
Businesses that have traditionally relied on cheques for payments have much to gain from the speed of digital business payments. Simply put, they happen in real time — there's no need to wait for a cheque to arrive or an EFT to go through.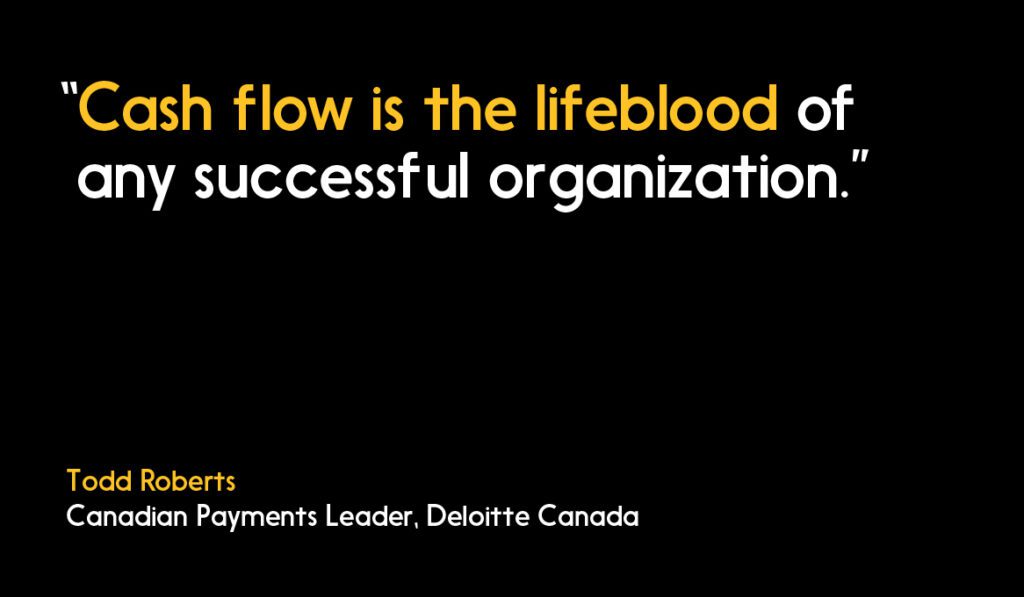 Find client-centred solutions to pain points
For example, some businesses have customers that pay for products upon delivery. If they don't have cash or cheques in hand, the delivery personnel can't unload the product. With real-time, digital payments, the transaction can take place right away at the doorstep.
"Be creative about living a day in the life of your clients and figure out how you can fix those pain points," Todd said.
Streamline accounting processes through automation
Want to find efficiencies in your accounting processes (perhaps with the ultimate goal of enacting a paperless office strategy)? Adopting digital payments using tools that are compliant with ISO 20022 (a global standard for rich remittance data), enables interoperability and integration between ERP systems and accounting applications.
That means fewer person-hours dedicated to processing invoices and payments. With straight-through processing, manual tasks can be automated, freeing up time for more strategic and rewarding work.
Reduce exposure to cheque fraud
Reducing cheque usage means reducing exposure to cheque fraud, in addition to speeding up payments.
Deploying ISO 20022 and transactional data for strategic purposes
While the efficiencies identified above are important motivators for finance transformation, the reality is that it opens the door to much more than that. ISO 20022-compliant digital transactions can also elevate the finance function so that it forms part of your data strategy.
Winnie Leung, CFO, Moneris, noted that by affording real-time access to data, ISO 20022-compliant transactions can support high-level decision-making — the C-suite, for example, can leverage insights quickly to make faster and better-informed decisions based on real data.
There are off-the-shelf solutions for finance transformation
There's a prevailing myth that finance transformation takes a lot of time. Yet there are already off-the-shelf solutions for organizations to implement.
Many businesses would find that Interac e-Transfer for Business can serve as a vehicle for finance transformation. It enables payment in real time, with transaction limits up to $25,000 depending on your banking provider. It includes powerful features, including compliance with ISO 20022, to help streamline accounting processes, accelerate paperless office strategies, and meet other business needs. Organizations could also be well served by the Interac e-Transfer Bulk Payables offering, which facilitates a number of payments made at once.
It's worth noting that these payment methods are easily accessible through many issuing financial institutions, with 90 per cent of Canada's financial institution market share able to receive real-time, data-rich transactions. Additionally, many financial institutions including the four of the big five in Canada offer bulk forms of these enhanced payments.
Leading and operationalizing finance transformation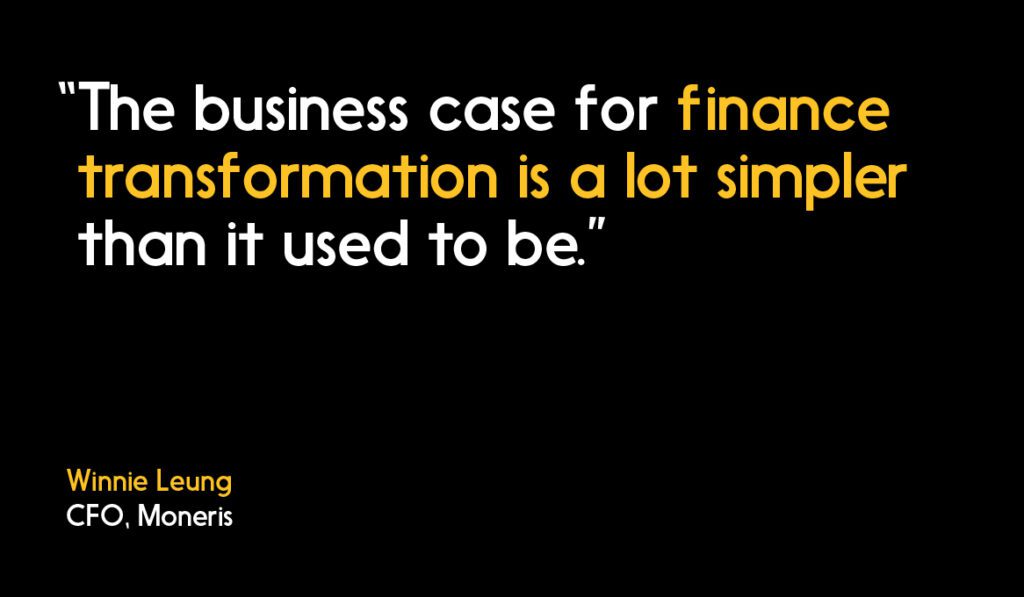 Ready for finance transformation? A dual challenge awaits, Winnie said: Selling the plan in to your leaders and selling it in to your team. Finance people's processes are ingrained and it can be difficult to help them see beyond what they've been doing for years and years.
While Interac research has shown enthusiasm for finance transformation, it has also revealed that there can be hesitation, questions and challenges around many of the details. For example, leaders in Canadian business say it can take time to find a software platform that suits an organization's needs. From that point there can be time, cost and logistical challenges involved in upgrading — not to mention a need for reassurances around the security of the new solution.
And after that, clients and customers may need to be part of the conversation around change, too.
Panellists agreed: Whether it's a CFO or someone with another title, it takes a leader with a vision to see these steps through and realize the gains of finance transformation within an organization.
Thankfully the argument in favour of finance transformation is easier than ever, Winnie said. "There are so many different solutions now that are so easy to implement and they don't cost a lot either. The business case is a lot simpler than it used to be."
For more information, please visit interac.ca/business or contact your relationship manager at your Financial Institution.