Interac e-Transfer for Business looks a lot like the Interac e-Transfer you probably already know. But it's been enhanced with powerful new features that address business needs, help streamline accounting processes and accelerate a paperless office strategy.
"We've listened to the market. Interac e-Transfer for Business is the result," says Anurag Kar, AVP, Money Movement, Interac Corp. "Interac e-Transfer is already a payment type that's ubiquitous in Canada. Everybody's aware of it and most people use it regularly to make payments.
"We realized that with a few enhancements, Interac e-Transfer would be just as attractive to businesses who are keen to incorporate an easy-to-access, fast and robust tool for making and requesting payments."
As more businesses adopt Interac e-Transfer for Business as a payment method, there are a few things Canadians and Canadian businesses should know about it. Interac In the Know talked with Kar to learn more about what it is, how it works, and what it's like to be on the receiving end of a real time transaction.
Why did Interac create Interac e-Transfer for Business? What were the needs you were responding to?
Although Interac e-Transfer was created as a P2P service, businesses have always seen value in it. With business use of the service growing especially during the pandemic, it highlighted some areas that could be improved to address the needs specific to businesses
Interac e-Transfer wasn't originally structured around business use cases, however, so we saw some things that could potentially be improved. With real time confirmations, higher transaction limits, flexible routing options, and rich remittance data attached to transactions, these enhancements better serve the practical needs of business payments.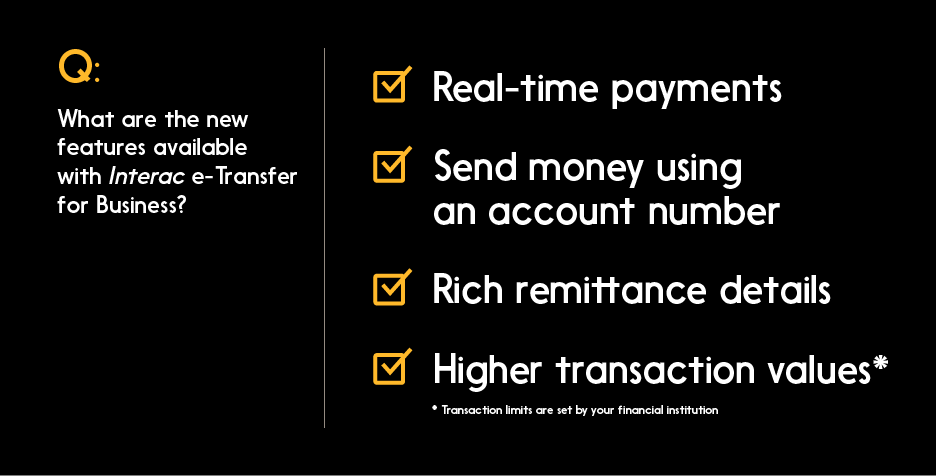 How much has business use of Interac e-Transfer grown recently?
Quite a lot, especially when the pandemic has been there as a driver of growth. From March 2020 to April 2021, active business users grew by 26.7 per cent, compared to the platform's overall active user growth rate of just over 10 per cent.
So there was an obvious, growing need for a business-oriented version of Interac e-Transfer.

Can you explain some of the new features that Interac e-Transfer for Business offers, above and beyond the classic version?
First, these are real time payments: They're deposited into the recipient's account within five seconds. The sender receives a payment confirmation to confirm the payment was successful and the funds have been deposited.
Users can also choose to send payments using the recipient's bank account details (as in, their routing information), in addition to email address or SMS number — whatever is most convenient or makes the most sense to you and the recipient. Whichever you decide to use, Interac e-Transfer has an added layer of security when deposited directly into the recipients account.
Interac e-Transfer for Business payments have increased transaction limits up to $25K. The limit available to each business is controlled by your banking provider.
Finally, with Interac e-Transfer for Business we can include structured remittance data. Structured Remittance data allows the sender of a transaction to attach relevant payment information within defined fields so that the recipient can easily identify what the payment is for. This especially improves record keeping for parties that have incorporated automated accounting software within their business processes, as opposed to unstructured data like a memo field where the meaning isn't always clear.
The potential around this one is huge, honestly. Interac e-Transfer for Business is ISO 20022 compliant. Large businesses told us: "We need to be able to reconcile invoices in a really straightforward manner, or automatically."

Can you talk about how the rich remittance data helps with streamlining accounting functions? Could offices even use this to go paperless?
Structured remittance information, which allows for straight through processing and automatic reconciliation, will absolutely help businesses streamline accounting processes. With fields defined for different pieces of information like "invoice number" and so on, it removes the need for the manual reconciliation associated with unstructured information like a memo field.
In the bigger picture, you can almost think of structured information as a much easier way for machines to automatically interact with the information. That's obviously going to be important in any paperless office strategy.
This is a new way of transacting. What will the experience look like for recipients of these transactions?
When on the receiving end of a real time Interac e-Transfer transaction routed to an account number, the funds will be deposited directly into your bank account within seconds. This experience will be very similar to what we call Autodeposit today. The big differences being that the information needed is an account number and the funds are guaranteed to be deposited in 5 seconds or less.
And again, there's the ability to associate structured information with that payment.
What is the benefit to you as a recipient of an Interac e-Transfer for Business transaction?
In addition to leveraging the structured information within your own accounting software to automatically reconcile payments received, you will also have access to funds the moment they are sent.
If funds are not received, it means they likely haven't been sent. This means no more waiting for three days to find out that the payment wasn't actually sent, or longer to find out a cheque has been lost in the mail. This improves transparency and improves cash flow.
Can you give us some examples of use cases for Interac e-Transfer for Business, in terms of some ways that Canadian businesses are taking advantage of it?
Interac e-Transfer for Business is widely applicable across many industries and all business sizes. For example, a small business owner can use the solution to pay employees securely while spending less time on administration, a franchise can facilitate just-in-time vendor payments, while an insurance company can leverage it to distribute claims in real time.
In each case, they're taking advantage of very fast disbursements thanks to the real time payment capability.
What is the most exciting use-case for the newest enhancements in your opinion?
I think one of the most important use cases we'll see come out of all of this is the gig economy. Instant payment of contractors is something that's catching on in the United States, and we now have the ability to enable here thanks to real time payments. For example, we can envision someone who's worked a shift as a rideshare driver or food delivery courier. They've completed the amount of driving they want to do for that day, and they can be paid out their earnings immediately.
Some of these payments could also be well served by our Bulk Payables product, wherever there would be a number of payments made at once, for example tip-outs at the end of a restaurants' dinner service.
Being paid immediately is one type of experience we're envisioning with real time payments for business. The improvement of cash flow for everybody involved, that's a big part of the value that's created by introducing real time payments.
Naturally we at Interac have ideas for use cases for Interac e-Transfer for Business, but ultimately the market is going to determine how these new features will be implemented, create value, and ultimately evolve to solve practical challenges that businesses are facing.
Seeing the ingenuity of Canadian business — that's the beauty of creating a tool like this, one that enhances the ways that businesses can transact with their customers and suppliers.