At Interac, we take your online security seriously. Cyber security is important especially as fraudsters are exploiting Canadians who have been under even more pressure since the start of the pandemic.
Interac is eager to help Canadians protect themselves, and we're working hard on our end to protect your money and data.
How Interac puts safety and cyber security at the centre of what we do
As digital fraud risks continue to evolve, everyone has a role to play in cyber security. Here are some of the ways Interac works to protect you:
Bank-grade protection: Interac e-Transfer users are protected with multiple layers of security, including transaction encryption and financial institution authentication.
Sophisticated fraud detection and data protection tools: We have a group of dedicated experts who work around the clock to help financial institutions and partners monitor and flag patterns of fraud. This has contributed to making Interac e-Transfer one of the safest digital money transfer services in the world.
Direct transfers between financial institutions (bank to bank): Money never travels by email or text — these notifications are simply used to tell you that money was sent or requested, as well as provide instructions to deposit.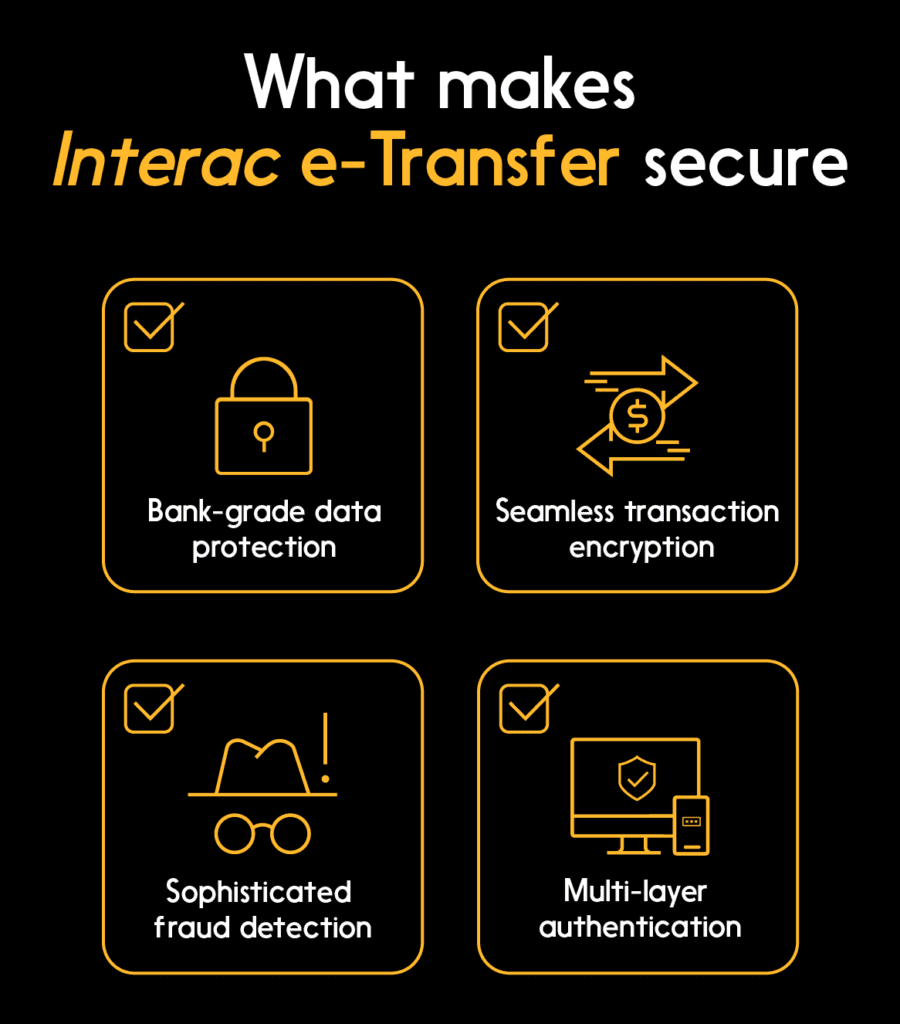 Two-step authentication: To receive an Interac e-Transfer, you first need to sign into your online banking with your username and password, Touch ID or Face ID. The second step is to provide an answer to a security question that only you and the sender know.
Pre-authentication: Interac e-Transfer Autodeposit gives Canadians the option to pre-authenticate their email address or phone number to a specific bank account. This allows for bank-grade security to be maintained. The need for a security question and answer is eliminated, while consumers are still protected against Interac e-Transfer scams.
How to safeguard your own cyber security
While 1 million Interac e-Transfer transactions are completed securely each day, fraudsters are becoming increasingly sophisticated. Be aware of what you share – being proactive about cyber security is more important now than ever before. Canadians can help to protect themselves by taking these steps to improve their digital practices:
Passwords: Good passwords aren't elegant or easy to remember. "Ugly" passwords  — those that contain a variety of characters in unusual combinations — are harder to crack and keep your information safer.
Trust your gut: If you receive a deposit or money request notification you were not expecting, consider contacting the sender through a different channel to make sure it's real.
Look before linking: Never click on links or open attachments you receive from a sender you don't recognize.
Cut the questions: If you are sending a digital transaction using Interac e-Transfer, use Autodeposit where available.  This feature allows you to safely skip steps that involve passwords and security questions.
Check twice, because you only send once: Only send money to people you know and trust, the same way you would with cash. When you use Autodeposit, you have two opportunities to see the legal name of the person you are sending money to within your online banking account: first when setting up the transfer, then one more confirmation before the transfer is sent.
Don't pass it on: Never send passwords or sensitive personal financial information over email or text.
Learn more about how Interac provides safe transactions, and report fraud when it happens
Click here to learn more about how to help protect your data and yourself from online fraud. If you do suspect fraud has taken place, click here to find out what you should do next.
Interac e-Transfer Autodeposit is a fast and convenient way to send money. But did you know it also offers cyber security benefits that can help protect you?