You probably know whether your front door is unlocked when you leave the house. You know which pocket or bag your wallet is in. These days, you're remembering to check to make sure you have a mask, too.
But are you also mindful of another crucial piece of everyday security: Making sure you're not sharing information with potential fraudsters?
Given the cyber security threats we all face in Canada — including new phishing and email scams that are exploiting COVID-19 relief efforts — it's important for everyone to take steps to safeguard their sensitive information the way they would protect a wallet or front door.
The good news? A fresh survey from Interac says Canadians recognize that it's up to them to be the first line of defence.
Interac cyber security awareness survey
In advance of Cyber Security Awareness Month 2020, Interac conducted a survey of 993 adults from across Canada in September, to learn more about their data security outlook and preparedness.
We learned, first and foremost, that Canadians take their cyber security seriously. Eighty-four per cent agreed that protecting ourselves against cyber security threats is more important than ever, which is higher than the 62 per cent who gave a similar response in an Interac survey earlier in the year.
Why the change? For one thing, many Canadians seem to be aware that pandemic relief benefits have created an opportunity for fraudsters — for example, phishing scams that target recipients of COVID relief benefits. In our survey, 60 per cent of respondents agreed with the statement: "Since COVID, I am more vigilant in protecting myself against online scams."
As we spend more of our lives online and conduct more transactions in the digital realm, Canadians could be making themselves more vulnerable to cyber security problems. That's why it's everyone's job to Be Aware of What You Share.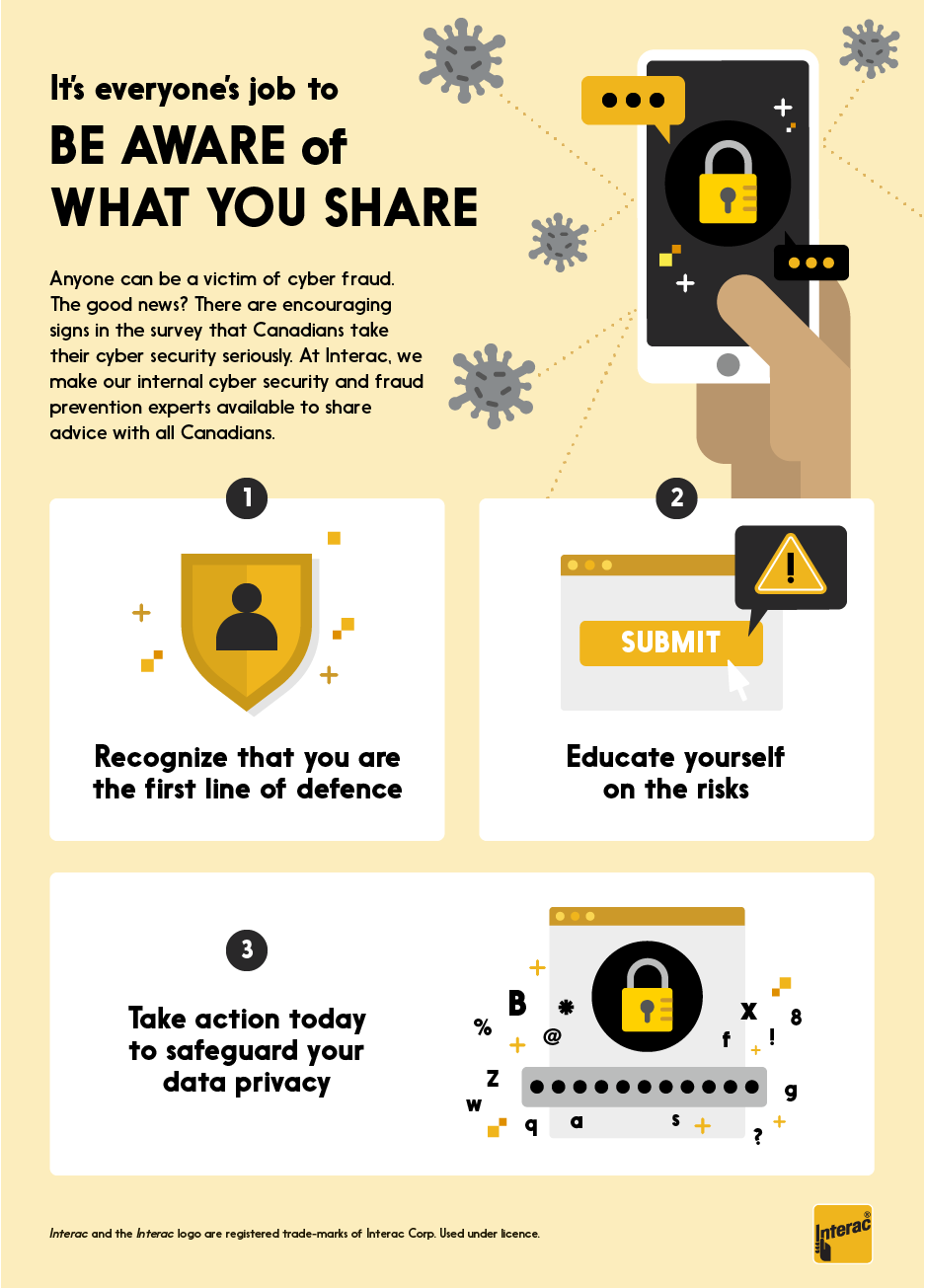 Three steps to cyber security awareness
Our survey says 61 per cent believe subject matter experts are the best source of information on cyber security. At Interac, we agree. That's why we make our internal cyber security and fraud prevention experts available to share advice with all Canadians.
You can think of their advice as consisting of three steps:
1.  Recognize that you are the first line of defence
Four out of five Canadians believe seniors are at greatest risk of cyber fraud, while 55 per cent believe students are at elevated risk.
But the reality is that anyone can be a victim of digital fraud. In other words, it's up to you to be conscious of what you share online and how that can help someone hack into your accounts — and to take the necessary actions to protect yourself.
It might help to know just how easy it is to fall victim to a scam. This Interac Fraud Prevention Map of Canada shows just how widespread the problem is, which underscores how every Canadian needs to be vigilant.
2.     Educate yourself on digital fraud risks and job scams
While we recognize the need to avoid risky behaviour, many Canadians engage in it anyway. For example, would it be possible for a hacker to guess your passwords and security answers based on information you're sharing through your social media accounts? If so, you're putting yourself at potential risk.
As for sharing information in response to incoming messages, this article talks about how to recognize and avoid some common email scams, while this one contains information and advice specific to a recent problem: email and phishing scams relating to COVID-19 relief benefits.
Many Canadians are also experiencing a shift in employment, and remote jobs continue to be common. Stay alert for attempts at identity theft or false application fees, and be mindful of messages with attachments that you do not recognize. Above all, keep yourself educated about continually evolving scams.
3.     Take action today to safeguard your cyber security and data privacy
At Interac we make fraud prevention our top priority. In order to succeed, we need all Canadians' help to make cyber security awareness an everyday state of mind.
This article contains a number of steps you can take to protect your data privacy, including:
Creating unique, "ugly" passwords that are difficult for hackers to guess.
Being careful of emails and websites that request personal or financial information, and being aware of the risks of sharing sensitive data.
Choosing security questions and answers that won't be easy for a fraudster to determine
Bypassing security questions altogether for money transfers: Consider using Interac e-Transfer Autodeposit, which eliminates the need for security questions and answers and deposits funds directly into your account.
Let's make this a year in which all Canadians become more aware of how we share information about ourselves — which will make us safer and more cyber secure in the years to come.
Learn more about today's cyber security threats and how to be proactive about staying safe.