After over a decade of working toward financial literacy education with diverse groups in Canada, Rhiannon Rosalind came to realize that many of these efforts only create short-term advancements to individual financial confidence. Through personal reflection on subconscious limiting beliefs around money, rooted in childhood financial trauma and other external social narratives, she refocused her energy to create an organization that seeks to generate lasting change, Conscious Economics. Conscious Economics is a not-for-profit uniquely focused on combining art and business as tools for transformation away from economic dysfunction, disengagement and exploitation. Interac is a proud corporate partner of Conscious Economics and has contributed to programs including Mindfulness and Money and HeARTwork to help build financial confidence in Canadians.
Using art as a tool for social change
In the current economic environment, there is an assumption that the priorities of business and art cannot align. Instead, Rhiannon argues that "all of these narratives are false, but unfortunately, they are also deeply ingrained within creative and corporate communities and contribute to the lack of exploration here. We work to break down those barriers by bringing both creative and corporate leaders together to understand the value of co-creating." Connecting different individuals from varied social communities and professional backgrounds is the solution to propel society toward the 'new economy,' which, as defined by Rhiannon, is "a more conscious and progressive approach to work, money and economic development, ensuring that the wellbeing of people and the planet are equally important as the need to earn profit."
So, to break down damaging narratives and create room for an equitable economy to prosper, Conscious Economics thoughtfully engages stakeholders from many walks of life and areas of passion, providing resources and touchpoints for corporate leaders, community representatives and artists to engage meaningfully and genuinely in critical conversations. For creatives, involved in art forms like visual art, music, drama, and spoken word, this pillar is Lunar Studios, which Rhiannon created to "help artists understand their role in creating systemic and social change. Programs immerse artists in economic, social and policy-related projects bringing them face to face with diverse leaders from multiple sectors."
Most recently, Conscious Economics brought communities together through the launch of HeARTwork – a national policy framework designed to advance diverse Canadian women in their careers and encourage corporations to implement meaningful and actionable solutions to prevent immobility, fatigue, or job abandonment. As the lead corporate champion, Interac supported the creation of these 11 solutions, informed through national focus groups held with diverse women from groups including the Indigenomics Institute, OnePeopleTO, Canadian Arab Institute, and CEE Centre for Young Black Professionals. Interac is proud to be the leading corporate champion of this initiative.
One example of the work of Lunar Studios was displayed at the launch, where three resident artists, Your Hunni, Madelyn Kirby, and Meagan De Lima, performed an original song, Changing, produced by seven-time Juno award winner Serena Ryder, and inspired by sitting in on the research sessions that informed the policy. The role of music through Lunar Studios in this space connects the dots [between logic and intuition] and allows us to feel the depth of issues we want to solve, inspiring us to take action and understand each other in new ways.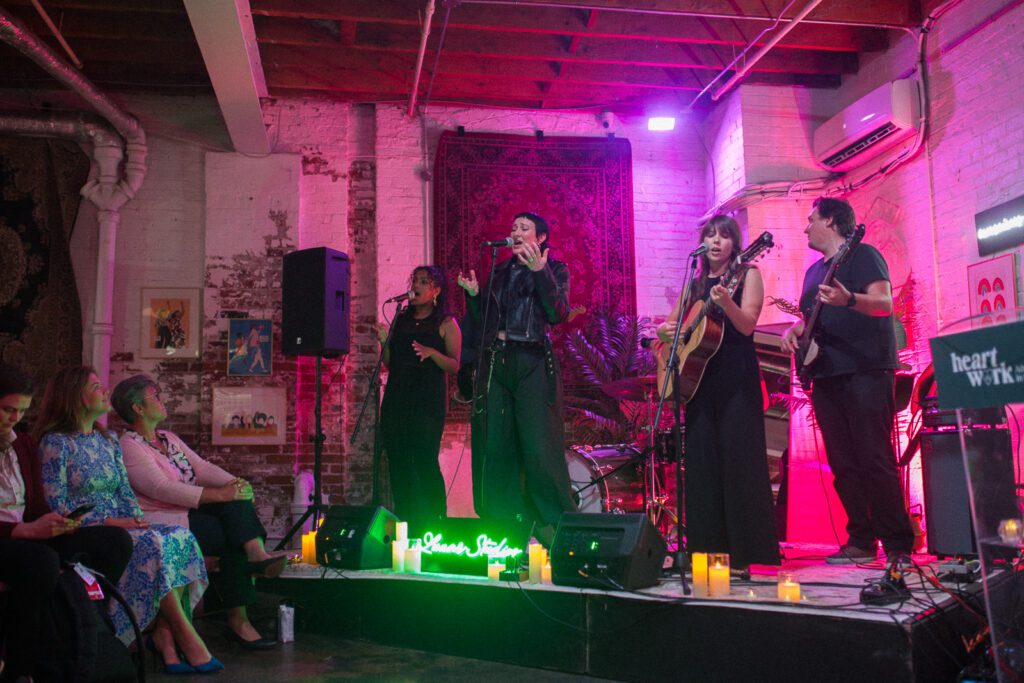 One of these resident artists, Meagan De Lima, is a Toronto-based heartfelt R&B singer-songwriter, who points to the opportunities she's experienced in her career from Lunar Studios. From performing in front of past United States presidents to receiving recognition as Canada's Top Artists For Social Change for her original song discussing mental health, Meagan has been able to connect with like-minded, successful artists who recognize their art as a tool for systemic change. Further, she's been able to find a space where conversations about business and art can build off one another without feeling out of place.
To lend our platform to combining art and business for social change, we asked Meagan to perform and at our Mix and Mingle event in our sponsored Executive Lounge at Collision 2023.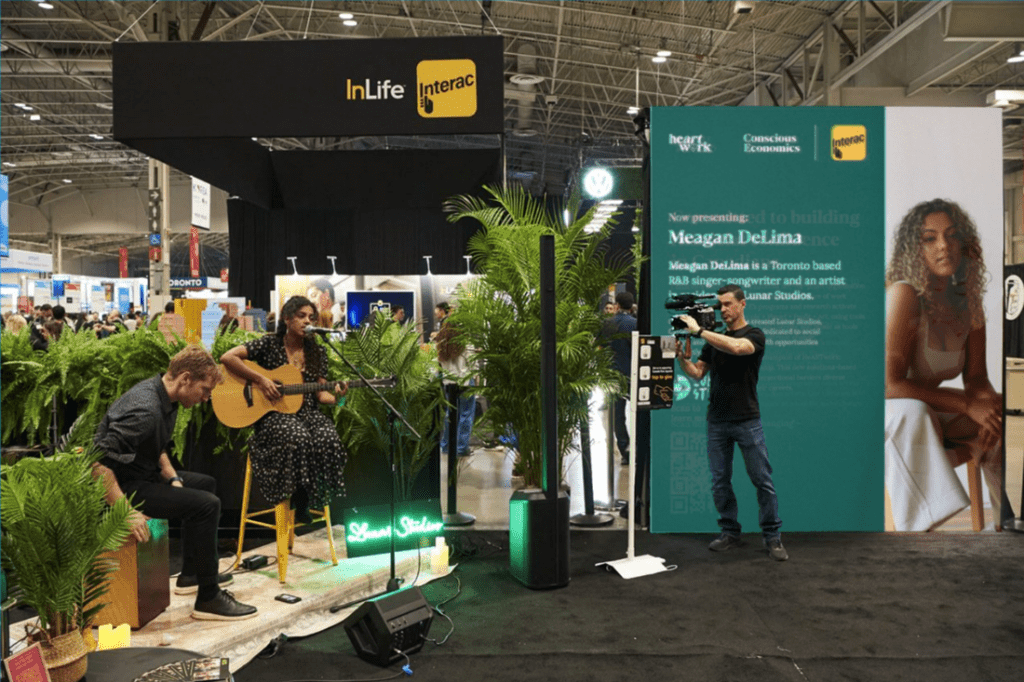 Interac's commitment to financial confidence
Interac has proudly partnered with Conscious Economics for over five years, allowing us to stay true to our commitment to helping Canadians build their financial confidence. Over the years, we have championed initiatives including HeARTwork and the Mindfulness and Money digital learning program, which has helped nearly 80,000 Canadians develop their financial wellbeing skills through the lens of mindfulness. Mindfulness and Money is accessible and equitable toward the experiences of self-identifying women, and "seeks to build financial confidence and wellness for participants using holistic tools like mindfulness, to support deep personal transformation." Rhiannon Rosalind, Creator & CEO of Conscious Economics and Lunar Studios.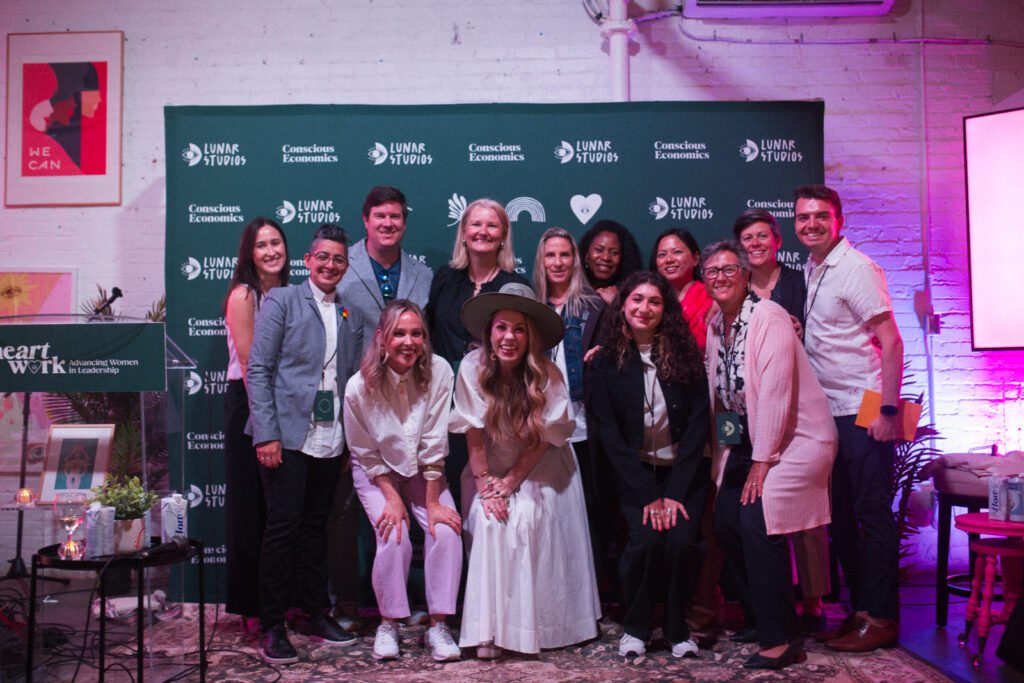 Preparing for the 'new economy'
As the economic landscape changes, Rhiannon hopes Conscious Economics will continue to bring generations of leaders together to discuss transformative solutions for the economy that reflect our collective value systems, and we are excited to support them as these changes unfold. For individuals interested in adopting the first steps to encourage shifts toward the 'new economy,' Meagan reminds us that "creatives have a superpower in that we're very intuitive with our emotions, and we can bring that into the workplace in order to help people listen to what needs to be heard." Rhiannon also shares, "my advice is to bring more conscious awareness into your own personal limiting beliefs or explore the ways that you may be unconsciously upholding outdated values that no longer serve you or your business. This is how we will change the world – one individual at a time."
Learn more about our Mindfulness & Money program here.
Learn more about our Community Impact programming here.