Running a small- to medium-sized business (SMB) has become easier in some respects in recent years, thanks to the growth of digital tools — including business payments services (like Interac e-Transfer for Business) that helps make it easier to manage money, and Software-Based Pin on Cots (SPoC) technology to enable cost-effective mobile point-of-sale transactions.
Tools like these are more valuable than ever, as Canadian firms of all sizes are fighting to hold their own in a competitive, global digital economy. The need is especially clear because future growth projections have recently placed Canada among the weakest potential performers in the OECD (the Organization for Economic Co-operation and Development, a group of mostly highly developed countries).
Open banking is among the digital innovations that could give Canada's SMBs an edge. It gives consumers and small businesses the opportunity to control their financial data — meaning the ability to oversee it, to see who has access, to grant access to new entities (such as banks or fintechs), or to revoke that access.
We've already looked​​​​ at the benefits open banking will bring to consumers. But what does the upside look like for SMBs? Here are a few of the advantages.
1. Streamlined money management — and insight into a company's finances
Internationally, in jurisdictions where open banking is already in place, it has led to the creation of tools that can help users manage data from different places on a consolidated platform. What does this look like in practice? The ability to see chequing, loans, revolving credit, and so on — in one place.
In the United Kingdom, where an estimated 750,000 SMBs are using open banking products (according to a 2023 report by the implementation body, Open Banking Limited), these are the most popular type of applications. While some financial apps already offer similar services to Canadian SMBs, they do so using workarounds including so-called "screen scraping," which can expose users to security, liability, and privacy risks.
Whereas manually collating data from multiple accounts is time-consuming and prone to errors, aggregation of data can provide SMB managers and owners with a more holistic view of their business's financial health, allowing them to identify trends and make better-informed decisions. The UK's Open Banking Implementation Entity reported in 2022 that 77 per cent of SMBs said open banking had provided them with better visibility of their financial position, leading to improved decision making (75 per cent). Certain apps available to British SMBs are able to streamline processes by, for example, integrating with popular accounting software to automate invoice payments, which can improve cash flow.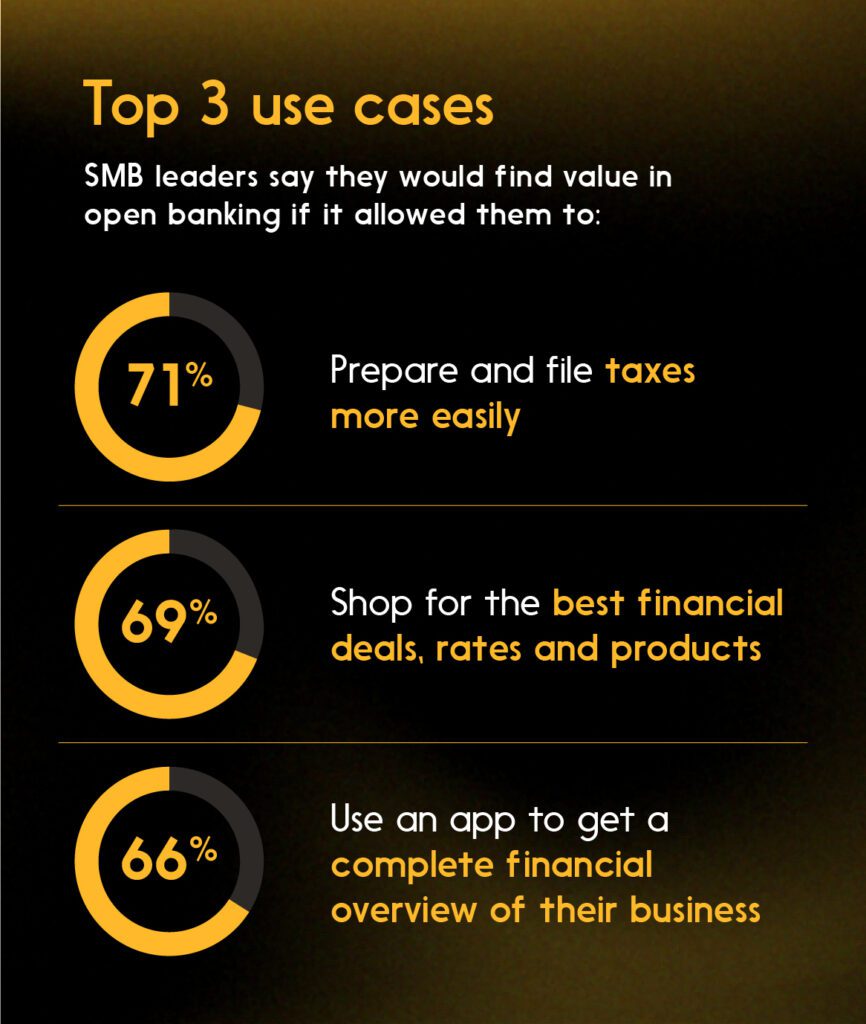 *Based on a 2022 Interac survey of 700 SMB leaders across Canada
Cash flow is a top concern for many SMBs because it can be a sink-or-swim issue. Based on a 2022 Interac survey of 700 SMB leaders across Canada, two-thirds of Canadian SMB leaders said they would value a tool that would give them a real-time view across their accounts, showing trends, cash flow and financial health metrics.
Open banking tools also have the potential to give businesses the power to delegate limited and controlled access to a third party — for example, the external accountants and part-time bookkeepers on which many SMBs rely to support them in handling their finances.
2. Better access to financial services
Almost four in 10 SMB leaders surveyed told Interac they currently spend too much time dealing with financial management and not enough time growing their business, and of those who have applied for a loan in the last few years, 32 per cent describe the process as "very" or "pretty difficult." Open banking could mitigate that issue, by making financial applications faster, easier, and more likely to be based on a full picture of a business's actual banking data.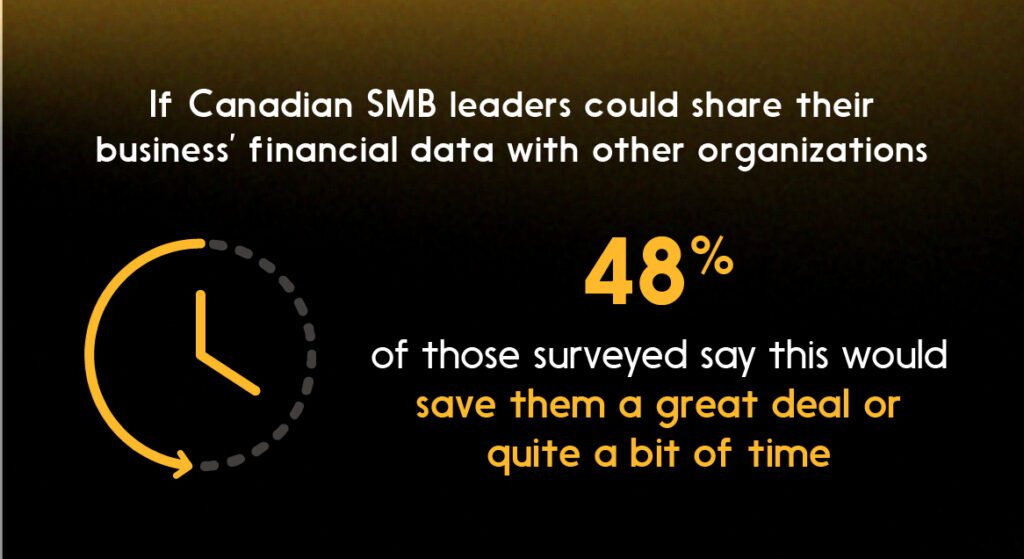 *Based on a 2022 Interac survey of 700 SMB leaders across Canada
In the UK, the European Union and India, SMBs can opt to share a consolidated view of their payment transactions and other data to give potential loan underwriters a fuller picture of their finances than they would be able to glean from paper records and credit reports. And when financial service providers have insight into an SMB's true financial picture, it can allow them to offer more tailored financial services and personalized recommendations to those businesses' owners and managers — and help make approval decisions faster.
From the SMBs' perspective, this could also make shopping around for financial services more frictionless if, for example, they can get a peek at offers for new financial services that they may be able to qualify for (say, a lower interest rate for a line of credit).
3. Inclusion for Canada's diverse entrepreneur class
We've already seen how open banking can empower lenders to make better-informed decisions thanks to data-sharing APIs. Not only can supplementing credit checks with real-life transaction data lead to decisions that are more rigorous than existing systems, if they're based on more accurate data, they can also be fairer from the applicant's point of view.
A recent Dutch study concluded that this has been the case in the Netherlands: "It is unquestionable that the PSD2 [the European Union's open banking directive] encourages innovative companies to develop new services targeting underserved groups, such as credit assessment [and] faster loan approvals," it said.
Fairness in lending decisions are especially relevant for the Canadian market, where some 12 per cent of SMBs have been cited to have a primary decision-maker or owner who's a member of a visible minority. Many of them were born abroad and may still be building up a credit picture within Canada. It's been reported that as it stands, minority and immigrant entrepreneurs can face difficulties securing bank loans. More open data sharing could help change that.
4. Through innovation, a competitive boost for Canada's SMBs
Once open banking is up and running and growing in adoption among Canadian SMBs, fintechs, existing players in the ecosystem, and other innovators will likely develop more services to help SMBs that are willing and able to take part by securely sharing their financial data.
In mature markets, innovation drives rapid diversification of available offerings and services: In the UK, banking-powered apps already help people combat gambling addiction, collect charitable donations, and prepare tax information (and more). As well, open banking can involve sharing data beyond financial details: The legislation that enables Australia's version of open banking, the Consumer Data Right (CDR), allows for sharing of data with the energy and telecommunications sectors as well.
Here in Canada, we're already working toward having our own holistic solution for open banking. As it matures, it could give SMBs the services and financial tools they need to level the playing field to some degree with larger enterprises. Imagine tools for offering financing to customers, just like a larger retailer. Or better integration with sales platforms, to make selling via online marketplaces easier.
That would give our small- to medium-sized businesses a much-needed productivity advantage in the ever-more-competitive global economy. That's good news, because Canada's prosperity will always depend on the health of its SMBs — in many respects the backbone of the economy, now and in the future.
See what Interac can do for your small business today.