At Interac we know that the fast movement of money is crucial to your success. For years, independent businesses have told us that commonly used payment methods like cheques and EFTs can be slow and inefficient and require that you spend valuable resources processing and reconciling these payments.
Now we're offering you something better: Interac e-Transfer for Business. It's an enhancement of the existing Interac e-Transfer service with features built for the needs of Canadian business, featuring higher transaction limits, fast money transfers with instant confirmation and rich remittance data, which allows you to reconcile transactions with less paperwork. 
But the most important feature of Interac e-Transfer for Business? The time it gives you back. Digitizing your business payments can help reduce the amount of time and energy you spend on processes like payroll and cheque reconciliation. That frees you up to focus on the things that matter more — like family, growing your business, and finding ways to serve your customers better.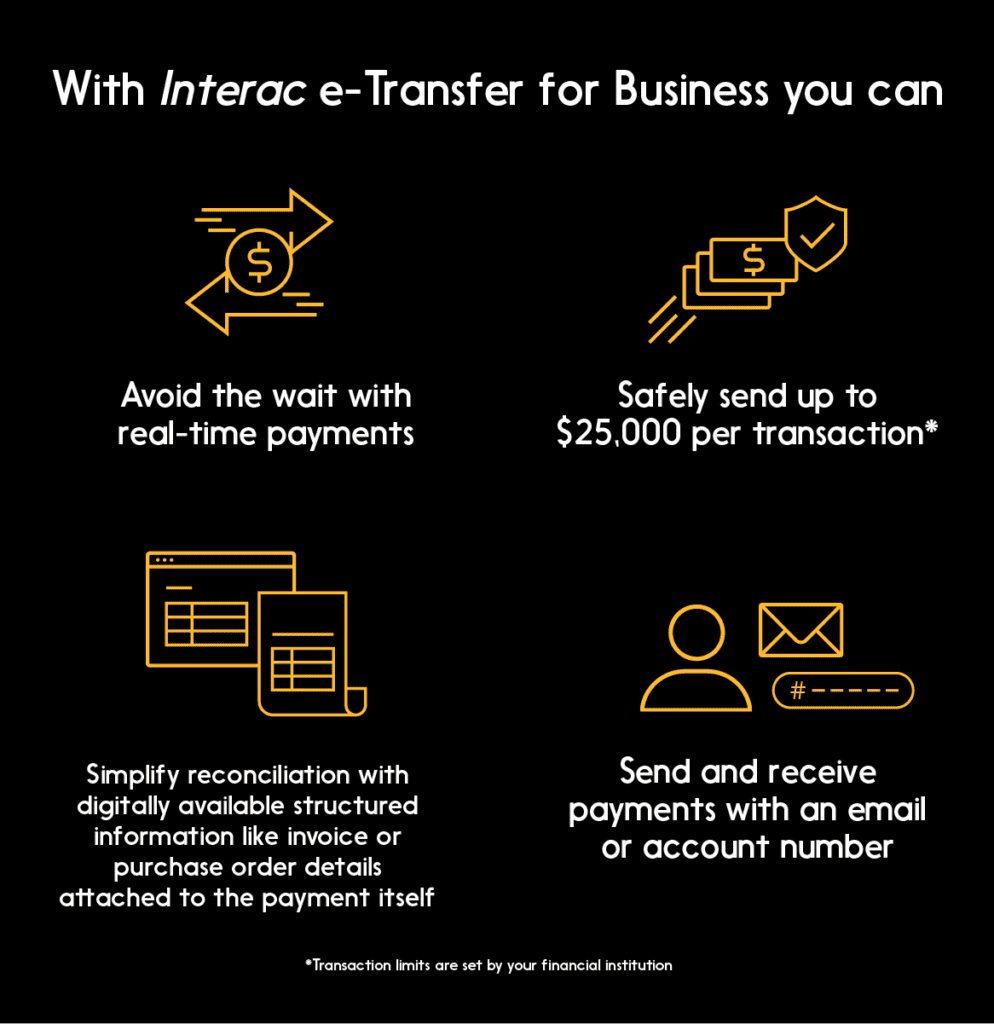 Here are some of the ways Canadian small- and medium-sized businesses are already benefiting from Interac e-Transfer for Business.
1. Using fewer cheques.
Cheques create all sorts of problems. There can be uncertainty around whether a cheque will clear — or when, not to mention waiting for one to arrive in the mail. And cheques have to be manually reconciled by whoever does your bookkeeping.
By replacing cheques with Interac e-Transfer transactions, you're eliminating those inefficiencies and uncertainties. (Not to mention saving yourself trips to the bank.)
2. Receiving payments instantly and directly from customers.
By accepting Interac e-Transfer for payments, you're giving your customers a way to pay that's quick and convenient for them. They can pay you from anywhere, from home to curbside to inside your store.
For businesses, getting paid in seconds means money in the bank right away — improving your cash flow.
With Interac e-Transfer for Business, transaction limits can be up to $25,000, depending on your financial institution. So you can now accept payments via an Interac e-Transfer transaction even if your business sells bigger-ticket goods and services.
3. Sending payments conveniently to smaller vendors and suppliers.
Businesses across Canada are using Interac e-Transfer for Business to pay vendors and suppliers, who appreciate the quick settling of accounts.
Interac e-Transfer for Business also allows you to use account numbers to send money, in addition to an email address or SMS number. So it's easy to make the transition to faster digital payments if you've collected void cheques from suppliers in the past.
Take back control of your time. Get Interac e-Transfer working for your Business today.
For more information, please visit interac.ca/business or contact your relationship manager at your Financial Institution.