Stush Patties founder Opal Rowe got the idea for her Toronto-based business when she discovered the need for quality Jamaican beef patties.
"One night two years ago, I came home and wanted something warm, delicious and somewhat healthy, to enjoy with a glass of wine," Opal recalls. "I got an intense craving for a Jamaican patty. I went on the hunt to find one that would feel like a satisfying meal and not a greasy snack. But I couldn't find one. So, I made one."
The Cultural Arts Studio grew out of Suzan Richards' passion for dance. She opened it 27 years ago to fill a need in the Ottawa-Gatineau area for a dance studio that passes on Afro-Caribbean styles and traditions.
"Some people say, 'Dance like nobody's watching.' But I believe in dancing like everyone is watching," she says. "Celebrate yourself, your ancestors, your history through the gift of your body and your time on this Earth."
As customer expectations and consumer behaviour continue to push the economy in a digital direction, it's more important than ever to offer the convenience of contactless and online payments. Because as small business owners know, it's essential to make it easy for people to enjoy what you provide — all while keeping a watchful eye on your accounts and cash flow.
Here's how Interac helps support small-business owners like Opal and Suzan.
Keeping an eye on small business costs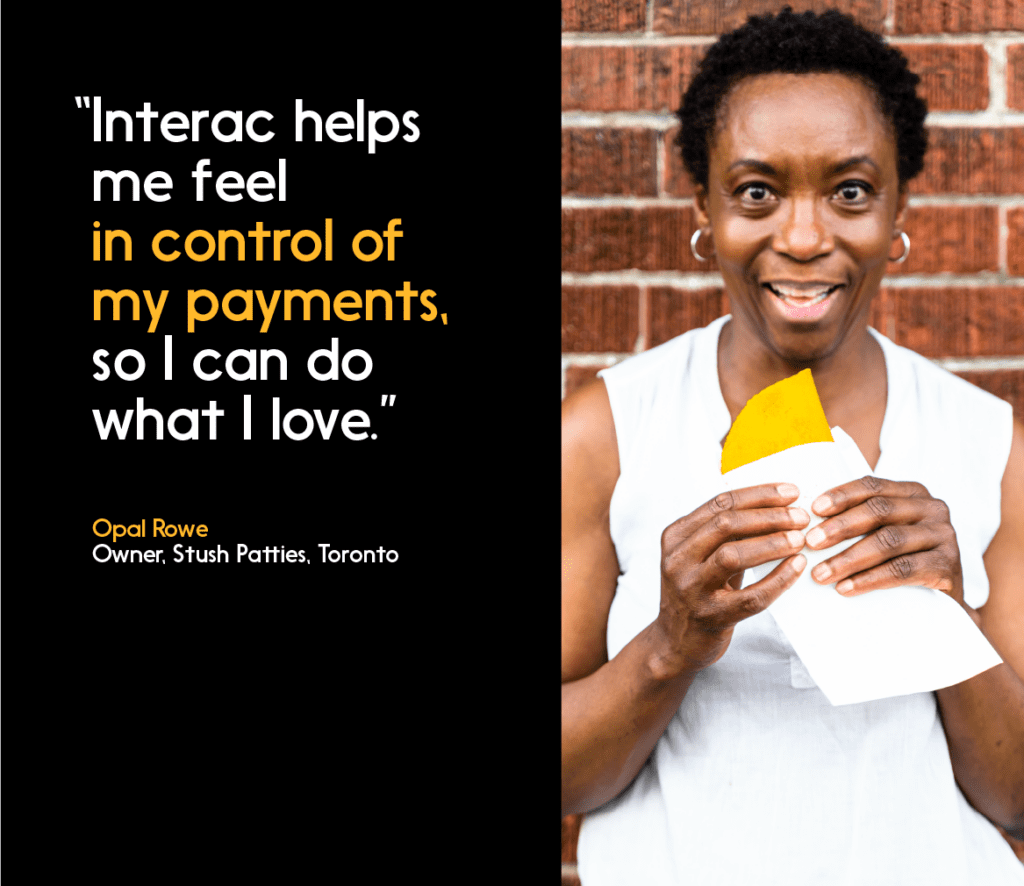 For many businesses, especially new ones, the regular grind has to include keeping a steady eye on cash flow. Stush Patties is still a new business at two years old, and Opal says she needs to make the most of the working capital she has.
"Interac helps me feel in control of my payments, so I can do what I love: making proper patties," she says.
The Cultural Arts Studio may be more than a quarter-century old, but Suzan says it's still essential for her to control costs as part of overall management of cash flow — something that small businesses need now more than ever.
"I don't appreciate the exorbitant fees that some services put on small businesses," Suzan says. Thanks to Interac Debit, she says, she can keep payment fees low.
Interac helps you be where your customer is
During the pandemic, more consumers have shopped online for home delivery rather than going out to stores. One sign of that shift has been a growth in Interac Debit e-Commerce transactions.
Thanks to Interac, Stush Patties is able to cater to the rising home-delivery market. Individual customers with a big enough appetite to meet a minimum order size can get them delivered right to their door.
For them, Interac Debit is a great way to pay. "It's just easy and convenient," Opal says. "Customers can order at their convenience wherever they are."
Despite the shift to home delivery, most of Stush Patties' orders still come from eateries and retail. When dealing with business-to-business transactions, Opal prefers using Interac e-Transfer over cheques. Her invoices specifically point out that it's her payment method of choice.
"Cheques can get lost. They have a hold on them, and you have to deposit them," Opal says. "With Interac e-Transfer, funds are deposited directly into my account without any action on my part."
The pandemic —  small business pivots and perseverance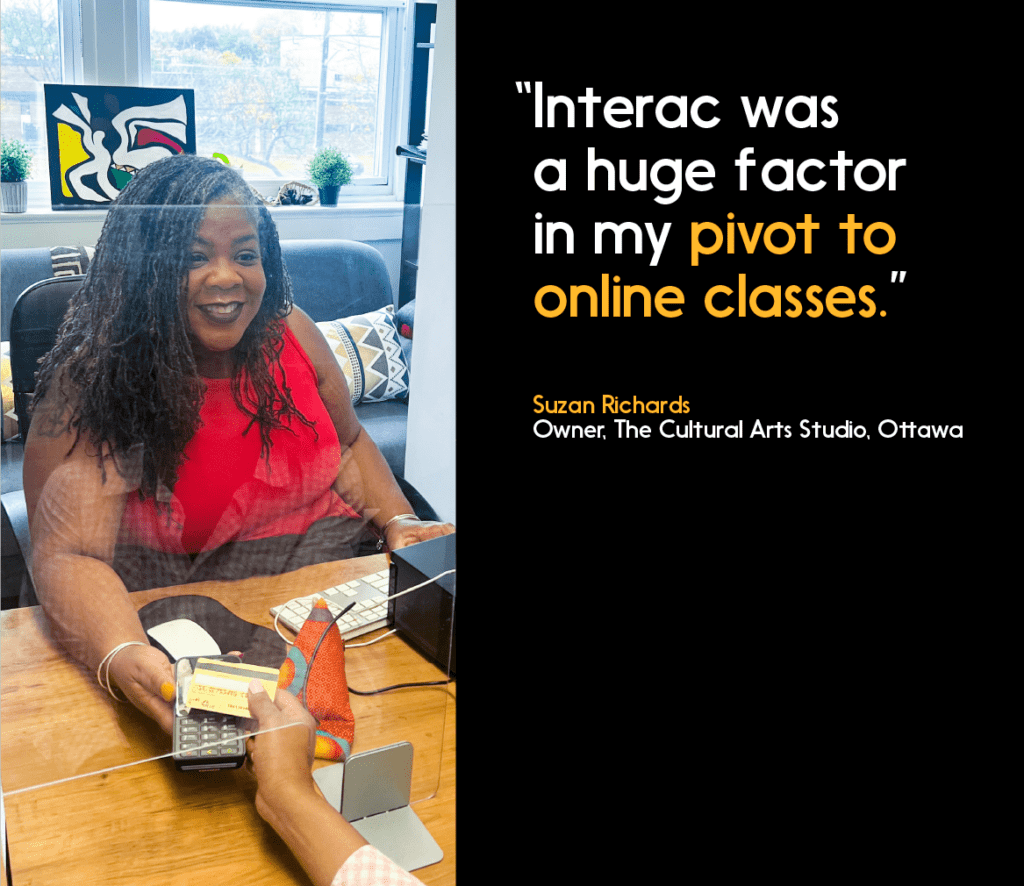 During the toughest months of the pandemic, Suzan was operating at 50 per cent capacity due to COVID-19 restrictions. "I decided to give it an earnest push, despite the hurdles," Suzan says.
She adapted by offering outdoor and virtual classes. Using Interac e-Transfer helped Suzan by giving her customers a no-hassle way to pay for virtual classes.
"We switched to virtual classes once we had acquired the technology to be able to do so," Suzan says. "This was a challenge, and required a lot of patience" — as well as new e-commerce solutions.
"Interac was a huge factor in my pivot to online classes," Suzan says. "It allowed clients to register and pay for classes at whatever time was suitable for them and to pay outstanding balances."
Interac e-Transfer is also how she pays the multiple vendors — technology suppliers, for instance — that she's been using to connect with her audience in new ways.
The lingering pandemic is still making business a struggle at times, but Suzan sees ways to keep dancing through the difficulties.
"We remain positive that we can make it through as a long-standing pillar in the community."
With Interac on your side, you can be wherever your customer is.