Is your business or organization navigating the shift to e-commerce and a more digital economy? Want to share these insights with your colleagues? There's an infographic version of this article, below. Download it and share today!
Canadians were relatively slow to adopt digital wallets compared to consumers in many peer countries, until recently. Now the use of digital wallets is finally maturing here as well.
Retailers — and others doing business online — are discovering the need to offer more payment options in order to serve a public that is becoming accustomed to the convenience of omnichannel checkout experiences.
Merchants and issuers are accelerating the availability of debit for e-Commerce, and Interac transaction data confirms the growing importance of digital wallets for Canadians who are undertaking more of their transactions in digital realms. From March 2020 to 2021, we saw a 333 per cent year-over-year increase in Interac Debit payments made within a merchant app or website.
For retailers, the benefits of digital wallets include no chargebacks, low transaction costs, and the ability to offer customers a low-friction checkout experience.
For consumers, digital wallets offer speed, choice and convenience.
In other words, digital wallets offer a win-win scenario for consumers as well as anyone conducting business online, notably retailers. Their popularity will prove to be a long-term trend, not a pandemic blip.
One could even say they're the choice of the next generation. Digital wallets are a preferred way to pay for Generation Z, a young segment of the population whose spending will only expand over time. In fact, many of them don't carry physical wallets (or payment cards) at all.
Many younger consumers also want the option to pay by debit over other methods. Offering debit as a digital method of payment gives consumers a degree of choice that they desire — and, increasingly, expect. If a consumer chooses debit as their method of payment, the digital wallet offers them an opportunity to pay with "real money" as opposed to credit.
And debit is near-universal nationally: Virtually all Canadians have a debit card. So, for merchants, offering debit at the e-commerce checkout could lead to fewer abandoned carts.
Let's look a little deeper at the factors driving adoption of digital wallets and debit for e-Commerce in Canada.
Factor 1: COVID-19 and the digital economy
An overall shift to digital payments
In recent years, Canadian consumers and businesses have been moving gradually, but inevitably, away from using cash and cheques. The volume of cash transactions at the point of sale, for example, fell from roughly 6.5 billion in 2014 to fewer than 4 billion in 2019. The use of non-digital payments is in terminal decline, driven by a corresponding rise in digital payments.
The COVID-19 pandemic accelerated the digital shift
In spring 2020, Canadians were advised to stay home whenever possible to avoid spreading the novel coronavirus. This sudden and unforeseen change to daily life increased consumers' dependence on transactions carried over a distance — in other words, remote and digital tools for sending, receiving and spending money. By November 2020, Payments Canada had concluded that "the migration to digital payments, a trend that we have observed for a number of years, has been accelerated by the COVID-19 pandemic."
In other words, Canadians have seen their movements out of the home reduced through unforeseen circumstances, which has prompted them to become more comfortable than ever before with digital payments — and even dependent upon them in some scenarios. Though the catalyst for acceleration was regrettable, the digital economy has arrived.
Factor 2: Customers want choice in digital payment options
Customers expect an omnichannel checkout
Just as consumers spent the years leading up to the pandemic gradually shedding their dependence on cash and cheques, they also nurtured a growing sense that each individual should be able to pay with their preferred method — whether they're shopping in person, through a browser, or via an app.
Interac survey data shows that nearly three-quarters (72 per cent) of Canadians believe a consumer should have the option to use debit across multiple channels, whether checking out online, making a purchase in-app, or paying in store. And if that desire is not catered to, a significant proportion of consumers will abandon a shopping cart: Twenty per cent of respondents told a UPS survey that they change their mind about purchases because "preferred payment method was not offered."

One way to look at omnichannel checkout experiences is to think of the customer as the channel. Offering all forms of payment ensures you're meeting all customers where they are and serving them in the way they prefer.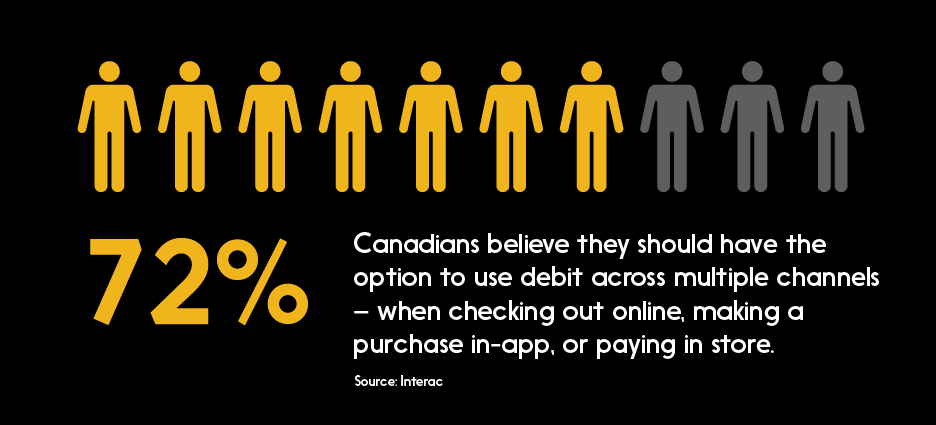 Including debit as a payment option means welcoming the vast majority of potential customers to your online shopping experience. An e-commerce platform must include debit if it's to reach the maximum number of people, because no other form of payment reaches as many Canadians.
Factor 3: Debt-averse Generation Z
Popularity of digital wallets by generation
Younger consumers have driven the growth of digital wallets globally, and the trend holds for Canada. According to a 2020 report by FIS, nearly half of Canadian 18- to 23-year-olds use digital wallets to pay for purchases, versus just 12 per cent of 55- to 73-year olds (Baby Boomers, generally speaking). And one-quarter of Canadians 18 to 34 said they prefer paying by digital wallet over cards.
What Generation Z doesn't have in its pocket
The previous two decades have seen consumers practise "cord-cutting" behaviours: ditching their land lines in favour of using mobile phones exclusively and cancelling their cable TV subscriptions in favour of using streaming services and/or watching content online.
In similar fashion, we could call younger consumers a generation of "wallet-droppers," in the sense that many of them have adopted digital wallets with such enthusiasm that they don't carry physical wallets at all. (In response, wallet-makers now sell sleeves that hold a phone and a small number of ID cards — with no space for payment cards or cash.)
Debit: It's how many younger consumers prefer to pay
It remains to be seen whether preference for paying with "real money" as opposed to credit will develop into a lifelong characteristic for this generation. What's important to note for the time being is that debit is an important and growing facet of Gen Z's spending habits.
Whether or not the pandemic proves to be the decisive tipping point for digital wallets, it seems clear that they will play a dominant role in consumer payments in the years to come. Digital wallets are seen as a one-to-one replacement for the physical wallet, leading consumers to expect the same choices for payment methods after the switch.
What are the implications of that shift? If a retailer or anyone else doing business online fails to offer all payment methods, including debit, it cannot cater to all customers.
Enabling Interac Debit for e-Commerce gives customers the choice to pay with debit if they wish, using the Interac brand that has been trusted and familiar to Canadians for decades. Debit also reaches more Canadians than credit — notably a growing cohort of younger, possibly debt-averse consumers. For retailers competing for a share of Canadian e-commerce, offering Interac Debit for e-Commerce gives you access to that growing market.