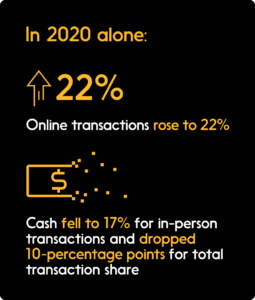 The global pandemic transformed the way we shop and pay. It accelerated digital innovation, along with a shift towards a cashless society. Canadian consumers are increasingly moving away from in-person transactions to online commerce, and 66 per cent believe businesses not offering digital payments will struggle.
To stay ahead in the evolving retail landscape, it's critical to understand consumer demand for choice and convenience — and offer shoppers plenty of options to pay how they want.
Based on insights from our latest white paper: The Big Shift: Consumer power and payment choice, here is your essential toolkit to streamline your business payments and elevate your customer experience
In the hyper-competitive world of online retail, every potential source of friction can lead to lost sales.  Sixty-nine per cent of online shopping carts are abandoned on e-commerce sites and 80 per cent on mobile phones. For Canadian shoppers, a major barrier is having to find an alternate method of payment when their preferred method is not accepted.
So, how can you reduce abandoned sales?

Offer more payment options to reduce friction
Online commerce has historically focused on credit – but demand to use debit online is growing. Consumers are increasingly money-conscious and looking for more control over their monthly budget. Seventy-two per cent of Canadians believe they should have the option to pay with debit wherever they shop, whether that's online, in-app, or in-store.
Make it easy for customers to pay with their own money
Reduce friction in your business by offering customers a seamless and secure experience to pay with their own funds.
Contactless Payments: Enabling contactless payments accelerates your checkout and helps you serve more customers – without losing those who no longer carry cash or even wallets (did you know digital wallet adoption is a fast-rising trend?) With Interac Debit contactless payments, your customers can pay securely by tapping their debit card or smartphone.

e-Commerce Payments: Consumers, especially younger ones, are paying digitally by default. Improve your check-out rate by giving your customers a quick, one-step payment experience. With Interac Debit for e-Commerce Payments, customers don't need to enter their payment information. Instead, they can pay simply and securely in-app or on your mobile site.
Offer solutions that improve margins.
Offering more payment options not only improves customer experiences, but tangibly strengthens merchant margins. Interac Debit fees are comparatively lower than other payment choices. This difference may be minor on a single transaction, but at scale, it adds up quickly.
Low fees: Interac Debit transaction costs are lower than other payment options. Our goal is to keep your costs as low as possible

Flat fee: There's a single flat fee, regardless of purchase price

No chargebacks: Funds are always there since the financial institution authorizes the payment
Ready to get started with Interac Debit?

Consumers aren't only seeking debit as a payment option, they're also increasingly using Interac e-Transfer. Fifty-two per cent of Canadians say they're just as comfortable paying a small business by Interac e-Transfer as by other payment methods.
Plus, with the launch of Interac e-Transfer for Business, Canadian organizations have access to enhanced features that address business needs and streamline accounting processes.
With Interac e-Transfer for Business you can:
Simplify and accelerate payments: Interac e-Transfer for Business enables customers to pay in real-time with immediate confirmation.
Offer security and convenience: Interac e-Transfer for Business is a safe money transfer service. When you send funds, money never actually travels by email or text message – only notifications and deposit instructions do. Financial institutions transfer funds using secure banking procedures.
Manage your liquidity better: Whether you're a small business or an enterprise-level organization, Interac e-Transfer enables you to streamline your accounting processes with paperless office strategies. Process customer payments faster to better manage your liquidity.
Ready to onboard Interac e-Transfer for Business? Find a participating institution.
How businesses thrive in Canada's evolving landscape
Interac payment solutions bring together evolving technology and consumer needs, to help your business run smoother and stay ahead. Learn how businesses are using Interac solutions to adapt and thrive in today's retail landscape
Walmart

Walmart customers are looking for a seamless, omnichannel shopping experience. That's why Walmart onboarded Interac Debit e-Commerce payment options.

"Adding Interac Debit for all online and in-app purchases is part of our plan to expand our service offering and to provide Canadians with consistency and inclusion when they shop with Walmart," said Jennifer Jones, Vice President, Financial Products, Services and Payments, Walmart Canada.

McDonald's Canada

McDonald's Canada managed a large shift to McDelivery, Drive-Thru, Curbside Service and Mobile Order Ahead, enabling customer choice in payment and increasing personalization across the McDonald's experience. With Interac Debit, they are streamlining payment at check-out and in-app to provide a more frictionless and convenient experience for guests.

"Streamlining payment at check-out and in-app helps us keep moving towards even more frictionless, convenient and personalized experiences for our guests – and makes life easier for our crew, too," said Francesca Cardarelli, Senior Director, Marketing Planning and Digital Marketing Strategy, McDonald's Canada

SkipTheDishes

SkipTheDishes understands a seamless, frictionless purchase and checkout process is necessary to retain customers in the digital commerce space. That's why they believe choice of payment is so important, providing payment options which include Interac Debit.

"We have seen that if the checkout process is not seamless, a customer may choose to go elsewhere. That's why we believe that choice of payment is so important, to ensure that customers can be served, and we will always be evolving our payment options if and when demand requires it," said Rob Stewart, Director of Product Engineering at SkipTheDishes.