The global pandemic transformed the way we shop. It not only accelerated digital innovation but also a shift towards a cashless society. Canadian consumers have changed their shopping and payment habits, moving away from in-person transactions to online commerce. And they're not looking back. 
For Canadian business leaders — especially those in retail, customer experience, and finance — this means finding new strategies to navigate the big shift. A shift that brings both challenges and opportunities.
Our latest white paper, The Big Shift: Consumer power and payment choice is informed by conversations with leaders from across the Canadian retail sector, as well as the latest insights on shopping behaviour and commerce trends. 
Learn how businesses, including SkipTheDishes and Mcdonald's Canada, are successfully navigating the big shift.
Here are four essential takeaways to help your business thrive in the evolving landscape.
1. Consumer behaviour has changed
There was a very interesting behavioural change among consumers where they were open to new things in ways like never before. Something like 45 per cent of Canadians bought from a new brand or shop or retailer. That is both a risk and an opportunity for retailers. But it's also a jump ball moment where people were reconsidering how and where and in which ways they were going to shop.

Michael LeBlanc, Senior Retail Advisor at Retail Council of Canada.
With the onset of the COVID-19, public health restrictions forced consumers to take the plunge into new ways of shopping. But when they did, they found they liked the choice. Canadians embraced the convenience of ordering goods, meals, and even services with the click of a button.
Brick-and-mortar businesses still hold a special place in Canadians' hearts, but digital commerce has become an important part of the customer experience. That's because the pandemic has fundamentally altered our expectations. Consumers now expect to purchase goods whenever they want, on whatever channels they want. A digital experience is now table stakes.

This means developing omnichannel experiences and offering plenty of choices with respect to how to shop, how to pay, and how to pick up and return goods. Businesses that do not adapt — those that limit customer shopping and payment choices — risk falling behind. 
2. Reduce friction for a better online shopping experience and bottom line
Some sectors are ultra-competitive, so losing customers [to friction] is a major opportunity cost.

Claudia Dessanti, Senior Manager of Policy at the Ontario Chamber of Commerce.
Consumers of every generation, but particularly younger consumers, are demanding a seamless online experience. In the hyper-competitive world of online retail, every potential source of friction – every barrier, every form to be filled out, every extra click – can lead to lost sales, and diminished margins.

For the success of an online business, it's becoming ever more crucial to reduce this abandonment rate. Online businesses need to focus on reducing friction at every potential pain point, especially barriers to checking out. These barriers include forcing users to pay with methods they don't typically use.
3. Offer all payment methods, including debit
We have seen that if the checkout process is not seamless, a customer may choose to go elsewhere. That's why we believe that choice of payment is so important. Not all Canadians have access to credit cards or always wish to use them, and we believe that everyone should be able to use the payment type that works best for them.

Rob Stewart, Director of Product Engineering, SkipTheDishes
For online shoppers, a major source of friction is having to find an alternate method of payment when their preferred method of payment is not accepted. Offering more payment options at check-out and in-app enables customers to pay how they prefer. This creates a more seamless, convenient, and personalized experience.
Online commerce has historically focused on credit – but demand to use debit online is growing. Canadians crave payment choice and believe that they should have the option to pay with debit no matter where they are shopping.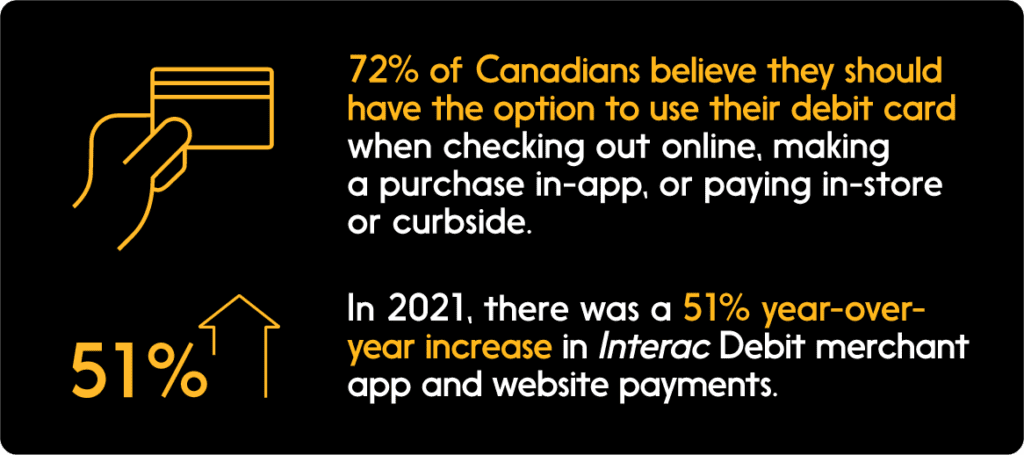 In the wake of the changes wrought by COVID, consumers are also increasingly comfortable using Interac e-Transfer as a payment option. In a separate poll, 52 per cent of Canadians said that they were just as comfortable paying a small business by Interac e-Transfer as they would be using other payment methods.
The upshot? Businesses of all sizes should be looking to provide their customers with payment options.
4. Find solutions to strengthen margins
If you sell a $500 item, it might cost you $10 – if you sell that over debit, it costs you 10 cents. So that gives you some idea of the magnitude of difference. These still may sound like trivial numbers, but you've got to appreciate that with profit margins at five or 10 per cent, that those start to become pretty material.

Karl Littler, Senior Vice-President of Public Affairs, Retail Council of Canada
Offering more payment options not only improves the customer experience. It tangibly strengthens merchant margins. Interac Debit charges per transaction and Interac fees are comparatively lower for merchants than many alternate payment methods. Our contactless payments also have a low flat fee per transaction.
Although this difference is minor on a single transaction, at scale, the differences are magnified. These differences matter to every sort of business, especially with the rising costs of living and labour. For small businesses in particular, margins can be perilously thin.
New habits die hard
The evidence is clear. While COVID-19 forced us to adopt digital shopping habits, these habits are here to stay.
The shift to digital gives businesses access to new markets and new customers – but it also exposes them to new competition. The scramble for consumer dollars will only intensify. And it will intensify in an environment where consumers are increasingly money-conscious and looking for more control over their monthly budget.
When it comes to attracting, converting, and retaining customers in this highly competitive online space, who will come out on top? Businesses who understand consumer demand for choice and convenience. The endgame is to reduce abandoned carts, increase customer satisfaction, buttress margins, and improve business performance overall.