When it comes to how customers prefer to pay, the only constant is change. Recent events have only accelerated shifts in consumer behaviour that were already taking place. Now, customers are turning towards e-commerce and digital payment tools more often. So, what does it mean for your business?
Customers are becoming accustomed to the convenience of an "omnichannel checkout experience" — meaning one that offers them the maximum number of payment choices. Many customers prefer contactless payments, for example.
Another trend is the rise of digital wallets, which allow customers to pay using their smartphones rather than physical cards or cash.
Here's what you need to know about what's driving the growth of digital wallets — and digital payments in general — for Canadian consumers.
Fact 1: Canadians are making more e-commerce transactions.
For reasons that don't require much explanation, fewer transactions have been taking place in person. Sudden and unforeseen changes to daily life increased consumers' dependence on digital transactions. While a shift to a more digital economy was already under way, the pandemic further accelerated these shifts.
According to Payments Canada, close to three out of five Canadians made an online purchase in 2021. And while the shift isn't rising as quickly as it did at the start of the pandemic, in 2021, the value of e-commerce sales still grew at a healthy rate, up 12 per cent from 2020.
At the same time, use of cash has retreated, presumably as a consequence of these trend toward digital transactions. The volume of cash transactions fell from roughly 6.5 billion in 2014 to 2 billion transactions in 2021.
What it means for your business
To have the best chance of seeing robust sales and happy customers, adapt to the shift toward a digital economy. Offer digital payment methods, like Interac Debit, and the convenience of Interac Debit for e-Commerce Payments.
Fact 2: Digital wallet adoption is one of the fast-rising trends
For consumers, digital wallets offer speed, choice and convenience. According to Payments Canada's 2022 payment methods and trends report, just over two out of three Canadians who own a smartphone made a purchase using a mobile payment or digital wallet.
What it means for your business
For retailers, the benefits of accepting Interac Debit for e-Commerce payments include no chargebacks, low transaction costs, and the ability to offer customers a low-friction checkout experience.
In other words, digital wallets offer a win-win scenario for consumers as well as anyone conducting business online, notably retailers.
Fact 3: Many consumers want to pay by debit when using digital wallets
Retailers — and others doing business online — are discovering the need to offer more payment options to serve a public that's getting used to the convenience of omnichannel checkout experiences.
What do consumers want? For many, it's debit. Interac survey data shows that nearly three-quarters (72 per cent) of Canadians believe a consumer ought to have the option to use debit across multiple channels, whether checking out online, making a purchase in-app, or paying in store.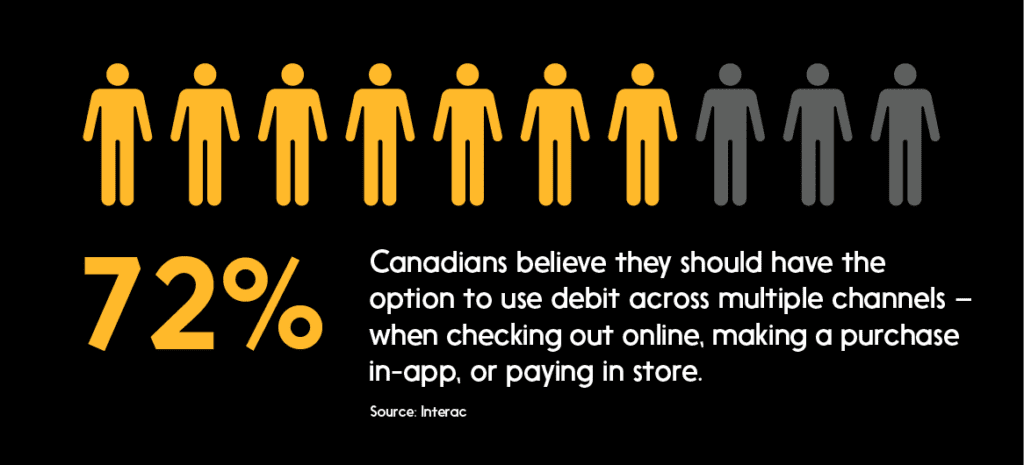 In other words, they expect debit everywhere, not just in person. A significant number of consumers will abandon a shopping cart if they don't see their preferred payment method. Twenty per cent of respondents told a UPS survey that they change their mind about purchases because "preferred payment method was not offered."
What it means for your business
Offering multiple payment options could help you avoid cart abandonment in online transactions. And virtually all Canadians have a debit card. So, for merchants, offering debit at the e-commerce checkout could lead to fewer abandoned carts.
Fact 4: Digital wallets are especially popular among younger consumers
Younger consumers have driven the growth of digital wallets globally, and the trend holds for Canada. According to a 2020 report by FIS, nearly half of Canadian 18- to 23-year-olds use digital wallets to pay for purchases, versus just 12 per cent of 55- to 73-year olds (the latter group are Baby Boomers, more or less). And one-quarter of Canadians 18 to 34 said they prefer paying by digital wallet over cards.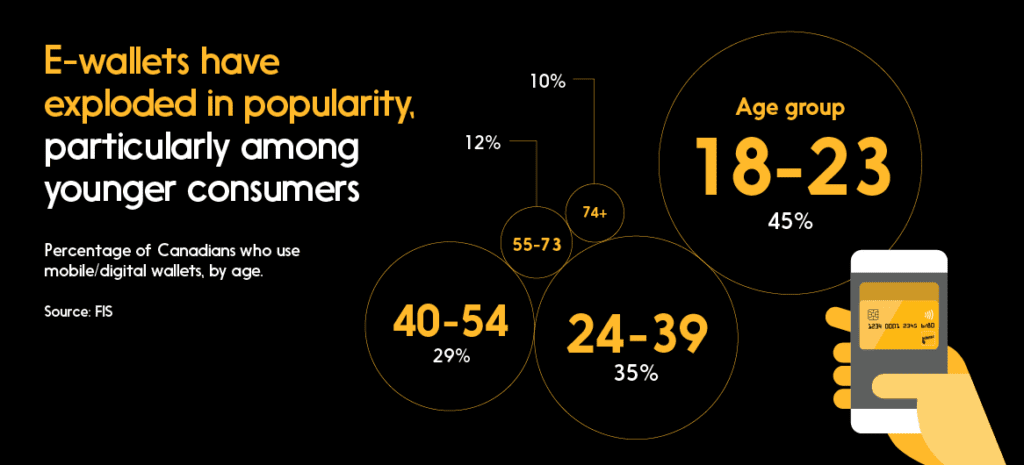 What it means for your business
Catering to younger consumers means offering digital wallet payments, full stop.
Fact 5: Many Gen Z consumers are avoiding debt by paying with debit
A number of surveys have shown that many younger consumers are developing a preference for debit over other forms of payment. Why? One possible reason: Fifty-six per cent of Millennials and nearly half of Gen Z respondents told an Interac survey that paying with debit helps them feel in control of their spending.
And in line with the rest of the population, younger consumers expect to be able to pay with debit when shopping online or in app: Seven in 10 Millennials and nearly two thirds of Gen Z adults believe Canadians should have the option to use debit no matter where they're checking out.
It's important to know that debit is a preference and a cornerstone of daily spending habits for many members of Generation Z.
What it means for your business
Offering debit means catering to the needs of these young would-be customers. And to make sure your generational bases are covered, offer debit payments via digital wallets.
Infographic: key facts on digital wallet adoption. Share with your colleagues.
What's next?
It's clear that digital wallets will play a dominant role in the future of consumer payments. Not only are they seen as a replacement for a physical wallet for many consumers, they're something Canadians are coming to expect.
Discover solutions that are cost-effective, secure, and convenient.