Moving countries doesn't just mean getting used to a new home city or culture. You also have to navigate everyday tasks, like looking after your finances. And it may be done a little differently here in Canada than what you're used to.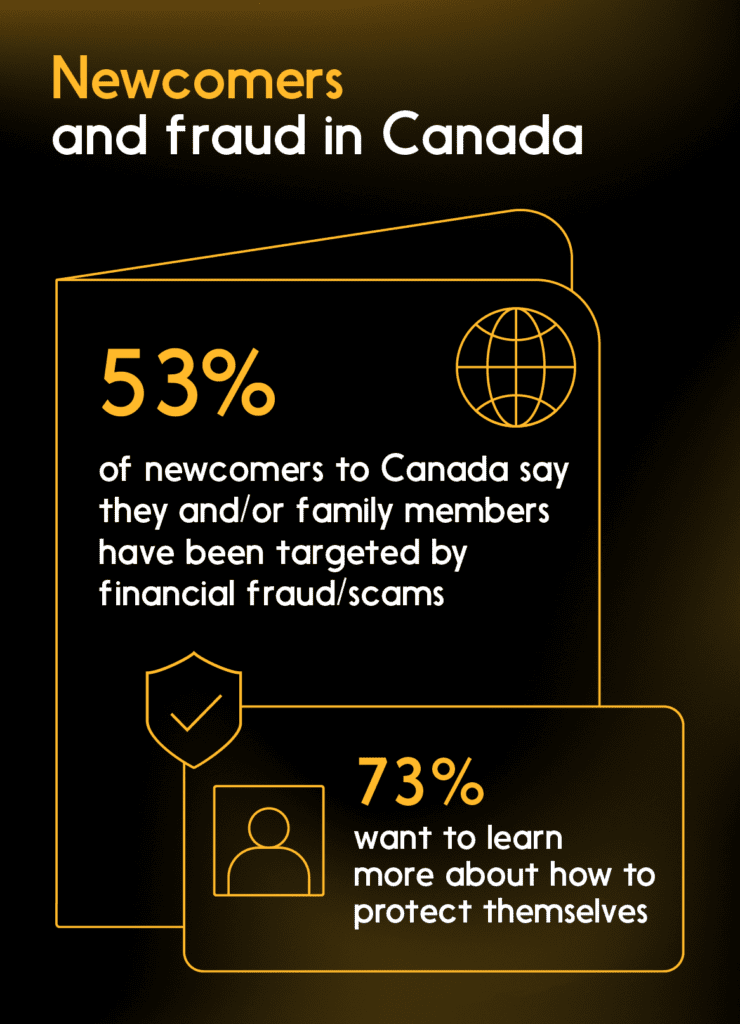 If you're a newcomer who's feeling overwhelmed by a lack of financial confidence in Canada, you're not alone: A recent Interac survey reported that 44 per cent of newcomers to Canada feel that way. Fear of fraud is a major reason why a lot of people lack that confidence: A majority of respondents (53 per cent) say they and/or family members have been targeted by financial fraud/scams. And 73 per cent would like to know more about how to protect themselves from scams.
In fact, knowledge of how to spot scams is necessary for everyone: while Canada may be known for being safe and friendly, but all Canadians must contend with the risk of fraud. Everyone who lives here can empower themselves by learning to recognize a suspicious situation, and how to deal with it. 
Interac is probably best known for offering Interac Debit and Interac e-Transfer, which for decades has given Canadians convenient and easy-to-use ways to spend and transfer money. More recently, we introduced Interac Verified to make it more seamless for people to digitally verify their data where it is required before access to select services is granted.
As one of Canada's leading and most trusted financial services brands, Interac takes a special interest in fraud prevention. We're committed to building security features into our offerings — to help give Canadians, including those new to Canada, one less thing to worry about.
We also arm Canadians with information to help spot, avoid and report fraud, so they can make digital transactions with greater confidence. "At Interac we advise everyone to take a 'Stop, Scrutinize, Speak up' approach when coming across a possible fraud attempt," says Rachel Jolicoeur, Director, Cybermarket Intelligence and Financial Crime at Interac. You can read more about it here, but "it essentially means that when you encounter a situation that raises red flags, you should pause, think carefully and verify anything you're unsure about through a different yet reliable source. And report any suspicious activity you think is a scam to the Canadian Anti-Fraud Centre."
But how will you know when to be suspicious? We're here to help you gain financial confidence in Canada, with some tips to consider when dealing with certain types of fraud and scams that people encounter here.
Fraud prevention: What you need to know as a newcomer 
"Living in Canada, you may unfortunately receive a lot of spam phone calls, emails and text messages," Rachel says. "And don't be surprised if the message is in your home language."
Anti-fraud authorities — like the Canadian Anti-Fraud Centre and the Royal Canadian Mounted Police (RCMP) both of which are federal police services — offer the following pieces of advice to avoid getting scammed. They're valid for anyone who lives in Canada, and especially helpful to newcomers:
Law enforcement and Immigration, Refugees and Citizenship Canada (IRCC) officials will never demand payment or threaten you with arrest by email or phone. If you want to be sure that there's no problem, contact the agency directly. (See IRCC's client support centre here.)
Be skeptical of demands for upfront fees, including fees to be paid by prepaid credit cards, wire transfer services, cryptocurrency and gift cards.
Beware of people who are aggressive, threatening or pushy, insisting that you pay them quickly. Official representatives of government agencies and genuine financial institutions won't behave this way.
Don't give out sensitive personal or financial information in response to an incoming communication, including by phone. Whenever you're in doubt about a request from an organization, you should contact them and verify what the situation is.
And remember: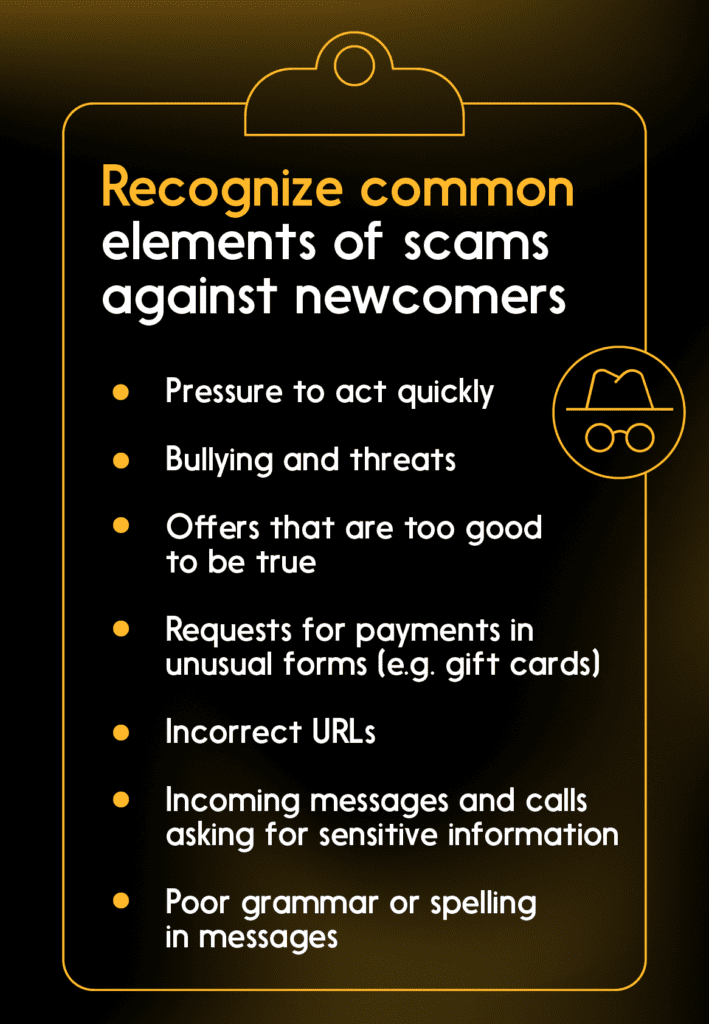 No one can guarantee you a job or visa to enter Canada. Only Canadian immigration officers make decisions on visas. A lawyer or consultant cannot make guarantees nor can they take any action that would get special attention for your application.
Fees for various immigration services are posted online, so you can check them.
Fees due to the Canadian government are payable to the government directly — not to someone's personal bank account.
Learn to spot scams that specifically target newcomers to Canada
Now, what situations should you watch for? Criminals tend to target recent (and prospective) immigrants to Canada with the following scams:
More information about spotting scams and financial literacy for newcomers
Here at Interac, we offer lots more fraud prevention recommendations and resources for Canadians.
And for all newcomers who want to be in control of their financial well-being, we're happy to offer more advice about managing money in Canada.
Most recently, Interac and Conscious Economics have launched a free digital learning program tailored to newcomers to help them develop financial literacy in Canada, including how to spot scams and avoid the pitfalls of fraud. It will be available in English, French, Simplified Chinese, Farsi, Arabic and Punjabi. You can learn more about it and sign up here.
Finally, if you're an international student who's currently studying in Canada, or thinking about applying, this article offers lots of specific information for your situation.
---
This article offers general information only and is not intended as legal, financial or other professional advice. A professional advisor should be consulted regarding your specific situation. While information presented is believed to be factual and current, it should not be regarded as a complete analysis of the subject matter discussed. No endorsement of any third parties or their advice, opinions, information, products or services is expressly given or implied by Interac Corp. or its affiliates.