Consumers' preferences are changing the retail landscape. They have accelerated their shift to digital payments, are eager to bolster their local economies, and have a growing demand for seamless payment solutions.
What does this mean for businesses? Interac worked with the Canadian Black Chamber of Commerce to share resources for small business owners preparing for this shift. Here is what we learned.
COVID-19 has changed the way consumers are shopping
Interac has tracked consumers' changing perceptions and behaviours since the beginning of the COVID-19 pandemic in Canada. Some key findings for small businesses?
Seventy-five per cent of Canadians said the pandemic has made supporting businesses in their community more important.
Sixty-six per cent of Canadians said businesses that fail to adopt digital payment solutions will struggle in times ahead.
Seventy-two per cent of Canadians believe consumers should have the option of using debit to pay when checking out online, making an e-commerce purchase in-app or paying in-store or curbside (a five per cent increase since August 2020).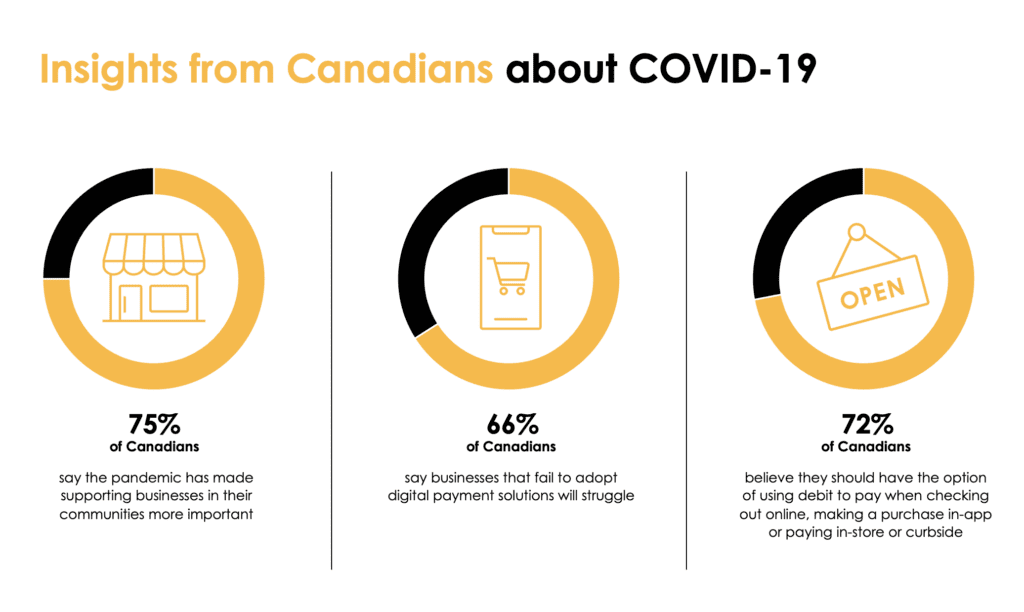 Changing consumer trends are also reflected in the 2021 Canadian Payments Methods and Trends Report, which shows:
Fifty-two per cent of Canadians are using cash less than pre-COVID
Thirty-seven per cent of Canadians are avoiding shopping at places that do not accept contactless payments
Forty-seven per cent of Canadians report using eCommerce platforms more often for a wider range of products
Omnichannel payments put the customer at the centre
In a conversation between Shopify and Interac we learned an omnichannel payment experience is essential for retail throughout the pandemic and beyond. This means putting your customer at the centre, removing friction, and enabling them to pay how, when and where they choose.
Having solutions that enable you to meet your customers anywhere, anytime is essential to building your omnichannel payment experience. This could mean allowing customers to skip check-out lines by arming sales associates with mobile payments terminals or embedding the payment directly into the customer experience. With omnichannel payments, the payment itself is faster and becomes increasingly invisible.
Leverage tools to speed up and streamline your small business payments
Interac e-Transfer for Business is an Interac e-Transfer enhancement with features built for Canadian businesses. With higher transaction limits, real-time payments, and rich remittance data, you can save time and resources by streamlining your small business payments.
Canadian businesses are already finding ways to digitize their business payments with Interac e-Transfer for Business. They're using fewer cheques, receiving digital payments instantly from their customers and settling vendor accounts quickly.