In a Canadian first, transit riders who use the UP Express service can now make contactless Interac Debit payments directly at fare machines to get aboard.
Through a pilot project led by Metrolinx on the PRESTO fare payment system— riders now have the option of paying with a card or smartphone, without having to buy tickets or a special fare card.
Open payments for transit have been gaining popularity around the world, and have been suggested as a way for transit systems to adapt to post-pandemic realities.
For Canadian transit users, this will be the first chance to use Interac Debit to make a contactless open payment directly on a fare machine. To board, riders can either use a physical Interac debit card or can add it as a payment method to their digital wallet.
It's quick, convenient and easy. "Canadians are ready for open payment systems for transit," said Andrew Yablonovsky, Associate Vice-President, Portfolio Strategy & Growth, Interac Corp. "We're excited to be able to give them this opportunity to try it out. And we're predicting that other transit authorities across Canada will get on board with open payment systems, too."
Whether you're planning a ride or you're involved in planning transit for Canadian cities — or both — here's what you need to know about Interac Debit open payments for transit:
Q: How are transit fares paid and calculated in an open payment system?
A: To pay a fare, transit users simply tap their preferred payment method on the transit fare reader and enter the transit system. In this case, UP Express riders are now able to purchase transit fares with Interac Debit directly on a fare payment reader. As fares are determined by distance on the UP Express and fares for more than one trip may be combined into a single payment, payment is typically calculated following a completed trip when the rider taps out to leave the system.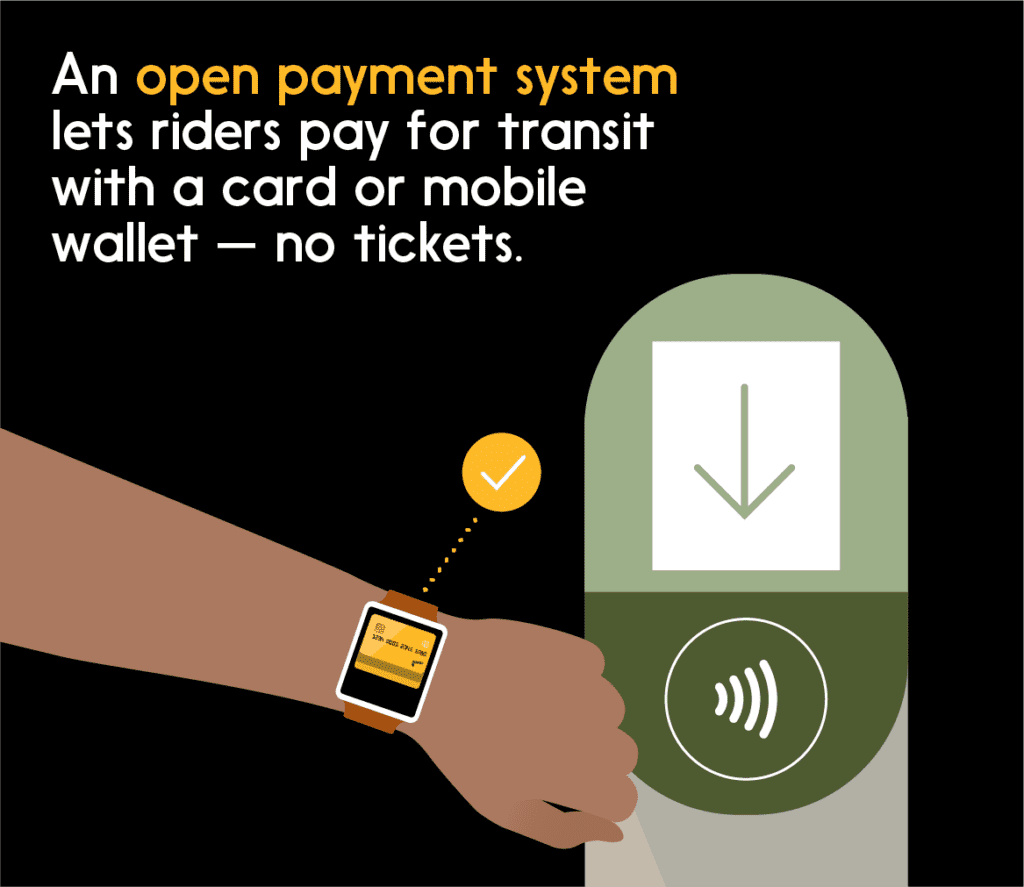 Q: What's the benefit for passengers on UP Express?
A: Beyond the ease and familiarity of Interac Debit, modernized open payment systems can offer a number of advantages for transit riders, including some that are especially important in the COVID-19 context:
hygienic, contactless interaction;
the potential for shorter queues and less crowded stations, because passengers don't have to line up to buy their fare media at a special machine or kiosk;
the streamlining of fare collection, because open payments can reduce or eliminate the need to manage your own dedicated tickets or passes;
ease of access for occasional riders and tourists (it's easier to encourage someone to hop on a streetcar if they can just pay by tapping their debit card instead of having to figure out a ticketing system).
Q: What are the advantages for transit systems of offering open payments with Interac Debit?
A: When transit authorities add Interac Debit, they are offering their riders a form of payment that almost 30 million Canadians already use for day-to-day purchases.
The fact that so many Canadians use Interac Debit for day-to-day transactions can make it a natural fit for quick, routine transactions like boarding a train, bus or light-rail vehicle in the future.
Interac is also trusted brand — in fact, it's been named Canadians' most trusted financial brand for seven years in a row in the Gustavson Brand Trust Index. This can help overcome any hesitation people may have about trying something new.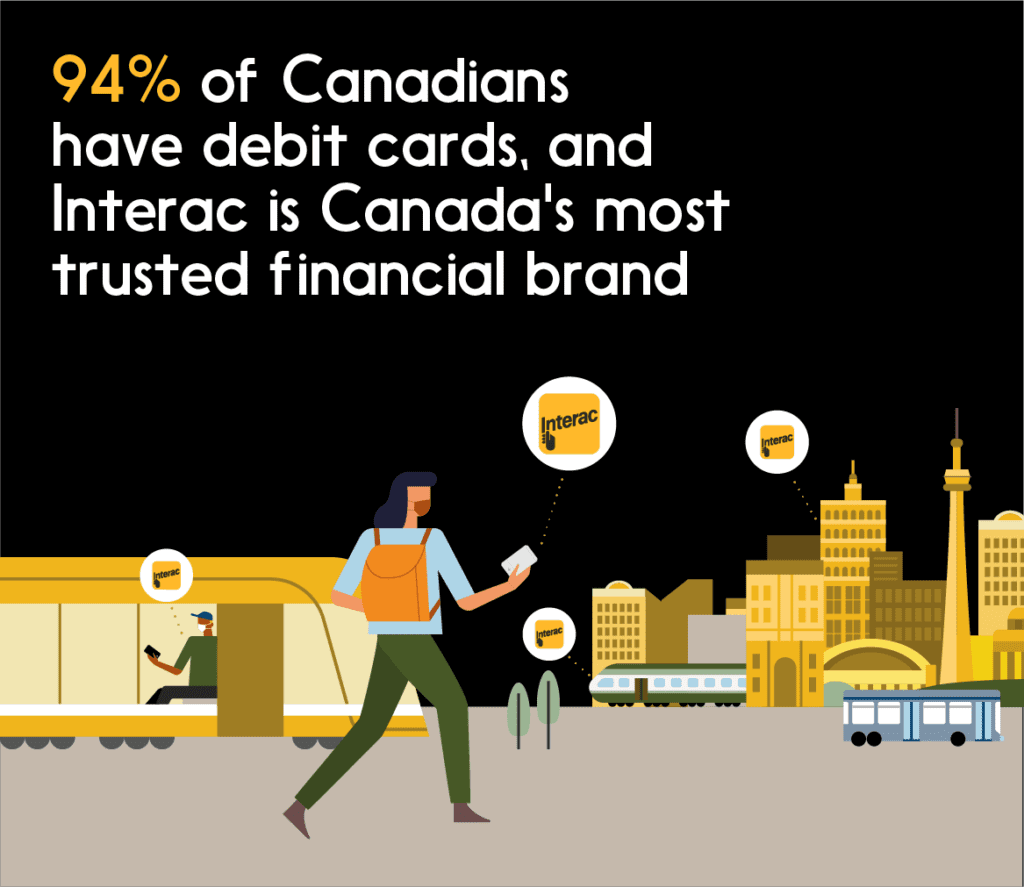 Q: What's next for transit payment systems?
A: Interac is continuing to work with transit authorities across Canada to enable support for Interac Debit contactless open payments. And in the bigger picture, contactless open payments for transit are expected to be part of the future of mobility in Canada's cities.
If you're interested in collaborating with us to introduce Interac Debit contactless open payments on a Canadian transit system, please drop us a line at mobility@interac.ca.
_____
*Payment options depicted are intended to show examples of what the future of modernized transit payments could look like, and do not reflect products actually available in market.*
Interac is a registered trademark and the Interac logo is a trademark of Interac Corp.
The Contactless Indicator mark, consisting of four graduating arcs, is a trademark owned by and used with permission of EMVCo, LLC.