Canadian cities are seeing ongoing investments in public transit, from upgraded vehicles to expanded routes. The Ontario government is moving forward with a $28-billion plan to expand transit in the Greater Toronto Area, while Montreal and Hamilton, Ontario, are moving forward with major light-rail projects — to name just a few examples.
For those tasked with guiding the public transportation sector toward a post-pandemic reality, the question now becomes how to rebuild ridership in the years to come, and welcome new riders to transit.
Interac Debit and contactless payments for transit riders
One piece of the transit puzzle will be modernized payment systems. In Canada and abroad, contactless and open-loop payments are gearing up to play their part in the future of transit systems.
In the country's biggest city, we're making that happen.
Interac Debit is now being accepted for the first time as a contactless payment option on UP Express through a pilot led by Metrolinx on the PRESTO fare payment system.
"Earlier this year, we launched a pilot on UP Express to allow transit riders to pay their fare with their credit cards, modernizing the PRESTO payment experience" said Barclay Hancock, Chief Payments Officer, Metrolinx. "We're thrilled to now be adding Interac Debit to this pilot, providing even more choice and convenience for customers and marking a first for a transit authority in Canada."
With debit being one of the most prevalent forms of payment — 94 per cent of Canadian adults have a debit card— it'll be an option that potentially impacts the most riders.
Contactless and open-loop payments can get cities moving again
COVID-19 made contactless payments more popular across Canada, and that's true globally as well. Cities are applying this lesson to transit, moving forward with contactless payment systems that enable commuters to pay fares with a tap of their debit card or digital wallet. This helps public transportation systems to address evolving expectations from riders, and to counter pandemic hesitancy and concerns around hygiene.
Transit providers had been exploring ways to modernize fare collection systems and improve rider convenience for years.COVID-19 amplified the need. Open-loop systems are gathering pace around the world, from Helsinki to Manila – and, closer to home, the city of Laval, Quebec, which is rolling out a contactless payment option for its buses.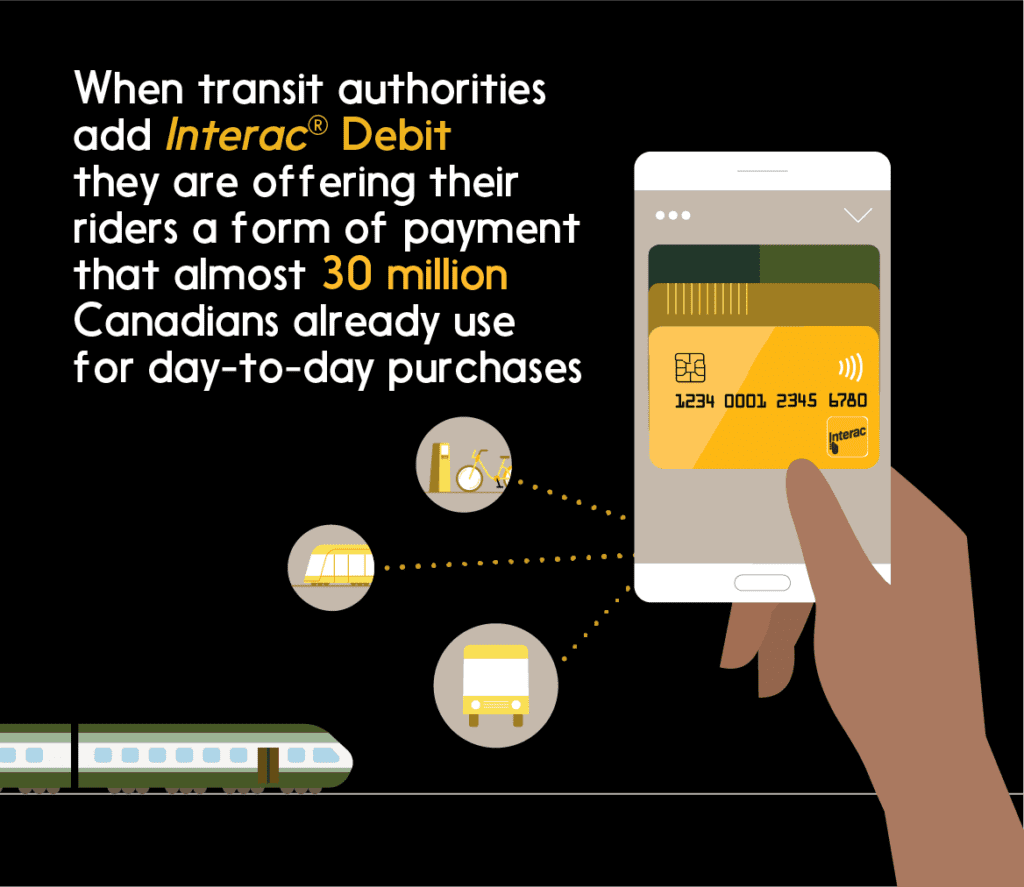 Canadian commuters are ready for open-loop payments, too. According to a survey by lnterac Corp. (Interac) conducted just before the onset of the pandemic most Canadians surveyed say they would use an open-loop payments system. More than half of Canadian transit riders surveyed say they're ready for a new way to pay for their rides, and just over two-thirds said they believed paying for transit should be as easy as paying for their groceries.
Interac is working with other transit authorities across Canada to enable contactless open-loop payments. "When transit authorities add Interac Debit they are offering their riders a form of payment that almost 30 million Canadians already use for day-to-day purchases," said Peter Maoloni, VP Product & Services, Interac Corp. "The inclusion of contactless payment options can also help with the responsible recovery of transit networks – and cities – from the COVID-19 pandemic."
Interac enabling the future of mobility
Looking further ahead to the not-too-distant future, Canadians could have the option to use multiple means of public transportation in a seamless journey by making one single payment – for example integrating ride- or bike-sharing services with buses, trains, subways and other modes of transportation. Digital payments will be important to developing these multi-modal mobility services to meet Canadians' needs.
Interac can help transit authorities implement debit for transit payments — and we're happy to hear from potential partners who are also eager to get Canadian cities moving again.
_____
*Payment options depicted are intended to show examples of what the future of modernized transit payments could look like, and do not reflect products actually available in market.*
Interac is a registered trade-mark of Interac Corp.
The Contactless Indicator mark, consisting of four graduating arcs, is a trademark owned by and used with permission of EMVCo, LLC.