As the pandemic's impact on mental health is just beginning to be measured, one thing is certain: the isolation stemming from social distancing is hard on everyone's morale, including young people within the LGBT2Q+ community. Many of them are isolated in environments that are unwelcoming, even openly hostile, as they seek to assert their identity. Connecting with their community is critical in this pivotal time of their lives, when they build and affirm their identity. Where can they get help?
Project 10 is a Montréal-based organization whose mission is to support and promote the well-being of LGBT2Q+ youth aged 14 to 25. Active in the community for the past 30 years, Project 10 was founded by two social workers who identified significant needs among LGBT2Q+ youth. The organization has since offered assistance in a number of ways, including obtaining gender affirmation materials, providing financial assistance for therapy access, as well as organizing events and workshops. Due to the pandemic, these connections are more important than ever, which is why Interac® decided to donate to Project 10 as part of Pride Month in Quebec.
The importance of a welcoming space and caring connections
Mitchell Rae, just 24 years old and executive director of Project 10, explains that most of their employees are within the age range targeted by the organization's mission. Project 10's mission is very important to Mitchell, who used its services 10 years ago: "I've come full circle, in a way. Having gotten help from Project 10 when I was 14 or 15 years old, and now being the executive director a decade later, is very special to me and I deeply appreciate it."
Mitchell explained that the organization hires a number of artists from the community for their art workshops, which allow young people to connect with other members of the LGBT2Q+ community: "For young people, it's like having a role model, someone who can act as a mentor. This is an opportunity for Project 10 to connect with and support each other in the art world and the LGBT2Q+ community."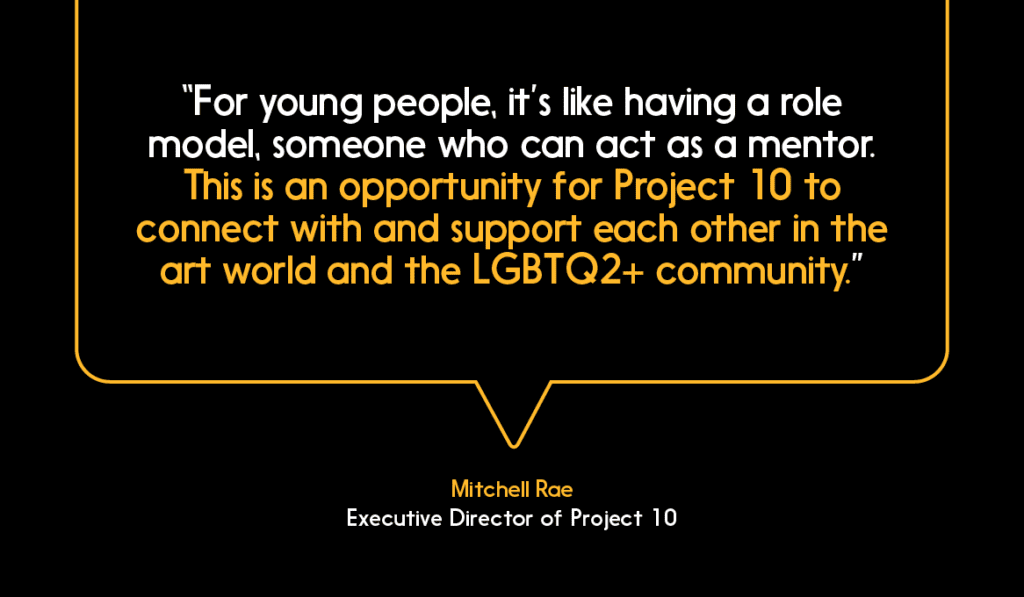 Kezna Dalz is a Montréal-based queer visual artist of Haitian origin who will collaborate with Project 10 for workshops in the near future. She explained her vision for the organization: "I think Project 10 is very much focused on self-acceptance and feeling good as a queer youth. Especially when you're young, you discover so many different things and you change so much. So, of course, I like to talk about that through growing up as a young and queer person, as well as the challenges that come up, from my perspective as a racialized person."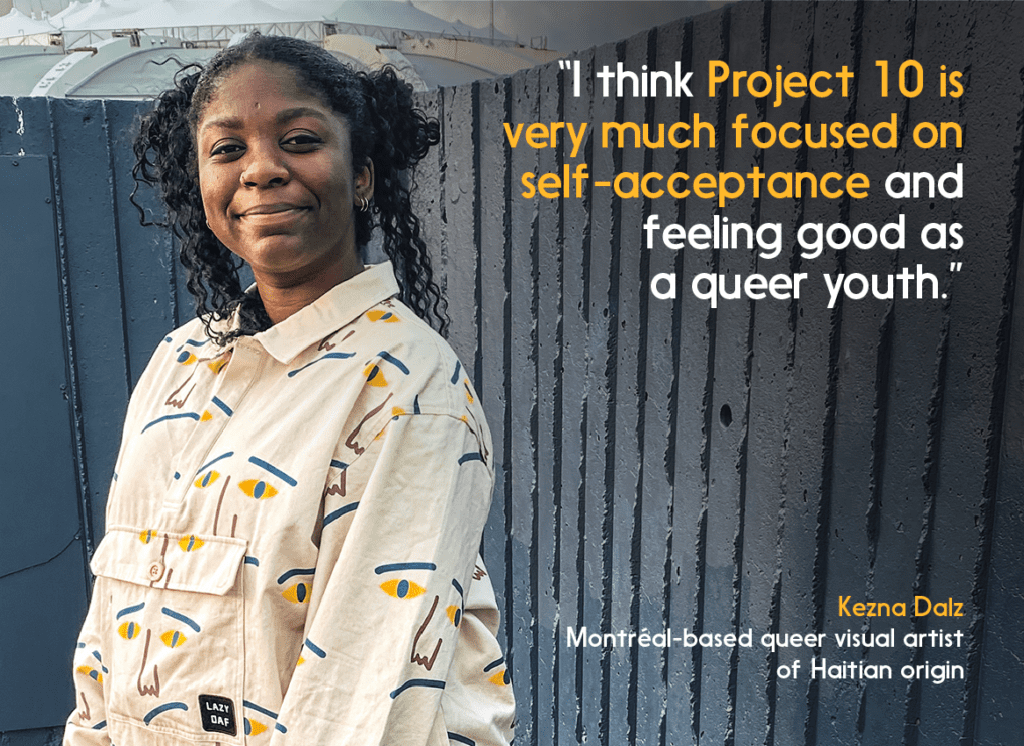 Through the workshops, artists are able to build important personal connections with young people, which allows them to talk, in addition to benefiting from the life experience of the artists. Cory Hunlin, a British Columbia native, two-spirit Indigenous beadwork artist, also offers workshops with Project 10. To him, these workshops are more than just craft lessons: "In my workshops, I teach people how to make bead earrings. I teach people the techniques I've learned over the years, but there are also life lessons that come along with it. Patience, above all. Through the knots, you also have to learn to let go… Workshops remind me why I bead: to connect with people and share stories."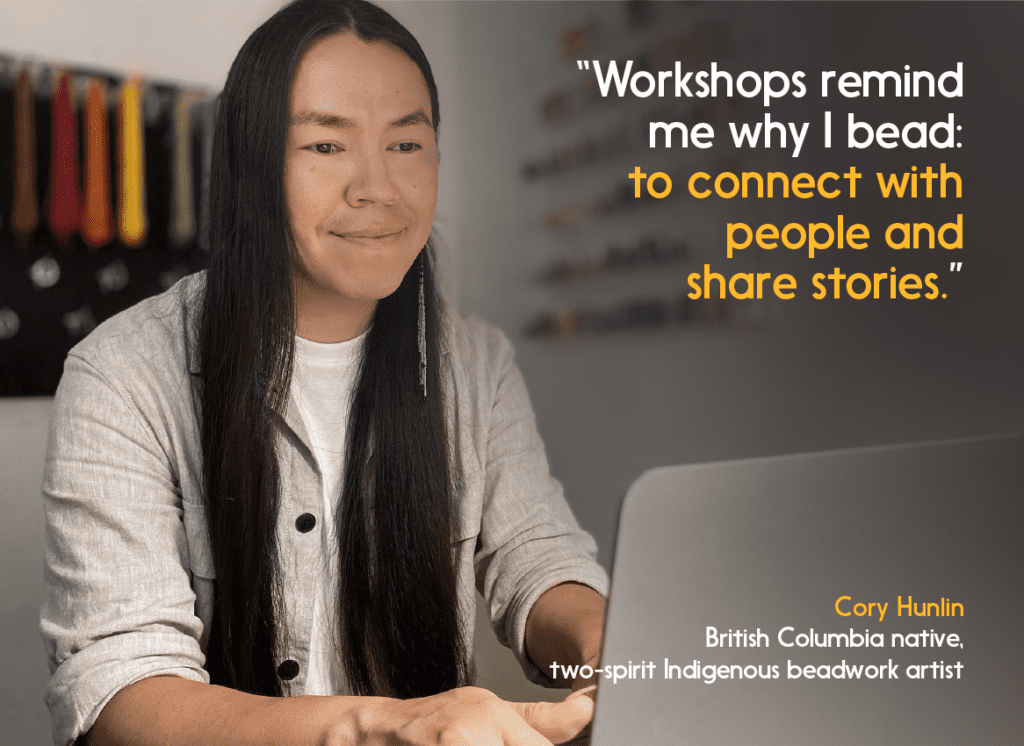 Acute needs of trans youth
Coming out of the pandemic, Mitchell Rae has identified a major need for support, especially for transgender youth. Isolation is not the only problem these young people have encountered: access to therapy—mandatory for accessing gender-affirming surgery and drugs—has many costs. Depending on their family and personal situation, many young people face financial difficulties when the time comes to take these steps in therapy. That's why Project 10 provides financial assistance to transgender youth in Montréal. Among other things, Interac's donation will enable them to keep supporting this access for transgender youth in the form of therapy grants.
Big dreams for the future
Therapy support is not the only Project 10 initiative that requires critical funding; the organization is also planning to relocate to a larger space in the medium term to accommodate their 10 employees. Project 10 currently occupies a small space with two offices. This hasn't been a problem since the beginning of the pandemic, but with people returning to the office in the near future, the situation is far from ideal. Mitchell would also like to be able to support other organizations and projects in Montréal's LGBT2Q+ community with this new space, whether that's through meeting and conference spaces or access to workspaces: "There are so many young people with good ideas, and I'd like to be able to give them a place to work, without having to go to a friend's place, pay to be in a coffee shop, or work in their bedroom. It's important to create these collaborative spaces, in addition to the programs."