The COVID-19 pandemic shook life up for a lot of people. Some took on new jobs, others moved homes, and many are simply trying to keep up with the constantly changing situation. It's been a lot.
One result? Canadians have financial independence on their minds — especially Gen Z adults and Millennials, who are now more worried about money than ever before. In the midst of so much uncertainty, it's natural that saving, investing and personal budgets are becoming most important conversations.
For Alberta couple Court and Nic, money talk has always been on the table. They run the personal finance blog Modern FImily and abide by a savings and investment strategy called FIRE (Financial Independence Retire Early). It's an aggressive approach that has attracted much attention online — particularly since the pandemic started. The goal is setting aside enough of one's personal budget for investments that will ultimately generate returns equal to a steady income, so that a job then becomes optional.
For this couple, it helped them go from holding significant student debt to having a seven-figure net worth. We spoke with Court for some money tips, and chatted about how using Interac Debit to manage spending is one way to be in more control and chart a course towards greater financial freedom.
Small steps toward financial independence, then big ones
In just nine years, Court and Nic were able to achieve financial independence and now they're on their way to retiring early. Like many things in life, it all started with a few little steps. Their first one? Putting their foot down on student loans by paying them off as quickly as possible.
"I'm a Type A personality and very goal driven, so this approach allowed me to be, like, 'Boom, check that one off,' and then move onto the next goal," Court says. This laser focus on eliminating each debt source, one by one, took a huge weight off her shoulders. "For me, it was just psychologically and emotionally easier to get rid of that debt before anything else."
Getting your personal budget under control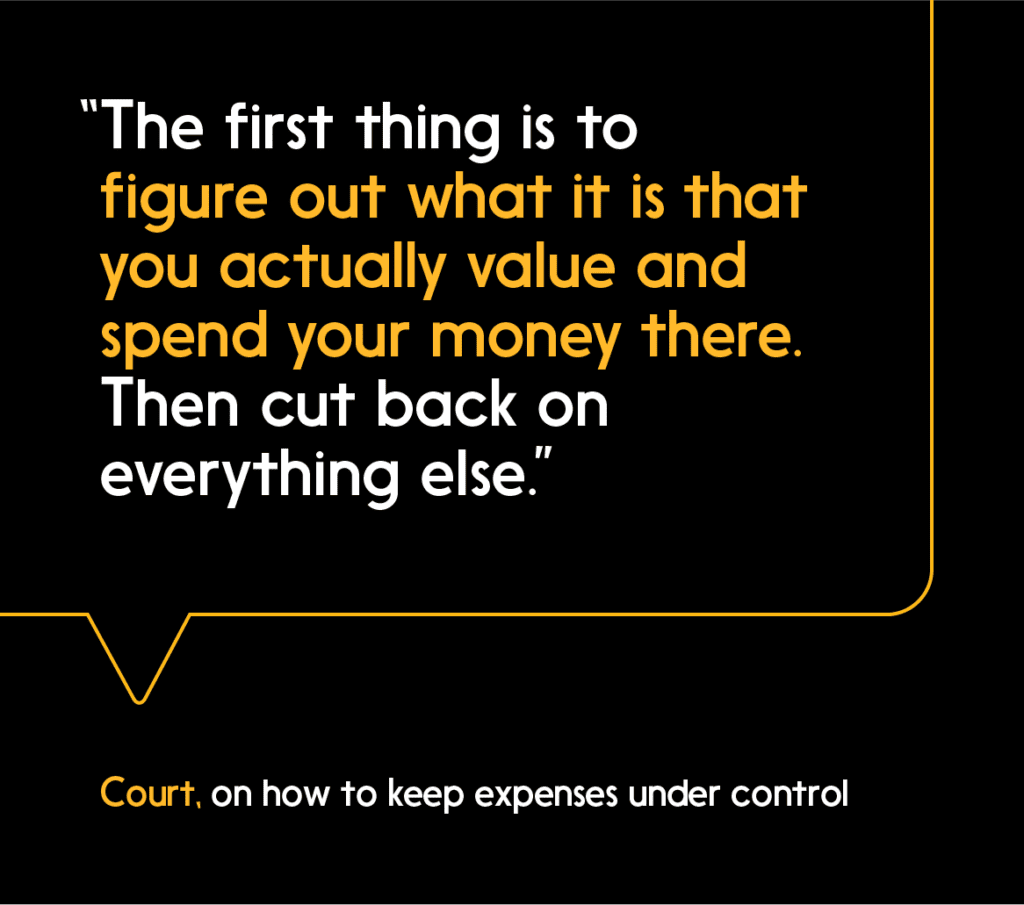 Keeping expenses under control is another essential pillar in managing your personal budget. Not everyone can control how much they make. But how much they spend? That's a different story. Court says it helped her to focus in on what was most important to her family.
"The first thing is to figure out what it is that you actually value and spend your money there. Then cut back on everything else," she says. "For example, we don't have a TV in our house. Could we afford one? Yeah, sure, but we don't feel it brings any extra value to our lives."
Court adds that another great way to get control of your expenses is to use Interac Debit as more than just a card. Consistently using your own money, rather than taking on extra debt, can give you more control over your finances — and ultimately help you get more out of life.
"If you use debit for everyday spending, then you can't use money you don't have. It gives you guardrails to lean up against so that if your spending is not in alignment with your earnings, you'll know straight away," she says. "It can help you to stay on track and get your expenses in order."
Building a safety net
More than just saving for a rainy day, having a safety net (or emergency fund) allows for more choice. Whether it's taking time off to pursue a passion project, switching careers or spending more time raising your kids. To build their funds, Court says they consistently tried to put at least 50 per cent of their income back into investments.
"Having a financial safety net, it provides options in life," Court says. "It gives you that runway to look out and think, 'OK, this situation is not working for me. I'm going to start looking for an exit strategy.' "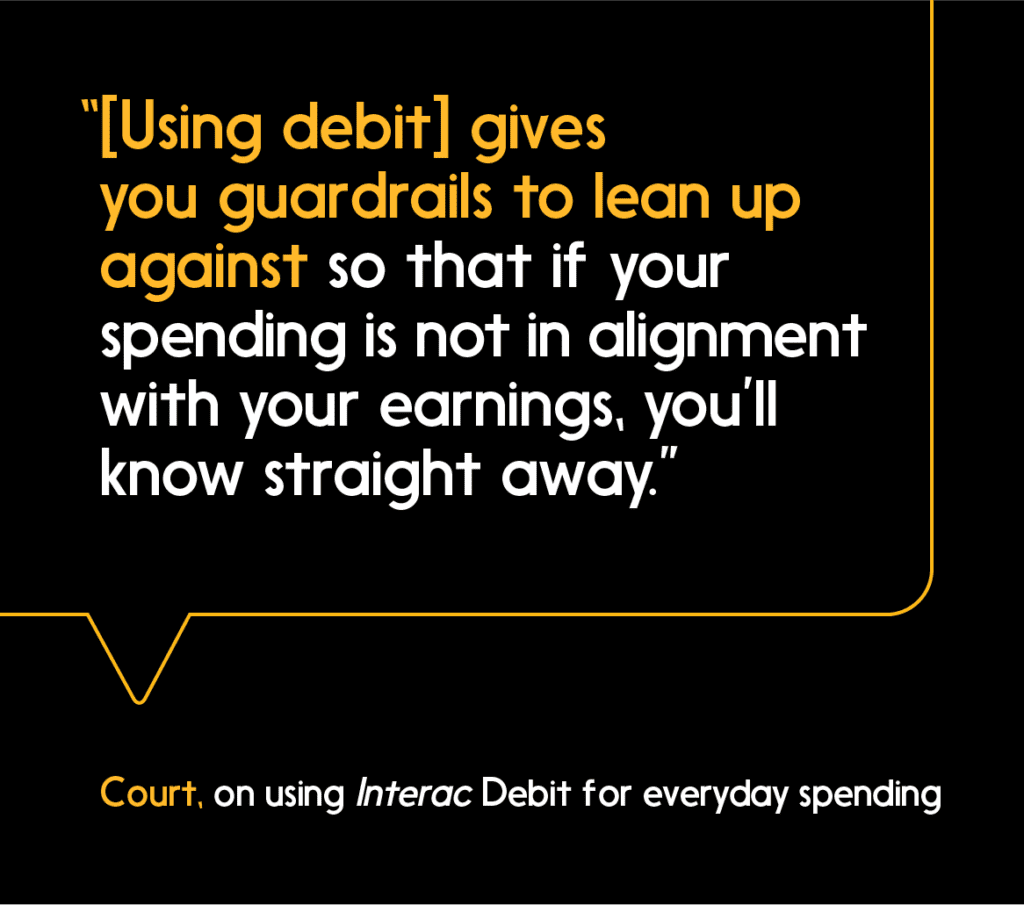 For some this might mean looking for a different source of income. "It could mean applying for other jobs, even if it comes with a decreased pay. That's OK, because if you have that safety net in place you might be able to spend a couple of months looking at jobs maybe in a totally different market or taking your time to find a role that aligns with your values. It just gives you breathing room."
Challenges the LGBT2Q+ community faces
Each and every person faces a unique set of financial issues, when it comes to finances and building healthy money habits. For some it could be the high cost of housing in a diverse, inner-city neighbourhood, for others it might be losing their base of family support because of who they choose to date.
"For me, luckily, coming out was a lot smoother than I thought it would be, but I know some people are shunned by their entire family," Court says.
This can have a big impact from a financial standpoint. "After something like that, people might not have anyone as backup. No one to even run ideas by. Let's say they don't even need the financial support, but then maybe they can't even talk to their family members. If you don't have that support system, you could feel like you're on your own, and in some cases that could lead to homelessness.
"It's really, really sad because then some people are immediately starting off at a lower baseline than others who are not part of the community. It starts to spread that inequality gap from a young age."
A FIRE life is a simple life
Looking at the long game is necessary when it comes to your finances. For Court and Nic, this meant not indulging in some of those additional lifestyle-related expenses, or lifestyle creep, that comes as you journey through your 20s, 30s and beyond.
"We realized that a simple life really is a happy life. It doesn't mean giving up on incredible experiences along the way."
Another long-term tip Court offers is to look at how you can expand your income and branch out into new opportunities from where you are right now. This could mean knowing your worth and negotiating for a raise at your current job or expanding into a side hustle.
"A lot of us in these different groups, whether it's LGBT2Q+ or women or POC, we can find it hard to ask for a promotion or a raise. Some of us feel like we're undeserving of it. This has happened to me personally, too. But I think you need to understand your self-worth and you need to realize that you likely could be earning more, either by asking for a raise or by taking on more tasks with the goal of being promoted. You have to ask for those things."
The way Court sees it, "many of us have already faced adversity and challenges, so why not just apply that strength to our personal finances as well?"
And it all really comes back to the idea of making the most out of the life you currently have. Court says, "Making connections, having a community, feeling positive every day. All of those things are so important, but that's really hard to understand when you have debt and when you're not in control of your money. "There are so many awesome things in this world that we don't have to let the stress of money weigh us down."
Interac services help keep things fast, simple, secure, and convenient.