"Dancing Phil" Villeneuve is a Toronto-based DJ known for dancing on the street with strangers on his YouTube channel and for his musical bingo events. For six years, he hosted musical bingo nights at Soho House in Toronto, sometimes attracting local drag queen and king talent. Eventually, Phil brought the event to Los Angeles, New York City and Chicago.
Instead of letters and numbers, participants check off the songs or artists played during musical bingo. Singing, lip-syncing and, of course, dancing, is highly encouraged. Phil, a proud creative within the LGBT2Q+ community, focusses his musical bingo selection on Pride songs and allied artists.
The Interac team first met Dancing Phil in 2020. Newly virtual, our employee-led social committee was searching for unique ways to keep our teams connected and engaged, all while investing in local businesses and talent. Phil was still figuring out if he could pivot his business model during the pandemic, like many other small businesses across Canada.
"As queer creative folk, there was a three-month period where we were in shock, depressed and questioning our entire existence," Phil said.
A few months into the pandemic, Phil witnessed other members of the LGBT2Q+ community pushing through, moving their work online. Leading the charge were drag queens and kings. Inspired by their resilience, Phil decided to take his musical bingo events virtual.
Back in Business
A few months after going virtual, Phil hosted his first corporate event: a Pride event for Interac. Not only was he adjusting to an online platform, but he also had to adapt to a corporate audience. Phil knew he had to be flexible while maintaining the authenticity of the event. Most importantly, he wanted teams to feel connected while being comfortable and having fun.
"It was fun but a bit shaky for sure. I also hadn't found my voice either."
Phil updated the playlist and tailored the event to his corporate audience, turning musical bingo into a family affair for participants of all ages. Interac has hosted Dancing Phil Musical Bingo four additional times and the events are always popular among employees.
"Once virtual musical bingo took off with workplaces, that saved everything. Not only were we able to then pay rent, but we were able to feed our souls and see people," said Phil.
Phil has never had to advertise. Potential clients and attendees hear about his virtual musical bingo events through word of mouth. Today, Phil sometimes hosts four events in one day.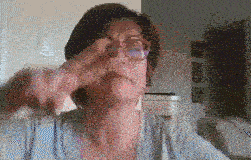 Still More Work To Do
With all of Phil's work to bring workplaces and communities together for a good time, there is one thing Phil is still working towards.
"I want to make sure we're safe and kids can feel OK walking down the street looking as gay as they want and feeling amazing as they should, because they are amazing."
Phil sees his virtual musical bingo as more than an online game. It's something deeper for the community and corporations.
"Seeing people's reactions was so beautiful. And now, we host games where people play across the planet. It blows my mind."
Moving forward, Phil wants to continue his musical bingo virtually and in-person after being inspired by its connective capabilities within the LGBT2Q+ community.
"I hear people say, 'I am at home in my bedroom in the middle-of-nowhere' but during the events, they are not alone. There is a place you can be yourself."
Connecting Employees and Small Businesses
Interac is always looking for creative ways to keep our teams connected and engaged while working remotely. We're also committed to supporting the small businesses and local talent who have been impacted by the COVID-19 pandemic in Canada. That's why we've worked to invest over $65,000 into local businesses through our employee events, such as Dancing Phil's Musical Bingo, our Employee Appreciation Week activities and Holiday Catalogue, paint nights and more.