The digital revolution is here and Canadian businesses need to embrace payments modernization and finance transformation to build more efficient, more innovative, and financially healthier organizations.
We would know. Not only do we build solutions Canadian businesses use to unlock the power of payments modernization, but we use them, too.
At Interac, we know modernizing payments is integral to digital transformation. We spoke to Kenneth Fridman, VP of Finance at Interac, to learn how moving away from the cheque and paper process can enable digital-first teams to level up their payments systems and help transform their organizations into leaner, more effective and more strategic enterprises.
Yes, Interac makes business payments using Interac e-Transfer for Business
When it comes to business payments, Interac pays vendors via Interac e-Transfer for Business where possible. It's similar to the version of Interac e-Transfer consumers use, but with features built to facilitate business payments, such as transaction limits of up to $25,000 and rich remittance data.
The convenience of a real-time payment is an especially preferable option for smaller suppliers, contractors, and consultants, who depend on getting paid right away. But the benefits flow in both directions.
"When people hear 'payments modernization,' they instinctively think about getting funds quickly and getting paid in real time," Kenneth says. "That's important, but from a business standpoint, payments modernization unlocks many other efficiencies."
Three benefits of faster payments and finance transformation
Benefit one: Using the rich data from digital payments can streamline your accounting processes.
Interac e-Transfer for Business transactions include structured remittance data that can integrate with your accounting software. This can enable straight-through processing and the automation of a number of processes, helping finance departments reduce the amount of time they spend on what are traditionally labour-intensive tasks.
At Interac, digital payments efficiencies mean we can spend less time on manual reconciliation, and more time on growth-oriented activities.
"We're building additional capacity through efficiency so we can have people within the accounting team doing more value add work," Kenneth says.
And we're not alone. Seventy-seven per cent of financial professionals want their finance team to spend less time on transactional processes and more time on higher value-add functions.
Benefit two: Switching to digital payments means getting a better handle on cash flow.
Traditional payments and processes take time. Electronic funds transfers (EFTs) may take several days to process, and cheques can take even longer. And yet, EFTs and cheques accounted for 42 per cent of total payment value for businesses in 2020. That's a lot of tied up capital.
"When you have transactions processing in real time, information is exchanged in real time, too, so you always know what's in your bank account," Kenneth says. This enables business leaders to make strategic decisions and fund new projects.
"Companies that hold on to large sums of capital without visibility into how it's being used miss out on strategic opportunities."
Benefit three: Fuelling data analytics.
Because the rich data built into Interac e-Transfer for Business transactions is ISO 20022-compliant, finance teams can gain access to a new reservoir of information by aggregating and analyzing data from transactions. This data can help you inform you C-suite and feed into strategic decision-making. Think of it as a new tool to make your business more competitive.
Modernizing business payments: It's easier than you think.
When it comes to digital transformation, there may be questions about onboarding, capabilities, and costs.
"We surveyed Canadian business leaders to learn what digital transformation means to them. We found that while leaders understand the value of adapting, they can be hesitant," Kenneth says.
In fact, 82 per cent of financial professionals reported that applying digital transformation to their function is a priority. However, perceived barriers included cost (28 per cent of leaders cite this), technological capabilities (26 per cent) and a lack of education or information around making the shift (20 per cent).
"Modernizing payments isn't an 'end-to-end, do-everything-at-once' scenario," Kenneth says. "If you look at it that way, it could seem very costly and maybe a little scary."
To rethink these barriers and start finance transformation at your organization, Kenneth advises finance leaders adopt a phased approach to modernizing payments.
"Modernizing payments can be a gradual process," Kenneth says. Adopting Interac e-Transfer for Business to pay small- to medium-sized contractors and vendors is how Interac took the first step.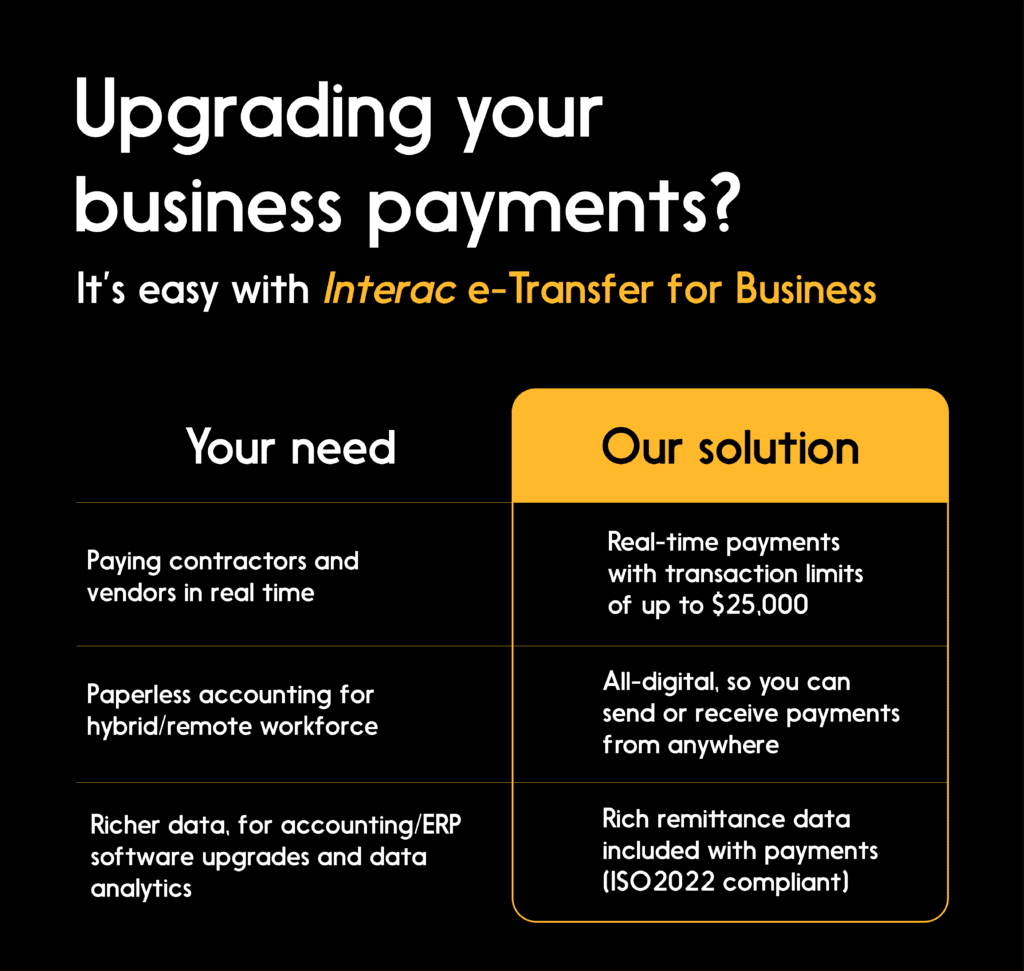 Interac launched Interac e-Transfer for Business in response to the needs of real Canadian businesses, so any organization can seamlessly level up its payments, migrating from paper and cheque to digital solutions. It's an off-the-shelf solution available via Canada's major financial institutions.
Switching finance staff over to the new process is easy: Interac e-Transfer for Business looks and operates much like the original Interac e-Transfer for consumers. It's something most Canadians are already familiar with. (That goes for your suppliers, too.)
"Breaking business payments modernization down into phases or areas means you can achieve benefits – and learnings – very quickly," Kenneth says. "Then you build on those benefits and learnings on your path to finance transformation."