The shift to a digital economy has accelerated in 2020. Consumers and businesses have embraced digital payments and transfers to keep money and commerce moving in the midst of a global pandemic.
Even before the arrival of COVID-19, transit providers were thinking about new ways for digital transactions to empower riders and make their lives easier and more convenient. For example, digital payments offer a number of advantages over traditional fare systems, especially ones that still revolve around tokens or paper tickets and passes.
In 2020, Interac undertook an online survey of 2,500 Canadians aged 16 years and older to learn their thoughts about transit, including modernized digital payment solutions such as open-payment systems.
These systems allow customers to pay to board using their existing cards issued by financial institutions, or digital wallets that have those cards added. For transit systems, this can complement or replace proprietary fare media. For commuters, open payments are intended to make taking transit more convenient, because people don't need to purchase dedicated tickets and passes to ride.
Now, given the public-health challenges we face as a result of the COVID-19 pandemic, it's worth considering how these payment technologies could facilitate physical distancing and reduce handling of cash and coins on buses, trains and other transit vehicles.
Canadians support the concept of open payments for transit— whether it's because they've already experienced the convenience of open payment systems in other locales or because the benefits are appealing.
Here are some highlights and key takeaways from the survey: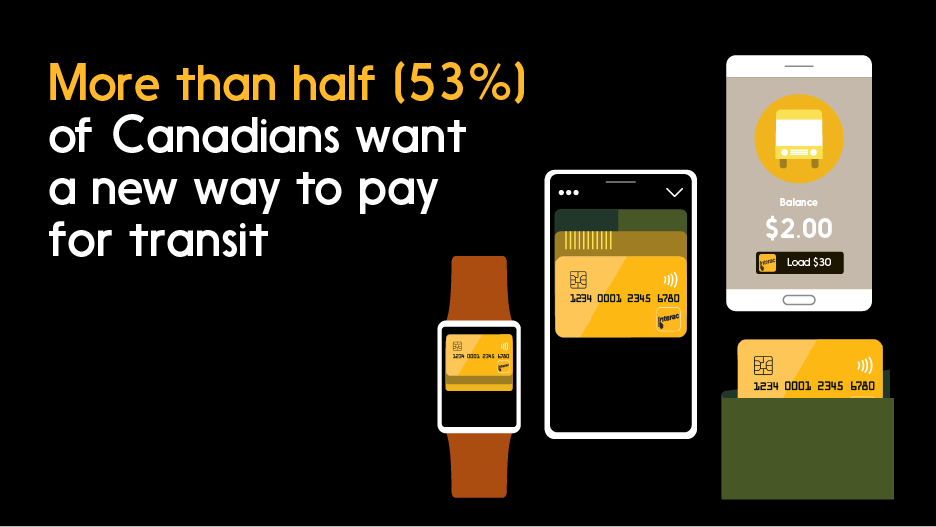 The first major takeaway: A small majority of Canadians are already thinking critically about their transit payments. About one in five transit users regularly find it cumbersome to pay for a ride.
They would prefer to be using a method other than the one they're using now, and their suggestions lean toward digital solutions — particularly contactless debit or credit card payments.
It's notable as well that some of the dissatisfaction could stem from what they've seen of transit systems while travelling abroad: Fewer than one-third of respondents believed "Canada has world-class payment systems for public transit, on par with other countries."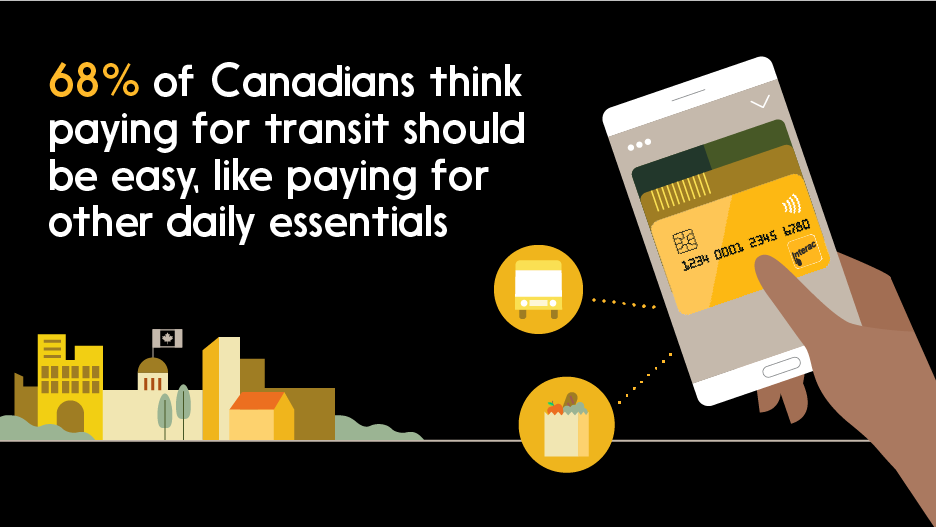 What do they think would be easier? Half (50 per cent) of transit riders say contactless payments would make paying for transit much more convenient for them. Fifty-five per cent agreed that paying this way would reduce wait times for purchasing a ticket or pass. And 31 per cent said it's financially challenging for them to pay for transit passes in advance (with open payments, passes are not always needed and discounts may be calculated and given based on actual usage).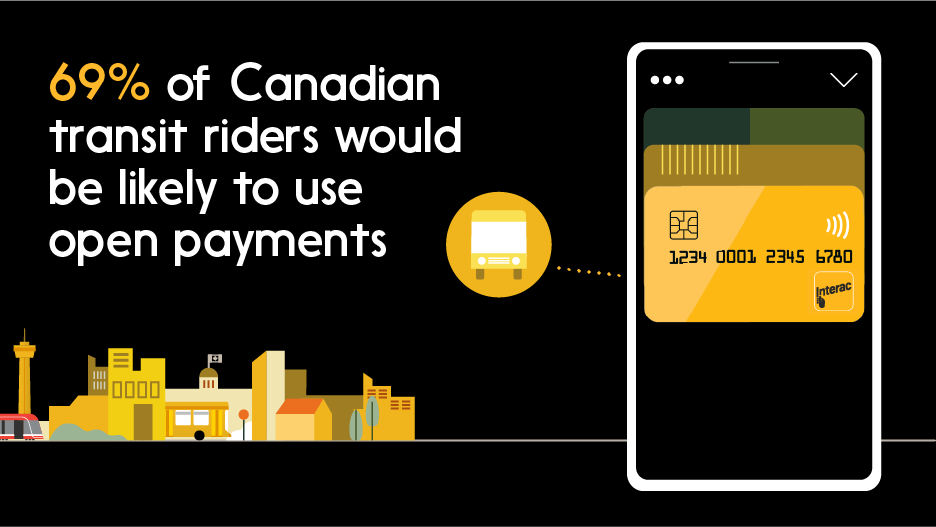 Open-payment systems aren't very common in Canada yet. Even still, our survey indicated that commuters here are already receptive to the idea: One-third of survey respondents said they would be very likely to pay this way, while another third suggest they would be somewhat likely.
Canadians already perceive some of the potential benefits. Among the top reasons they cited for wanting to try open payments were ease of use, speed, and less need to carry change.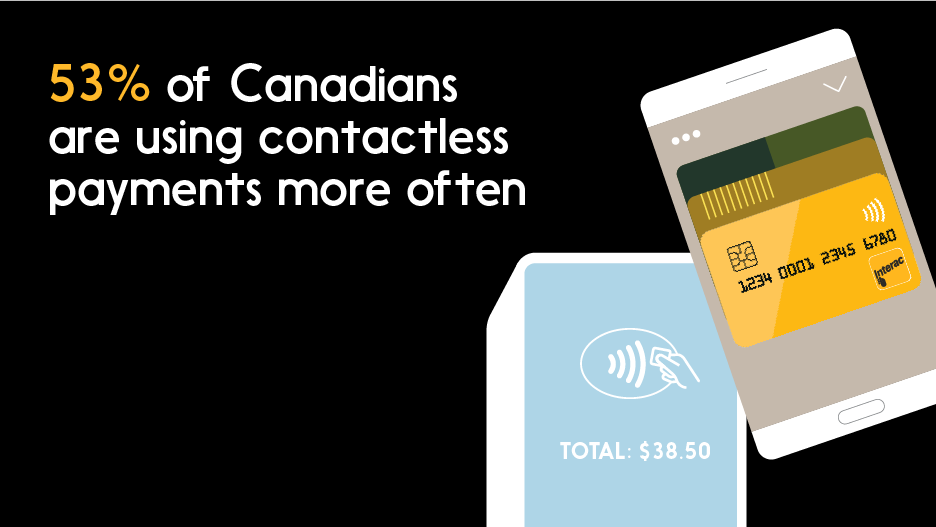 Since the advent of the COVID-19 pandemic in Canada, consumers have continued to embrace contactless payment systems, according to a Payments Canada survey taken in May. More than half of respondents reported using contactless payments more often than they did previously.
At the same time, 42 per cent told the same survey that they avoided shopping at places that did not accept contactless payments. And 62% reported using less cash than before.
Data from Interac mirrors those findings: since March we have seen a rise in the use of Interac Flash as a proportion of Interac Debit transactions, with the size of the average Interac Flash transaction rising by 17 per cent.
Driven by an unexpected public-health need, Canadians have accelerated their adoption of contactless digital transactions. This could mean they're ready for new, contactless solutions to pay for a ride across town.
What's absolutely clear is that there's an appetite to move beyond the status quo.
_____
Interac commissioned Navigator Ltd. to conduct a national online survey of 2,500 adult residents of Canada between January 31 to February 7, 2020. The sample is representative of the national population in terms of age, gender, region and education.
*Payment options depicted are intended to show examples of what the future of modernized transit payments could look like, and do not reflect products actually available in market.*
Interac is a registered trade-mark and the Interac logo is a trade-mark of Interac Corp.
The Contactless Indicator mark, consisting of four graduating arcs, is a trademark owned by and used with permission of EMVCo, LLC.
The Contactless Symbol is a trademark owned by and used with permission of EMVCo, LLC.