The life of a student can come with many things to figure out — from finding a new apartment, splitting rent, paying tuition, sorting out student loans, getting school supplies and paying the bills.
But with a little help from Interac, tackling some of your financial firsts and keeping up with the costs of everyday living can be made a whole lot easier.
Read on to learn how Interac can help you save time and stay in charge of your money so you can focus on the experiences that matter most.
Rent your first place
Moving is always a little frantic, especially with so many money choices to make. If you are moving away for school, you probably have many questions: How will you pay the movers? How will you pay the rent or split expenses with roommates? Interac can help with each of these moments and more — right from moving day. Here's how:
Pay the movers – No cash? No problem. Use Interac e-Transfer to square up the bill once the job is done. Not only is Interac e-Transfer useful for sending and receiving money among your friends and relatives, many businesses now accept it as a form of payment, too.
Pay the rent – Speak with your landlord about using Interac e-Transfer instead of cheques to make rent payments. It's a fast, easy way to pay rent, and you'll always know when your payment is coming out of your account, helping you better balance your budget. Plus, using Interac e-Transfer cuts down on delays that come with using cheques (not to mention no paper waste — so there's an environmental benefit, too).
Shop for groceries – Food is a regular expense, so you'll want to know how much you're spending on it. When you pay with Interac Debit, you're using money that's in your bank account, which means you can track your spending in real time to make sure you stay on track — and you won't get a nasty surprise bill later.
Pay the bills – Whether you're paying for internet, electricity, or phone services, setting up recurring Interac Debit payments means using your own funds to stay within your budget and never worrying about interest fees at the end of the month.
Split expenses with roommates – If you share expenses with others, like rent, bills and groceries, Interac e-Transfer is a convenient and secure way to send and receive money. With useful features like Interac e-Transfer Request Money you can streamline the process of requesting (and receiving) payments. Interac e-Transfer Autodeposit is another time-saver, which deposits funds sent to you via Interac e-Transfer automatically into your bank account (without the need for a security question).
And what's a first night in a new apartment without the customary pizza? Start making use of Interac Debit e-Commerce payments through digital wallets to pay with your debit card directly in food delivery apps and enjoy a well deserved slice (And if you've ordered a few extra boxes for your roommates, they can pay you back with Interac e-Transfer).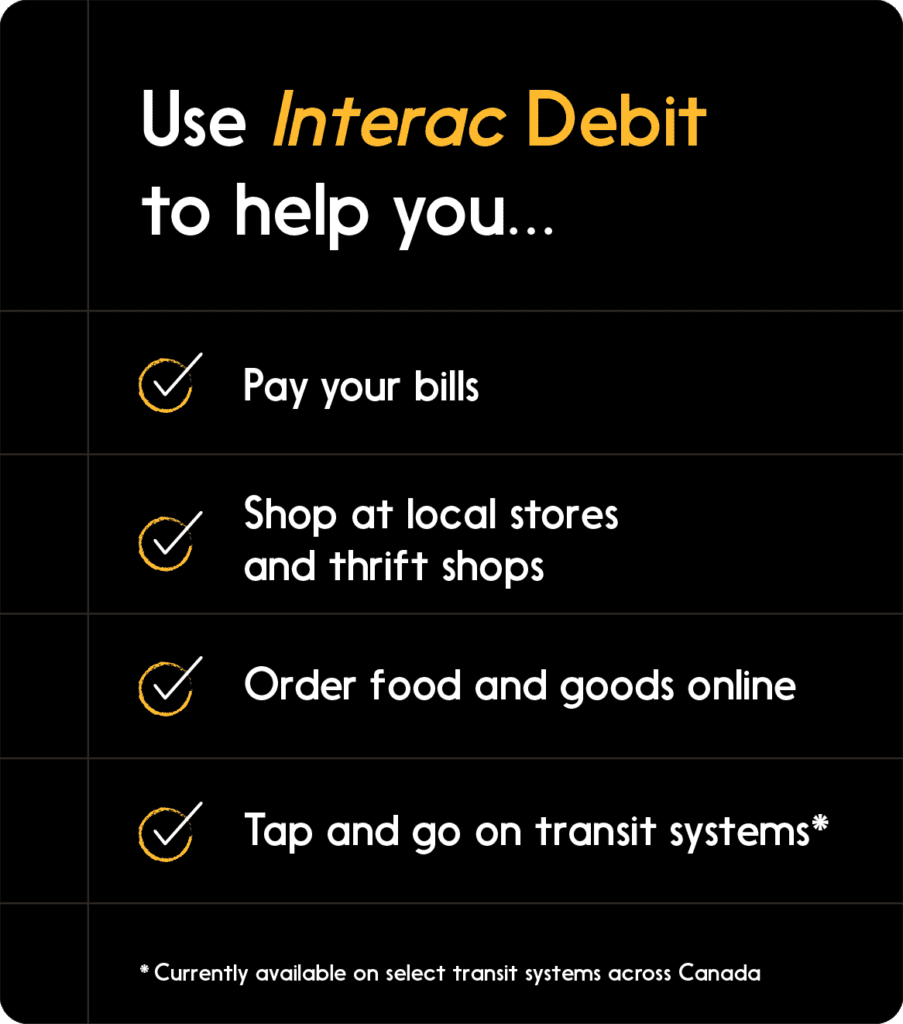 Make your new place a home
Once you're moved in, the fun begins: Choosing the things that make your new place feel like home. And whether you prefer the convenience of ordering everything new online or enjoy the hunt for bargains, Interac can help you purchase those household essentials.
Buy used items from online marketplaces or neighbourhood groups – Finding items like desks, chairs, couches, and lamps on online marketplaces isn't just a sustainable alternative to buying new, it can also help you save money. And when it comes time to paying the seller, make the process simple and secure by sending your payment via Interac e-Transfer. That way, you won't have to find a bank machine on your way to the seller, or remember to have cash on hand.

Remember, always be cautious before making a transaction. Be sure to look at the seller's reviews and ask the seller to meet face-to-face, in a public setting. Learn more tips to protect yourself from potential scams.
Purchase items from local stores and thrift shops – If you prefer the thrill of finding that perfect piece in person, remember to check out with Interac Debit. Interac Debit is an economical option for small businesses, so a lot of owners prefer if customers use it to pay for purchases. For even more convenience, add your debit card to your digital wallet and pay with your mobile device — which will definitely be helpful if your hands are full holding your new treasures.
Order online from the comfort of your home – We get it, sometimes things get busy and stepping out to handle your shopping may be a little too time-consuming. Fortunately, you can get a hold of everyday essentials and one-time must-haves without ever leaving your couch. Once you connect your debit card to your digital wallet, ordering online is even easier since you won't have to manually type in a card number. Even better, when you use your own money with Interac Debit, you don't have to worry about any surprise charges that pop up days later.
Set up for school
Now that your new space feels more like home, the countdown to your first day begins. As you make your list of classroom essentials, there are many ways that Interac can help you get ready for class, fast.
Use Interac Debit to pay for supplies on the go
From textbooks and planners to laptop bags and school-branded swag, take on your school shopping list with ease by paying with Interac Debit. In a recent Interac survey, Nearly eight in 10 Gen Zs polled that inflation and the cost of everyday essentials are influencing their ability to manage their finances. So lean on Interac Debit, track payments easily and take charge of your own money.
Use Interac e-Transfer to buy refurbished electronics and specialty supplies
It always feels good to save money on big ticket items like laptops and tablets, so consider buying them refurbished or used instead of new. Again, online marketplaces can be a great place to find affordable electronics and specialized items for classes, like cameras or sports equipment. Just remember to take the right precautions and verify that items are in good working order before making the purchase.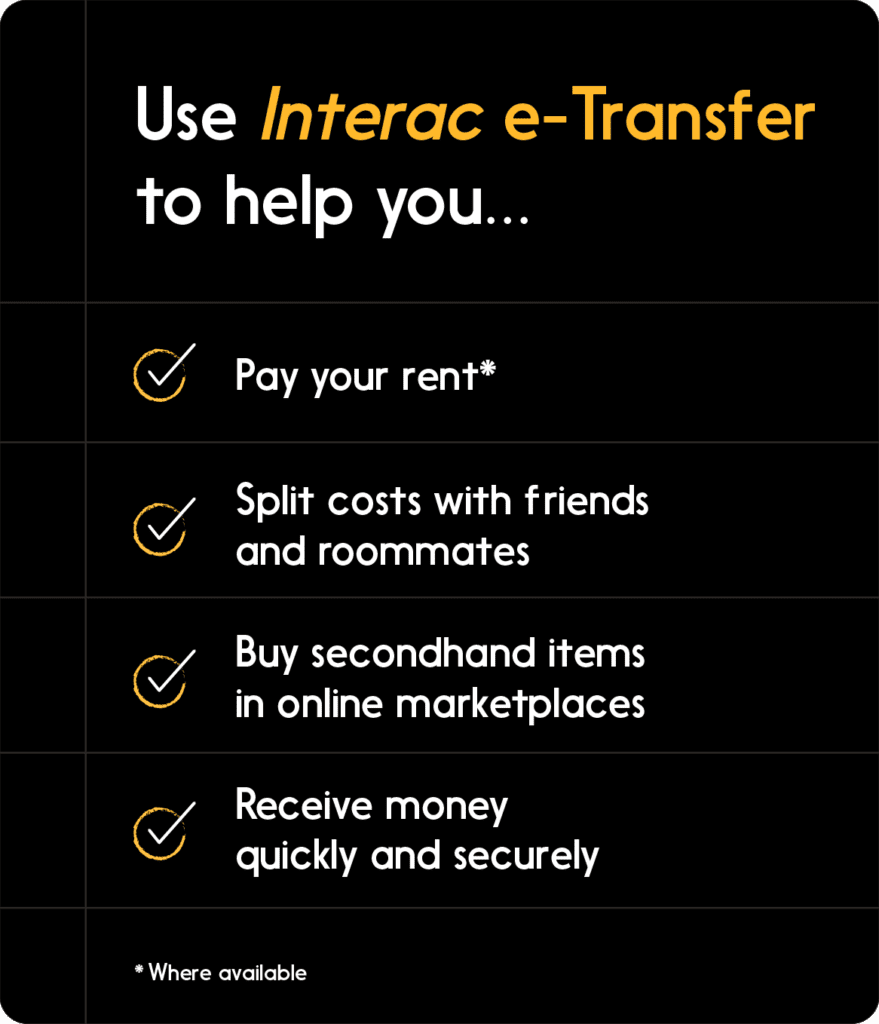 Receiving extra money on the side
For many students, there's another crucial source of support during their student life: family members. If your family is helping you out while in school, they can send money by Interac e-Transfer. That way, you can get financial help fast and at any time, including on short notice — because sometimes you can't wait for a cheque to arrive and clear.
Also keep Interac e-Transfer in mind if you're doing part-time work on the side to earn extra money, like tutoring, babysitting, or content creation. It's a quick and easy way for you to get paid.
Tap and go on transit
Whether your class is a five-minute bus ride away or a one-hour train commute, Interac Debit contactless payments makes taking transit more convenient by eliminating the need to purchase tickets or fare cards.
Interac Debit is available as a contactless payment option for adult fares on many transit systems across Canada.
From class to a night out, Interac is with you wherever you go.
Securely manage your student loans
Interac sign-in service is a secure and convenient option to access the National Student Loan Service Centre where you can check your disbursement schedule, accessing important tax information, or getting started on repayment,.
It can also save you from having to create and manage a new username and password as with Interac sign-in service you can use your existing login credentials with a participating financial institution.
You're InCharge: on and off campus
Saving time and money is a priority for students. But dealing with so many financial firsts can feel a little overwhelming at times. If you're looking to learn some healthy money habits and tips on how to manage the emotional side of navigating finances, check out these four tips from financial therapist, Aseel El-Baba.
So, whether you're splitting expenses or tapping to get to-and-from school on transit, know that with Interac you're in charge of your own money, on — and off — campus.
Discover more healthy money habits.