The concept of mindfulness has been around for centuries but as the world evolves and seemingly gets more complicated, so too have the ways we keep grounded in the here and now to bring an element of mindfulness and control to our lives. Nowadays there are tools to help us stay mindful and intentional in how we work, pass our time, eat, and even in how we look at money.
We are currently in an era where Canadians are looking for support in practicing the intentional spending behaviours and habits they've built up over time. Intentional spending refers to the practice of making purposeful purchasing decisions that align with their financial goals and personal values, and Interac data shows that six in 10 shoppers want tools to help encourage the behaviour. One example of a helpful tool is the newly launched Sound Shopping track that taps into the emotional response and behavioural impact music can have on how we spend, with the intention of triggering a more mindful shopping experience. Additionally, products such as Interac Debit and Interac e-Transfer are amazing tools to help people feel in more control of their money.
But what other ways can we keep mindfulness "in mind" when it comes to being in control of our money? Below we've provided some tools to help you feel calm, centered, and in control.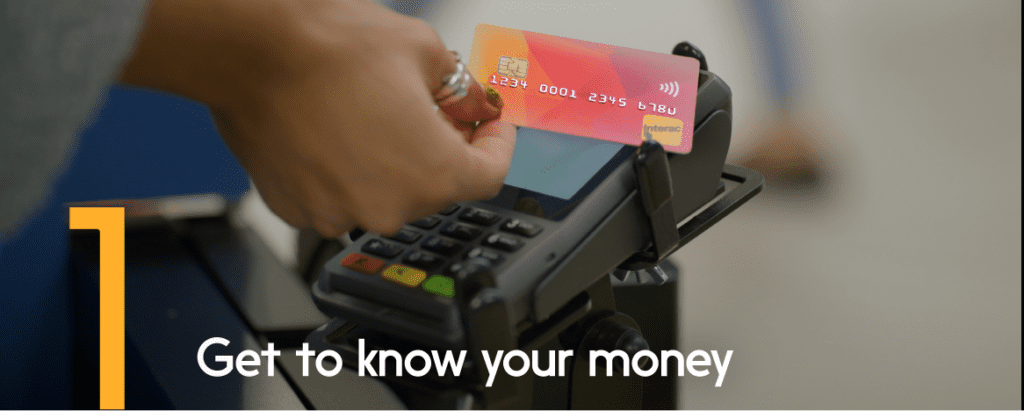 Everyone's financial situation is unique, with its own set of quirks. Often a way to make your money work more for you instead of the other way around is to set aside some time each month to sit down and take account of your finances. If your bank or credit union has any financial tracking tools available, check them out and see if they could help. At the end of the day being able to see the comings and goings of your money, without judging yourself too harshly, can allow you to see if there are any adjustments that can be made to bring your spending in line with your personal priorities.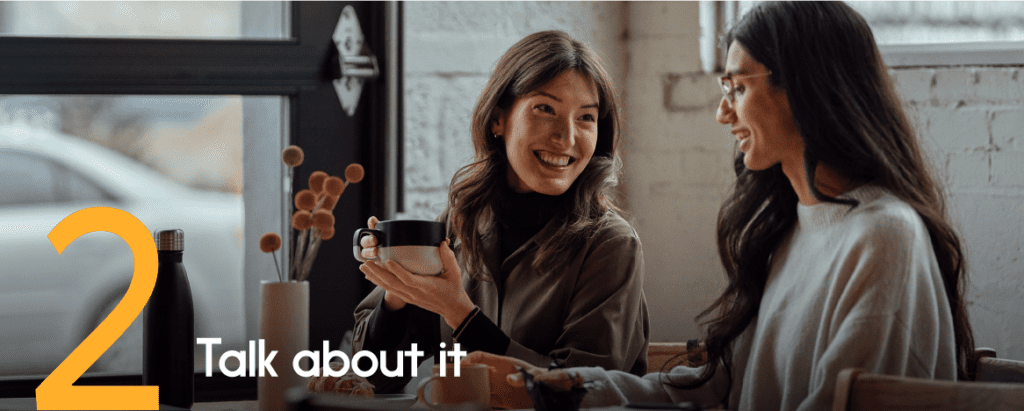 We often tie our finances in with our emotions and mental health, so being able to talk about them openly and honestly can go a long way. Reach out to a trusted friend or family member to discuss your financial situation. It doesn't have to be a deep, serious conversation, just a chat! You never know if someone has similar feelings about being more intentional about their spending.
In fact, with a research commissioned by Interac showing that 67% of Canadians try to practice intentional spending, chances are good that the person you reach out to feels the same. And most importantly, talking about it with someone means that you can support each other in your efforts to spend mindfully.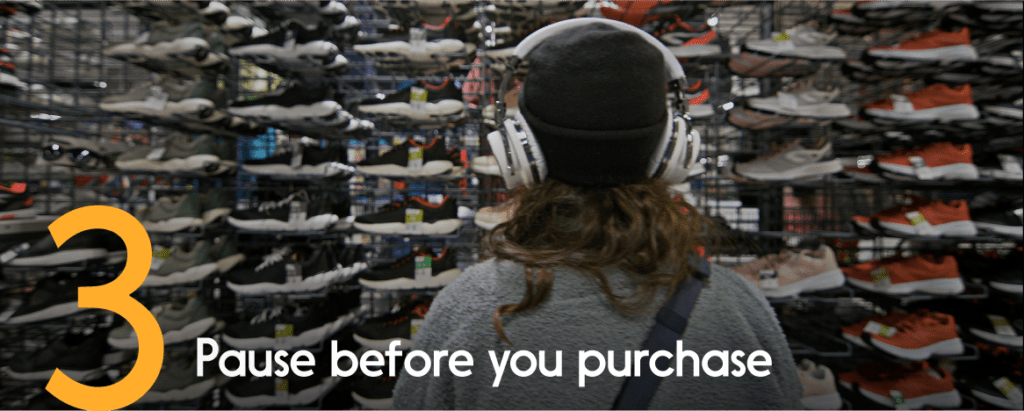 Sometimes in our day-to-day lives it can feel like everything is trying to get us to make an impulse purchase. With ads popping up in most of the media we consume, along with limited-time sales and sign-up deals, it's easier than ever to feel the pressure to buy something immediately.
In moments where it seems like the pressure is high to hit that "add to cart" button, it helps to take a moment to pause and think about your purchase. Ask yourself if it's something that will give you long or short-term joy or if you have anything at home that already achieves the same goal. Taking a moment for some meaningful thought about a potential purchase can help you better determine if it's worth getting.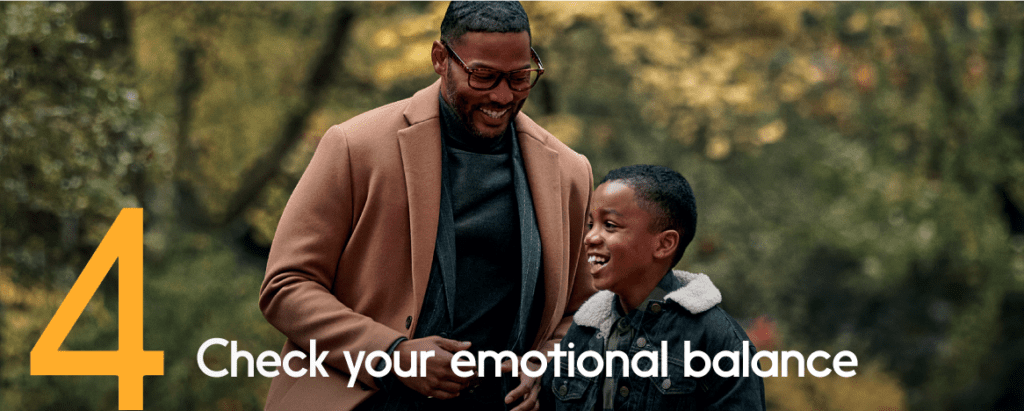 Sometimes the way we feel can impact our spending habits. Depending on our emotional state, we might be inclined to spend more. It's called "retail therapy" for a reason!
So with that in mind, it can help to take a moment to check in on your emotional state to see if it's as balanced as a good budget should be. If you find that your mood is on the down side, maybe take some time away from the store or close that window on your computer. Reconsider the purchase when you're in a more calm and thoughtful mindset. It can be as long or as short as going for a walk, eating a nice meal, or even having a good night's sleep.
Just remember to take a deep breath and listen to yourself. The important thing is to consider what role your emotions may play in your spending habits.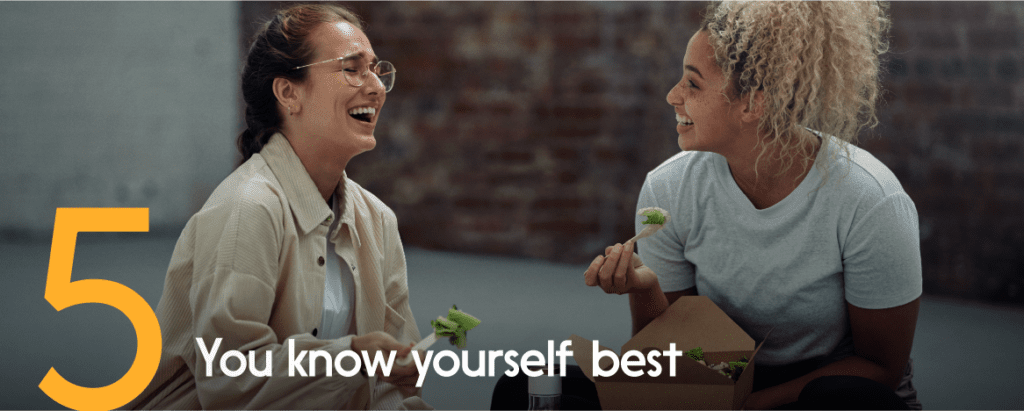 Mindful spending can be very similar to other areas of mindfulness in that the important thing is to put more thought and consideration into your spending habits. That way, you're more in control of the process and aren't just buying for the sake of buying. And similar to other mindful practices, that doesn't mean restricting yourself either! If getting that fancy cup of coffee from your favourite place will give you joy and improve your day while fitting within the budget, go for it!
Being more mindful and intentional about your spending is just that. Knowing who you are, where you're at emotionally, being honest with yourself about what you want, and knowing what works for you and your spending goals.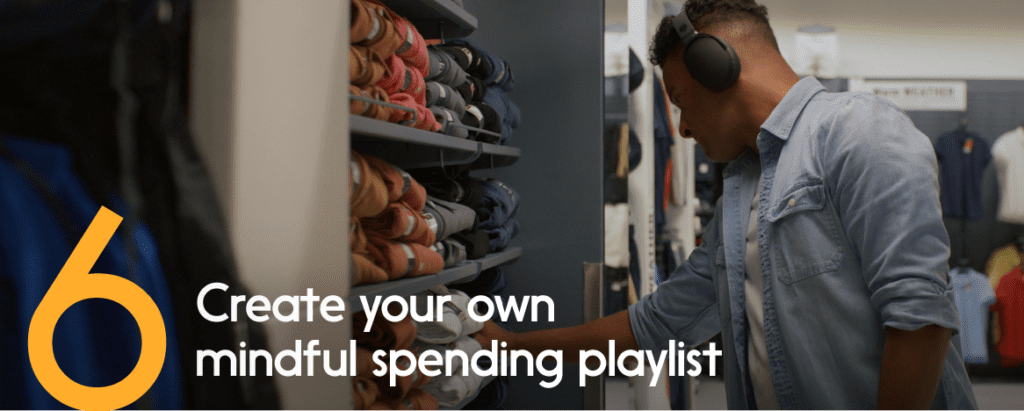 Music is an incredibly powerful medium. It has the ability to change our mood, make us feel new things, unlock memories, and influence so much of our day to day life, sometimes without us even realizing it.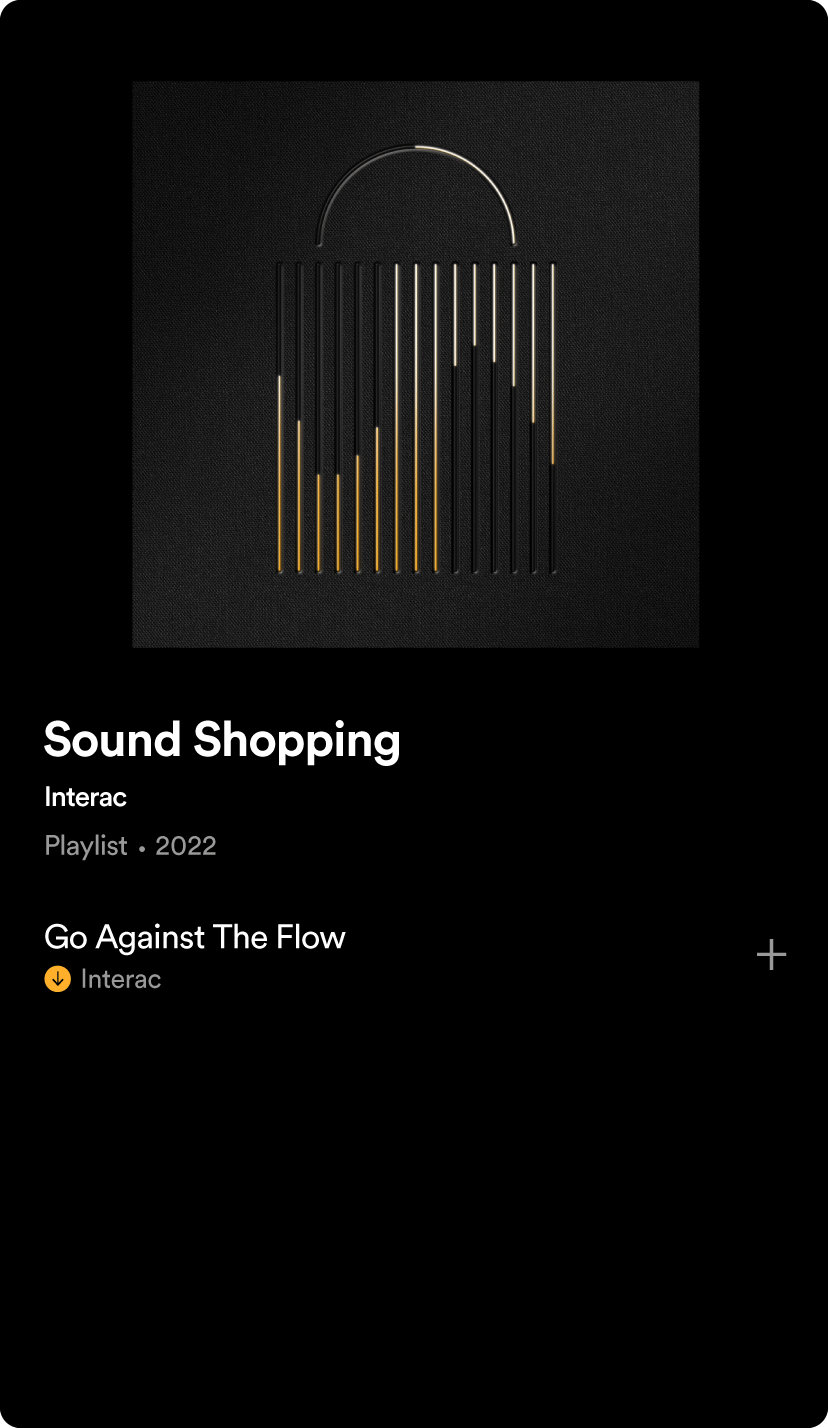 The role music can play to help us be more mindful when it comes to our money was the intent behind the Interac Sound Shopping track. With its alternating use of tempo and composition, research showed that participants who listened to the track were more than three times as likely to feel a sense of calm while shopping, with 98% of listeners being satisfied with their purchase.
Using the base idea that music has the ability to make us feel more calm and in the present with our spending, you can take a look at your own music library to create a custom mindful spending playlist!
Some things to consider when creating your playlist:
Go against the flow. When being mindful about spending, it's best to avoid music that will sweep you away into steady groove of distraction. Songs of different genres and varying tempos should help you stay anchored to your shopping experience.
Leave the lyrics. It can be easy to get swept up in some beautiful lyrics, but for the intention of taking a pause to be in the moment, instrumentals may be best.
Feelings vs. intent. Music is wonderful in that it has the capacity to impact our feelings. When going through your music, take a moment to consider your emotional reaction to each track and see if it aligns with your intent to stay mindful about purchasing.
Add the Sound Shopping track! Don't forget to add the Sound Shopping track to kick off your playlist and put it to the test!