Last year, the pandemic threw a curve ball at many people's plans. For new couple Blane and Sam, it just so happened to land right in the middle of their budding cross-border romance.
They met in late 2019 through an online dating app, but with Blane based in Toronto and Sam in Spokane, Washington, distance was the first barrier to overcome. In 2020, they weren't alone in this though. During the pandemic, some popular dating apps reported an 83 per cent increase in users changing their settings to "anywhere."
Long-distance relationships can be tough, though. Here, we speak to Blane about how they managed and how her friends used Interac e-Transfer to help the couple meet in-person for the first time.
The online meet cute
These days, some say your perfect match could be just one swipe away. While it may seem like long odds, that's exactly how it panned out for these two undergrads. In what may seem like a case of opposites attract for art curation student Blane and computer science major Sam, she says when they met online, they connected right away, "Sam exudes this calm energy, which I'm drawn to."
"And it was an instantaneous click, where the conversation was just flowing really easily."
Friends step in so they can meet IRL
With 2020 being such a difficult year, Blane says hers was made easier by the support she received from her community. Her friends had been quietly keeping track of the new romance and surprised her by sending money using Interac e-Transfer so that she could fly over to Spokane in February 2020.
"I'm so fortunate with my friends. Whenever someone really wants to do something, we're pretty generous with one another — which I'm really so grateful for."
Making it happen with Interac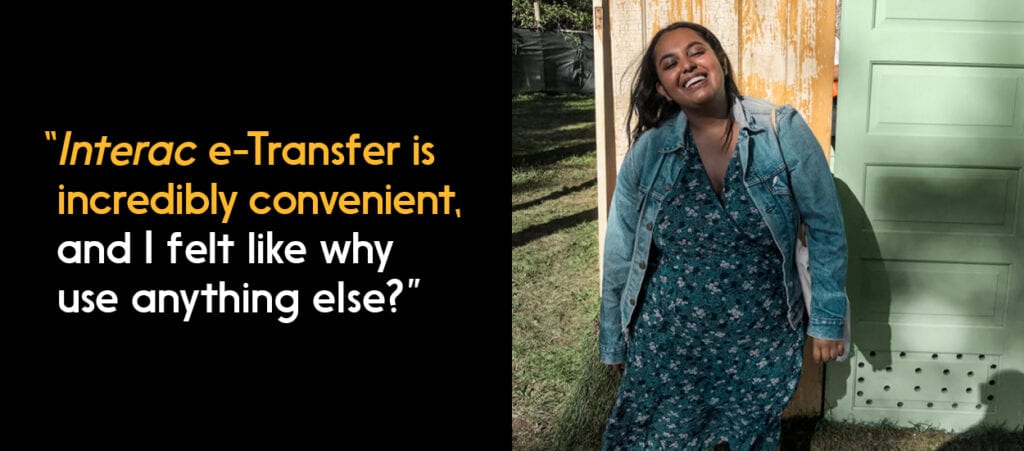 For some people, a hidden benefit of the pandemic was that they could save extra money since there were limited options for travel and entertainment. For long-distance couples travelling can be one of the biggest expenses. It may be a silver lining, but these savings could mean more money to spend while together IRL.
To help Blane with that first IRL meeting, her friends used Interac e-Transfer to send her money for the trip. "It was the easiest way. Interac e-Transfer is incredibly convenient, and we felt like why use anything else?"
In fact, Blane uses it in a bunch of situations. "Once I was at a coffee shop and their machine was down, but I was actually able to use Interac e-Transfer to pay for my coffee," she says.
For those new to the system, using Interac e-Transfer is one of the safest ways to send money in Canada. It's a simple digital transaction between two parties. For more info, you can follow the instructions here.
What's next?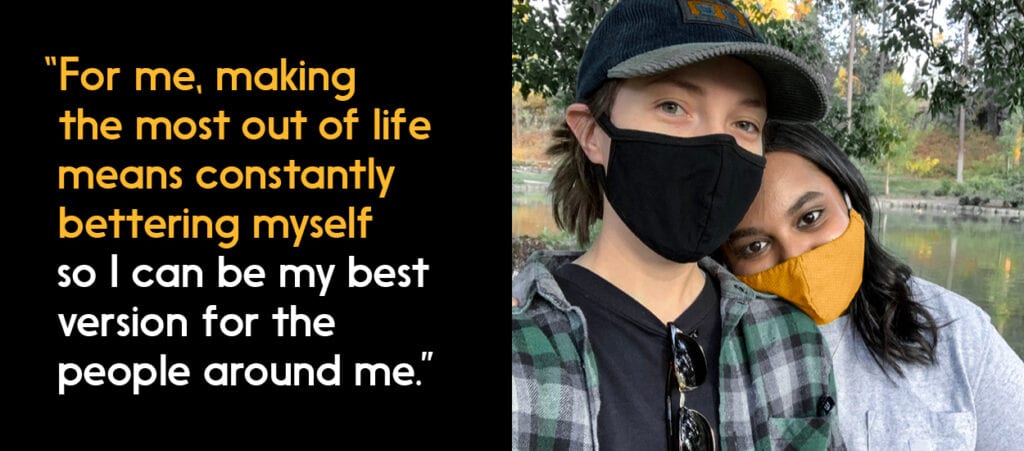 When looking to the future, Blane hopes they'll be able to close the gap between Spokane and Toronto. Until then she's focusing on self-improvement. "For me, making the most out of life means constantly bettering myself so I can be my best version for the people around me."
"I'm also trying to be more mindful and intentional with the decisions I make and the people that I spend time with," she adds.
Once the world starts to settle, the couple are planning to spend some quality time together. One of their big plans? Going on a road trip from Vancouver to Portland. Talk about making the most out of life!