You're probably already familiar with Interac e-Transfer. For the last 20 years, Canadians have put their trust in Interac e-Transfer to safely and easily send money anytime, anywhere. Most recently, the service reached a money movement milestone, surpassing one billion user transactions.
But have you signed up for Interac e-Transfer Autodeposit? It's a feature that enables you to receive money quickly, securely, and directly into your bank account – without having to answer a security question.
You might be wondering: How can not having a security question be as secure as having one? Here, we answer the most frequently asked questions about Autodeposit – and the cybersecurity benefits (you may not be aware of) that help protect you against digital fraud and email scams.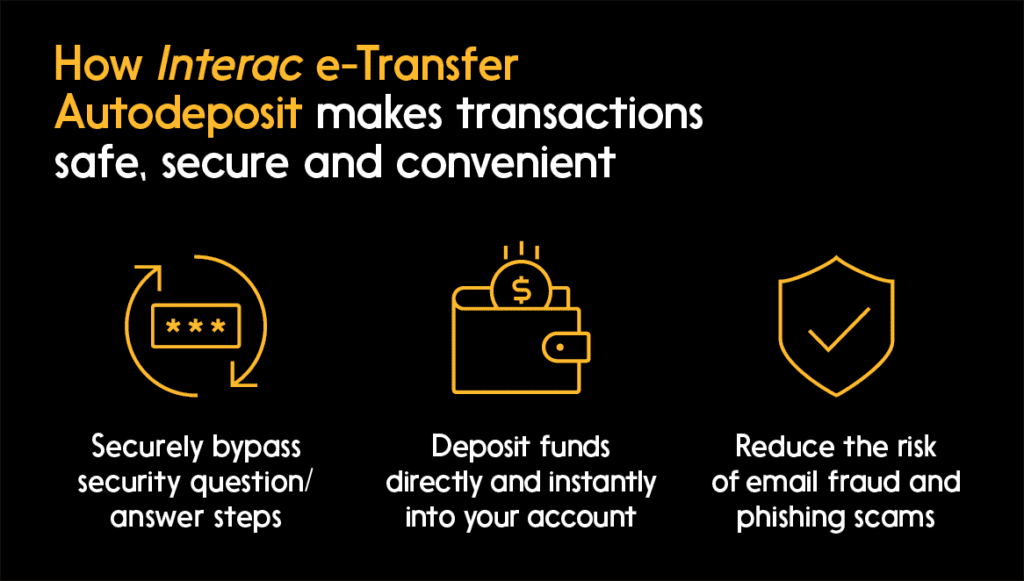 Is Interac e-Transfer Autodeposit secure?
Interac e-Transfer Autodeposit is one of the most secure ways to deposit incoming funds. Every transaction has the same bank-grade security as the Interac e-Transfer service. What's different is that when the Autodeposit feature is enabled, it deposits funds directly into your account – bypassing the email and security question and answer steps of an Interac e-Transfer.
What are the benefits of bypassing security questions?
Security questions, much like passwords, aren't a security risk. But too often, we re-use the same questions across sites, or use questions with answers that are obvious and could easily be guessed (What is my name? What is my pet's name?)
This becomes a problem if a fraudster gains unauthorized access to your email account or phone. By guessing the security answer correctly, fraudsters could use the deposit link to redirect funds into their own account.
Learn more about common email fraud and phishing scams and how to prevent them.
With Autodeposit set up, you can avoid the risk of having your funds intercepted by fraudsters – because the funds are directly deposited into your bank account with no additional steps needed. No security question or answer is required. When you have the Autodeposit feature enabled, you won't even need to log in to your banking app to accept the payment – the funds are deposited into your account instantly and securely.
How do I make my security questions stronger?
If you are using security questions, here are some key tips to ensure they are strong and difficult to guess:
Use fictitious or unique information: Outsmart fraudsters by making the answers to your questions unpredictable. Use a fictitious or unique answer that only you and the person sending the funds will know the answer to.
Create fresh questions: For people you regularly send an Interac e-Transfer transaction, avoid constantly re-using the same security questions/answers. Create new ones every few months.
Don't include security answers in your message: Never include your security answer in the same channel. Also, try to avoid communicating your security answer electronically, ie. by email, text, or social media. Ideally, contact your recipient over the phone or in-person.
Get more tips on creating strong passwords.
What happens when I send an Interac e-Transfer to someone who has Autodeposit?
Interac e-Transfer Autodeposit isn't only a safe way to receive money, it's also fast and convenient. Autodeposit can make it even easier to transfer money between two trusted parties, especially for regular, frequent transactions.
When you send money to a recipient who has Autodeposit set up, you won't have to agree on a security question and answer before sharing the money. You'll also see their full legal name before pressing send. This ensures that you are sending the transfer to the right person. But make sure to send money to people you know and trust, just as you would cash. An Interac e-Transfer transaction cannot be reversed once a recipient has deposited the funds.
Now is the time to protect yourself.
Whether or not you enable Autodeposit, if you receive an Interac e-Transfer or money request you weren't expecting, always contact the sender through a different channel to check if it's real. Because now more than ever, it's important to safeguard your data privacy and digital transactions. With Interac e-Transfer, rest assured that you are protected by multiple layers of security – which make it one of the most secure money transfer services in the world.
Activating Interac e-Transfer Autodeposit is simple and fast.