Interac is all about helping you feel in control so you can make the most of life — and that includes the holidays.
We know the holidays can be stressful. We want to help you truly enjoy the season. That's why we're sharing these tips for avoiding holiday-related stress.
You can't control every holiday moment. You can't even control your Uncle Ed. But with Interac you can at least be in control of your money.
Avoid holiday stress by joining forces on gifts
Use Interac e-Transfer to pool your money
Some of us enjoy holiday shopping — while for others, trying to figure out what other people want is pure torture. To avoid the stress of holiday shopping, team up with other people to come up with an idea for one big gift. For example, if you have a few siblings, you can pool your buying power on a joint gift for the parents. (And if you're the one who actually likes shopping, by all means volunteer to make the purchase!)
Do the big meal at a restaurant — or get it to go
Some of the biggest holiday pitfalls involve the challenge of cooking up a big meal for a bunch of people. If you're able, getting a restaurant to do the cooking for you means fewer headaches when it comes to prep and cleanup, and everyone gets what they want. Use Interac Debit in a food delivery app (as more and more Canadians have done during the pandemic) to stay in control of your spending.
P.S. If you placed the order and you're waiting for anyone to settle up, use Interac e-Transfer Request Money to nudge them.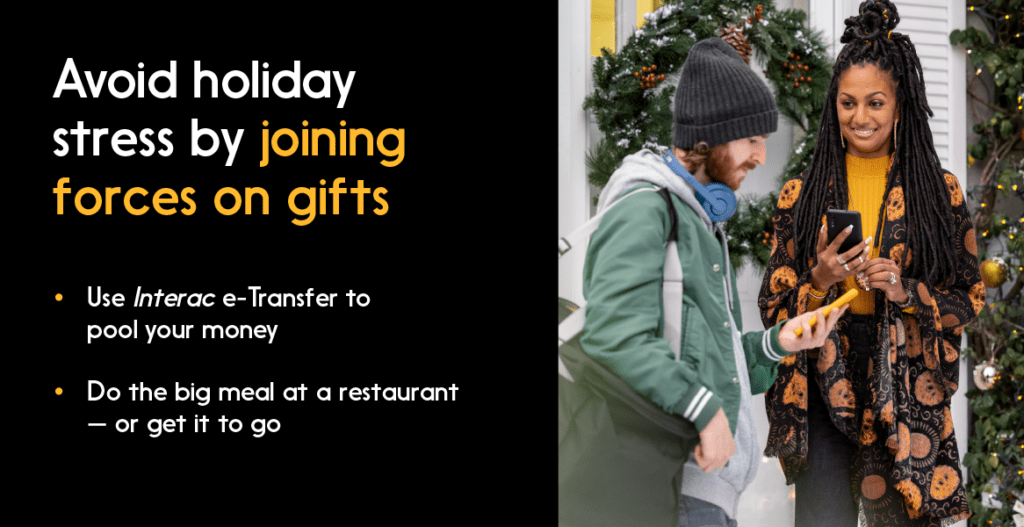 Rather than giving stuff, create experiences
Capture the memories
Hire a photographer. Or just get prints and photo books made of the holiday pictures you take. Either way, remember that many small businesses accept and appreciate being paid via Interac Debit and Interac e-Transfer for these services.
Plan fun activities
Skating, tobogganing, a walk in the park — there's something to be said for getting out of the house and doing something as a group. Even a big group. If you happen to live in Vancouver, Toronto or Montreal, check out these fun holiday activities that Interac is helping bring to life for Canadians.
Sometimes the most thoughtful gift is one that makes the world a better place. This can also be a great solution to the eternal question: What to get people who are hard to buy for? Use Interac Debit or Interac e-Transfer to a local charitable donation on their behalf.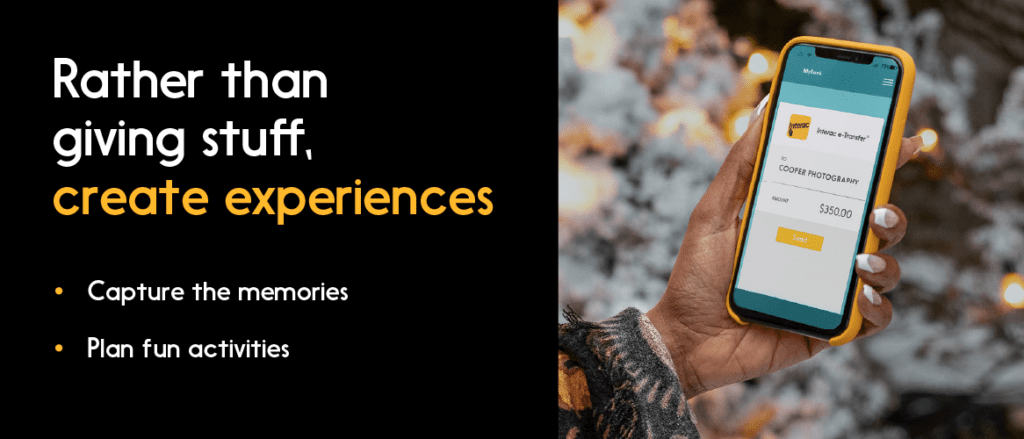 Relieve holiday budget stress by paying with real money
Pay with debit when you shop in person …
In-person transactions — maybe it's been a while and you're getting used to those again? Remember, when you're going from store to store you can easily get caught up in the spirit of shopping … and lose track of how much you've spent.
But when you pay with Interac Debit, you're spending real money in your bank account, which makes it easier to stay aware of what you're spending and in control of your finances. (Just make sure you keep an eye on your account balance …)
… and when you're shopping from the comfort of home
If you don't want to leave the cozy comforts of home, there's nothing wrong with sticking with the pandemic habit of shopping from your couch. Use Interac Debit to spend with real money online and in your favourite apps and websites securely and conveniently. Just remember: However you shop for presents and experiences for other people over the holidays, the greatest gift you can give yourself is the peace of mind you'll get from staying in control of your finances.