Fraud can hit you while you're trying to get out of debt. It can get you when you're trying to do something good for other people. It can even get to you via your desire for cuddly companionship …
… would you know what to do in this situation?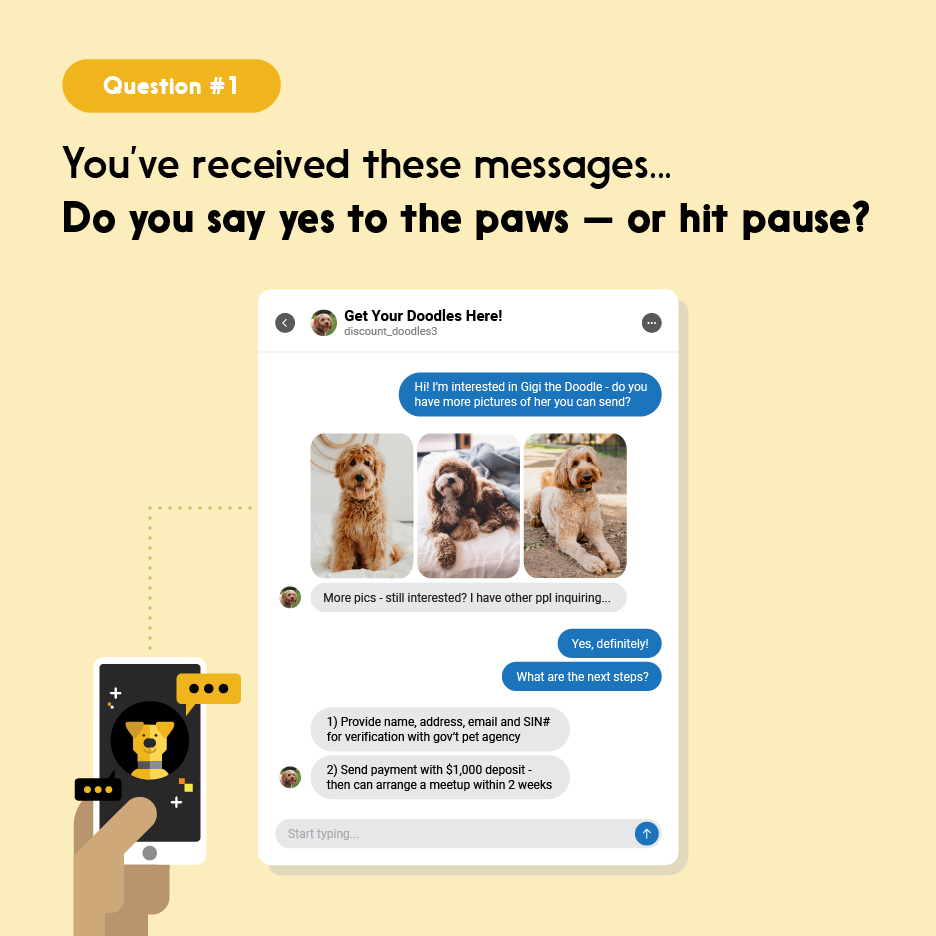 Knowledge is the key to fraud prevention. Let's protect ourselves — and feel better about protecting ourselves — by getting familiar with some of the nasty, rising scams out there, including phishing scams and text scams. Keep reading to learn more.
How well can you spot fraud attempts?
Like a virus that never stops mutating, fraud is always finding new ways into our pockets, and no one is immune from being targeted. And while fraud was on the rise before the pandemic, COVID-19 has contributed to making many of us more vulnerable than ever. Established forms of fraud, such as romance scams and email fraud, are finding new life and new variations as many of us spend more of our lives in the digital realm due to the pandemic.
At the same time, our defences may be down because of our heightened emotional stress. We know this because you told us. More than half (55 per cent) of respondents to a recent Interac survey say they're worried that increased isolation is making us more susceptible to fraud. And slightly more than half (52 per cent) fear that we're at greater risk because we're spending more time online.
Security has always been a top priority for Interac. We believe Canadians can empower themselves to be the first line of defence against digital fraud, hacking and other breaches of data protection, using our recommended "stop, scrutinize, speak up" approach. "Although COVID-19 has placed new pressures on Canadians, they remain vigilant in their attempts to combat these crimes," says Rachel Jolicoeur, Fraud Mitigation and Strategy Director at Interac Corp.
Here are nine forms of fraud we're seeing in 2021, thanks to real-life stories shared by Canadian authorities and major media outlets. Read on to learn how to spot them and protect yourself.
Nine nasty scams
1. Pandemic pet scams
There's been a huge surge in demand for puppies as people have sought out the comfort of furry friends. The price of puppies has gone through the roof, and scammers are cashing in — through deposits and payments on phony pups that will never materialize. The Better Business Bureau estimates that Canadians were set to lose $3 million in pandemic-related pet scams in 2020, with an average loss of $1,0451.
What to watch out for: Breeders and rescue agencies that ask for money before you have an opportunity to see the pet in person.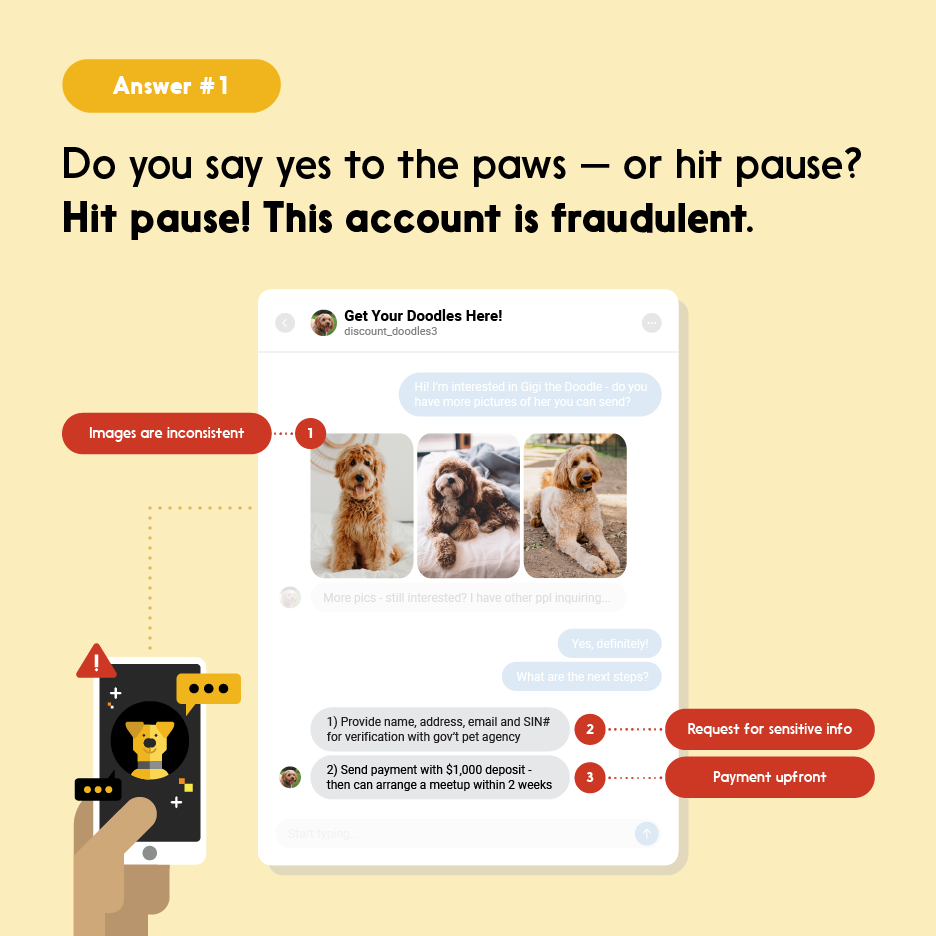 The example we shared at the top of this article contains at least three red flags: The images aren't all of the same pet and the sender is requesting sensitive personal information while also demanding money up front before meeting in person.
2. Blackmail for Bitcoin
How 2021 is this: blackmail, but they want you to pay them in crypto. The Coquitlam, B.C., RCMP issued a warning in January 2021 about a scam involving a menacing letter. The envelope contains a white powder and a threat to report the recipient for drug possession unless they follow the instructions to send a cryptocurrency payment.
What to watch out for: urgent, threatening messages.
3. Your untrue love
According to the Canadian Anti-Fraud Centre, people lost $18.5 million to romance fraud and $16.5 million to investment fraud in 2020 — making them the Number One and Two types of fraud, respectively. (If you're not familiar with romance scams, check out bullet point #1 at this at Interac Reports article.) Now reports say criminals are combining these two scams into one super-scam: They're meeting people via social media and dating apps, and then seducing them into putting money in phony investment schemes.
What to watch out for: any potential paramour who asks for money.
4. COVID cons
Can you spot what's wrong in this picture?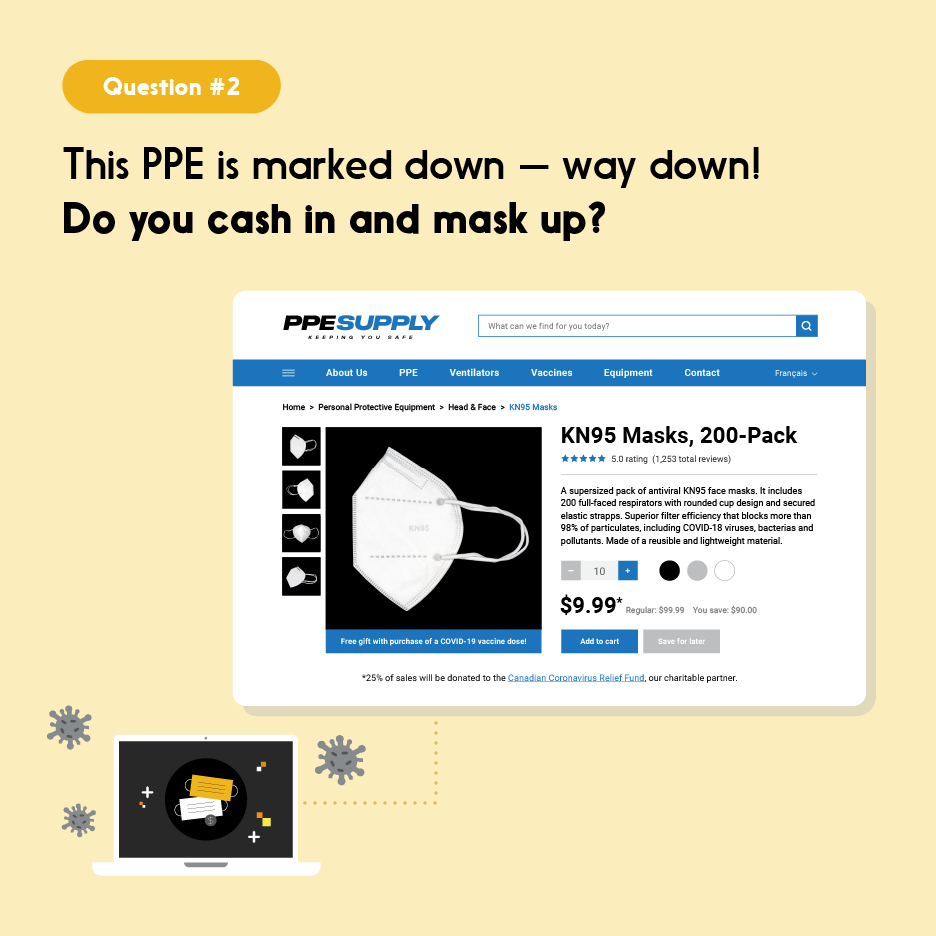 As we've warned before, fraudsters have been quick to exploit the pandemic, so we have to be on the lookout for fake charities, fake relief benefits and fake personal protective equipment. Those are all avenues for emerging scams, according to the Canadian Centre for Cyber Security.
What to watch out for: messages that claim to be from charities, government agencies and departments, or anyone else who's offering to help you (or people in need) deal with the COVID-19 pandemic.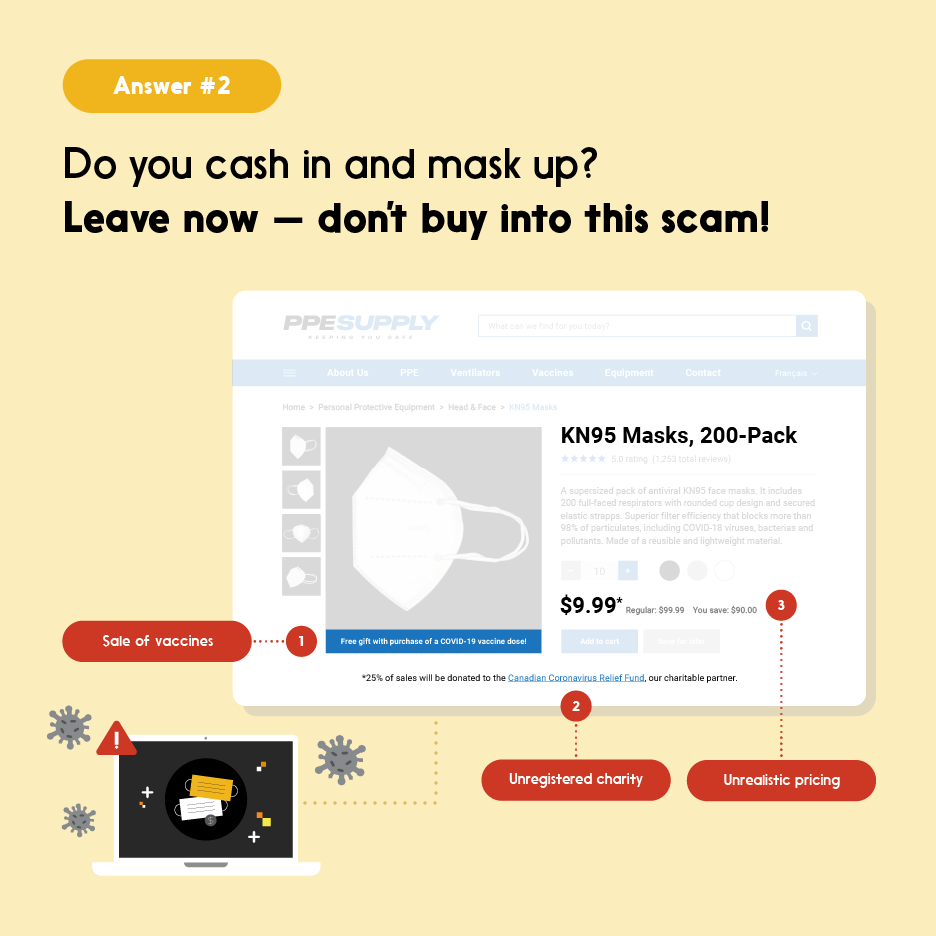 Protect yourself by not buying from this website, which looks like a scam. Warning signs include ads for the sale of COVID-19 vaccines, typos, and an offer to donate to a charity that doesn't exist (if you're suspicious, you can search here.)
5. Please hang up
If you're like millions of other people, you may have added a telephone number to your Facebook profile. Even if none of your friends actually use it to look you up and give you a ring, the number can still be scooped up by a hacker and added to a database on the dark web. That's what happened to a reported half-billion (yes, billion) people earlier this year. Having your phone number available to would-be fraudsters can put you at greater risk of fraud attempts.
What to watch out for: any of your personal details that may be sitting out in the open online.
6. Employment scams
Lots of people are out of work, and therefore more susceptible to job scams. These typically involve getting the target to send an image of a sensitive document to verify their identity. Or the fraudster will demand an "application fee." Nowadays a remote recruitment process may seem more legitimate, since all hiring is remote at the moment — and that's making it even easier for scammers.
What to watch out for: a new employer asking you to deposit your own money into a cryptocurrency machine or account, or one who asks for personal details, like a copy of your driver's licence.
7. Work-from-home scams
Those of us who already have jobs have to be watchful as well.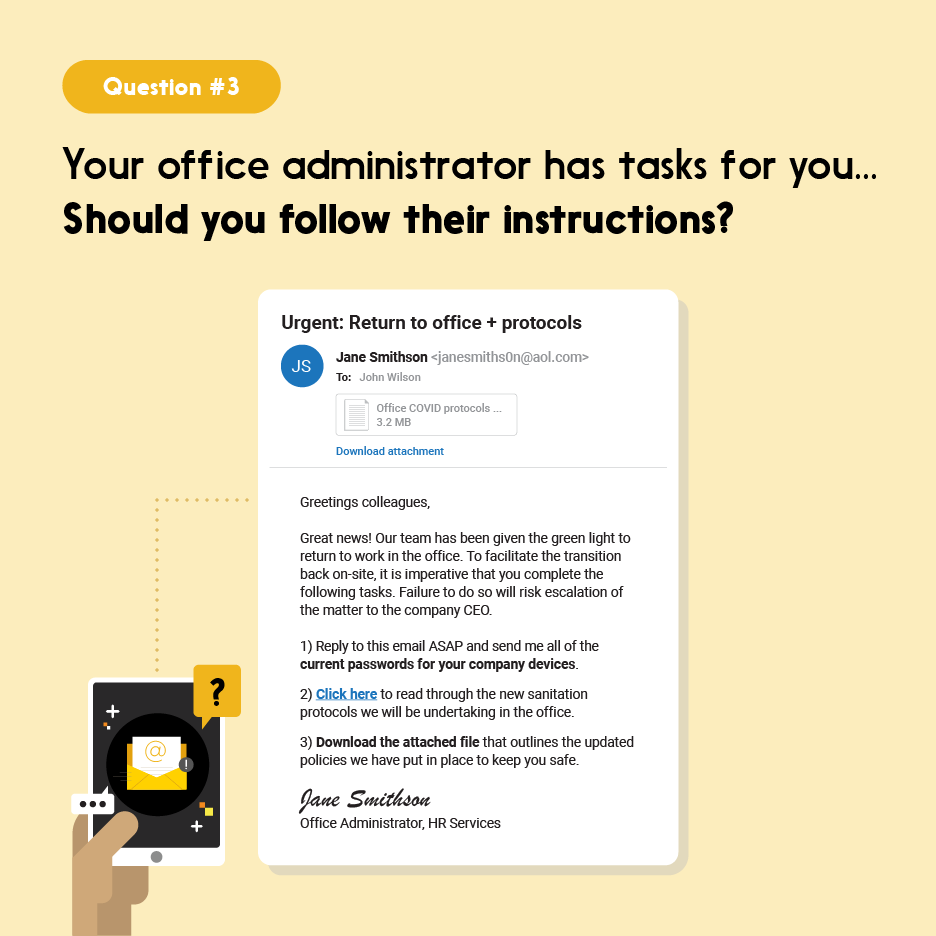 Hackers have been targeting an increasing number of remote workers with spam and phishing scams. They're using sophisticated techniques like sending WhatsApp messages that appear to come from coworkers, many of which are personalized and not easily recognized as spam. If you fall for it, you could end up downloading harmful malware (or ransomware, an even worse form of malicious software).
What to watch out for: emails that claim to be from your colleagues (or your boss) that direct you to external websites — check the URL carefully by hovering over it before you click. Contact your IT department when in doubt.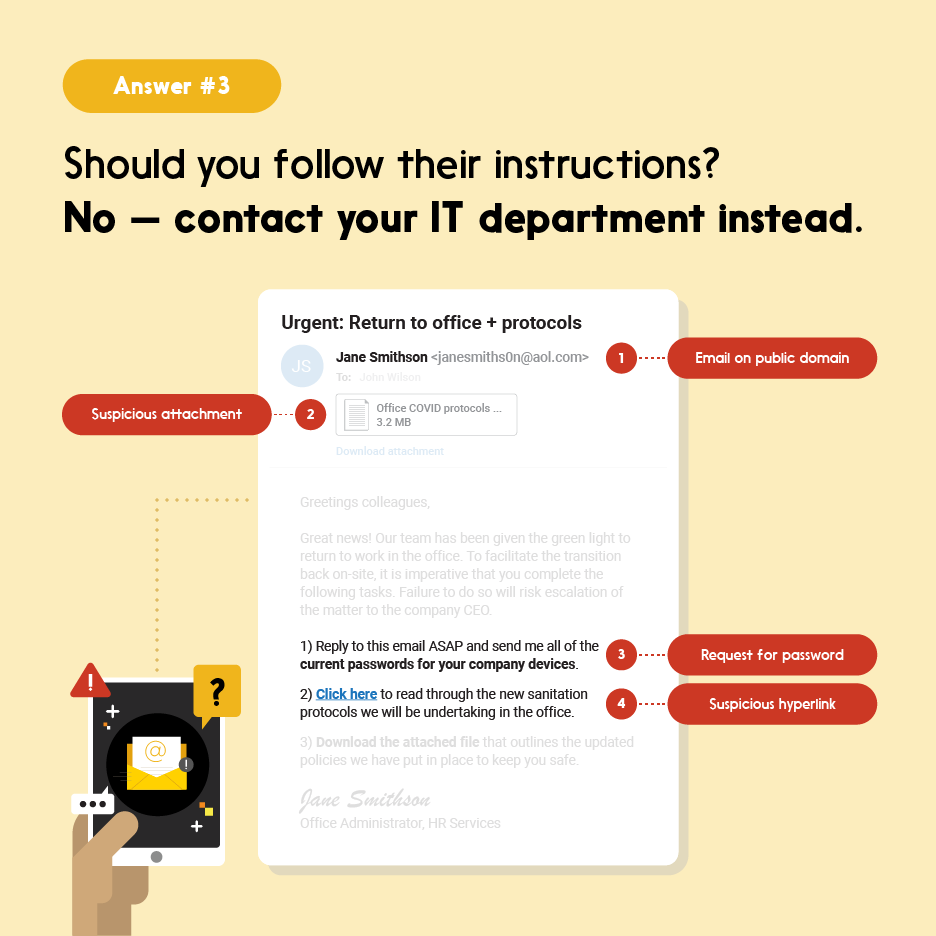 This email looks like a possible phishing attempt. The email address uses a public domain rather than a corporate domain, which is common for phishing emails. Also, it attempts to have you reveal your password and download files that can be malicious.
8. Fraudulent 'landlords'
A fake apartment scam tricks you into paying a deposit (typically first and last months' rent) for an apartment that the recipient doesn't actually own. Toronto Police have warned residents that rental fraud has increased because the pandemic makes it easier for fraudsters to come up with excuses why they can't meet a prospective tenant or show an apartment in person.
What to watch out for: 'Landlords' who use COVID-19 as a reason why a rental unit can't be viewed in person.
9. Fraudulent lenders
Many Canadians have benefited from the growth of online private lenders — and that may be especially true now, given how many people are in a tough financial spot. But there are also fraudsters with slick-looking websites who are taking advantage of the situation by offering phony loans. Send an "activation fee," they promise, and you'll get the money. The problem: The loan isn't real, and the fraudster will vanish after receiving the funds.
What to watch out for: upfront "activation fees," as well as terms or interest rates that seem a little too easy. As one fraud victim in Quebec told a reporter, "It was too good to be true." And indeed, it often is.
Fighting fraud together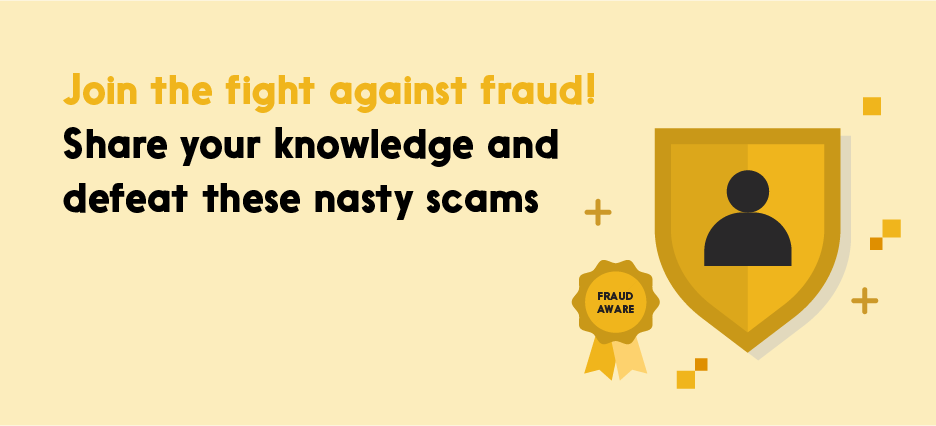 We know Canadians are anxious about fraud, but we hope you're feeling a little more confident in your knowledge and digital security.
If you think you may have been a target or victim of fraud, report it to your local police force as well as the Canadian Anti-Fraud Centre.
Finally, fighting fraud only works if we pull together. If you know someone who may be feeling vulnerable or especially anxious about their data protection, please share this article with them.
1: According to the Better Business Bureau: https://www.citynews1130.com/2020/12/02/pandemic-pet-scams-bbb/