Strong role models, financial or otherwise, can come in many forms: an educator, a public figure one might see on television, or a parent.
Montréal-based financial coach Issa Mbaye is all three.
From sending out invoices, buying property, to simple savings solutions, Issa has made it his life's mission to help people, particularly the younger generation, learn about the wide world of finance and feel more confident about their own money. And when he isn't appearing on television or giving tips on social media, he spends his time teaching his three-year-old daughter more than just the value of a dollar.
We caught up with Issa to talk about his journey with money, becoming a financial coach, and being a role model for his daughter.
Fighting the fear of talking about money
Growing up with his seven siblings, Issa wasn't allowed to ask his parents about the family's finances. The subject was considered taboo and a sign of disrespect, only to be discussed among adults.
"Talking about finances can be very emotional," he says. "When you come from a family who doesn't have a lot of money, talking about it means talking about bad things, things that we don't have any control over. The problem is, if you don't learn about how money works when you're young, you create nightmares that stay with you when you get older."
As a result, Issa grew up learning that money was an uncontrollable force of nature that came and went like the weather. However, this initially abstract concept of finances only made his curiosity grow more and as he got older he began to study finance. The more he learned, the more accessible the topic of money became.
From that moment on, through his independent work as a financial coach and co-host of a house flipping reality show with his brothers, Issa began sharing his newfound knowledge about money in the hopes of being the financial role model both he and his family needed when he was a child.
Finding financial confidence and strength as a family
It should be noted that not all of Issa's students are adults. As he began his journey into fatherhood, Issa wanted to ensure that his daughter wouldn't be as confused and afraid of money as he was taught to be. So from an early age he began to teach her the value of money and how it can work for her.
"I see myself, when I'm talking about finance and everything, as someone who is trying to educate people. And as a parent, that's also my role, to educate my child."
"If my daughter wants to buy juice at the store, she understands that she can't just take it." Issa says. "The cashier needs money in exchange. She's three years-old, but now every time we go to the store and she takes something from the aisle, we go to the teller and she asks for my Debit card and loves to tap it on the payment terminal."
The lessons go far beyond the value of a dollar, however, and into the difference it makes when you use your own money. For those lessons, Interac can be a valuable learning tool. Whether it's paying off bills or sending money to his family, Issa enjoys using Interac e-Transfer because he's confident it's his own money being used.
"When using Interac e-Transfer or Interac Debit, it's about using your money and taking care of what you have," he says. "So Interac can play a big role for me as a parent because it shows my daughter that I don't depend on anything else. I can have control in my life, because when you use Interac, that means that you have the money in your account to use, it's not something that you need to borrow with interest."
Advice to other parents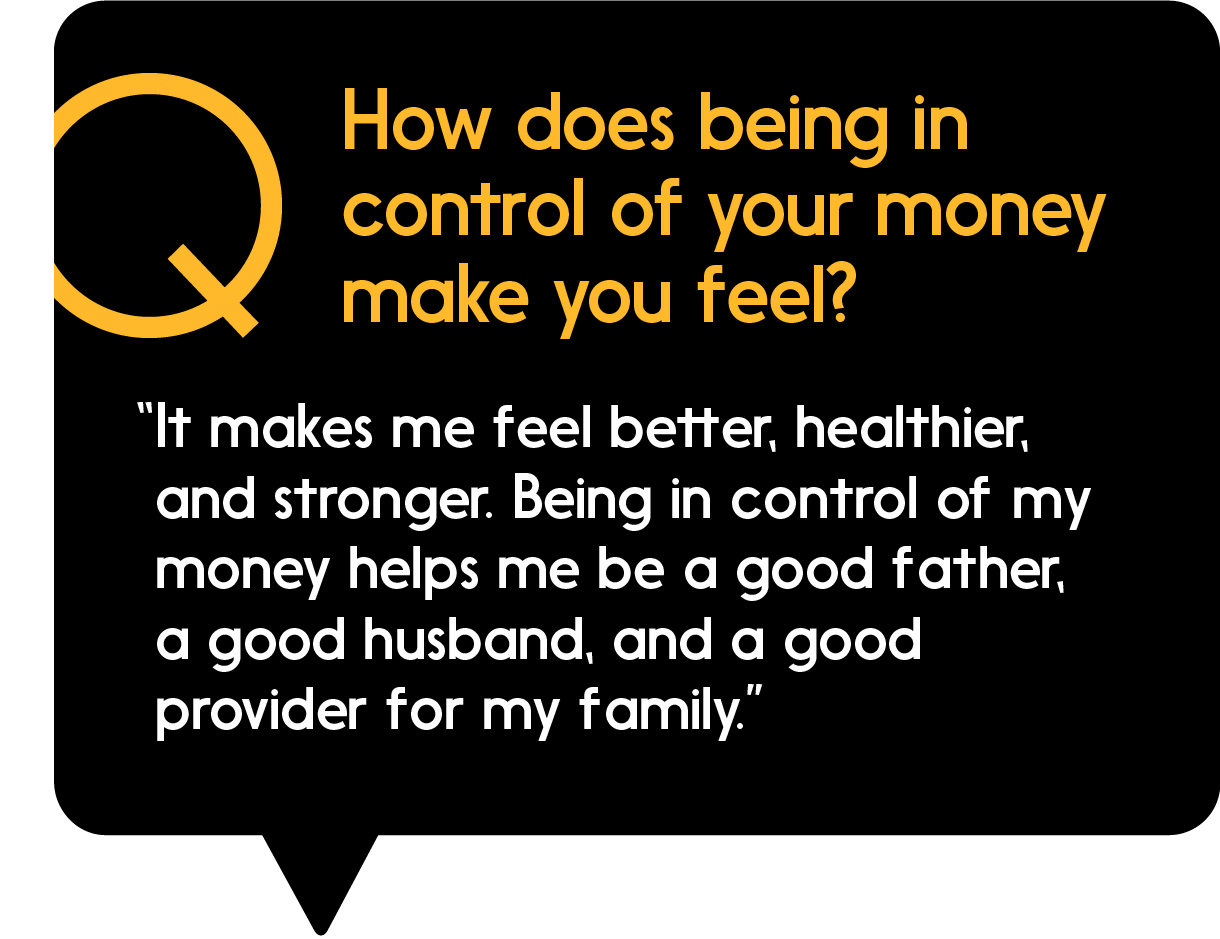 For parents who are looking to start strong in teaching their children about money, Issa offers a few words of advice. The first step, he says, is to give children a sense of money as a physical object to help them visualize it before it eventually moves to a bank account.
"Buy a piggy bank. It sounds so simple, but it's always a big lesson that kids can easily understand. The more they put money in it, the heavier it gets and the more they like it. But the more they use money from that piggy bank, the lighter it gets."
But the most important piece of advice Issa can offer? Do away with the notion of "taboo" subjects and be more open and honest with your kids. By investing your own knowledge into their lives and leaving no subject off the table, there's no limit on the returns both parent and child will see.
"Honestly, the biggest piece of advice I have to new parents is to be open to talk with your kids about everything. We need to stop thinking that money is a grown-up conversation. Kids are not dumb and they are so curious that they'll try and find answers somewhere else if you don't provide it to them."
"But if we open up with them at a young age, we can create a connection to all the various parts of their lives. And I have to tell you, money will be a big part of their life."
Learn more about how to make your relationship with money work for you with our mindful spending tips.