We may remember to book our annual checkup with the doctor, but how often do we check on the strength of our personal data and cyber security? For many of us, not very often. Maybe even … never?
A quarterly digital security self-checkup will help you stay one step ahead of hackers who attempt Interac e-Transfer scams, phishing scams, identity theft, email fraud and even text scams. Once every three months, look for your data privacy weaknesses to address and fix them.
This simple three-step checkup — based on tips from industry cyber security experts and the Canadian government — will help keep you (and your identifying data) secure.
Checkup step 1: Diagnosis of digital security vulnerabilities​
Discovering the problem is the first step toward fixing it. To kickstart your digital health evaluation, examine these aspects of your digital self.
All accounts
Look into each of your online accounts and do a password audit. This means going through your accounts (banking, social media, Uber, to name a few) and asking yourself these questions: Is each password strong, unique and difficult to guess? Have you duplicated the same password across different accounts? Many of us get complacent and slip into re-using the same old passwords over and over again, which isn't safe and can make it easier for identity theft specialists and hackers to do damage across multiple accounts.
Social media
Social media can be prime territory for online fraud hackers looking to collect personal information. To protect yourself, take a closer look at your social media privacy settings. Ask yourself what a stranger could learn about you just from viewing your profile and posts. Is there info that might lead them to guess your passwords? Check out this video, which has some great tips on how to manage your data privacy settings on social media.
Desktop and laptop computers and additional devices
Safeguarding your physical electronic devices is also crucial for data protection. Go through and check them all for any potential identity theft, online fraud or other cyber security vulnerabilities. Your cell phone is a great place to start. Make sure you have fingerprint or facial recognition set up and remember to change your passcode regularly. Next, think about your other devices. Are your software and operating system updates set to download automatically? Staying up to date can help ensure that you have the latest digital security settings and all bug fixes installed.
Checkup step 2: Digital fraud remedies​
Once you've assessed your level of risk, it's time to do some quick fixes for any cyber security gaps that you identified in Step 1. Protecting your online footprint starts here! ​
All accounts
First things first, make sure you create strong passwords and change any duplicates you identified. For a super-strength combination, experts say it's most secure to create a password that looks "ugly" — this means including a mix of special characters and using numbers in place of letters. And take a read through these fraud prevention ideas from the Canadian Centre for Cyber Security. You'll find some expert tips for creating safe, secure yet easy-to-remember passphrases.
Social media
Consider clamping down on your social media privacy by switching all your accounts to private. Why? Because it's easy for hackers to use your personal details for nefarious purposes, identity theft at the top of the list. (See this article about Canadian scams for additional information.) For example, cyber criminals can extract phone numbers from public accounts, thereby increasing your risk of a digital fraud attempt. This means private data protection should be a top priority. And, last but not least, don't accept follow requests from strangers on any social media — especially LinkedIn, Instagram and Facebook, where we often share more identifying personal details that could be used to initiate email fraud and phishing and text scams, email scams and e-transfer scams.
Desktop and laptop computers and additional devices
​For an extra level of security, you could consider installing anti-virus software on your devices. The Canadian government recommends making sure your chosen software will scan for malware and malicious sites, while also monitoring any suspicious activity on your device. They also advise you check the credentials on any free anti-virus software.
Checkup step 3: Digital fraud prevention​
Now it's time to securely lock down your devices and accounts with a few measures that will make your digital security even stronger. Then make sure you remind yourself to repeat these steps every few months and encourage others to do the same — especially people in your life who may need some extra help with technology and online activity.
All accounts
Set up two-factor or multi-factor authentication for all accounts where it's possible to do so. (Your banking app would be a great place to start, if this feature is available. This will help reduce Interac e-Transfer scam attempts and prevent digital fraud.)
Social media
It's also a great idea to set up multi-factor authentication on social media platforms where it's offered, or at the very least add your recovery contact details. That way, if something goes wrong you can still get into your accounts.
Desktop and laptop computers and peripherals
After setting up all your anti-virus software and automatic updates, the next step is to secure your network. Have you changed the default username and password on your WiFi router? It's a good idea to do so, if you haven't already. If you're using public WiFi, make sure you're connecting to a secure network, and save any sensitive tasks like online banking for when you're at home. Doing so can help you avoid email fraud, identity theft and more.
And lastly, make sure you need a password to log in to your laptop, just in case it gets lost or stolen while you are out and about. ​
Finally, give your future self a nudge to stay digitally healthy — keep reading! ​
Checklist & reminder​
Perform a quarterly digital security checkup to stay one step ahead of hackers and scammers.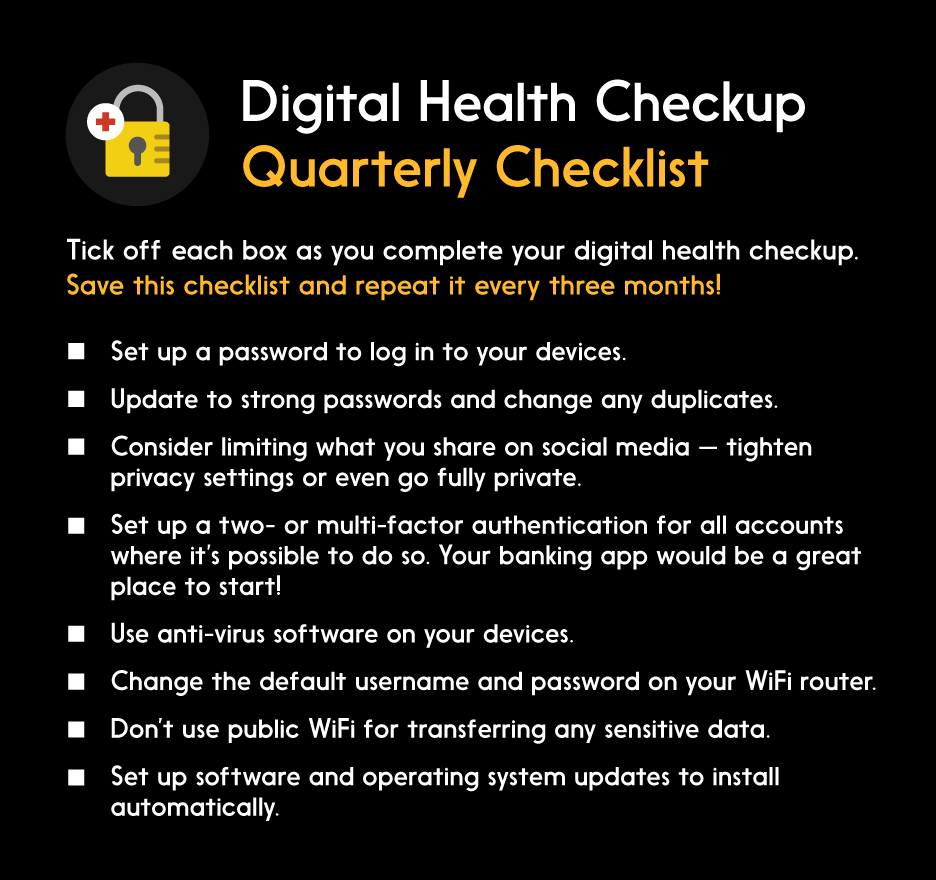 For a helpful personal cyber security reminder, download a calendar invite that will conveniently prompt you to perform this digital security and online fraud checkup each quarter.