Taking control of your first financial milestones can be stressful, especially amid today's rising costs and other economic pressures. Sometimes even just thinking about building a budget, negotiating job pay or making your first rent payment can cause anxiety. Learning healthy money habits and how to manage the feelings that come with navigating your finances can help you make better financial decisions, reach your financial goals and feel better all around.
Financial therapist Aseel El-Baba, with the Canadian not-for-profit economic education organization Conscious Economics, advises being extra gentle with yourself when navigating the early stages of your financial journey. She specializes in helping people change how they think, feel, behave and communicate about money. A graduate of Yale University and York University—and a member of the Financial Therapy Association and the Canadian Association of Psychodynamic Therapy—Aseel works closely with clients across Canada to heal their relationship with money so they can lead more fulfilling lives.
"Naturally, the first step is to learn how to address the emotional impacts on our body," she says, "and then regulate our emotions better so we can make calm, rational decisions about finances."
Thankfully, there are many ways to safely feel, express and stay in control of your emotions while finding your way through financial firsts—no matter how big or small.
Talking about money and our feelings around it—and actively taking steps to get and remain emotionally grounded—when facing financial firsts is vital. With Aseel's helpful financial therapy tips and tools within reach, you'll be well-equipped to feel more confidently calm and be in charge of your money.
Below are four tips to help stay in control through financial firsts:
Get grounded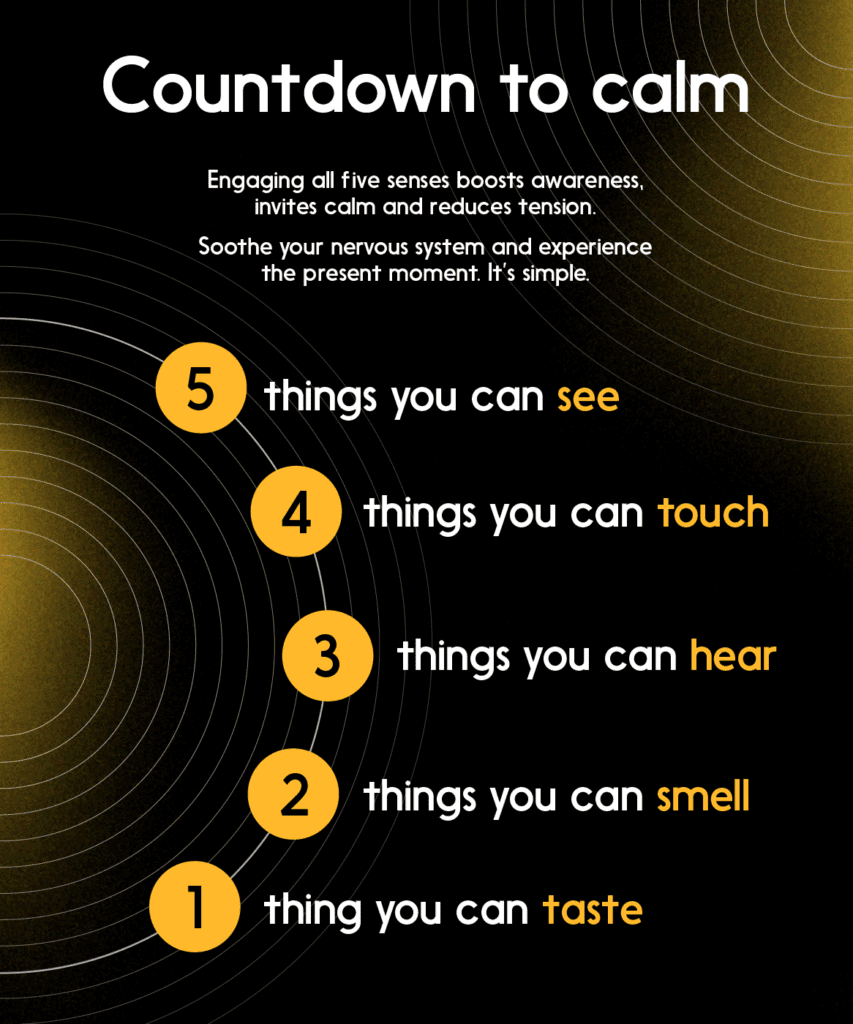 Aseel recommends trying some simple grounding techniques before making any choices concerning finances, from shopping to setting cash aside, paying bills, and just about everything in between.
Grounding exercises can help you remain rooted in the present moment, shift your energy, and focus on what you can control. Getting grounded can help you pause and let any potential trauma or emotional triggers settle before making financial decisions.
Additionally, spending in the here and now—with your own money—can help keep you grounded and reduce anxiety, Aseel says. For example, using products like Interac Debit and Interac e-Transfer can help you feel more in control, as you're spending your own funds, and not incurring worrisome debt. In fact, 63 per cent of Canadians feel more optimistic about the future when they're in control of their spending.
In box breathing, also known as four-square breathing, the idea is to:
Exhale to a count of four
Hold your lungs empty for four counts
Breathe in at the same rate
And, lastly, gently hold air in your lungs for four counts—before exhaling and beginning the cycle again.
This grounding technique works by gently distracting your mind, calming your nervous system and reducing stress.
Visualize impact
Take a moment to visualize how your decisions will affect your future finances and happiness.
"When you visualize your progress towards certain goals, like saving," Aseel says, "it helps you stay disciplined and realize that you're not depriving yourself from spending, per se. Rather, you're making an intentional choice because you have bigger goals in the future that you're working towards. You're making a shift from a space of scarcity to a place of 'I'm making an empowered choice to invest in my future.'"
To envision a balanced, healthy financial future, Aseel recommends visually depicting your financial goals—such as saving a certain sum of money in a defined amount of time—either on a vision board, a simple spreadsheet, or on a handwritten note or drawing. Be sure to place the inspirational visuals you create in places where you'll see them often. Doing so can make it easier to track—and celebrate!—reaching each money milestone as you go.
You can also visualize your financial outlook—and how much of your own money you have to spend or save—by using Interac Debit. When you use Interac Debit, you stay in control by spending your own money in a safe and secure way. Plus, spending only the funds you have in your account can help you avoid overspending, unexpected bills at the end of the month, and keep your finances aligned with your broader financial vision and goals.
Reflect and reframe
A critical step in becoming more confident and emotionally secure in your relationship with money, Aseel says, is to reflect on who and what shaped behaviours around finances. Reframe any limiting beliefs you may have picked up about money in childhood.
How? You can begin to transform limiting beliefs about money into opportunities for financial balance and growth by asking yourself questions like: "Did my family successfully manage a budget?" "Did my family mainly spend their own money or tend to incur debt?" "Did my parents speak openly about saving?" "Did my family operate from an abundance mindset?" It can also help to think about ways you might handle your finances differently than what was modelled for you. Which parts of what was modelled make sense for you to emulate and which do you feel are best set aside?
Whatever you do, be gentle on yourself throughout the reframing process. It can take time and effort to break free from limiting mindsets. But, with patience and persistence, it's possible to develop more balanced beliefs around money that can lead to greater financial success, now and in the future.
Seek support from those who have been there before
Don't be afraid to reach out to friends, family and mental health professionals for safe space and support on your financial journey. Give yourself permission to lean on experienced "emotional support humans," peers who've persevered through financial firsts, and successfully so. Seek out empathetic individuals who can relate, reassure you and express care for what you're going through. Talking openly with people you trust about your concerns about money can help you feel less stressed—and more connected and empowered.
Aseel says it's essential to "Seek out friends that share your values and are intentional about their relationship with money." And have focused, recurring meetings to stay on track with your goals.
Making the most of your money—mindfully
The best part? You don't have to go it alone when facing financial firsts—and when you experience and process the many feelings that often accompany them. Luckily, there's a wealth of coping tools and tips (like the ones Aseel shared here) to help guide your way.
Plus, Interac is here to connect you to an accessible, inclusive community that can help you, in partnership with Conscious Economics. Together, we're broadening access to mindfulness resources and techniques that can support you on your journey to becoming more financially confident and in control of your own money.
One such helpful resource is Conscious Economics' Mindfulness & Money program, which helps Canadians understand the importance of well-being as a foundation for building positive financial habits.
You've got this! After all, "When you take a more mindful approach to money," Aseel says, "you're more likely to feel much more empowered and in control." And who doesn't want more of that?
---
This article is in partnership with Conscious Economics and offers general information. It is not intended as financial or other professional advice. A professional advisor should be consulted regarding your specific situation.