For Voula Vasilopoulos, Director of Talent Acquisition for Interac, the elevator pitch for working here is simple: "It feels good to work here!"
That positive feeling comes from both the work and the workplace culture. Not only do Interac employees get to be part of a collaborative team at the leading edge of Canadian FinTech innovation, the company values and invests in their internal growth. Finding the right people and nurturing them is a big part of how Interac delivers innovation that makes life more seamless for Canadians.
Once again, that approach is earning Interac recognition as a great place to work. For the second year in a row, Interac has been chosen as one of the top employers in the Greater Toronto Area in the Canada's Top 100 Employers competition, co-published by Mediacorp and The Globe and Mail.
Caroline Stephens, Chief Human Resources Officer for Interac, says the accolade is an acknowledgment that Interac is true to its #InLife mission which is about helping Canadians get the most out of life: "There are many ways Interac empowers its employees to live their lives to the fullest — while at work and away. The award focuses on the values of the organization and the extent to which they live and breathe those values".
Being part of the Interac team means thriving in work and at home, tapping into your full potential for growth, championing diversity, and knowing you're playing a part in building a better Canada for today and tomorrow, Caroline says. "Interac is an innovative, best-in-class employer that offers a unique combination of exciting, agile work with the stability that comes with being one of Canada's most storied FinTechs."
Caroline also notes that genuinely caring about employees' growth and wellness is key to its success as an organization. "If you want to be an employer of choice, and attract the best talent, you must have a human-centric model. By empowering employees to live their best lives, we also empower them to do their best work."
How does Interac empower employees to live their best lives?
A human-centric approach starts with a focus on the individual. Interac meets and exceeds employee financial, mental, physical, emotional and social needs by offering best-in-class benefits and perks including:
Flexible hybrid and remote work, extra-long weekends, summer hours, personal days and daily 'quiet hours' to help employees recharge
100 per cent employer-paid benefits, including mental health, dental, paramedical, disability benefits, and more
100 per cent company RRSP contributions with no employee matching required
Competitive compensation and pay-for-performance bonuses to recognize a job well done
Social activities throughout the year that bring our close-knit team together
Interac also encourages its employees to take part in community initiatives and be ambassadors for causes close to their heart. It hosted its first National Volunteer Week in 2022, investing some $750,000 in community organizations throughout the year that support its D&I mandate and its commitment to building financial confidence in Canadians.
People's working styles and needs are also unique. Interac has supported employees as they transition into the ever-evolving new normal and the new demands of hybrid working so they can establish a healthy work-life balance. The Interac working culture acknowledges that for many employees, hybrid and remote work is about more than balance: Many people have found that they're also more productive when enjoying a degree of flexibility.
A workplace culture with diversity and inclusion at its core
Every individual is unique, and Interac creates a diverse and inclusive work culture to make sure everyone on the team feels empowered to bring their authentic selves to work and have the opportunity to excel. Interac is proudly certified by Diversio for its meaningful actions on diversity and inclusion, which in large part comes thanks to an ambitious Interac D&I program that recognizes eight dimensions of demographic and cognitive diversity.
Interac is headquartered in Toronto and prides itself on reflecting the diversity the city is known for. That includes actively seeking emerging talent: Interac has worked with partners like ACCES Employment to mentor newcomers in Canada in landing employment opportunities. "We've been able to add some incredible top talent to our team," Caroline says.
These efforts are championed by leaders from the very top ranks of the company because, as Caroline explains, diversity and inclusion are one way that Interac has been able to become an employer of choice to so many of the most talented people in FinTech. "Our diversity council is led from the office of the CEO because it's such a central part of who we are as an organization," she says.
Employees take the lead themselves as well by forming employee resource groups (ERGs) based on any common quality, background or interest that derives from the eight dimensions of diversity. There are currently three ERGs at Interac: Disability & Chronic Illness ERG, Women of Interac ERG, and LGBTQ2+ ERG. These foster a network of support for Interac employees to help grow and overcome professional and personal hurdles.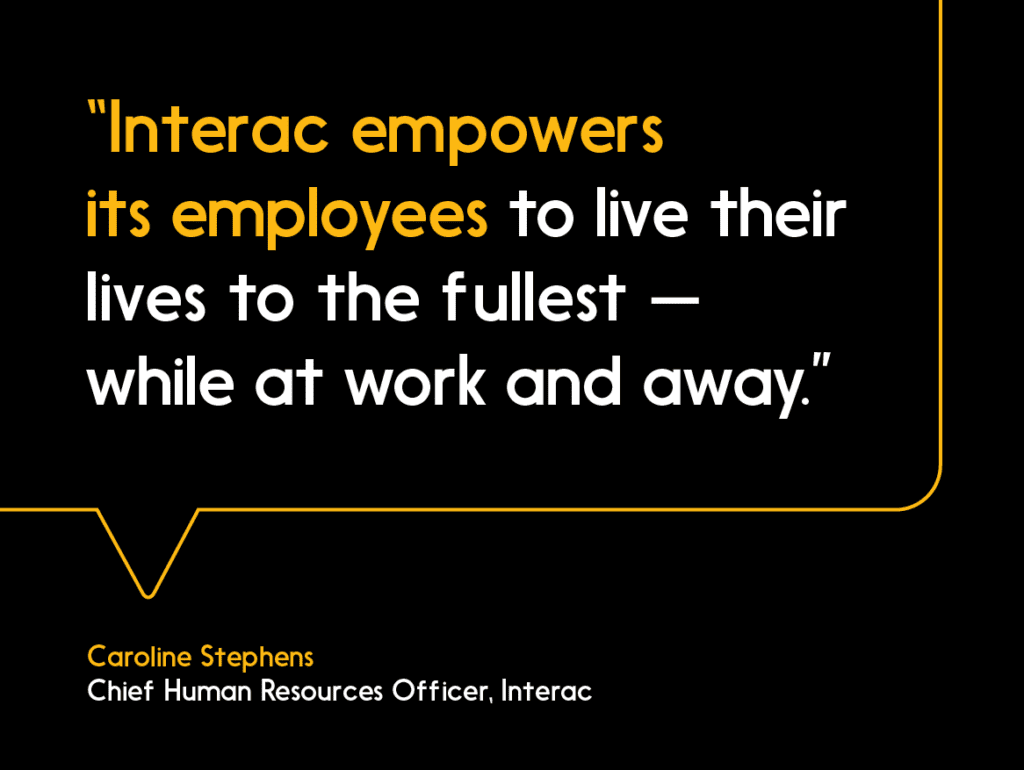 Strong leadership development makes Interac an employer of choice for those seeking stable, rewarding FinTech jobs
As a central player in the Canadian ecosystem, Interac offers a rare opportunity for job seekers: it offers job stability alongside ample opportunities for growth.
Despite being one of Canada's first FinTechs, Interac maintains a close-knit, mid-sized team, which allows the organization to invest in more personalized growth and development opportunities for its employees. Caroline is aware that's a clear reason retention at Interac is strong: "One of the reasons people leave tech organizations is they aren't given a clear view of their career progression, so we focus on the development and growth of our employees. Not only do they feel valued and compensated for that value, but their growth is positive for Interac — it helps us stay competitive and innovative."
Twice a year, Interac runs Career Development Workshops to give employees an opportunity to create impactful career development plans and ask any questions they have. The company also supports employees in completing 20 personal development and learning hours per year to further their development goal outcomes, whether it's through formal classroom learning, mentoring or volunteering. This intentional growth planning is part of the company's commitment to fostering the next generation of Interac leaders.
As Interac continues its path of consistent growth and innovation, strong leaders are critical to our organization's success and their team's development, says Melissa DiBenedetto, Organizational Development Manager. "That's why we also prioritize our leadership development program – whether it's equipping our teams to be stronger coaches or understanding how to support their teams through mental health challenges, we know it's valuable to invest in our leaders."
Constant learning and celebrating our milestones are part of fostering an engaged culture, which makes Interac more productive and its team more fulfilled, Melissa says. "Investing in people is an important part of our strategy."
FinTech jobs where you can make a difference
One of the best things about working at Interac: Getting to collaborate with a diverse, talented team on projects that really matter.
"We're a best-in-class FinTech. If you work here, it means you have the opportunity to work at the leading edge of the digital economy in Canada," Voula says. "Interac may be established and stable, but what our team appreciates is that it's also innovative and collaborative, like a much smaller company."
In the bigger picture, Interac employees get to work on projects that eventually become part of the fabric of everyday (digital) life for millions of Canadians. It's rare to see your work in action every time you see someone tap their debit card to buy coffee or send money via Interac e-Transfer.
"That's why I say it feels good to work here," she says. "It's natural to be passionate about the work when you know how much it matters to people — and you're working for an organization that values you."
Interested in career opportunities with Interac? Click here to join the team, and check out more benefits of working with us here.