Digital ID is quickly becoming a reality in Canada. An increasingly digital economy — accelerated by the pandemic — is creating a need for tools for Canadians to prove their identities securely in digital settings.
Interac is working with both public and private sector organizations in an effort to bring Canadians solutions that they can trust. Having acquired 2Keys in 2019, Interac recently announced a strategic transaction with SecureKey, another major player in the Canadian digital ID space. Moving forward, Interac is working to deliver a network that will offer Canadians digital ID verification with the level of security that they've come to expect from Interac.
Neil Butters, AVP Digital ID and Innovation for Interac, predicts the adoption of digital ID has the potential to be a transformative spark for the Canadian digital economy thanks to the potential efficiencies it introduces, the confidence it can bring to sensitive transactions, and the variety of use cases where it can be applied — potentially across a multitude of sectors.
"This transformation could cross all boundaries," Neil says.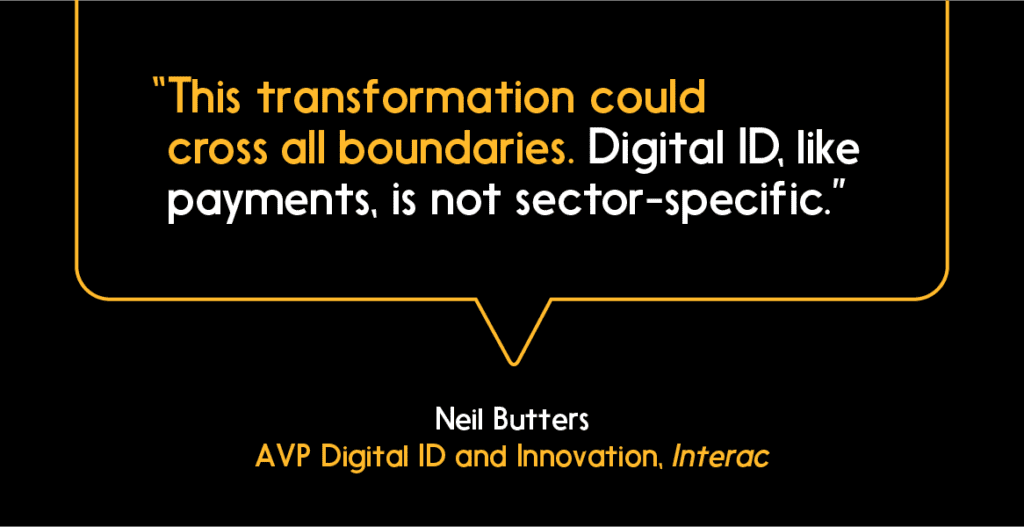 How trust in digital ID will drive adoption
The potential benefits of digital ID are apparent to many Canadians, but there remain reservations around security. Neil predicts that digital ID is likely to gain ground as people discover how easy and safe it actually can be. "I think there will be some early adopters, and people will watch those early adopters. Through those experiences people are likely to become more comfortable," he says.
Neil says Interac has taken steps to patiently but steadily build trust for new digital products and services for decades, including Interac Debit and Interac e-Transfer. He foresees digital ID following a similar path.
"Demonstrating strong capabilities around security will obviously help drive adoption by end users," he says. "Where does Interac fit in? It's an established brand that has worked to demonstrate its ability to protect Canadians' payment transactions. And we have an ability to help bridge the public and private sector and provide seamless end-to-end digital experiences is just something that we have experience with."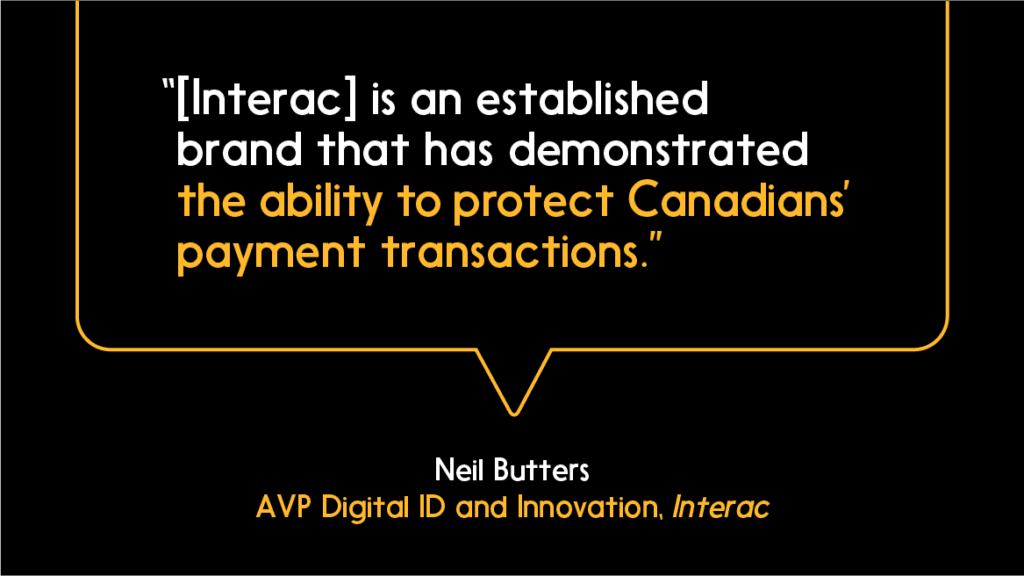 Sectors to watch
"Digital ID, like payments, is not sector-specific," Neil says. "But I do think there could be benefits to adopting early for any organization that's engaged in high-risk or high-value types of transactions and interactions, because there may be specific problems or challenges for them if the communications aren't secured."
Here's how digital ID verification could benefit key sectors of the Canadian economy — notably those that are arguably already in a state of transformation because of the pandemic, like healthcare, air travel and real estate. (Follow the links to Interac white papers to learn more about each.)
Healthcare
A healthcare system supported by a robust digital ID infrastructure has the potential to improve the delivery of health (medical as well as pharmaceutical) services. For example, it could help hospitals and clinics accurately identify patients and validate their health cards, retrieve health records, and prescribe and deliver medicines to the correct patients.
"You're already seeing some progression with a recent initiative in Ontario," Neil says, referring to the Ontario trusted account, a digital ID pilot program launched in spring 2021.
Link: Digital ID in Healthcare
Real estate
The home buying process, as it stands now in Canada, could be improved from the standpoint of convenience, efficiency and security. And the multiple verifications involved in a house purchase have only become more difficult during the pandemic.
With digital ID, banks may be able to perform credit checks and grant approvals faster. Lawyers may also be able to perform digital ID verification. And the whole process could be smoother for the home buyer.
Link: Digital ID in Real Estate
Air travel
Canada's air travel sector may require further assistance as it recovers in the coming years, and digital ID has the potential to help.
For governments, digital ID verification can help take some of the human element (and error) out of the equation — by enhancing the verification of passports by airport security, border security and customs agents, for example. This could reduce costs and increase confidence in security.
For airlines and passengers, it could speed up ID checks — potentially reducing queues, one of the major pain points in air travel. "I think we'll see the arrival of digital passports, which has the potential to help travel become more seamless," Neil says.
Link: Digital ID in Air Travel
Immigration
As anyone who has moved countries may have experienced, the immigration process can involve lengthy waiting periods while paper documents are reviewed and verified. Digital ID has the potential to both speed up these checks which may free up government resources to process even more applications faster.
For newcomers themselves, digital ID verification could also help them to easily integrate into Canadian life — digital permanent residency cards, for example, could make it easier for people to authenticate their identities when opening accounts online.
Link: Digital ID in Immigration
Restricted goods or services
Whether your organization is involved in the ancient pastime of gaming or the relatively new field of legalized cannabis, you face the same challenge: securely verifying your customers' ages. Needless to say, this can present challenges when completed online.
And for customers, as the situation stands now, age verification can introducea security issue. As Neil explains, people making a purchase could be sharing more information than is necessary. When you're entering an over-19 venue, for example, the venue might only need to verify your age — but if you offer a driver's licence as proof, you're also flashing your photo, address, height, exact date of birth, and other personal information – which may also be collected. "What digital ID could provide is an ability to share this kind of personal information more securely, and the potential to only provide the necessary information that is strictly required for that particular type of transaction."
Link: Digital ID in Lottery and Gaming, Digital ID in Alcohol and Cannabis
Government services and licensing
Neil observes that licensing and similar government services often involve identity verification as well as payment in the same transaction — when someone renews a driver's licence or passport, for example. For the customer and the service deliverer, a one-step process that combines payment and an ID check could be more streamlined.
Link: Digital ID in Municipal Services, Digital ID in Driver's Licensing
"Today these types of use cases can be siloed and potentially very difficult to solve for," Neil says. "Interac can play a role by helping to bridge the public and private sectors."
Learn how the Innovation Partnerships team at Interac is working on digital ID.