Have you had the experience yet of encountering a deepfake video that tricked you into believing it was real? If you haven't, be alert for it (and other tricks like it) in the years ahead. The challenge of determining whether something is authentic is growing as technology innovations are better able to change how we perceive reality.
It can be disorienting at times: Every time we open an app, make a digital transaction, or browse the web, we aren't merely interacting with a screen, we're laying out fragments of our identity — who we are, the choices we make and our values. We are no longer just managing bytes; we are stewarding identities, shaping narratives and defining boundaries.
The digital realm is brimming with potential, but advancements (like generative AI) make it all the more difficult to separate fact from fiction. New products and services have the potential to improve our lives, but there can also be risks such as our societal institutions failing to keep up.
At the heart of these conversations is the topic of trust. Because trust is what we often rely on to separate truth from falsehood. A 2023 Interac study found that nearly eight in 10 Canadians (76 per cent) are worried about protecting their online privacy. And that's why, in an age when data is power, trust is our most precious currency.
The question now becomes: How do we build trust in a digital age? The answer lies in staying true to our principles.
Key principles for building digital trust: authenticity, inclusivity and relevance.
We need a robust framework to create guardrails. I believe authenticity, inclusivity and relevance have to be the cornerstones of development and use within this framework. In the world of payments and verification, these three key principles are important to scale trust in any digital endeavour (and I believe they will prove to have a much wider application across sectors).
The first principle is authenticity: Is the person or the institution you're engaging with really who or what it claims to be? The second principle is inclusivity: Can we design systems that include everyone? And finally there is relevance: Are we innovating just to innovate, or is what we're creating relevant to the community's needs? To understand why, we can think about how these principles interact with one another to create fresh possibilities.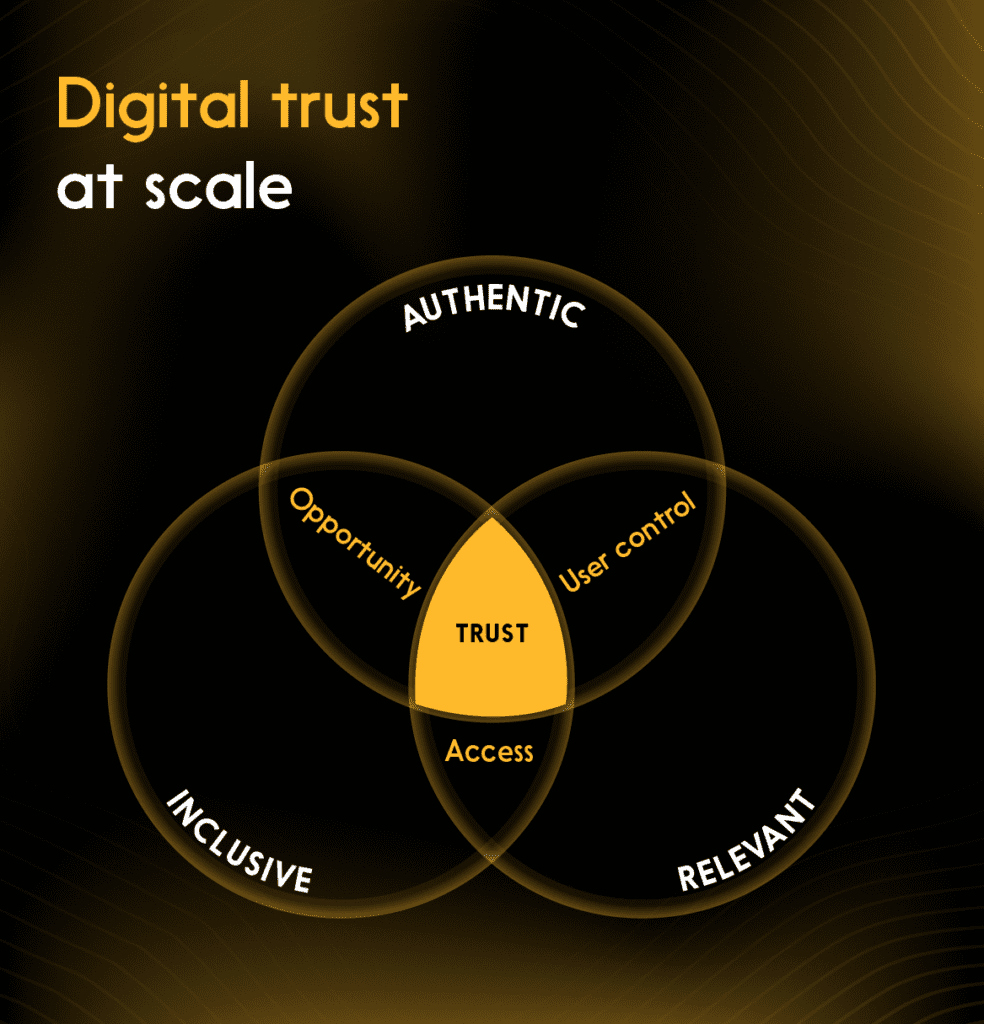 At the intersection of authenticity and inclusivity lies opportunity — a place where people can build or create.
When we are inclusive and relevant, we create access to information and data.
And when we embrace authenticity and relevance, we provide the user with more control over their data.
Together these principles work to form trust, which is the feeling of confidence, certainty and comfort people experience in an interaction.
Trust in a digitizing sector: Healthcare
Because data will be an important factor in the future, these key principles will extend and apply to other realms. Business, finance, innovation and other sectors — data will help power them all. To increase the likelihood of success, innovation in every sector should offer authenticity, inclusivity and relevance in order to help build and maintain trust.
I recently had an opportunity to explore how these key principles could apply to healthcare when I spoke with Zayna Khayat, Ph.D., at the Elevate Festival in Toronto. Zayna was recently recognized as one of the top 10 women shaping the digital health landscape in Canada, and is adjunct professor in the field of health sector strategy at the Rotman School of Management, and she's the in-house health futurist at Deloitte. We were able to continue our conversation from our recent Everyday Trust episode where we had an in-depth conversation about the role of trust in modernizing healthcare.
Dr. Khayat agreed that the three principles of authenticity, inclusivity and relevance have been and will continue to be fundamental in transforming healthcare into a more digital sector that can help serve patients better. Digitizing healthcare is a challenge that spans the range from relatively basic questions — like how to take paper out of the processes of patient intake, charting, schedules and so on — to more abstract ones, like: How do we get people to trust healthcare providers in virtual settings, where patients may be asked to share their digital health records?
Dr. Khayat said, "We had trust and authenticity through visual cues. You saw the lab coat, you went to a place called a hospital. You saw nurses buzzing around, you saw your clinician's degree on the wall. If we move into this digital realm, we need completely new anchors to convey trust. And those have not been yet created. There's lots to do — for example, digital credentials."
In other words, in the midst of rapid change, there's a big question that still needs answering: How do we signal to people that they are still in hands they can trust?
Dr. Khayat also noted that the principles of authenticity, inclusivity and relevance have actually been foundational for the 150 years of modern medical history so far. This, to me, reinforces that the need for trust built on a solid footing is universal, and not just limited to technologies in one sector, or to one time and place.
Digital verification services and building trust
Globally, we're experiencing what I think is a trust crisis. One only needs to look at social media to find misinformation, disinformation, and a society where many are questioning the truth of our traditional institutions, from the media to the government to the financial sector. Our Everyday Trust series dives more into the role of trust in the rapidly changing technology landscape. Subscribe to our newsletter to stay at the forefront of new episodes.
Restoring trust in our institutions likely requires a multifaceted approach. First, we must confront the challenge of addressing disinformation and misinformation head-on. This means actively debunking false narratives and promoting accurate information.
Public engagement is another critical aspect of rebuilding trust. We need open forums where institutions can listen to the concerns of the public and respond with transparency and empathy. Engaging openly and honestly is essential to two-way trust.
At the same time, ethical standards must be prioritized across our institutions.
And at the technological level, building a robust digital trust infrastructure is the first step toward enabling the innovations and transformations we envision while building and maintaining public trust. Digital verification, for instance, will be crucial to promoting trust not only in payments but also in healthcare and countless other digital interactions where verifying an individual's data or identity is vital. It is a way forward to opening the doors to accessibility trust and letting whoever you are interacting with digitally know you are the right person in front of them.
As we navigate the age of data, I believe staying true to authenticity, inclusivity and relevancy will allow us to build the trust we will need if we're to meet the challenges coming our way. Our unchanging principles will have to be fixed at the centre of whatever we create, no matter how quickly technology may change.
Explore more on the role of trust in a rapidly changing technology landscape