How will health care be different in 10- or 15-years' time? I hope that between now and then, we will do away with paper forms, long wait times, and some of the more common difficulties that come with navigating a system caught in transit between physical and digital.
With improved health care delivery for Canadians in the coming years (something I'm sure we can all agree must be a priority), the question is: How can we continually optimize our access to health care to deliver better results for patients while also giving them greater agency, and enhanced security around their medical data?
In Everyday Trust, I speak with leading thinkers about the role of trust in a rapidly changing technology landscape. In this episode, our subject is one in which every Canadian has a stake. We look at the prognosis for a healthcare system that's falling behind — and why trust will be an important ingredient in any cure.
The opportunity: A modernized healthcare system that puts patient control at the centre
A landmark U.S. study from 2019 found that 20 to 25 per cent of American healthcare spending is wasteful. And there's every reason to believe the situation is similar in Canada, where experts have also estimated that health outcomes could be improved by up to 35 per cent if funds were used more efficiently.
To improve those dismal results, health care delivery should be designed around the needs of the patient, not the requirements of the system, says my guest Zayna Khayat, Ph.D. And technology can and should give patients more control and agency over their own care.
Zayna is the Vice President of Client Success and Growth at Teladoc Health, a global leader in virtual care. She has spent her career thinking about the future of healthcare, including heading up the Health System Innovation Platform at the MaRS Discovery District in Toronto. She says her life's work involves improving health care delivery by making it more patient-centric through the adoption of modern practices and business models.
And when we talk about modernization, we acknowledge there's a long way to go — who among us hasn't filled out a paper form when accessing health care in Canada? Zayna and I discuss how embracing digital solutions can allow us to accomplish things we could never do through analog channels. Bringing digital technology into the clinic can not only facilitate better health outcomes, it can also help us build layers of data privacy into virtually every interaction that a patient has with the system.
The current state of trust in healthcare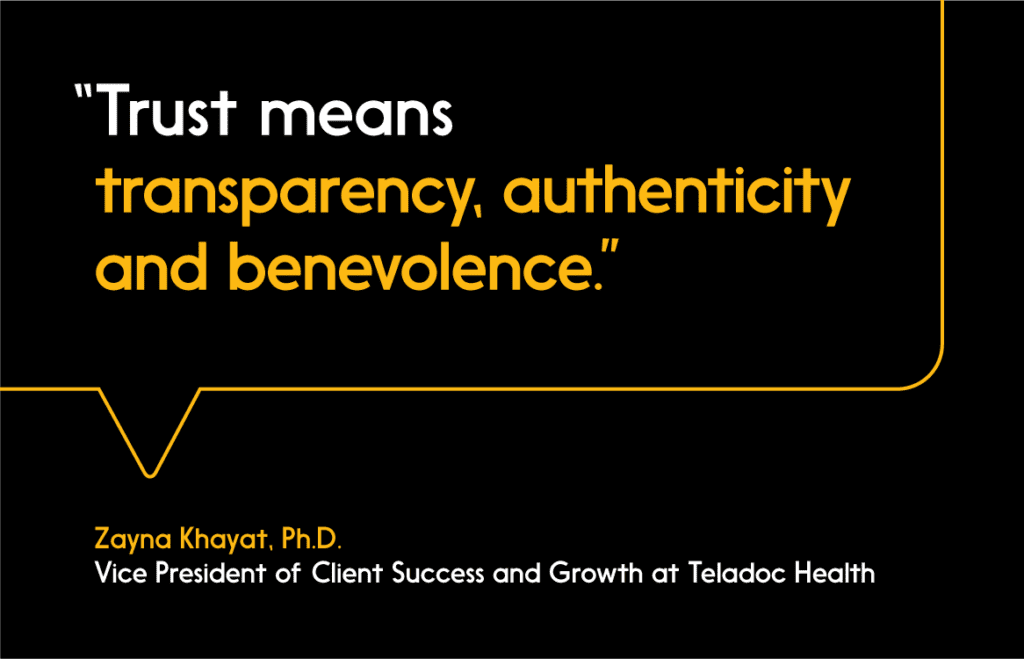 At Interac, we know trust is central to moving technologies forward — in payments, identity, and other realms. Zayna has learned through her career that "trust is like a lubricant" for change in health care as well.
As Zayna sees it, trust has three components: transparency, authenticity and benevolence. Not only is that a really interesting way of thinking about trust, I believe it will be essential to bear in mind as we work toward change in the healthcare system. While healthcare has been more resistant to modernization in many ways than other sectors, it faces the same fundamental challenge when it comes to driving adoption of new practices and technologies: The need to earn the comfort — and ultimately the trust — of end users.
Trust has to guide us at every step because, as we've observed time and time again at Interac and in the broader innovation sector, trust is the only way forward for new technologies.
Verification and privacy in digital health care: A few of the big questions
1: How does our thinking around health care delivery need to evolve?
The healthcare system we have now was built in the industrial era, with an industrial mindset. Zayna notes that the payers, clinicians, and even the buildings themselves often take priority over the patients. What the Canadian healthcare landscape needs now is nothing short of a "Copernican shift," as Zayna says — a complete revolution in mindset that starts with fostering preventative and general health in the whole person, as opposed to just treating sickness and dealing with one body part at a time.
When we consider transparency in healthcare today, "there is a massive information asymmetry," Zayna says. "We don't really know why decisions are made about our therapies, and our test results are held from us." This limits our choice and ability to seek out alternatives and optimize the decisions we make about our health.
So, what does a patient-centric healthcare system, one built with greater transparency, look like? For one, it will treat patients as valued customers with more agency and trust to handle data about their own bodies.
As for the potential efficiency gains from digitizing, I'll pull one fascinating example from our conversation: Right now we're requiring healthcare practitioners to spend hours per shift working at a computer screen, performing cognitive tasks that could more optimally be handled by a machine. As Zayna says, healthcare is a people industry, and digitizing these tasks will "free up humans to be humans." If we solve inefficiencies like this, digital health can be a fundamental value creator for the economy on a societal level.
Zayna talks about how countries from Germany to Japan to Australia are already reaping the dividends of a more efficient healthcare system. For the sake of Canada's future prosperity — especially given our aging workforce — it's essential to get this right.
2: How will the healthcare experience change for patients in the future?
Earlier, I imagined what healthcare could be like in the 2030s. In a word, it should be easier.
Digitizing health care can help build new systems that put the patient at the centre. And as Zayna shared during our conversation, these systems can be built in ways that are both hyper-personalized and decentralized, creating a "care everywhere" system.
I think patient-centricity should include a focus on creating a reliably straightforward experience for patients when they engage with the system. Patients should be confident they'll encounter a secure, simple entry process so they can navigate whatever it is they're trying to do, whether it's booking an appointment, taking a blood test, and so on.
When people begin to feel familiar with the authentication and verification process, that will help them feel secure and confident in their interactions with the system. Which brings us to our next point…
3: What will be the role of digital verification in the future of health care?
When patient data is digitized rather than tabulated manually, it not only removes the friction for the patient (how many times should you have to write down your address and date of birth?), it also improves authentication so that healthcare providers will know they're engaging with the right person.
And more important for the patient, it can put control of their data back into their own hands. That means being able to keep tabs on one's own health information. For example, why shouldn't it be easy to log into a website to see how up-to-date you are on your vaccinations?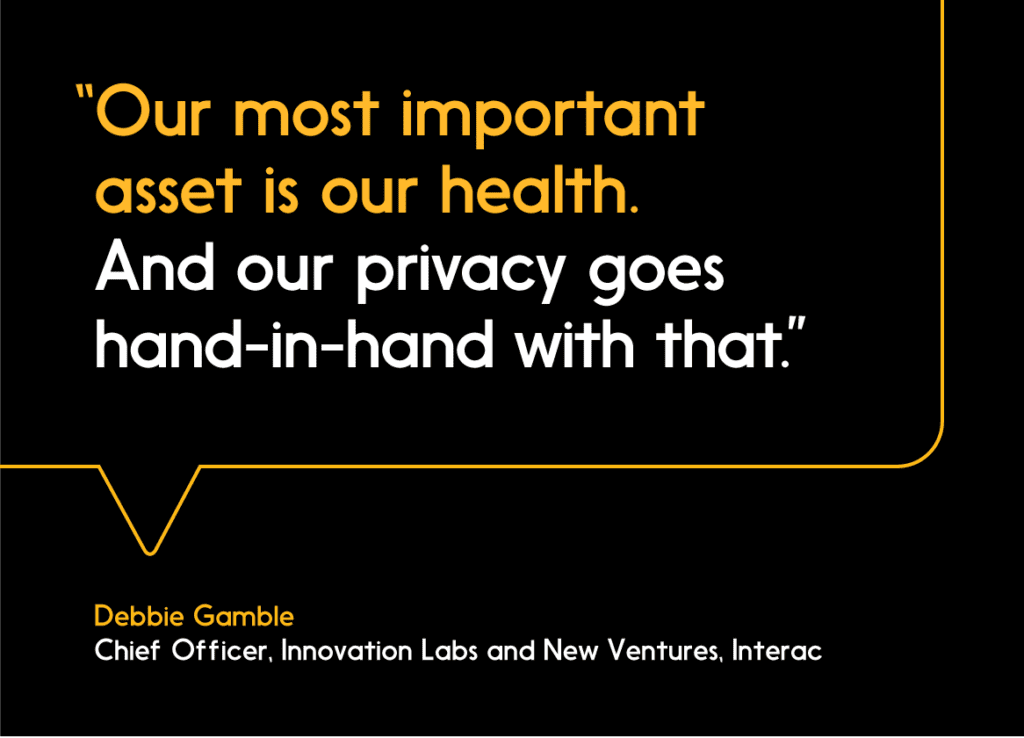 Digitization of health records can also lead to greater security and privacy. It's natural to want to safeguard your health as well as you can. That means taking care of your physical well-being, but it also means ensuring your medical data remains private and secure.
4: What will the role of Interac be in the future of digital health?
Zayna identifies a few core competencies that the healthcare system will need to build out as it shifts toward digital technologies for service delivery and managing medical data: cybersecurity, the ability to handle data and code, and a solid grounding in ethics.
Today, Interac provides verification solutions that are helping Canadians connect with many government services, and our consistent and reliable delivery services like Interac e-Transfer and Interac Debit have earned us a place among Canadians' most trusted brands for years now. We can apply the knowledge we've acquired from payments and from credential management — where consumer data is carefully safeguarded — to health care.
People won't tolerate risk in their dealings with the healthcare system any more than they would with payments. And quite frankly, why should they?
Which is why trust, once again, is so fundamentally important to realizing the revolutionary potential of digital health.
Watch the full conversation with Debbie and Zayna
In the full video, you'll see me and Zayna talk about other benefits and challenges around bringing digital technology and health care delivery together — and I promise you'll never look at a doctor's office form the same way again.