How can we make sense of complexity in our world? What forces cause disruption—and how can we prepare for an unknown future state? How does all of this impact corporate strategy development and execution?
Beyond media headlines and intelligent discourse, disruptive macro forces will not only impact individuals but also have a massive effect on organizations as they strive to serve customers and create value through an unprecedented time of accelerated global change.
To better understand what changes might come to fruition and how to prepare for any eventuality, key cross-functional partners from all Interac departments came together for the Signals Exchange Forum (SXF) hosted at The Vault, a once-secret lower level in a Toronto tower that used to hold Canada's gold and bullion reserves.
The purpose of the SXF event was to understand the 11 macro forces of disruption and identify signals and scenarios that might materialize in the future. From there, leveraging Strategic Foresight methodologies, the group analyzed what capabilities were necessary to meet these potential futures and identified key focus areas to inform the multi-year corporate strategy at Interac, enabling a strategy that remains dynamic and always relevant.
If you are curious about what truly drives disruption in our collective world and how to prepare despite not knowing what will happen, this article includes key insights from the Interac SXF event.
Understanding the 11 macro forces of disruption
The complexity of our collective world seems to grow every day and changes in one area of the world can inadvertently impact other aspects, particularly in the financial services sector.
It might seem like there is no way to make sense of a world with so many moving parts and dependencies. However, research on global disruption found that there are 11 macro forces at play: wealth distribution, education, infrastructure, government, geopolitics, economy, public health, demographics, environment, media & telecommunications, all with an underpinning of technology and technological change. For Interac, all 11 have equal importance and should be analyzed holistically.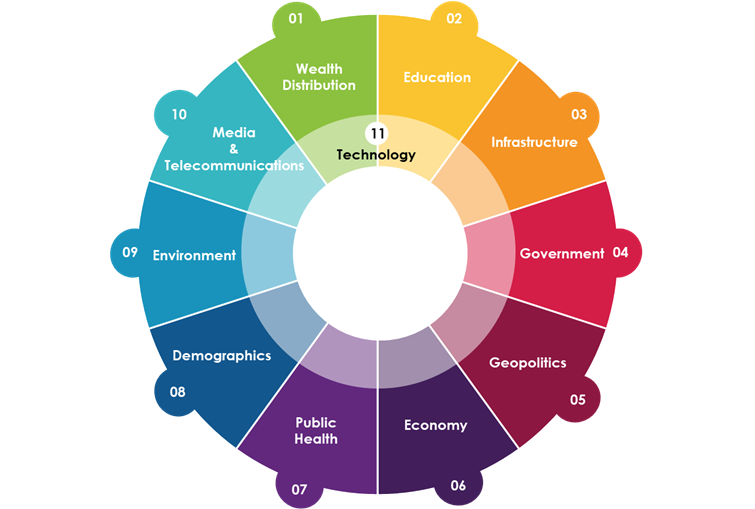 The 11 macro forces of disruption
Combining different sources of disruption in an analysis helps uncover interconnections and weak signals (also known as "early signals" of coming changes) that can create more valuable insight. For example, wealth distribution challenges include uneven wealth gains, both within and across different societies. An analysis solely of wealth gains in societies might uncover strong directional signals about what's causing wealth inequality, but combining it with an understanding of demographic changes and geopolitical evolutions could uncover additional weak signals that lead to more significant insight.
When conducting an analysis, it's important to not exclude a certain force simply because, at first glance, it doesn't seem to apply. For example, a non-healthcare company might be tempted to deprioritize the public health macro force. However, as the COVID-19 pandemic demonstrated, a public health issue can quickly become a governmental, geopolitical, and economic issue that heavily impacts education and technology. Further, discourse around these issues is driven in part by media and telecommunications.
The multimodal challenge of global complexity—compounded significantly by emerging technologies such as AI, which will impact every macro force in a different way—requires an in-depth analysis to fully understand.
The three types of innovation: How Interac analyzes the world around us
To understand how the 11 macro forces affect a single organization, Interac contextualizes the outcomes of disruption through the lens of organizational innovation. The result is to distill global macro challenges down to the level of a single organization, bringing an understanding of the kinds of innovation that might be necessary to prepare for the future.
Interac structures innovation in three different ways: Disruptive, Sustaining, and Incremental. Disruptive innovation comes from looking far ahead, which requires analyzing research from signals, trends, and forces to identify potential notable disruptions that inform Strategic Foresight scenarios. Using the scenarios, teams collaborate on net-new disruptive business models that deliver more value for customers. Sustaining innovation comes from looking within, a process that seeks out to significantly grow existing in-market products, services and processes, bringing together different disciplines across an organization. And incremental innovation comes from looking all around, a process where teams collaborate on continuous improvement opportunities within existing planned or in-market initiatives.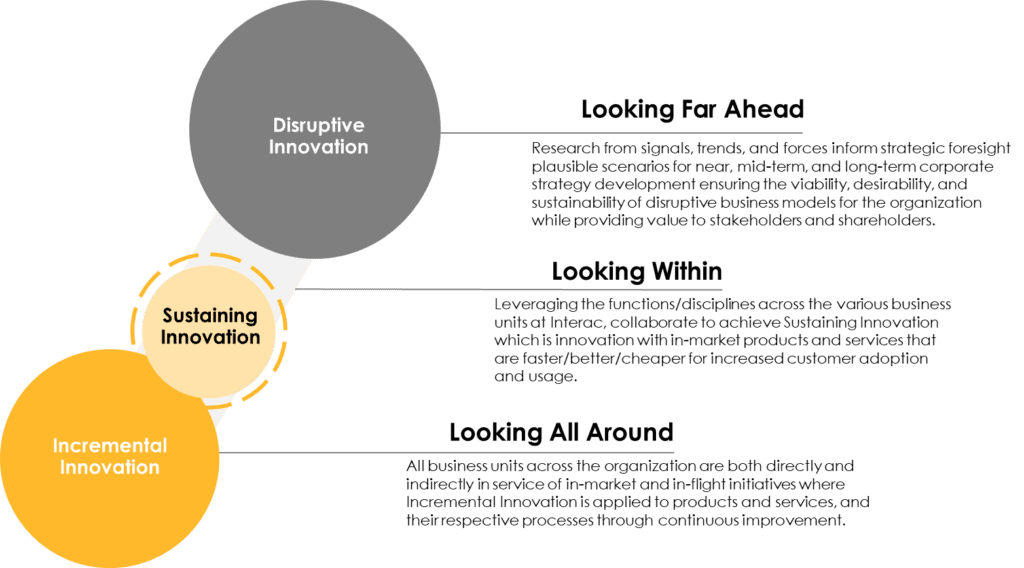 The three stages of innovation
Analyzing the 11 macro forces through the three types of innovation helps bring complexity into context. It also appropriately categorizes how disruptions may impact a specific organization, acknowledging how cascading changes from a single disruptive event might require different strategic or tactical planning.
Embedding Strategic Foresight into a multi-year corporate strategy through cross-functional partnership
These three types of innovation help to categorize complex ideas and bring the 11 macro forces into an organizational context. However, simply understanding the impact is not yet enough to help inform corporate strategy, which requires next steps and action items. That's where Strategic Foresight methodologies come in. It's a scenario-based approach to future preparation based on the principle that you cannot predict the future, but you can prepare for a variety of likely outcomes.
Our Strategic Foresight approach adds power to corporate planning because it doesn't try to prepare for an unlimited number of events—that proposition is far too broad and could lead to a situation where the organization invests significant resources to plan for an eventuality that never comes. Instead, the goal is to develop organizational readiness, making informed decisions based on tracking weak signals and trends to identify which capabilities the organization needs to build now to prepare for what might come next. From there, a dynamic strategic and tactical planning process ensures the corporate strategy is always relevant to whatever happens over time.
Among the Strategic Foresight methodologies, Interac leverages a process called "backcasting." For example, the Interac Strategy & Innovation team developed three possible scenarios based on the future potential of AI in the banking world and shared them during the SXF event. After receiving these scenarios, participating teams performed backcasting activities, starting at a scenario's logical extreme end-case. Through the facilitated sessions, teams were asked probing questions like what technologies are likely enabling different pieces of the future state? From there, what support mechanisms allow those technological foundations to thrive? Further, what underlying societal beliefs support this change? Who might be against this end-case—and why?
Backcasting questions like these turn somewhat esoteric future scenarios into their practical realities, which helps individuals identify the opportunities and risks that exist for their organization. For Interac, the value of cross-functional partnership within the Strategic Foresight process is recognized as a compulsory input to develop a cohesive and comprehensive organizational perspective.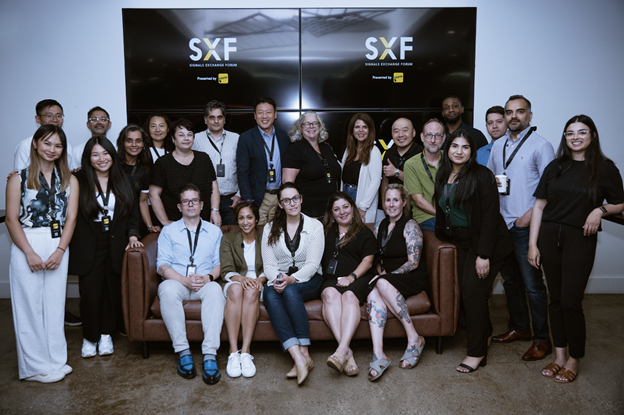 The Interac team at the SXF Event
The final step in the process is to translate the backcasted insights into inputs that inform strategy development, indicating what capabilities need to be developed—or what actions need to be taken—in response to potential key future outcomes. This is how our corporate strategy remains flexible and always-relevant, since change is embedded in the planning process and the plan can evolve as different signals and scenarios come to pass. For example, the world may not move to 100% digital banking in the near future, but increased digitization is already happening in various ways and is expected to continue. As a result, thinking about foundational capabilities that enable increased digitization in novel ways is a valuable investment that can deliver value for customers in the near-term while preparing for the potential long-term disruptions.
Where to learn more about Interac innovation
Strategic Foresight methodologies, delivered by cross-functional collaboration at Interac, allows for a strategy that remains dynamic and always relevant —on top of traditional corporate planning, weak signals detection and scenario-based analysis helps uncover opportunities where Interac can build value-add, innovative solutions for the future.