We're proud to see large and small businesses across Canada getting on board with Interac e-Transfer for Business, which offers them a fast and easy way to send and receive payments.
If you haven't had a chance to get familiar with this offering, you can learn more about Interac e-Transfer for Business here. In a nutshell, it's a real-time money transfer service for business transactions and business payment processing — accessed from the safety and security of your financial institution. Interac e-Transfer for Business is built on the widespread adoption of Interac e-Transfer, enhanced in ways that optimize the service for commercial use, and it includes useful new features to help streamline accounting processes and accelerate a paperless office strategy.
As the Fraud Prevention & Partnerships Director for Interac, I'm eager to point out that Interac e-Transfer for Business is not just convenient, it's safe, too. Canadians place a high level of trust in Interac, thanks in part to the digital security features built into our services, including Interac e-Transfer.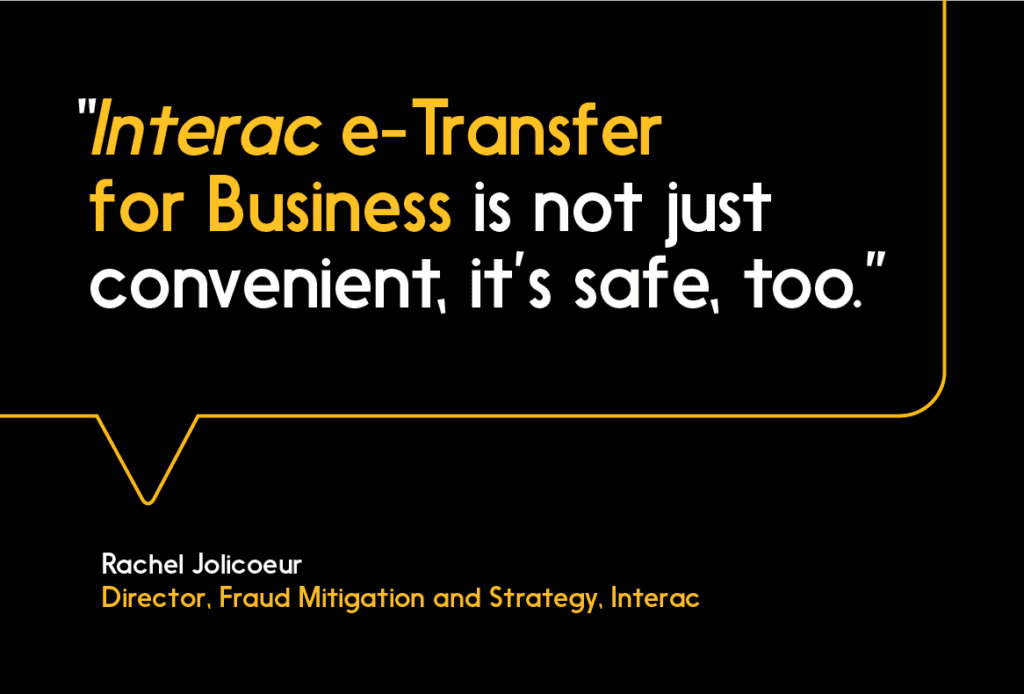 To help Canadian organizations make the most of Interac e-Transfer for Business, I'd like to share some of the features in place to safeguard your payment processing transactions — leading to greater data security for your organization in addition to a more streamlined business payments experience.
The cyber security benefits of using Interac e-Transfer for Business
When used properly, Interac e-Transfer for Business is a safe money transfer service for organizations of all sizes thanks to multiple layers of digital security that are built in by design and executed in every transaction, and within the banking platform of your financial institution. Here are a few of the important security considerations:
Interac e-Transfer for Business can help you reduce counterfeit risk and prevent digital fraud. Fraudsters simply can't replicate an Interac e-Transfer transaction the way they sometimes can with a cheque.
Interac e-Transfer for Business is accessed through your financial institution, which means it's secured by the robust set of security measures that protect your commercial business banking platform. These could include multiple-factor authentication and secure passwords. Businesses should talk with their financial institutions and review the security features available within their commercial banking platforms. I always recommend implementing them as part of your everyday fraud prevention plans.
When you initiate real-time transfers using Interac e-Transfer for Business, there are data security measures that go on behind the scenes, including encryption and our risk detection model. Interac uses a proprietary risk detection model to analyze real-time payments for fraud risk that identifies unusual or risky transaction patterns. We have fraud prevention analysts who work with financial institutions to review transactions for fraud risk through unusual or risky transaction patterns before the transaction is sent, allowing Interac to help financial institutions prevent potential loss before it happens.
Finally, the flexible routing based feature of Interac e-Transfer for Business adds another layer of security by allowing you to send money directly using a recipient's account details. This allows you to route funds straight to their bank account, as opposed to notifying them via an email address or SMS number, removing the security question-and-answer portion of the Interac e-Transfer transaction. The money is deposited directly into the recipient's bank account, which helps eliminate the possibility of email fraud.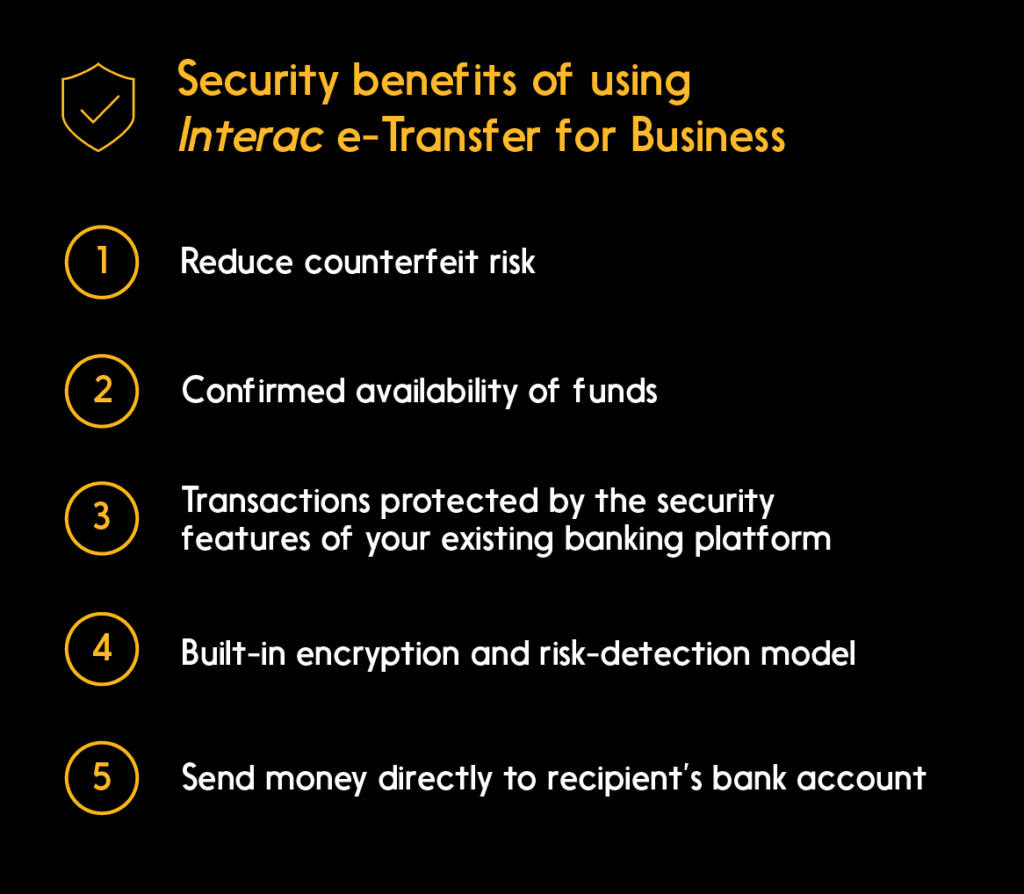 Preparing your team to use Interac e-Transfer for Business
We're happy to offer Canadian accounting professionals a way to streamline formerly time-consuming processes. There are also steps we would recommend taking within any organization to help ensure that Interac e-Transfer for Business contributes to your organization's fraud prevention and data security efforts.
Remind your staff to remain vigilant. All the usual best practices for online transactions apply when you're using Interac e-Transfer for Business, including implementing the security features available on your commercial banking platform, like multi-factor and dual authentication and authorization; using strong passwords that expire at least every 90 days; and ensuring that they're only transacting with trusted websites, vendors and people. 
Verify who you're sending a transaction to. When processing a real-time transaction to an account number, take the time to confirm the intended recipient account number to avoid misrouting the funds.
Incorporate a "Stop, Scrutinize, Speak Up" policy to promote fraud prevention in your workplace. I would advise employees not to skip steps when it comes to verification. Have a solid process in place so that if anything is out of the norm, you have that opportunity to stop and think about it.
What to tell your suppliers and customers
Most Canadians have experienced the convenience of receiving money via Interac e-Transfer in their personal lives and receiving a business payment is just as intuitive. When you send your first few transactions via Interac e-Transfer for Business, it's reassuring to know that it's easy to use.
But there are some preparations you can make to help ensure a smooth introduction.
Let your suppliers and clients know that you're moving to a new, secure, convenient form of payment — as a courtesy and a heads-up.
Reassure them that Interac e-Transfer for Business is a safe money transfer service. When you send funds, money never actually travels by email or text message – only notifications and deposit instructions do. Financial institutions transfer the funds using established and secure banking procedures, as I detailed above.
Finally, to help familiarize your business contacts with Interac e-Transfer for Business, you can share this link to a page that should answer most of their questions.