Over the past few months, Interac – along with many companies around the world – has been learning how we can better contribute to building a more equitable and inclusive workplace. There is no doubt this has been a trying time for diversity and inclusion (D&I) leaders who are not only trying to support their company's work but also stay up to date on developments and best practices in the space. It is for this reason that our Diversity & Inclusion Council at Interac, in partnership with The Upside Foundation of Canada, hosted an open dialogue regarding the challenges and opportunities companies are facing as they build more diversity and inclusion in the workplace.
We gathered HR and D&I leaders from top Canadian start-ups and organizations such as Wattpad, Sensibill, Unbounce, Sandpiper, Bright + Early, MESH Diversity, Marigold Capital, and Diversio who are all committed to creating more diverse workplaces. We spoke about how our organizations have been combatting racism and other forms of discrimination so far, and how we can measure the impact of these initiatives on workplace culture. See below for key takeaways from the event.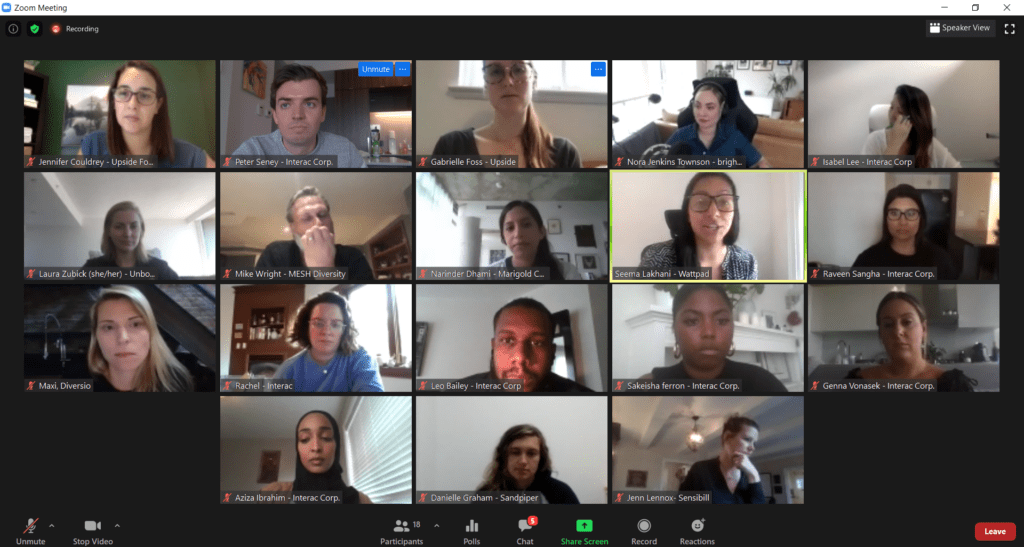 D&I has evolved in organizations
To kick-off the event, D&I leaders were asked how burnt out they feel trying to address diversity and inclusion in the workplace, and most people responded only moderately so. It quickly became apparent that the role of D&I has changed significantly in the last 6 months, with 60% of participants saying it is now a top priority for their company. Additionally, 67% of participants said they are either optimistic or very optimistic that D&I will continue to be taken seriously in their organization and result in meaningful change for workplace culture. It was noted that more attention is being paid particularly to anti-Black racism, and that awareness amongst staff has skyrocketed.
Culture Diversity efforts must start from within
Addressing discrimination in the workplace needs to start from within. At Interac, we hosted several open forums for employees and executives alike to express their grief and frustration, and to address the immediate needs of our staff following the racist events in the United States. Sensibill partnered with the Black Professionals in Tech Network to begin conversations about how to better serve their BIPOC communities. By having tough conversations internally, organizations have been able to adapt their D&I programming to ensure it is best supporting their staff and the communities they are a part of.
Diversity and inclusion in the workplace is everyone's business
One dominant theme from the conversation was that in order to truly make progress, D&I must be integrated across departments, with executive buy-in being essential. Our approach at Interac includes educating about why diversity is important in the workplace and empowering staff across the organization — as well as being intentional about diversifying the vendors we work with. At Wattpad, D&I initiatives have historically focused on creating an inclusive employee experience, but now they are expanding focus to their whole business model, ensuring anyone has equal opportunity to use and benefit from their platform.
Keep the conversation going
Meaningful change results from an ongoing commitment. For example, while hosting an unconscious bias training session is useful and beneficial, that alone isn't enough to create sustainable, long-lasting change. At Bright + Early, more clients have been asking for continuous support promoting D&I in their organizations and building it into all business decisions. At Interac, we invite staff to send in their questions, concerns, and suggestions to our Diversity & Inclusion inbox. From there, we filter through these findings to determine how we can improve our programing or launch new initiatives.
Supporting those in our communities
Ensuring marginalized communities have the resources and opportunities to succeed is a key component of supporting D&I outside of the company's walls — and being good corporate citizens.  Marigold Capital, for example, realized many founders are underfunded and overlooked, and so they are dedicated to democratizing access to investment capital in order to enable folks from diverse backgrounds to succeed in entrepreneurial roles. At Interac, we launched a new Equity and Empowerment Initiative that starts within our walls but emanates outward, focusing on employee-based, public-facing, and community-oriented fronts. The organizations we've supported through this initiative include the Black Business and Professional Association, CEE Centre for Young Black Professionals, Visions of Science,  and Tech Spark – all of which are committed to empowering Black professionals and providing them the resources they need to reach their full potential.
By having insightful and open conversations with other organizations, we hope to build a more diverse and united workplace.
Interested in learning more about the Equity and Empowerment Initiative? Click here.