In a world where business payment options depend on widespread use, low cost, and a good funds model, you need to accept payments in a way that your customers, staff, and partners prefer.
That's why Interac Debit is your key to a convenient and fast retail experience that's designed to grow and move along with your business. Whether you have a physical location, take your storefront on the road, or sell exclusively online there's a simple, secure, and low-cost payment solution that benefits both you and your customers.
What does Interac Debit empower you and your business to do?
Questions this section will answer:
What is Interac Debit for?
Is Interac Debit only Canadian?
What are the pros of using Interac Debit for my business?
What is the difference between a credit card and an Interac Debit card?
We know customers value choice, and being able to pay for products and services whenever and however they want is a big part of that. That's why Interac Debit gives Canadians an easy to use, intuitive payment system that helps make checking out convenient.
Simply put, Interac Debit is a trusted payment solution for those who hold an account with a Canadian financial institution – you must be with a Canadian financial institution in order to use Interac Debit. Using a physical debit card, mobile wallet, or an online portal, Interac Debit works differently from a credit card in that the payment method is connected to the customer's bank account and can move money from there directly into the merchant's. All done with real-time transaction approval, no chargebacks, and more time to ensure that you don't miss a sale opportunity.
What are the key benefits and features that Interac Debit offers your business?:
---
Here are just some of the benefits of using Interac Debit for your business:
Low-friction checkout
Lower interchange fees
Easy refunds and no chargebacks
Payment is received immediately
Ability to offer fast payment options from anywhere
---
How Interac Debit works
Questions this section will answer:
How can I use Interac Debit?
How do contactless payment transactions work?
How can mobile point of sale work for my business?
How do Interac Debit refunds work?
Whether you're a large retailer, medical office, freelancer, or small business owner that operates with temporary stalls at farmer's markets or conventions, any business that takes payment can use Interac Debit. All you need is a Canadian commercial bank account and an acquirer to help you get set up and receive payment immediately from your customers.
Customers can pay with their physical card through a secure PIN or contactless by "tapping" their debit card or mobile device on a POS terminal, which verifies the transaction and completes the payment.
Do you take your business on the road with you? With a mobile point-of-sale terminal or a mobile service and card reader that connects with your mobile device, you have the flexibility of offering Interac Debit anywhere.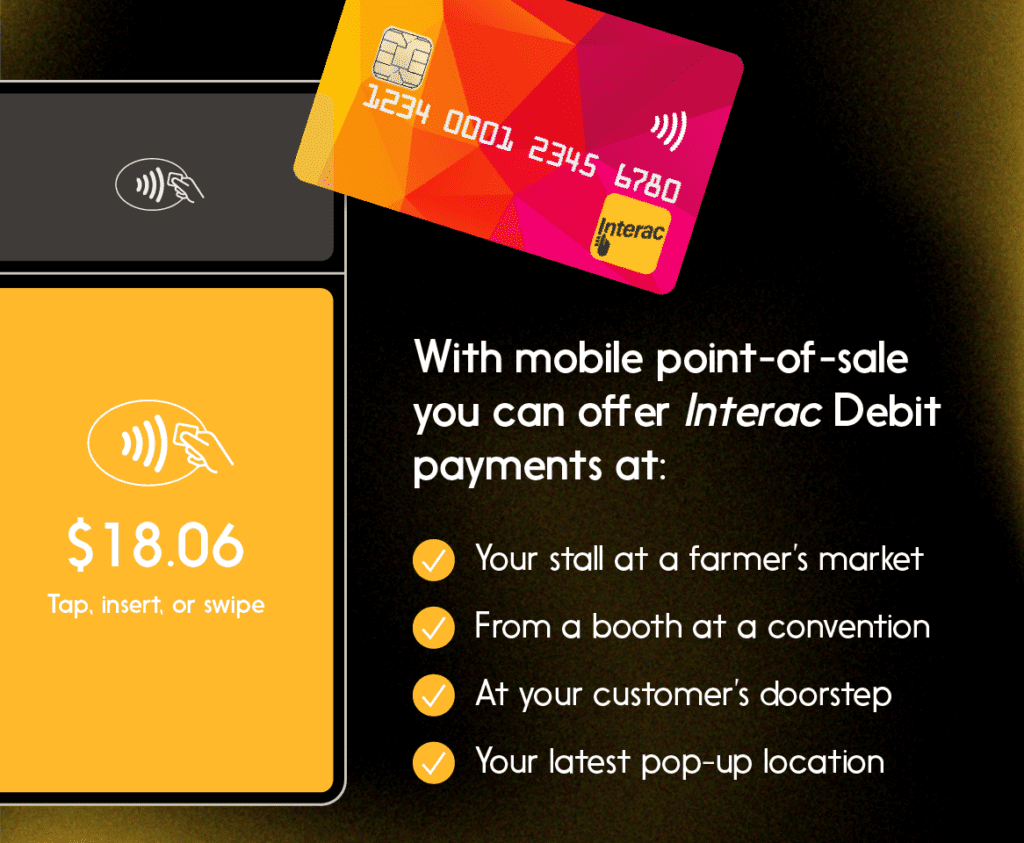 Completing a transaction is simple and secure, and completed in only a few steps!
Follow the instructions to input the final amount owed.
The customer will confirm the transaction amount on the terminal and hold their debit card, mobile phone or wearable device on it for a moment.
Once the transaction is authorized by the customer's financial institution, the payment will be transferred to your account in real time.
And that's it! Payments are fast and authorized by the customer's financial institution in real-time, with no risk of a chargeback.
But what if you need to issue a refund? Well, refunding a transaction is just as easy as making one as long as the customer is present with their debit card or mobile wallet. Once authorized by you, the money is quickly sent back to their account with no fuss.
How to get started with Interac Debit
Questions this section will answer:
Do you need a bank account for Interac Debit?
How do I get an Interac Debit terminal?
How do I set up a mobile payment system?
To get started with Interac Debit for your business, all you need is a Canadian commercial bank account and contact with an acquirer to set you up with a stationary or mobile POS terminal. From there you will be guided on connecting your commercial bank account and you'll be good to go.
Once connected to your account, depending on what payment options you set up, Interac Debit will allow your customers to pay through:
A stationary physical NFC-enabled POS terminal for mobile and contactless payments
A mobile POS terminal and/or mobile phone connected to a secure card reader with Software-Based Pin on Cots (SpoC) services, and/or
E-commerce and online storefronts such as Shopify that accept methods of payment such as Apple Pay and Google Pay
Reach out to an acquirer for more information on setting up each of the above options and giving your customer the freedom to pay however they want.
To learn how to use specific features of Interac Debit, visit our How To guides:
What we've learned so far about Interac Debit
Interac Debit brings choice to your customers
It's fast, convenient, and easy to use
It's also safe. Read on to learn more about the unique security features of Interac Debit
Keeping your business and your customers safe & secure
Questions this section will answer:
Is Interac Debit safe?
Are mobile payments safe?
As commerce continues to transform and payment needs evolve, how we handle security should too. That's why Interac has a dedicated fraud management team that stays on top of the latest cybersecurity trends. And by leveraging the TSP platform, the tokenization of consumer financial information ensures that it isn't shared and the potential for fraud is reduced.
Where to learn more about Interac Debit
Want to know more about how to bring the speed, convenience, and choice to your customers' shopping experience? Learn more about how to use Interac Debit for business here.
To learn more about Interac Debit as a consumer, visit here.
Let Interac Debit help make your business move fast.