What role can secure, frictionless digital experiences play within the business lifecycle? They can create an elevated customer experience and differentiate a business from its competitors. They can also streamline the way businesses interact with other organizations and how they manage internal processes. Wondering how? Picture these fictional examples from four different sectors that demonstrate how digital experiences have the potential to create an enhanced customer experience.
While the examples above may be fictional, seamless and secure verification solutions are making everyday digital experiences look and feel more like this: Fast, convenient, and designed to give Canadians choice in how they choose to interact.
As a Canadian business, here's what you need to know.
How digital verification can improve customer experience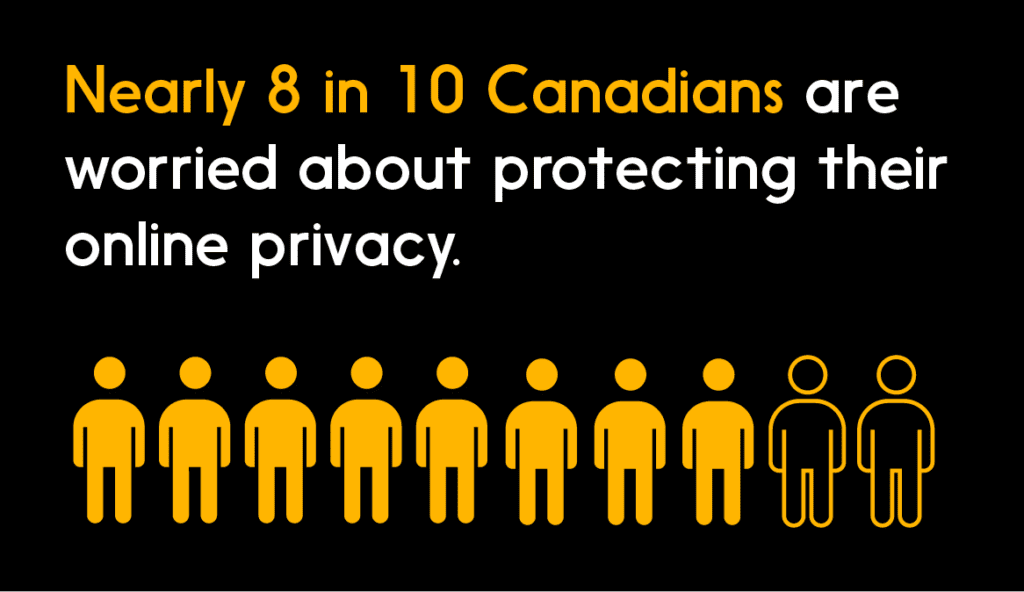 Integrated, fast and convenient customer experiences — like the ones experienced in the examples above — may sound appealing, but there have traditionally been barriers to implementation, including concerns around privacy and security.
Customers have been skeptical that their sensitive data will remain private. They want the convenience of digital experiences, but they don't want to face any risk of fraud or their data getting in the wrong hands. A recent survey from Interac, published during Data Privacy Week, showed that nearly eight in 10 Canadians polled are worried about protecting their online privacy and only six per cent think their data is being used for its intended purpose.
Verification solutions built with strong security protocols can help address these concerns from both customers and businesses, as they feature rigorous authentication requirements, set at some of the highest Canadian security standards.
Interac Debit and Interac e-Transfer transactions have made it easier for Canadians to keep up with the changing retail landscape. But meeting the new (and growing) challenges of our digital economy requires verfifcation and authentication solutions that are just as straightforward, so businesses will be able to confidently say that their customers are who they say they are (and have a secure way to prove it).
Enter Interac Verified, a digital verification service that works for Canadian businesses
The good news? Secure, convenient verification and authentication of customers' data is not only possible, we're making it happen right now. Consumers are already experiencing our suite of solutions, Interac Verified,through the businesses and government services that offer it.
Interac Verified gives Canadian businesses a way to digitally verify customer data to deliver faster, more efficient, and convenient access to services. Through Interac verification service, customers can use their existing login credentials with a participating financial institution for faster verification of their data. With Interac document verification service, customers verify themselves using a matching liveness check and accepted forms of government-issued photo ID.
Interac Verified is designed to support multiple technology standards, whether today's widely-adopted open standards and emerging standards of the future.
Many Canadian businesses and government services already use Interac Verified to provide their customers with secure and seamless digital experiences and simplify their day-to-day interactions.
How Interac Verified is streamlining digital interactions
Enabling convenient ways for customers to interact digitally is becoming crucial for many Canadian businesses. Interac Verified can provide a secure way for businesses to verify and authenticate customers before supplying goods or services.
Seamless onboarding: Interac Verified can help create efficiencies by reducing the time spent on manual processes and in-person visits, reducing friction and accelerating onboarding.
Fraud protection and compliance: Interac Verified can give businesses confidence they're giving the right access to the right person. Businesses can verify foundational data points against records from trusted sources, which can help streamline Know Your Client (KYC) and anti-money laundering (AML) compliance.
Customer acquisition: Interac Verified can help businesses build trust with their customers, by offering a secure digital verification process and gaining consent before any required data is verified or authenticated.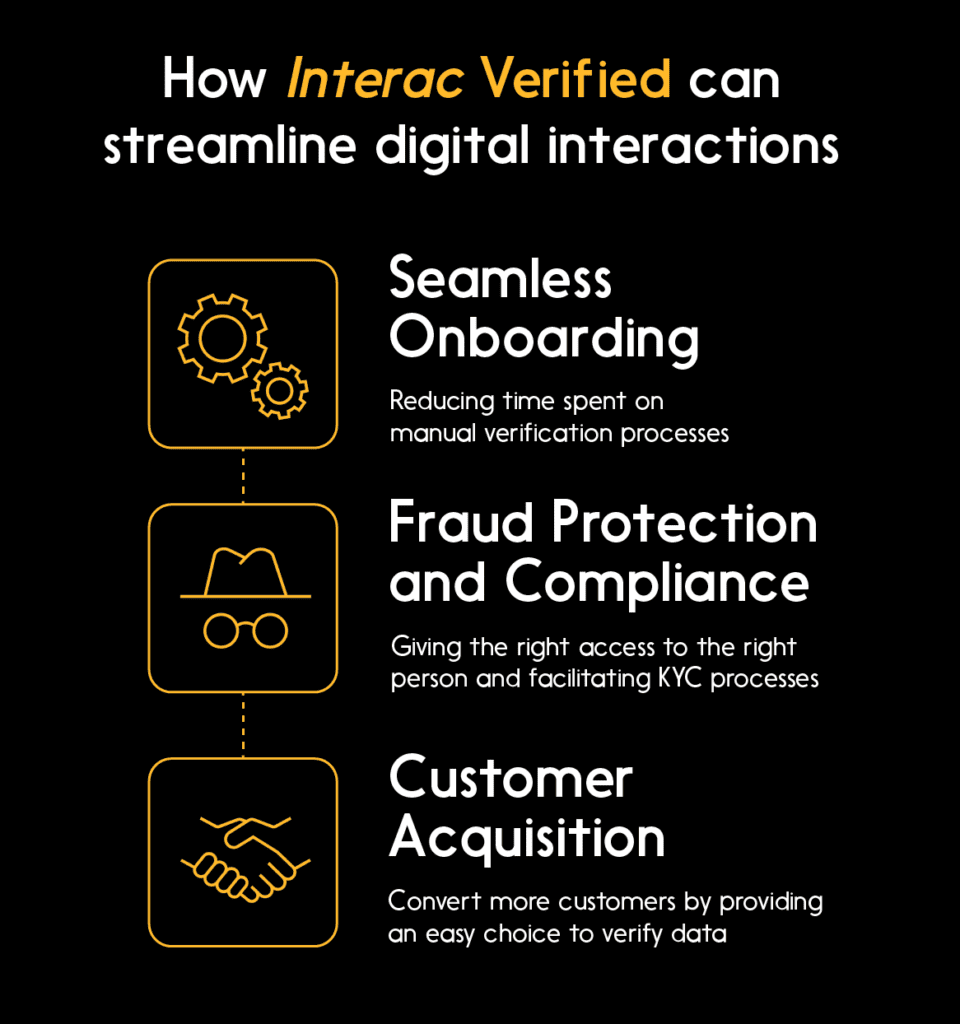 Businesses and organizations across sectors and industries will find new ways to take advantage of the combined convenience, as busy — and increasingly digitally plugged-in — consumers seek ways to make their lives more seamless to navigate.
Verification for daily life, fuelled by a brand Canadians trust
Among consumers, Interac has earned a place as one of Canada's most trusted financial services brands and in 2022 was named one of the country's most trusted technology service providers.
And as online services expand into all aspects of their lives, Canadians will be able to trust that Interac will continue to facilitate their digital interactions and exchanges with businesses, as well as governments, and other organizations.
This will not only help fuel the Canadian digital economy, it will also help empower Canadian businesses to create innovative new services and offerings. Together, we can help make Canada a more vibrant, innovative and productive place for everyone who lives and does business here.
What can Interac Verified do for your business?