When you've got something special or unique to sell — whether it's a spectacular salsa, prize-worthy pumpkins or the softest socks ever — a craft fair or farmers' market can be an excellent way to build a business around it. All that walk-by traffic makes craft fairs and farmers' markets an ideal testing ground and growth platform for budding businesses. And, if you make your first sale or hit a new profit goal while you're there, that could lead to even more fulfillment as a business owner.
If you need some more encouragement: a vast number of Canadians prefer to support local businesses. But whether you're just starting out or you're an established seller looking to up your game, remember that people expect you to make payments convenient.
The points below are built around tried-and-true ways to connect with customers and help you get your stand, stall or booth running smoothly at your local craft fairs and farmers' markets — so you can build a happy clientele while selling your way to success.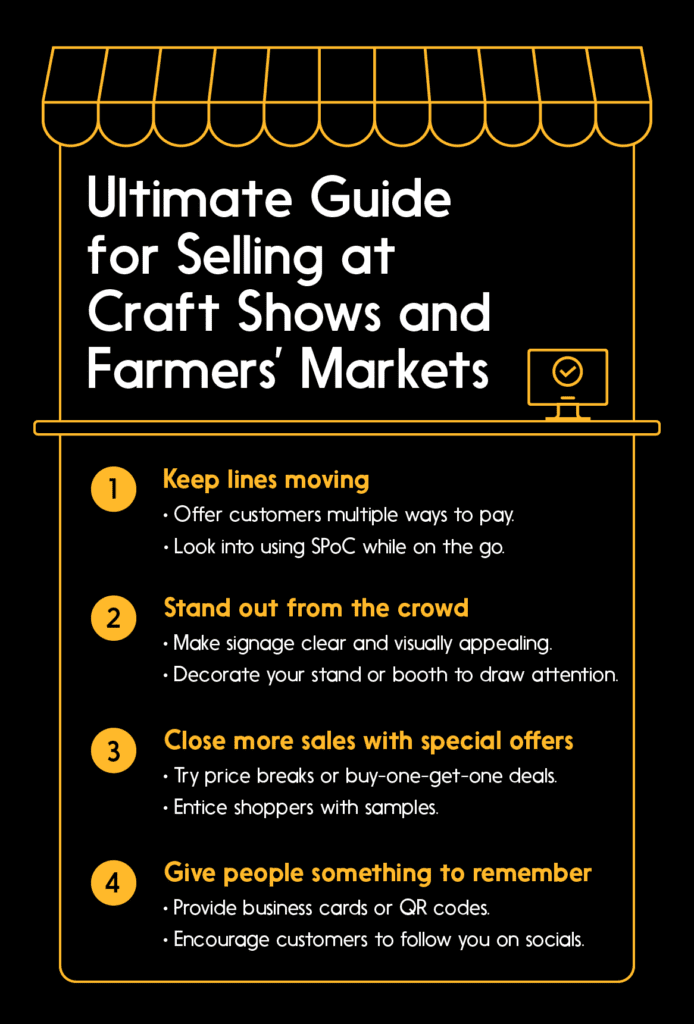 1) Make your sales seamless by allowing multiple ways to pay
Purchases are the most basic part of your business — no sales, no stand! — so you've got to nail this part. Make buying from you as easy and seamless as possible.
In fact, it's never been more important to focus on making shopping a seamless experience for your customers. In recent years we've seen a shift in Canadians' shopping habits — including their rising demand for more frictionless omnichannel experiences. Canadians have been shifting away from cash for years, and at this point, many people aren't in the habit of carrying it around anymore. We're starting to see this behaviour shift away from cards as well through the steady increase in mobile payments.
The best way for small businesses to take payments is to offer multiple ways to pay, which is what customers expect. If not, you may miss out on sales from customers who don't carry cash or who only have a contactless or mobile payment. And these abandoned sales could cost you.
As Nader Henin, AVP, Commerce at Interac Corp. (Interac) said, "If merchants count on one payment method, that may result in them losing a transaction. And the cost of losing transactions is much higher, by far, than adopting multiple payment choices."
Interac payment solutions make it easy for customers to transact with you, so you can focus on selling, while keeping your lineups moving smoothly. This will allow you to effectively track sales and potentially cut down on customer wait times with fast payment methods.
One convenient way for you to get paid quickly is by accepting Interac e-Transfer at your stand or booth (did you know, according to a recent Statistics Canada survey, 50 per cent of businesses accept Interac e-Transfer as a form of payment?). This means that you won't lose out on sales from customers who don't carry cash or their wallets with them. Interac e-Transfer allows you to receive money from customers safely and quickly, just like you already do with friends and family.
(Tip: Set up Interac e-Transfer Autodeposit so when a payment is made, funds are deposited quickly* and securely without the need to take time to coordinate a security question and answer — meaning the transaction happens faster.)
* Funds are deposited after a routine fraud check by your financial institution.
Accepting mobile or card-based payments is possible while you're on the go – no bulky terminal required. Software-based Pin on Cots (SPoC) is a cost-effective way for you to accept Interac Debit. Plus, with SPoC, if your customers have transaction limits or don't have contactless payments enabled, they can enter their PIN into your tablet or mobile device. Another way to reduce dreaded sale abandonment at your booth.
Ready to get started with SPoC? Contact your acquirer or learn how to accept mobile point-of-sale transactions here.
2) Make your stand or booth stand out
At a craft fair or farmers' market, there's a lot of competition for dollars — and eyeballs. It's important to make yourself visible. Here are some ways to dress up your booth:
Make your signage clear and attractive. Show your multiple methods of payment to tell customers who aren't carrying cash that they can still buy something from you.
When you're merchandizing, remember the odd-number rule: Arranging and stacking things in threes, fives, sevens, and so on typically looks more visually appealing than even numbers.
One cost-effective way to make your stand or booth more visually appealing is to scour vintage and used stores and flea markets for stand décor. A few old crates and a tasteful tablecloth can go a long way, if it fits your look.
(Tip: Use Interac Debit for your business-related purchases to easily track spending and stay on budget; offer to pay flea market sellers via Interac e-Transfer.)
3) Offers! Offers! Offers!
It's one thing to get people checking out your booth. But it's even better to get them to buy something.
Offers can turn passive interest into an active purchase. To close sales, try the classic offers, like buy-one-get-one-free, price breaks for purchasing multiples, and so on. They're classic for a reason.
Offer free samples, too, if that applies to what you do. If you're selling something delicious, a bite could help reel customers in. And if you can't lure them that way, try tactile sensations: For example, if you sell scarves and socks, let customers feel how soft and cozy they are.
4) Keep the conversation going
Remember, you're not just making sales, you're creating customers. In the big picture, every market or event where you set up shop is a chance to build your customer base. Whether they buy something or not, give your booth visitors something to remember you by — and ways to buy from you later. For tips on how to craft a good elevator pitch (and more), check out the small biz toolkit.
And if you're looking for something more tangible, consider offering business cards using a QR code that leads to your online shop. You might get a few post-event sales that way. (If you do have an online shopping experience, you can offer Interac Debit e-Commerce payments through digital wallets to help ensure customers can always pay the way they want to pay.)
Finally, encourage customers to follow you on social media, and consider a newsletter to keep them up to date on what you're up to.
Access resources to help manage your cash flow and avoid financial burnout
Whether you have always had a passion for entrepreneurship, recently turned a hobby into a business, or were looking for a way to earn additional income, building your side hustle should be a source of enjoyment. In fact, more than half of the entrepreneurs we recently surveyed said their side hustle has turned out to be more fulfilling than expected.
However, learning how to run – and one day, grow – your business could feel like a job in itself. Not to mention the stress and risk of burnout that could come along with it. That's why we launched From Dollar One, a small business resource hub built by Interac.
In From Dollar One, you'll have access to free resources and tips to help you crush your business goals.
Interac for small business: How we help vendors with their payments needs at craft fairs and farmers' markets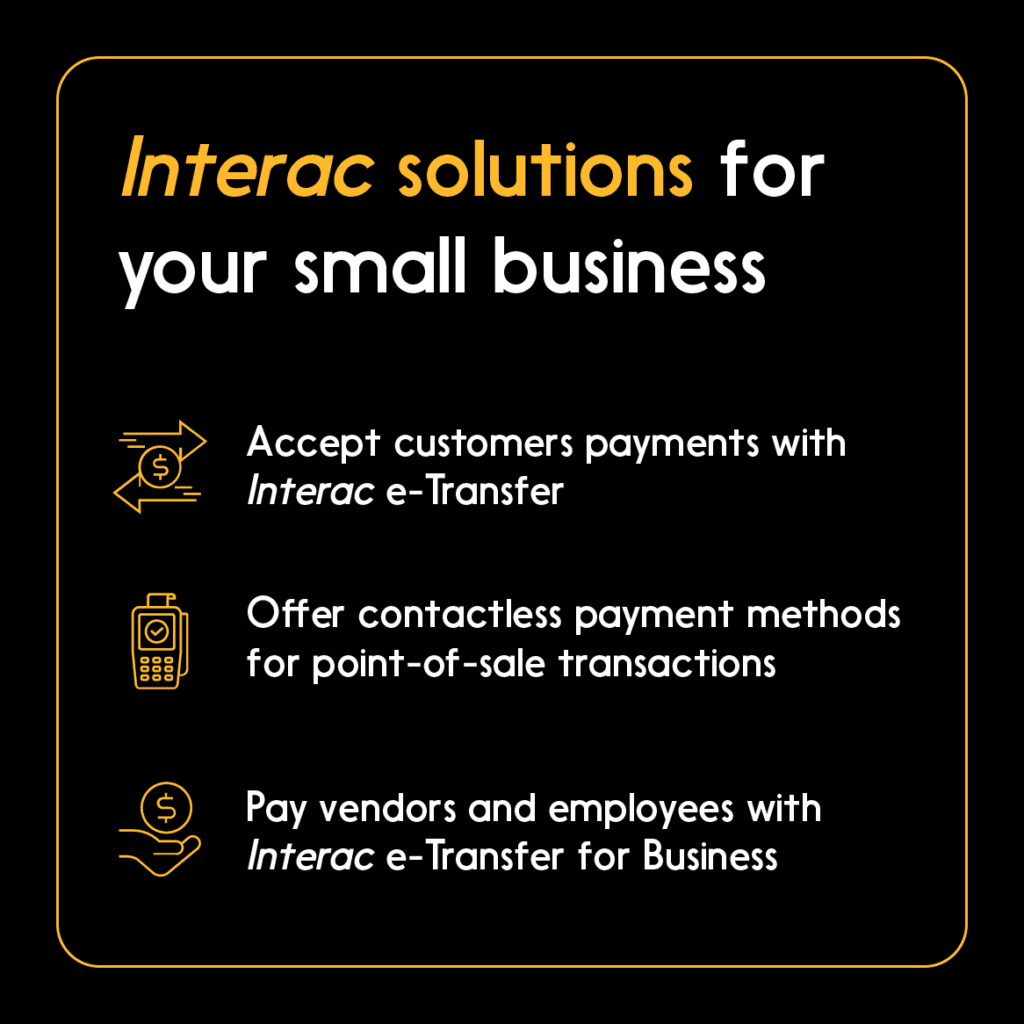 To recap, here are some of the ways you can take advantage of Interac payment products and services to help make getting paid easier and provide your customers with the best possible payment experience:
To learn more about both starting and scaling your business check out the first chapter of our From Dollar One tips and resources hub.