Picture this: You check your email and see a message from a strange account. The subject line offers you five chances to become a millionaire and urges you to enter right away. Do you open the email?
Obviously not, given how transparently fraudulent it appears. But it's getting more difficult to spot scams like these as fraudsters get better at impersonating legitimate institutions. In fact, we found that in 2021, 57 per cent of Canadians have seen fraud attempts increase.
So how can you safeguard your data privacy and keep yourself safe from digital fraud? Identifying threats is the first step — for example, by developing an ability to recognize so-called "phishing scams," which involve sending official-looking email and text messages to trick you into giving up your sensitive data.
These examples will acquaint you with the go-to tricks that scammers use.
(Confident in your abilities to spot a phishing scam? Test yourself against these 9 payment scams and check out the Fraud Prevention Map of Canada.)
Tax return scams:
If you receive an email from your tax agency that seems too good to be true, it probably is. Scammers often pretend to represent these institutions, using fraudulent tax returns to bait their victims into clicking suspicious links or surrendering their social insurance numbers. This can result in identity theft, keystroke logging, and other breaches of personal information.
Don't respond to these emails or click on any links. Instead, contact the relevant tax agency directly to confirm the email's veracity or log in directly from the company's public website, do not use the link they provide. Following these steps will likely prevent you from serious financial harm.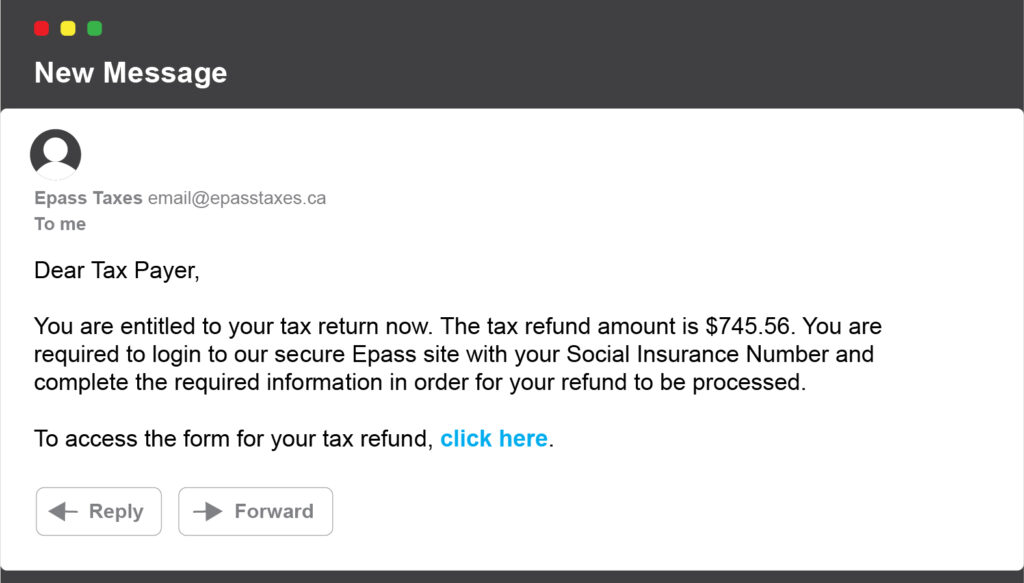 Streaming service fraud:
On-demand video has become the new normal for many Canadians. Unfortunately, many fraudsters have also taken note, and impersonating streaming services has become a common way to trick unsuspecting consumers. Often, criminals will send emails requesting that victims update their billing information. As with tax return schemes, the goal is to get targets to click a link and enter sensitive information.
To verify whether these emails are fraudulent, check the URL listed in the email. If it begins with the acronym "https," then the information transmitted to the site is secured by encryption, indicating that the message is legitimate. You can also contact the service's customer support services directly to confirm that the email is accurate.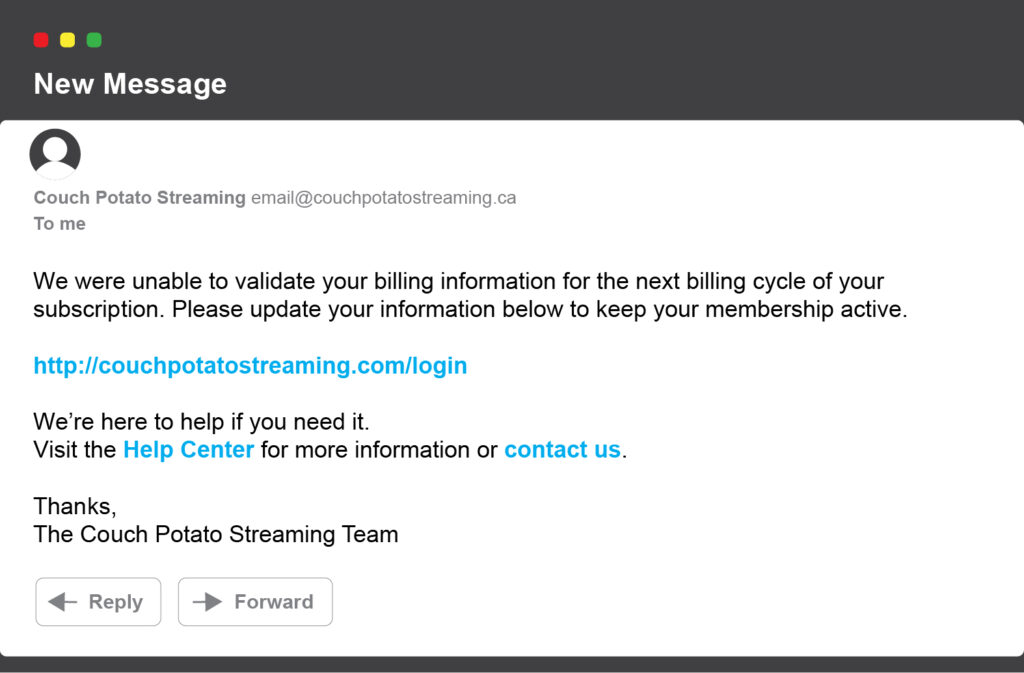 Fake money transfers:
Not every scam is as impersonal as streaming service fraud or tax return grifts. Hackers will often impersonate friends and loved ones to steal money or personal information. Sometimes, they'll assume these identities to send fake money transfers, tricking unsuspecting Canadians into handing over answers to security questions and other sensitive information.
When you receive a money transfer, always read the message carefully. Generally, fraudulent emails will ask you to reply with a security answer. If you receive an unexpected transfer, contact the sender to verify that it's legitimate. A quick text message or phone call can save you from serious financial peril.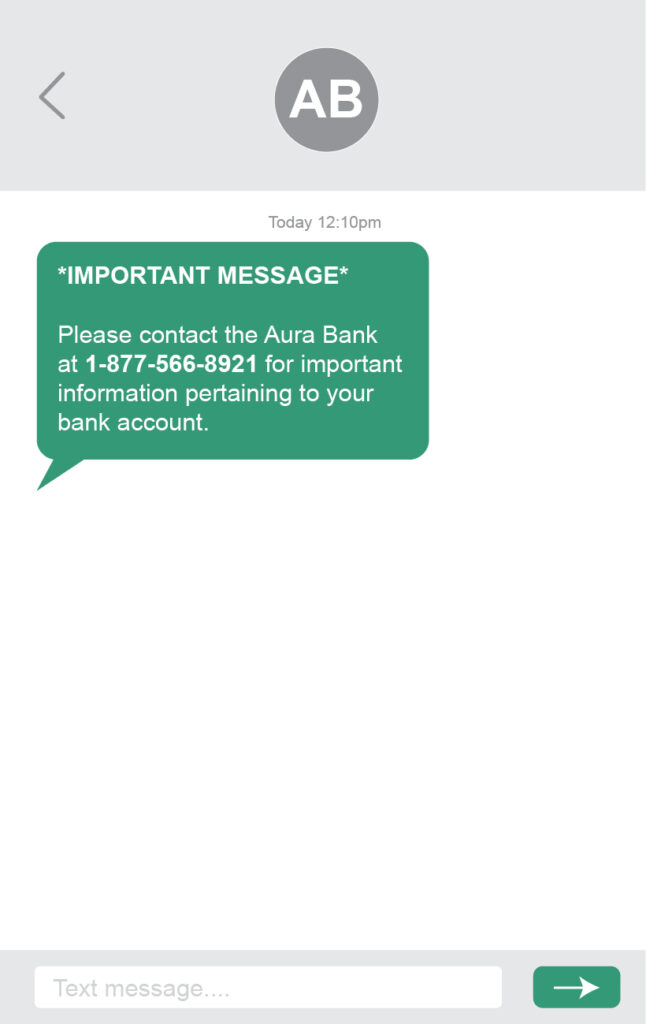 Financial institution scams:
At this point, you're probably wary of suspicious emails. But scammers are just as likely to defraud consumers through phone calls and text messages as they are to use spam messages. They'll often imitate bank representatives to trick victims into submitting their banking information to a compromised web page.
If you receive a dubious text or phone call from your financial institution, contact your bank immediately. Don't address or respond to the message until you've confirmed its legitimacy with your bank. As always, checking in with the supposed senders of these messages is the fastest way to determine their credibility.
While anyone can fall victim to payment scams, following these tips will help keep you safe from malicious activity. And if you do encounter fraud, be sure to report it to the Canadian Anti-Fraud Centre to help stamp out further theft.